While online resources, opinions from friends, and the occasional travel guide may be great for doing some initial research in regards to traveling, nothing beats the firsthand knowledge and friendly recommendations of an experienced travel advisor.
Equal parts mind-reader, time maximizer and miracle worker, using a true travel expert who can help you plan, perfect, and save on your vacation is one of the smartest travel tips you'll ever get.
So before you book your next vacation, consider talking to a travel professional first, like the ones from CruiseInsider. Here's why working with a travel advisor beats booking on your own:
They've Been Where You Want to Go
The most talented travel advisors are also travel lovers, making them a trusted resource to help you sort through your options and make informed decisions that will save you time, money, and frustration. They are skilled specialists who know the world and all the best ways to experience it.
More Bang for Your Buck
Travel advisors have preferred partnerships with the world's top cruise lines, tour companies, and hotels, and have access to the best deals and biggest discounts - special travel offers and perks you can't get direct - so your vacation always brims with benefits.
Insider Tip: CruiseInsider gets paid by our travel partners, so there is no added cost to work with an advisor. And with no hidden fees, no pressure, and our "Price Match Promise", you'll never pay more for your vacation, only get more!
They Go Above and Beyond for You
Cabin upgrades, onboard credits, special amenities, VIP access...the list goes on. More than just good value, great service, and generous perks, travel advisors know that the perfect vacation is more than just finding the lowest price; it's expertise and effort that exceeds your expectations.
You've Got a Friend
You can always rely on your travel advisor. They have your back when things go wrong and know how to get things done. You'll travel with confidence and peace of mind every step of your journey, knowing that when issues do arise, you're in great hands with an advocate behind you.

Benefits of working with a CruiseInsider travel advisor.
One Size Doesn't Fit All
By listening to your needs and understanding your preferences and interests, they use their connections to create customized journeys that are unique to you. Whatever your bucket list or budget, advisors help you skip the lines, avoid the crowds, and be treated like a VIP wherever you go.
Handling the Little Things
They know what documents you need, what dates are important to remember, and what details to really focus on. They help understand the fine print, know all the terms and conditions, and prepare all the paperwork so you avoid any costly mistakes and can focus on making memories.
Insider Tip: CruiseInsider advisors can make every special occasion even more special. From private car-and-drivers to in-room champagne bottles to chocolate-covered strawberries and more, these little extras are guaranteed to exceed your expectations!
Save Time, Money & Stress
Using a travel advisor means you won't be spending hours on the internet, hanging on hold for eternity, or wasting your time wondering and worrying about anything. You can dream big and then relax to enjoy the special moments knowing you got the best deal, most extras, and more.
The bottom line is that good advisors typically know more than you about travel, are better connected than you, have a wealth of knowledge, and have access to a world of exclusive privileges and prices that you can't get otherwise. They go beyond just "information" and provide you with a wealth of insight, inspiration and insider tips to ensure your vacation is the best it can be.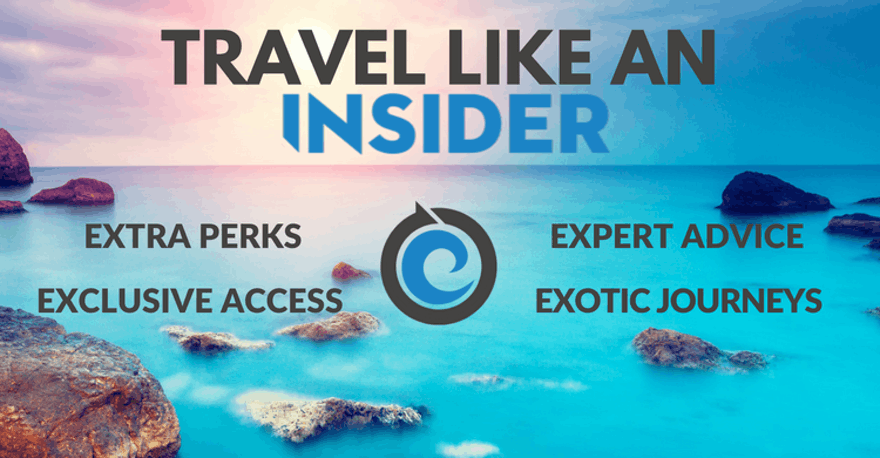 Traveling like a VIP is easy with CruiseInsider.

After one conversation with a certified CruiseInsider advisor, you'll know that we are much more than just "agents" and understand why you'll never want to book on your own again. Discover the world as an insider with our experts behind your journey.
Call 1 (877) 734-6858 to get more, know more, and experience more than the average traveler.