Windstar Cruises boasts a casually elegant small ship fleet that makes every voyage feel so personal, you think you're on your own personal yacht.
No crowds. No lines. No waiting. No worries. Windstar's motto is "180 Degrees From Ordinary" and that's exactly what you'll experience on board and on shore, where each day finds you immersed in local, exotic cultures on a ship where discovery and delight abound.
Whether you choose an itinerary on one of Windstar's iconic clipper ships–essentially a state-of-the-art luxury sailboat–or their all-suite mega-yachts, every voyage is an experience unlike any other ocean cruise.
What makes Windstar so special in the world of cruising? Windstar's 148 to 310-guest small ships and intimate approach to luxury cruising in private yacht style brings you closer to each destination, so you can see the world's hidden ports and most remote places from new perspectives, without any of the noise and nonsense found on most mass-market cruise lines.

Windstar's motto is "180 Degrees From Ordinary"

Here are 9 reasons why experienced travelers and our CruiseInsider experts love Windstar Cruises so much:
1. Small-Ship Sailings Shared With Discerning Guests
Unlike most mega-ships with thousands of tourists and no personal service, Windstar Cruises feature only 148 to 310 guests on each vessel. Every ship is intimate and inviting, designed to be enjoyed by like-minded travelers as you explore the world together in laid-back luxury.
Insider Tip: On most voyages, you can come up to the Open Bridge for a sailing lesson with the Captain or conversation with the First Mate, or even help hoist the main sail as an honorary member of the crew.
2. Laid-Back, Yet Luxurious Atmosphere
A Windstar Cruise is completely different than a typical cruise experience. No need to hold lounge chairs by the pool, dress fancy for dinner or fight the crowds throughout your vacation. Instead, you can come as you are. On Windstar, you'll ditch the stuffiness and enjoy the casual elegance of spending your vacation on a private luxury yacht, touring the world in luxurious, laid-back comfort.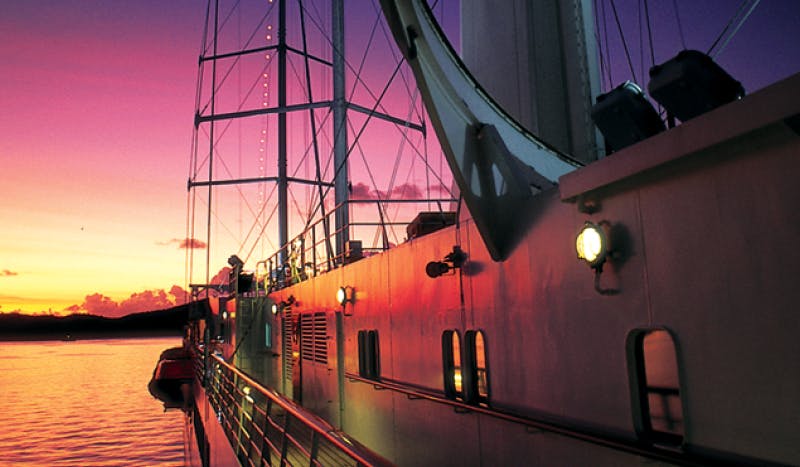 Windstar's iconic clipper ships are informal, yet refined.
3. World-Class Culinary Excellence
Every meal on Windstar Cruises is exactly what you'd expect on your private yacht - personal and always perfect. You're free to dine when, where, and with whomever you please in a variety of casual, small venues with no reservations required.
Insider Tip: One of the highlights of your cruise will be the spectacular evening barbecue overlooking the ocean - an amazing combination of fresh, local food and incredible entertainment under the stars.


In every destination, the local flavor of the culture inspires each meal onboard your Windstar ship. Fresh, locally sourced ingredients and seasonal produce—often hand-picked by your ship's chef at the local-market—craft the nightly menu and help create a true foodie's paradise.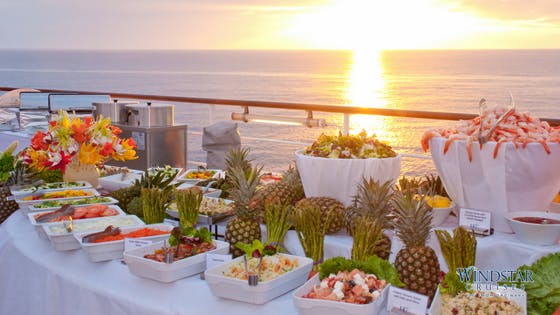 Every warm-weather itinerary enjoys a lavish but laid-back BBQ buffet on deck.
4. Immersive, Intimate Shore Excursions
Windstar Cruises are designed for discerning guests to discover, explore and be enriched by authentic experiences on shore. Windstar's shore excursions are incomparable, once-in-a-lifetime adventures that are customized for every traveler.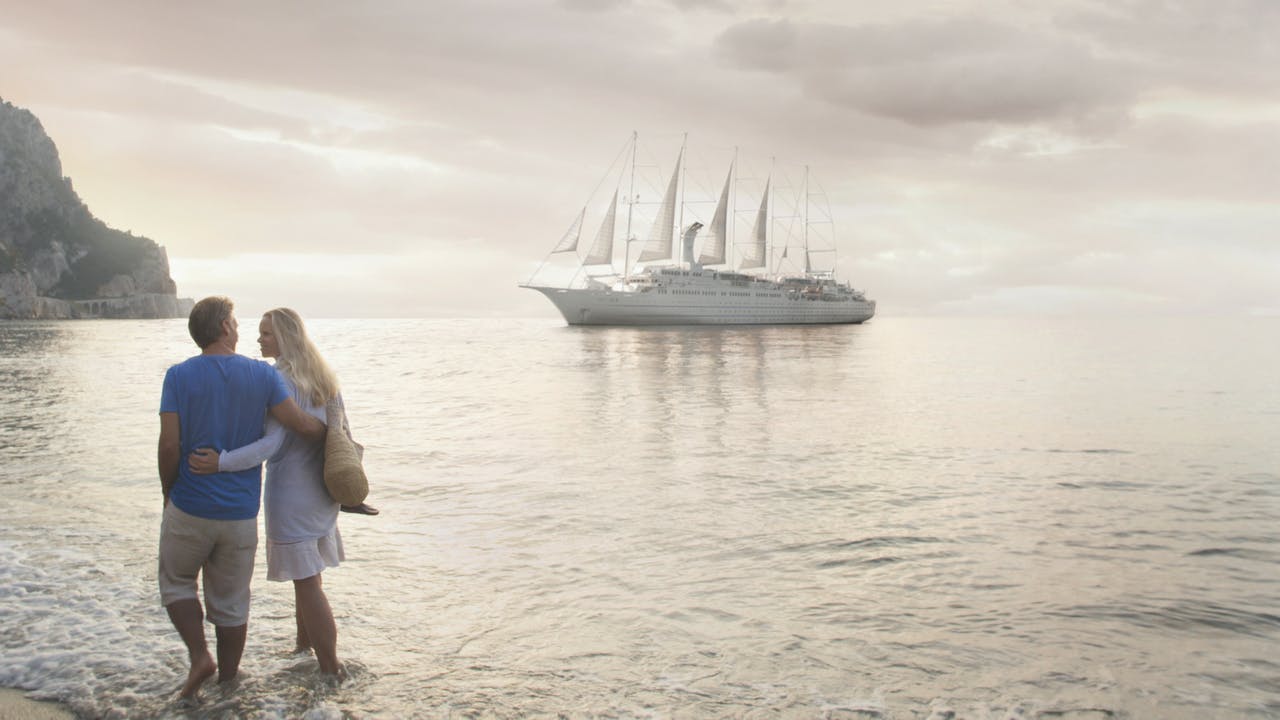 Small, personalized shore excursions are a staple of the Windstar experience.

Each small-group excursion is an unparalleled way to experience other lands and see the world from a new perspective. Have dinner with a Croatian family in their village home, take a culinary tour in Da Nang or create a one of a kind itinerary you'll never forget. From certified SCUBA dives and rejuvenating baths in volcanic springs, to archaeological wonders and regional wine tastings, every excursion is customized to meet your exact specifications.
Insider Tip: Every Windstar itinerary features a complimentary "Destination Discovery Event" that gives you an in-depth, authentic local experience.

5. Activities & Entertainment Abound
Each day on a Windstar cruise is a day of choices, all of them good. Whether it's a relaxing spa experience, an invigorating workout, a quick dip in the whirlpool, a cooking demonstration powered by the James Beard Foundation or even an engaging lecture with an expert about the local culture.
Insider Tip: If you're a water-lover, the Watersports Platform off the yacht's stern has everything you can think of for fun in the sun and sea — swimming, kayaking, sail-boarding, water skiing and even jet ski adventures.


There are no wild shows, flashy entertainment or big musical productions on a Windstar cruise. Onboard entertainment is more personal, with enrichment opportunities and lectures, cultural activities, acoustic music and performances by locals. There are also game nights, trivia contests, line dances, barbecues and cocktail hours that give you a chance to meet and greet with fellow guests.
6. Well-Appointed Accommodations
Exploring the world on a Windstar yacht is incredible, but the best part about every voyage is coming back to the comfort of your stylish sanctuary at sea. Every stateroom and suite has an eye-popping ocean-view and has been thoughtfully redesigned featuring soft lighting, soothing, seascape color schemes, beautiful artwork, fine Egyptian linens and gorgeous marble bathrooms with luxurious toiletry products from L'Occitane en Provence®.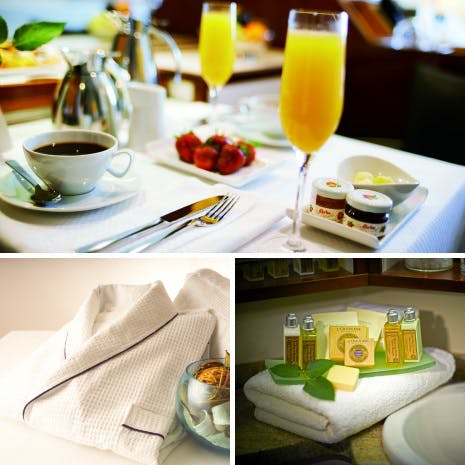 Both the accommodations and the amenities are luxurious.
7. Personalized, World-Class Service
Windstar is one of the industry's most awarded cruise lines and is consistently praised by CruiseInsider guests and recommended by our travel experts for their personalized, six star service.
Smiling, helpful crew members display a personal warmth and friendliness that really sets the tone for every voyage. Whether it's knowing to bring you the perfectly made hand-crafted cocktail or remembering how you like your omelette prepared or a welcoming smile and warmed, refreshing towel waiting for you after a day of sightseeing, part of the Windstar magic is the incredibly personal, award-winning service.
Insider Tip: Windstar's small ships mean a staff-to-guest ratio of 1:1.5–far higher than the industry average–which means you'll enjoy undivided attention from a crew who delights in remembering your name and preferences.
8. Easy Access to Every Destination
Windstar's small ships can sail directly into the best small ports and hidden harbors, so you'll get closer to each magical place you visit. Instead of dealing with the masses in every destination or spending hours waiting for tenders to ferry you ashore, you'll dock in the heart of charming villages, be steps away from sparkling cities and walk right off the ship into the world's most exclusive ports-of-call.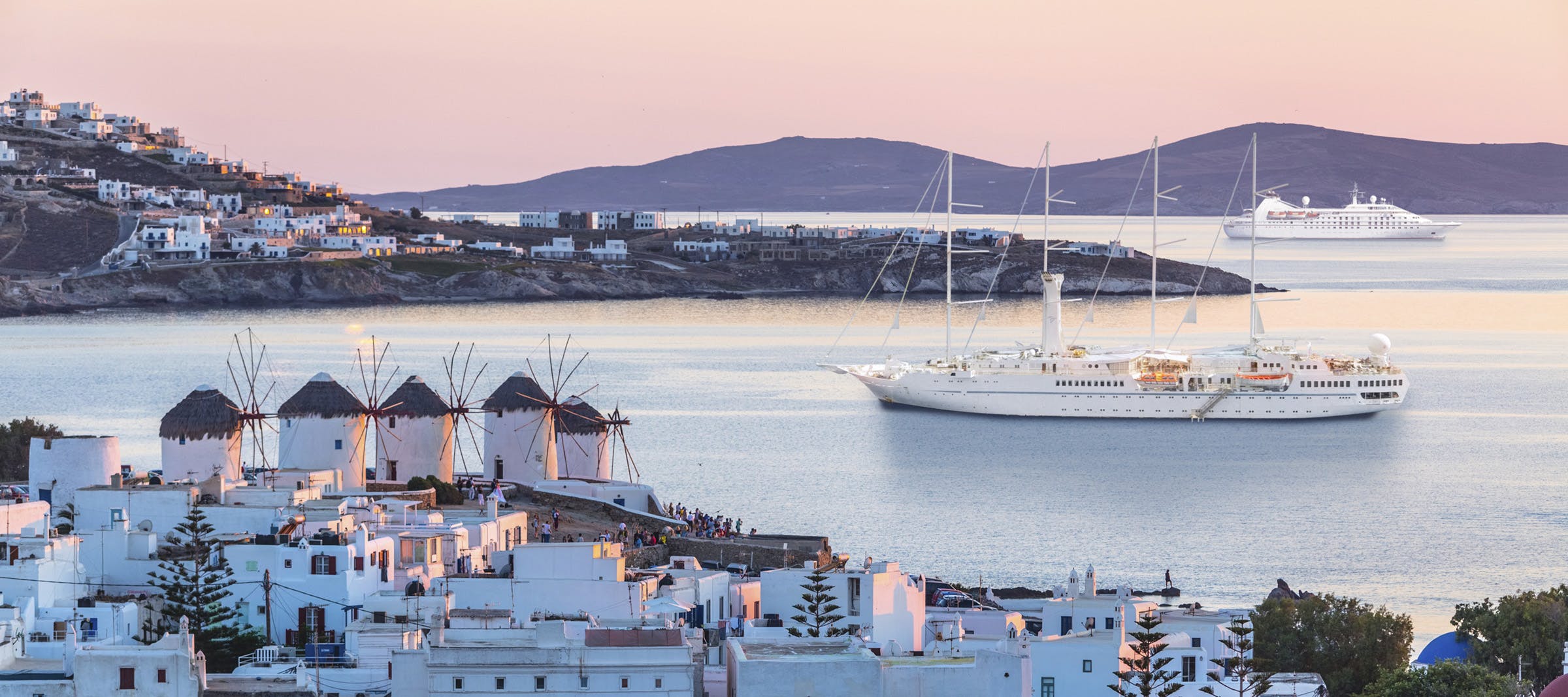 Windstar's small ships allow you to access places unavailable to larger cruise lines.
9. New Itineraries & Exciting Ports of Call
Windstar's voyage collection features something new in every exotic corner of the world. Whether it's exploring ancient mysteries, experiencing modern cosmopolitan marvels or exotic ports of call throughout Tahiti, the Mediterranean, the Caribbean or Asia, Windstar Cruises has an itinerary to suit your tastes.
Insider Tip: You won't want to miss Windstar's signature "Sail Away" as you leave port each evening, dramatically set to the sound of Vangelis' "1492 Conquest of Paradise."


Windstar's unique themed cruises offer intimate access to some of the world's most exclusive celebrations and events while their immersive "Star Collector Voyages" combine some of the most popular cruise itineraries for longer, more in-depth exploration of a region with overnight stays and few repeated ports.

Any cruise ship lets you see the world, but Windstar Cruises brings it close enough so you can fully live it. The above examples are just a few of the reasons why our cruise experts and travelers love Windstar and why we're sure you'll love it too.
Truly 180 degrees from ordinary, Windstar takes small ship cruising in a different direction.
Ready to experience the joy of small ship cruising and the private yacht lifestyle with Windstar Cruises? See the latest Windstar cruise specials or connect with a CruiseInsider advisor at 1 (877) 734-6858 to save on your next sailing.