Expedition cruising is the most exciting, action-packed cruise experience anywhere on the high seas. As the name implies, it's a taste of exploration and adventure in off-the-beaten-path places, but with out-of-this-world activities and accommodations.
Since each expedition voyage varies based on the destination, the weather, or the unpredictability of nature, every adventure is uniquely different, but definitely unforgettable.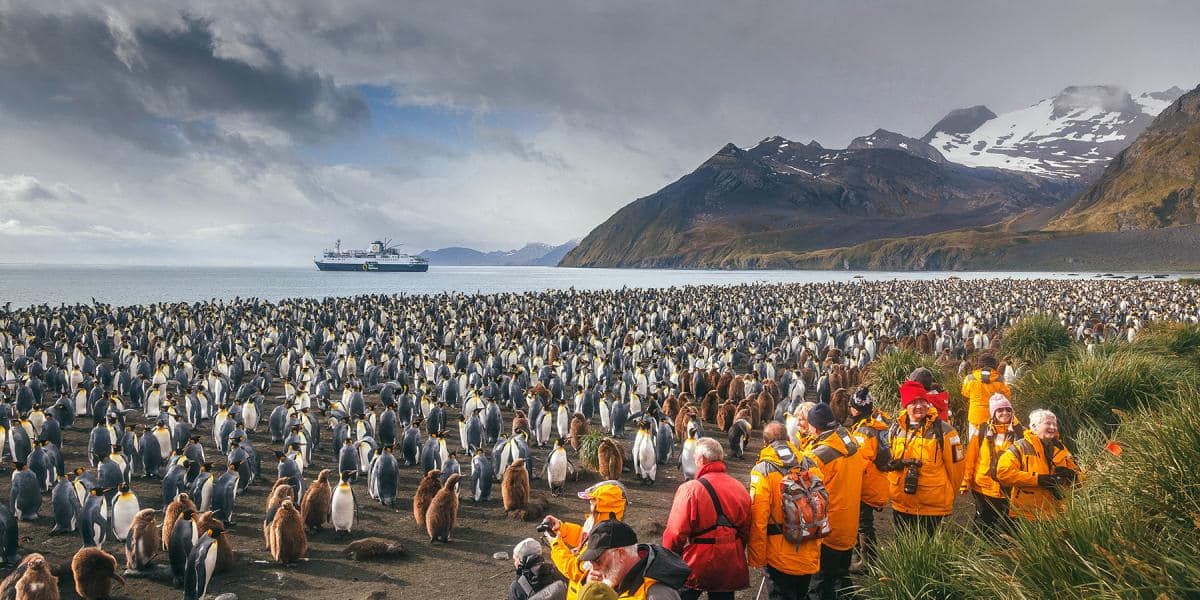 Explore nature intimately and authentically on an expedition cruise.
On the most popular voyages, you can expect some incredible bucket-list worthy experiences taking place while immersed in the world's most beautiful places. Our CruiseInsider advisors have planned dozens of these dream adventures and many have experienced expedition cruising themselves - journeys to the most remote, most exhilarating places on the planet.
Here's what you can expect on an expedition cruise and a variety of adventures to whet your appetite for new experiences and memories of a lifetime:
Enrichment Everywhere
Enrichment takes precedence over entertainment on an expedition cruise. Instead of relaxing poolside with a cocktail, the expedition experience is all about getting off the ship. Zodiac boats will carry you to marine wildlife sanctuaries and icebergs.
Polar excursions include sea-kayaking, glacier hiking, mountain-climbing or cross-country skiing. Warm-weather activities include swimming with sea lions in the Sea of Cortez or backpacking to see the blue-footed booby in the Galápagos Islands.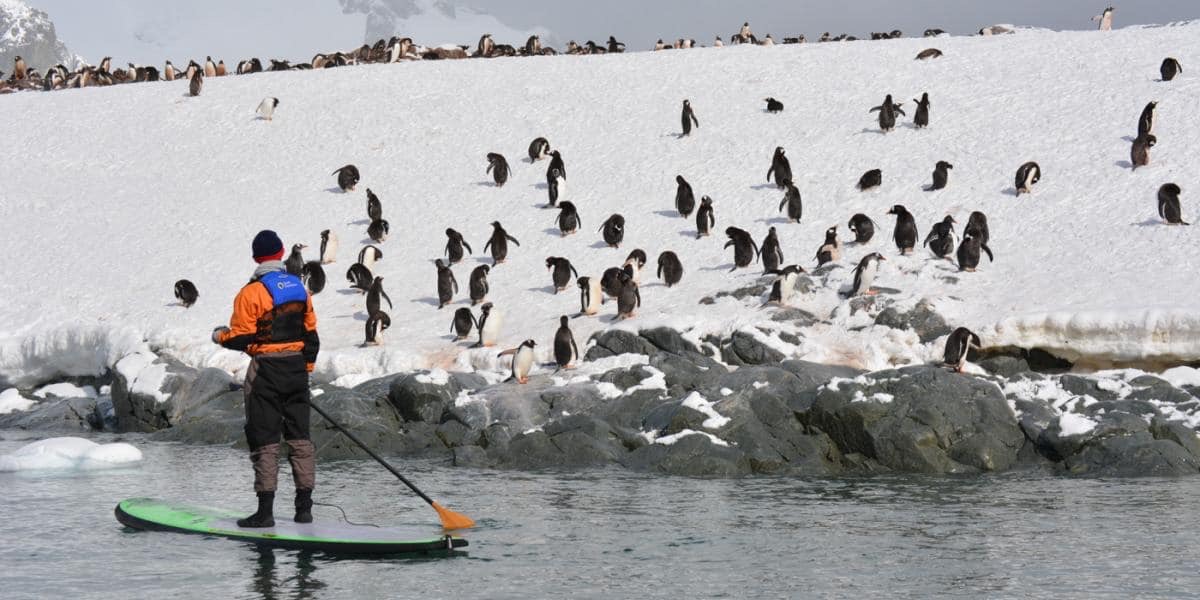 Interact with wildlife in immersive, interesting ways.
Experts Onboard
Most cruise lines bring experts aboard or alongside on the actual excursions - biologists, naturalists, geologists, anthropologists, historians and other specialists - who can identify the local wildlife or offer a cultural perspective on the place you're exploring. You'll discover the planet's most remarkable places, accompanied by true experts able to illuminate everything you see. Plus, you'll get to use the latest technology and cool new tools to help you explore everything in-depth and in style.
Insider Tip: Lindblad Expeditions, one of the premier adventure cruise companies, includes actual National Geographic photographers and award-winning photojournalists aboard many sailings.
Educational Nightlife
One key part of any expedition cruise is the emphasis on learning. Informative lectures and education is an integral part of each expedition and is evidenced in most of the on board activities. Nightlife is not what you'd expect from a traditional cruise either. You're more likely to be offered lectures by naturalists and scientists than musicals or casino nights. In lieu of big productions and night clubs, evening entertainment often consists of talks by scientific experts to help illuminate what you've seen during the day.
Capture Your Memories
A picture is worth a thousand memories, and there's no better place to pick up pointers from the pros on how to point and shoot than a photo expedition. You will create a lifetime of memories — and ones that you'll undoubtedly want to immortalize on camera.
Some expedition cruise lines, including Lindblad Expeditions, employ professional nature photographers to teach you and help you take amazing pictures of the wildlife and scenery. Having a professional photographer onboard to help you capture these unique moments can make the difference between a good picture and a great one.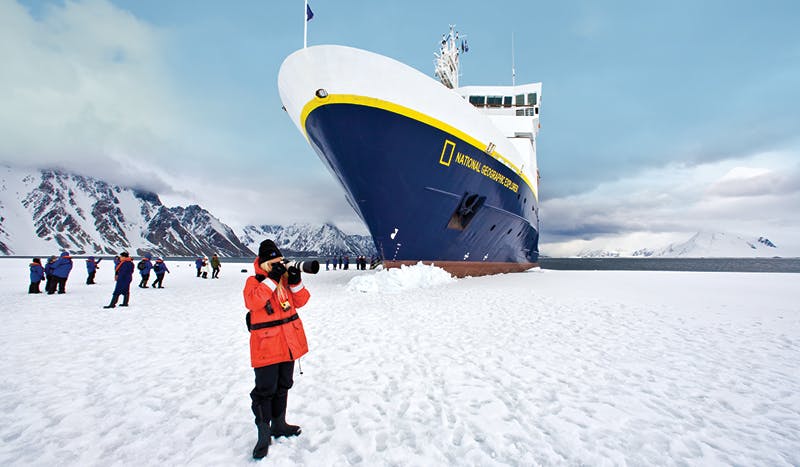 The expertise and experience from Lindblad Expeditions guides is unmatched.
Choose Your Own Adventure
On an expedition cruises you can push yourself to your limits or hole up in the library with a good book - because expedition cruising is about choosing your own adventure each day. Regardless of whether it's relaxing on the ship or rugged exploration on land, our experts can help customize your perfect day.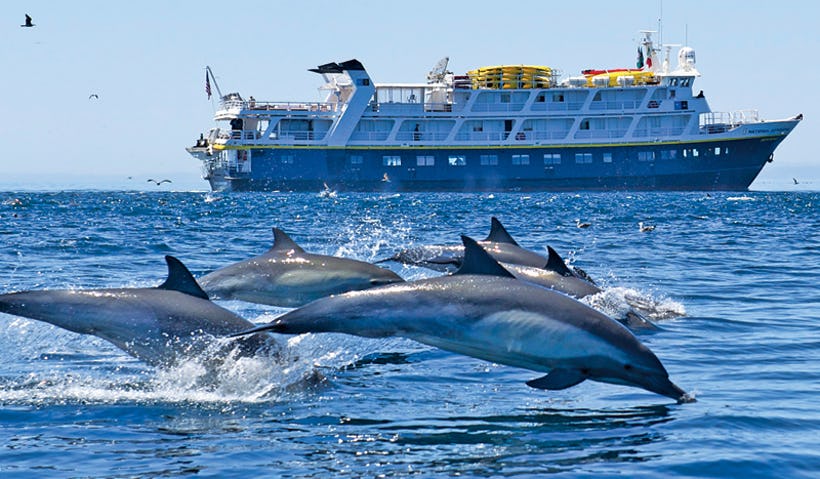 Up-close wildlife encounters are just one of the ways an expedition is different than other cruises.
If adventure is calling you, here are some examples of incredible excursions you can expect to find on various expedition journeys.
Arctic
Hike across the rugged Arctic tundra on a naturalist-led guided tour to see foxes, caribou, walruses and even the occasional polar bear.


Learn about the Arctic wildlife, polar history and interesting facts directly from the expedition team.


Spend a night under the stars experiencing the Northern Lights up-close-and-personal, under a blanket on deck as you drift through the Arctic Circle.



Insider Tip:

Adventure-seeking comes in many sizes. If you love wildlife, incredible scenery, and can climb into a zodiac boat with a helping hand, you're good go on an expedition voyage.
Antarctica
Visit an actual Antarctica research station to see the science in action with personnel who are eager to discuss their work with you.


Experience the best pelagic birding on the planet in the Sub-Antarctic islands of New Zealand, home to 126 species of birds including the rare yellow-eyed penguin.


Experience an authentic "wet landing" aboard an actual Zodiac boat, where you disembark from the Zodiac into shallow water and then walk ashore.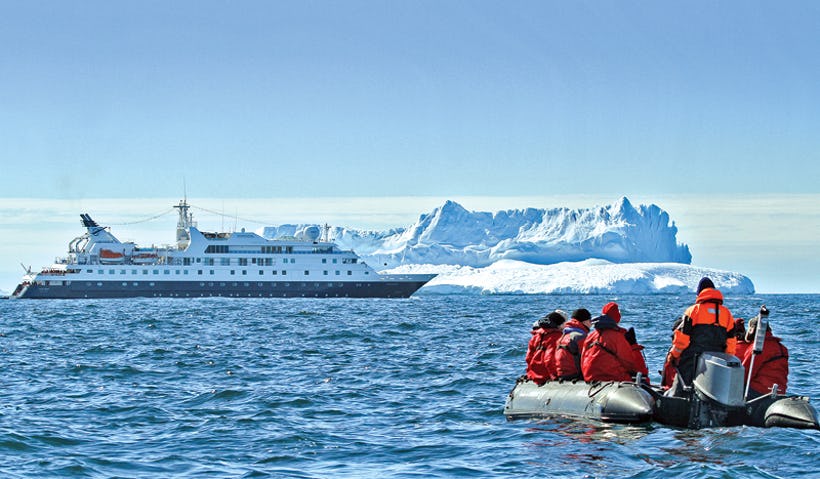 Zodiac boats are the prefered method of going ashore on many adventure cruises.
Alaska
Visit nearby icebergs in Zodiac boats, search for whales, go on glacier hikes, and enjoy a wildlife photography session on your Alaskan adventure.


Raft the rugged Chilkat River with local guides and visit at the ancient Chilkat Tlingit village of Klukwan.


With huge granite cliffs rising straight up from the sea, the beautiful Misty Fjords offers a unique Alaskan flightseeing experience - a ride in a floatplane then landing on a pristine wilderness lake.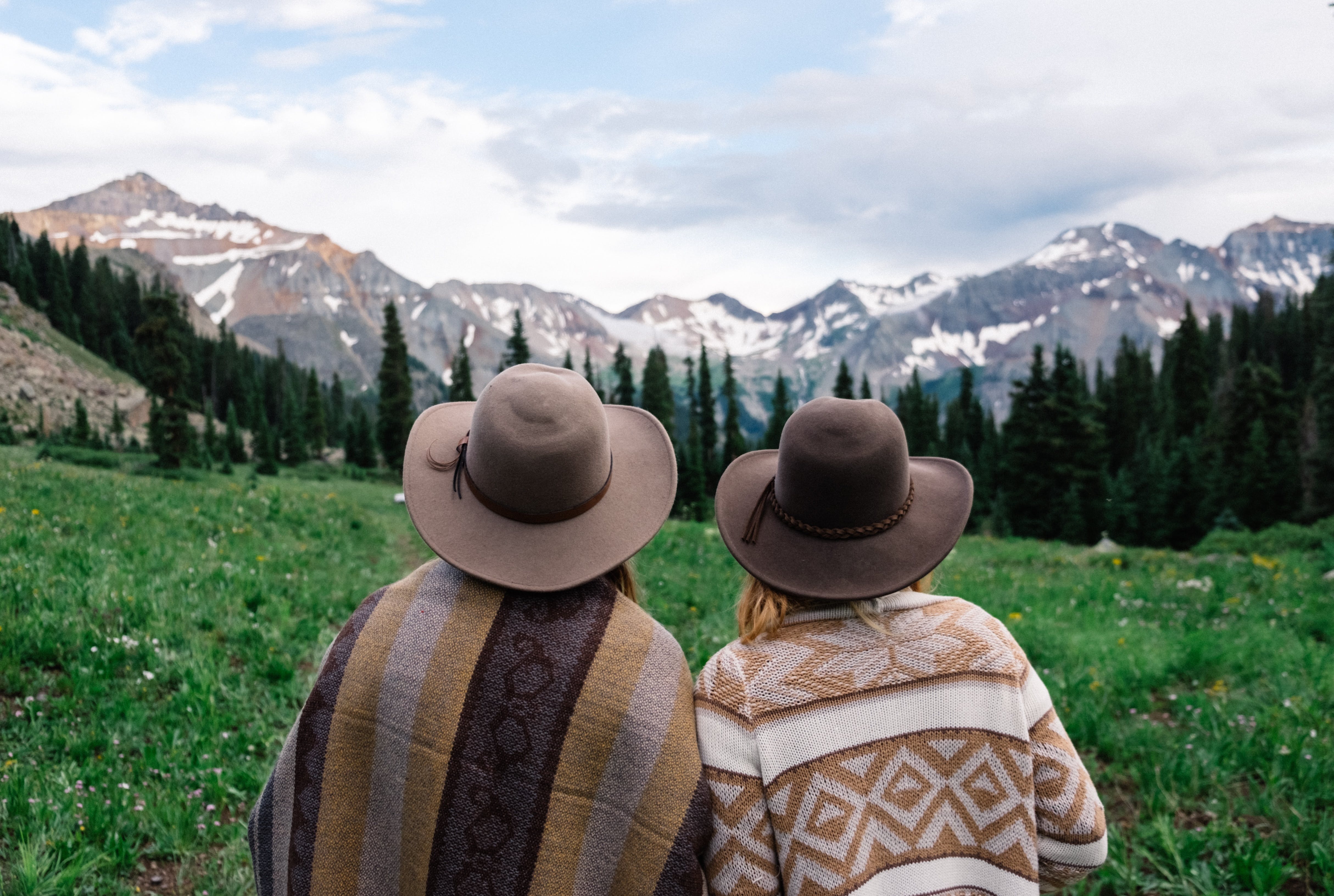 Breathtaking views can be found in all directions throughout Alaska. (Photo by Nathaniel Kohfield.)
Pacific Northwest
Catch your own wild salmon on an authentic fishing adventure and have it shipped home to enjoy after your cruise.


Discover the culture and the history layered in the banks of the Columbia and Snake Rivers.


Insider Tip: If your travel dates are flexible, think about seasonal experiences you can't see all year round. Our experts know the best season to view whales, scale glaciers, see hatching penguins, and so much more.
The Amazon
Interact with the locals at authentic Amazonian villages and walk through the rainforest to look for monkeys, sloths, birds, insects and fascinating plant life.


Discover the ruins of ancient temples or explore the incredible natural wonders that surround you.


Located deep within the Amazon rainforest and accessible only by water, explore the the Pacaya Samiria Reserve, also known as the "Mirrored Forest" - one of Peru's most fertile havens for sighting Amazon mammals, birds and plants that thrive among its five million acres!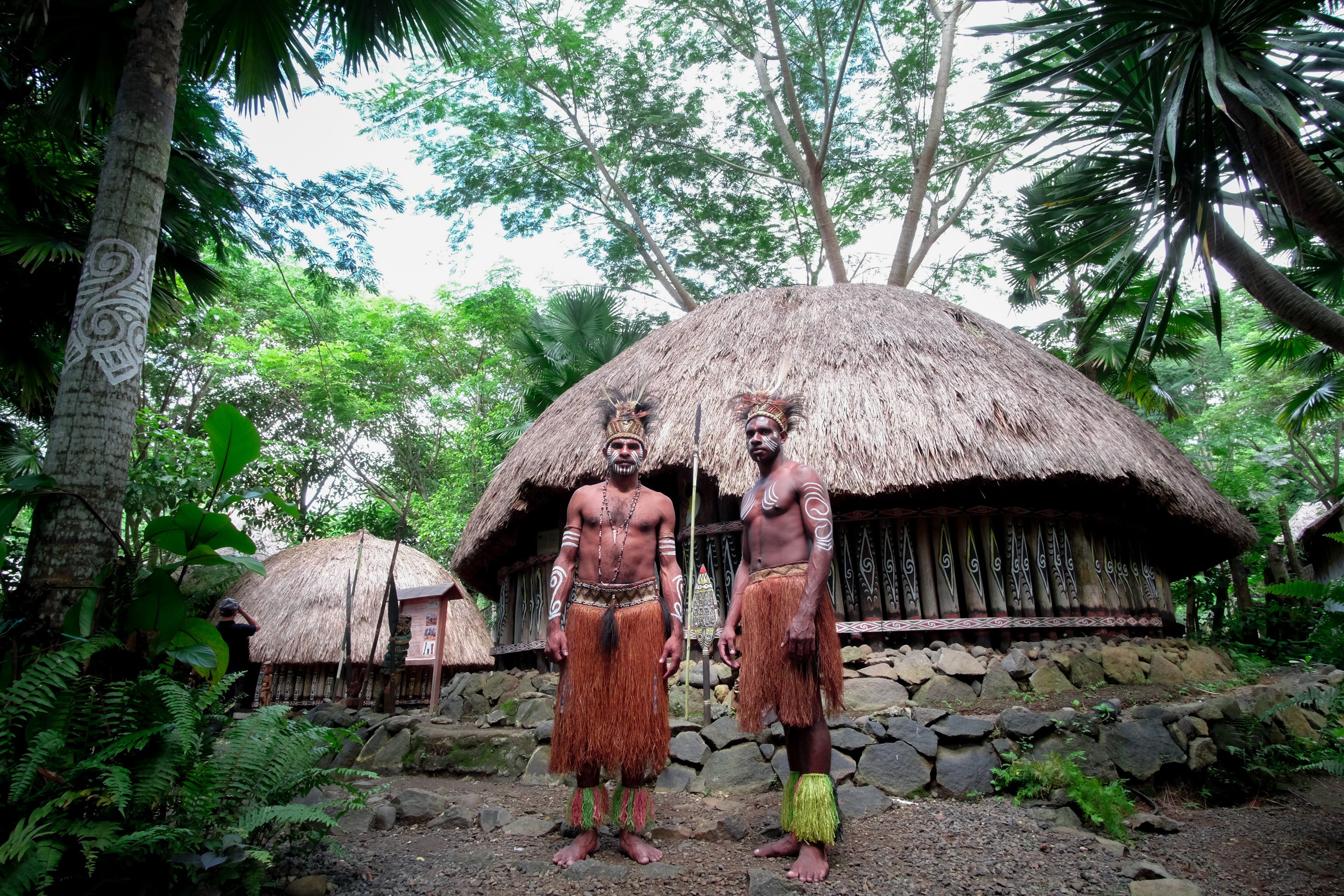 Learning about village life and cultures in South America (Photo by Surya Prakosa.)
Vietnam
See the sunrise over Angkor Wat, a visionary and beautifully preserved 12th-century temple and the world's largest religious monument.


Explore rural villages as the local residents do, either on foot, or by 'cyclos' or 'tuk-tuks'.


Visit the famed tree-covered limestone islands at Ha Long Bay, the country's most scenic diving, rock climbing & hiking destination.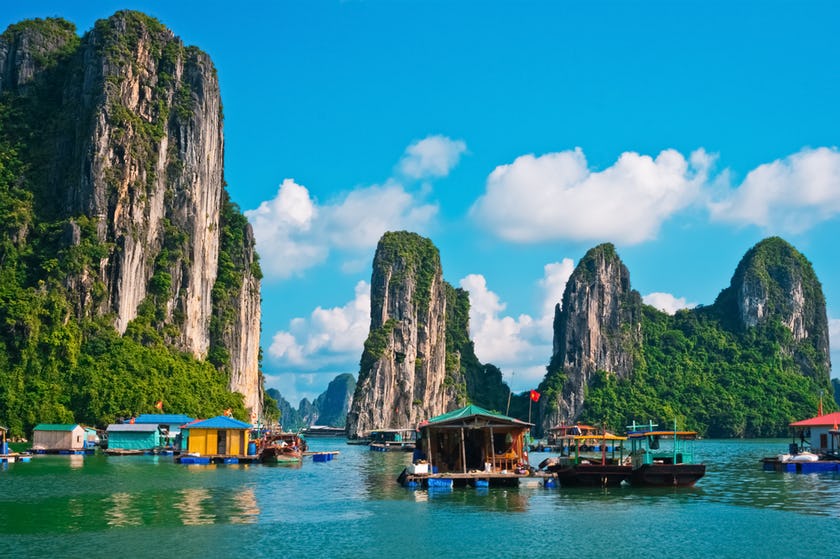 Vietnam's famous rock formations of Ha Long Bay are a must-see.
South Pacific
Insider Tip: Many expedition cruise lines include kayaking, snorkeling, stand-up paddle boarding, camping, hiking, fishing, helicopter flight-seeing, scuba diving and more. Depending on what you want to try, our experts can help get these activities planned perfectly.
Galápagos Islands
Snorkel or dive with sea lions, whales and schools of hammerhead sharks.


Visit 'Bird Island', home to over 30 bird species and admire the antics of red-footed and blue-footed boobies.


Wildlife-watchers will want to venture to the small town of Puerto Ayora on Santa Cruz Island to tour the Charles Darwin Research Station before continuing on to the famous Tortuga Bay area.


Insider Tip: The Galápagos Islands has fairly mild temperatures all year-round, so there's never really a bad time to go. From January to May the lows are at 60-70°F and the highs 85-90°. From June to December the lows are 65-70°F and the highs 75-90°.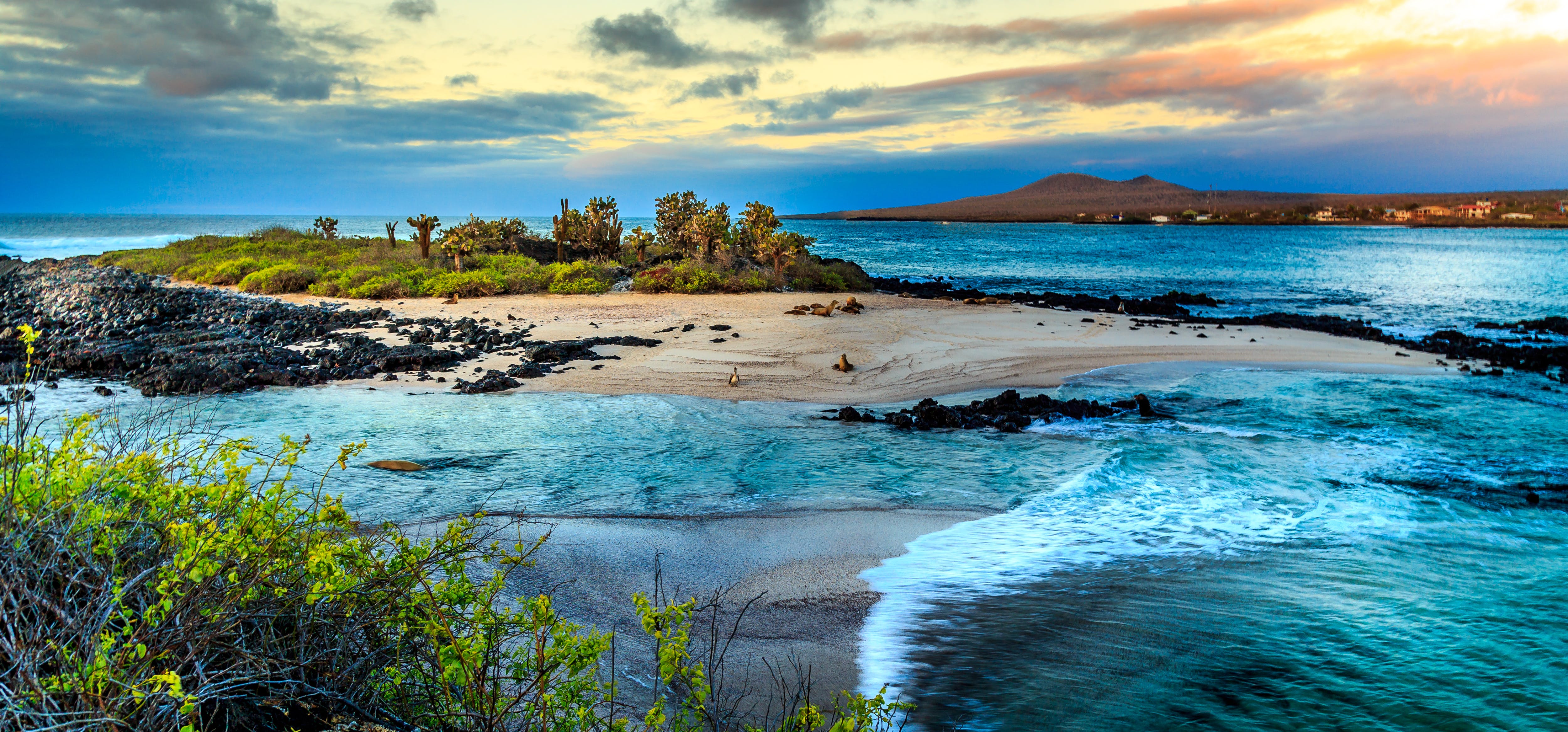 The Galápagos Islands are unique, untouched natural preserves.
Mexico
Relax overlooking the Sea of Cortez and try on-deck yoga or a tranquil meditation.


Visit Isla Espíritu Santo, a UNESCO World Heritage site. The uninhabited island, which some consider the most beautiful in the Gulf of California, has dozens of bays whose white sand beaches and waters are full of marine life.


Search for gentle whale sharks in Bahía de La Paz while traveling among islands once explored by early Conquistadors.
Africa
See Africa's highest concentration of leopards in South Luangwa National Park—their rasping calls during night safaris create an otherworldly experience.


Witness the massive cascade of Victoria Falls, a mammoth sheet of falling water roughly twice the height of Niagara Falls.


Visit Africa's storied western coast, home to some truly stunning islands, from the idyllic beaches of São Tomé and Principe to the rugged volcanic scenery of Cape Verde and the Canary Islands.


Insider Tip: Your African experience will be different depending on the season. In South Africa, for example, the land is much more lush and green from November to February which affects the natural patterns of local animals.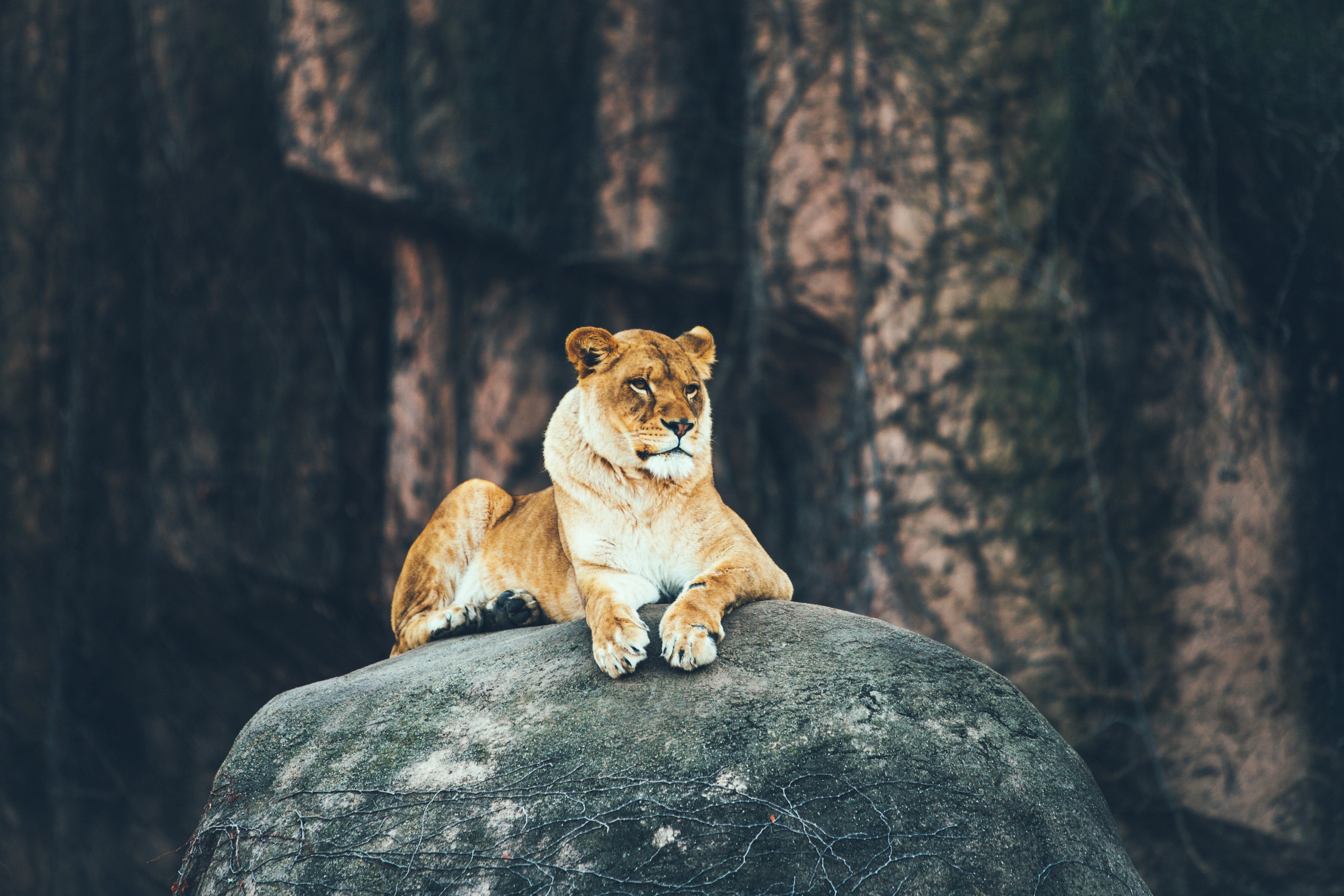 Lioness watches over her pride in a safari preserve.
Greenland, Iceland & Norway
Discover the Fjords and sculpted icebergs floating past the coastline.


Cross the impressive volcanic plateau of Reykjanes before driving through the bustling fishing village of Grindavík.


Spend the night underneath the stars during one of nature's most unique events, the bucket-list worthy "Aurora Borealis", or Northern Lights.
Belize
Snorkel, kayak, or paddle-board along the Mesoamerican Reef, the largest reef in the Northern Hemisphere.


Spend time off the beaten path at temples like stunning Yaxha, the third largest ruin in the Maya world, beautifully situated on a ridge overlooking Yaxha Lake.


Explore the dramatic Maya ruins of Tikal to see stone temples swathed in rain forest and teeming with wildlife.


Insider Tip: The Mesoamerican Reef is also popularly known as the Great Mayan Reef and is home to more than 65 species of stony coral, 350 species of mollusk and more than 500 species of fish.

Whether you're new to cruising or just want to try something new, an expedition voyage is a great way to go beyond sightseeing. Experience something much more immersive and interesting with education, enrichment and excitement at the forefront of your next off-the-beaten-path adventure.
Connect with a CruiseInsider expert today at 1 (877) 734-6858 to learn more about expedition cruising and the exciting destinations where they venture.