You've paid for your cruise, your flights, and your tours. Your vacation is on the horizon. Now it's time to splurge on all the extras that make every cruise spectacular—spa treatments, specialty restaurants, shore excursions and more—without busting your budget.
The cruise lines have a variety of names for it; shipboard credit, spending credit, or onboard credit. You'll sometimes see it listed as SBC (shipboard credit) or OBC (onboard credit) and often used as an added incentive, a booking bonus, or an extra perk.
But what exactly is shipboard credit? Essentially, it's free money! Money that can be applied to a variety of onboard expenditures and experiences, everything from sunscreen to souvenirs to swimming with dolphins.
Shipboard credit is a specific dollar amount automatically deposited into your onboard account—virtual cash—to spend on the ship.


So what can "shipboard credit" be used for exactly? How do you get more of it? And how can you make the most of the money? Our experts know all the tricks of the trade to guarantee you get the most shipboard credit available anywhere (the hard part) and recommendations on all the ways to spend and stretch it (the easy part.)
What to Use It For
Although every cruise line has slightly different restrictions for spending your shipboard credit, there are typically very few places on board (like the ship's casino) where you may not be able to use it. Remember, if you still happen to have shipboard credit left at the end of your voyage (which is extremely unlikely), you don't get the leftover amount back as cash—it's "use it or lose it."
Ask one of our advisors or check the cruise line's fine print prior to your shopping spree, but here are some examples of things your spending credit can be applied to on your next cruise: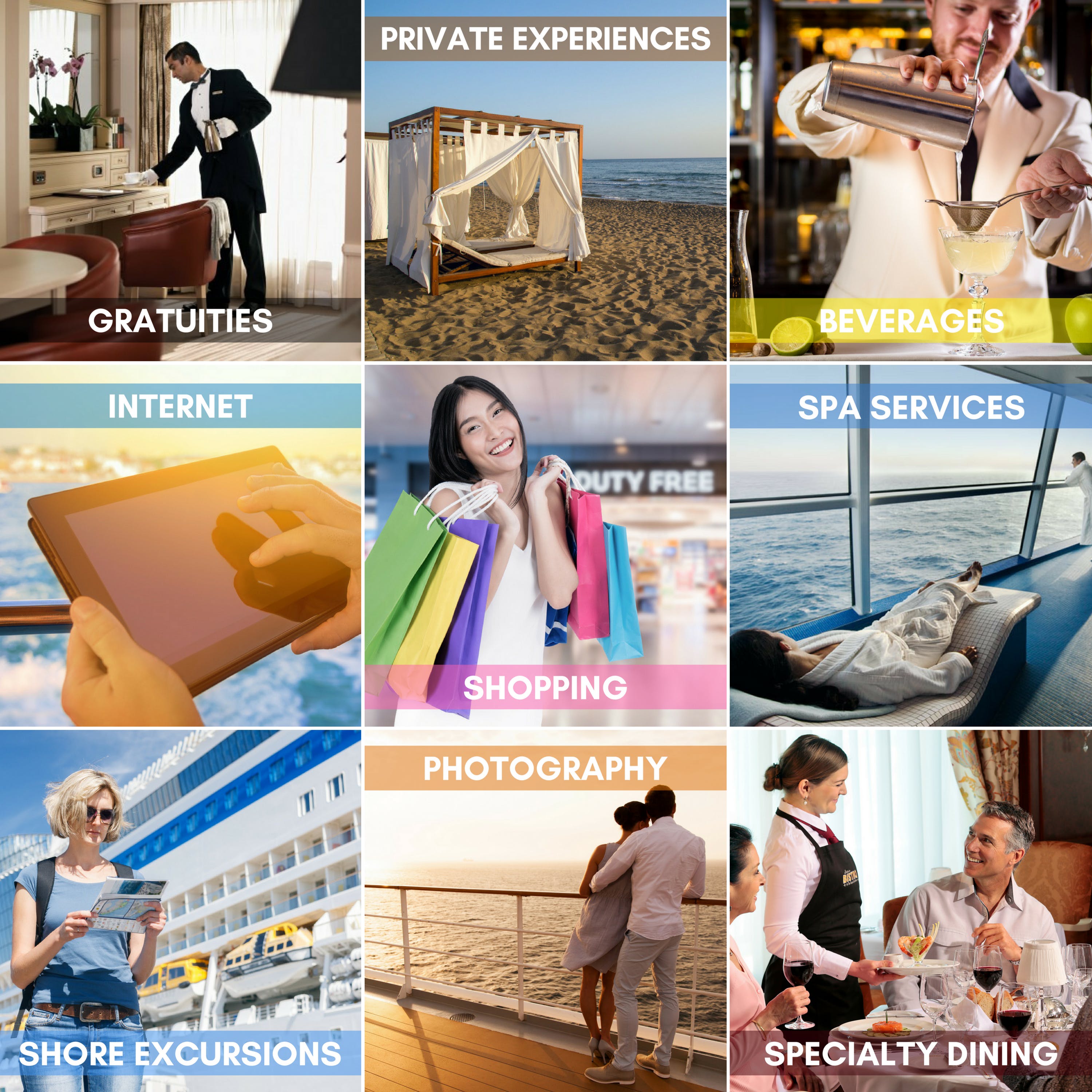 Shipboard credit can be applied to a variety of onboard experiences and expenses.
Getting More Shipboard Credit
Most cruise lines, including the all-inclusive luxury brands, will routinely offer an obligatory amount of shipboard credit to encourage you to book your next cruise with them. Varying by the length of your cruise (longer trips usually mean more credit), cabin type, the itinerary, or booking deadlines, these shipboard credit offers are usually good incentives, but they're provided to everyone.
So how do you get more than what everyone else gets? Here are a few ways to get even more of this coveted cash to spend on board.
Work with a CruiseInsider travel advisor
As a preferred partner of the world's top cruise lines, we have secured exclusive deals with the best brands that include extra credit and Insider perks on almost every cruise above and beyond what the cruise lines will give. Requesting a quote from us ensures you'll always get the most amount of shipboard credit we can add!
Be open to select sailings and special offers
Specific cruise deals and certain voyages will earn you even more shipboard credit than you'll find on the standard sailings. If you're willing to sail on one of these itineraries or book within a designated window, you can potentially earn hundreds more in credit to apply on ship.
Be loyal
Return cruisers are considered brand ambassadors by most cruise lines, and shipboard credit is their "go-to" reward for this continued patronage. CruiseInsider also recognizes and rewards loyalty, so when you work with our advisors on every cruise, your shipboard credit amount will likely build over time.
Book onboard
While you're enjoying your vacation, cruise lines will do whatever they can to entice you to sail with them again—many times it's by adding shipboard credit. (Don't worry, when you book onboard you're still being loyal to your travel advisor.) In fact, we highly recommend you take advantage of any aggressive deals to be had by booking onboard! The cruise lines want you back, and having heaps of shipboard credit added to your next booking is sure to make a future cruise worth your while.
Insider Tip: Spreading the word about your cruise isn't a thankless endeavor. Most lines offer referral bonuses - starting around $25 of shipboard credit per cabin booked - if you can get your friends or family to book a cruise as well.
Make the Most of Shipboard Credit
Now that you've gotten ample shipboard credit, you'll want to maximize it while onboard. Here are some helpful insider tips to stretch your free money as far as it can go.
Go on a shopping spree
From little souvenirs to luxury watches, purchasing from the ship's various boutiques—perfume, jewelry, watches, designer clothes, electronics, and more—is a great way to use your shipboard credit. Plus, because shops on cruise ships truly are duty-free, you'll extend your credit even further by avoiding the extra taxes and fees you'd normally pay on land.
Have a drink…or two
Unless you're on an all-inclusive luxury line or have purchased a special beverage package, alcoholic beverages are seldom free of charge. If you just want a few beers, some pina coladas or a glass of wine with dinner, using your shipboard credit will go a long way.
Insider Tip: Some cruise lines have their own private islands which are considered an extension of the ship's "cashless society." So whether you go ziplining or rent a private gazebo on land, paying for it all would come out of your credit onboard.
Channel your inner-foodie
While "standard" restaurants on most modern ships offer delicious dining options included in your fare, ships continuously add new and different specialty restaurants. On most luxury lines these restaurants are included, but in some cases there's a small fee to eat at these special venues. If so, use your shipboard credit to try new cuisine from the world's top chefs at these alternative restaurant concepts.
Treat yourself like royalty
Onboard credit goes a very long way at the ship's spa or salon, especially when you book your service while in-port or on the day of. Relax with a hot stone massage, wrap yourself in seaweed, refill your "products", get your hair professionally styled or get a much-needed pedicure. Using shipboard credit at the spa allows you to pamper yourself without deep pockets.
Family photo shoot
Photographers are a constant site on cruises capturing memories at every port, at each dinner and during the more formal nights. You're totally relaxed, tan and you're all together, so why not use onboard credit to turn the ship's photographer into your personal paparazzi, capturing your family vacation forever.
Insider Tip: Want a real win-win? Invest money in the brand if you love your cruise line. Most major lines offer shareholder benefits in the form of shipboard credit to those who own stock in their company.
Cooking and cleaning
Vacations are about not having to do the laundry or cook your own meals, right? Instead of going home with piles of dirty clothes, why not use your Shipboard Credit to have all your laundry washed, folded or dry-cleaned? Or maybe learn how to cook like a pro preparing a variety of exquisite dishes during an onboard cooking class?
Tour like a VIP
While visiting the world's most beautiful places, why not see it all from the comfort of a private air-conditioned Mercedes versus piling into a big tour bus with 50 tourists. When you book your cruise with CruiseInsider, we can turn your shipboard credit into a personalized tour with a private car and driver, allowing you to truly get more and see more, without spending more.
For more insight or inspiration on how to maximize shipboard credit, speak to one of our CruiseInsider experts at (877) 734-6858.