Looking for something new? From new river vessels to next-level expedition ships to the latest luxury ships, there are a host of incredible new cruise ships coming in 2020 and even more set to the water next year and beyond!
Some ships are open for booking now and others launch soon, but our travel advisors have the inside scoop on everything new to cruising and will ensure you're in the know about what's coming soon.
Below are just a few of the new cruise ship debuts that our CruiseInsider experts are most excited about:
Celebrity Cruises
Crystal Apex (2020)
Sister-ship to the recently released Celebrity Edge - one of the most anticipated and highly-awarded ships to hit the water in awhile - the new Celebrity Apex will also feature innovative features like The Magic Carpet, a movable deck cantilevered off the side of the ship which rises from decks 2 to 16 and transforms into a bar, a restaurant and an extension of the embarkation area.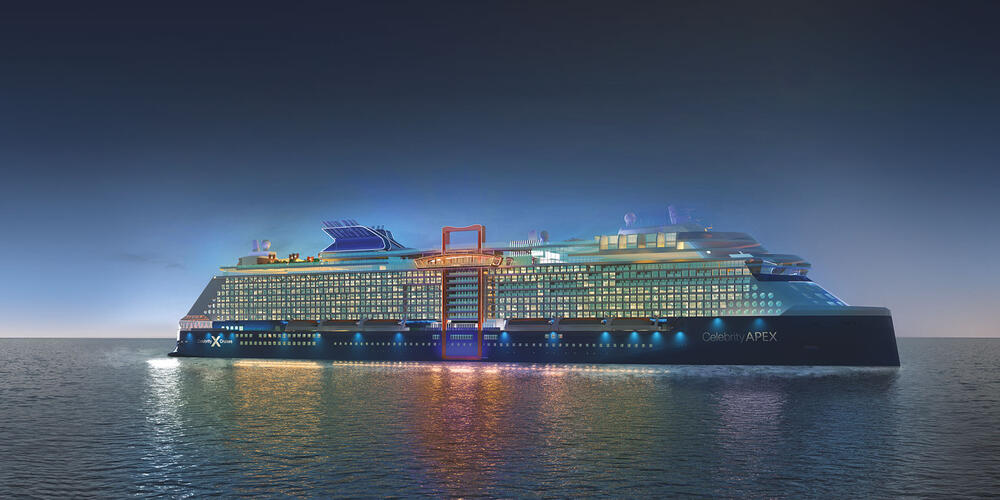 Celebrity Apex will feature two stunning new suite classes: the 5,000-square foot Iconic Suite; and the Edge Villa, a two-level suite.
Crystal Cruises
Crystal Endeavor (2020)
Crystal Endeavor is a brand-new luxury expedition mega-yacht with polar capabilities, and will feature two helicopters and two submarines, plus Zodiacs, jet skis and equipment for scuba, snorkeling, kayaking and fishing. Two additional and similar - but yet unnamed - ships will unveil in 2021 and 2022 respectively.
The twin sister to Crystal's recent yacht addition Crystal Esprit, the Crystal Endeavor will sail expedition-style itineraries to Antarctica and the Arctic, the coast of the Americas, Europe, remote islands in the Atlantic and Pacific, as well as tropical locales.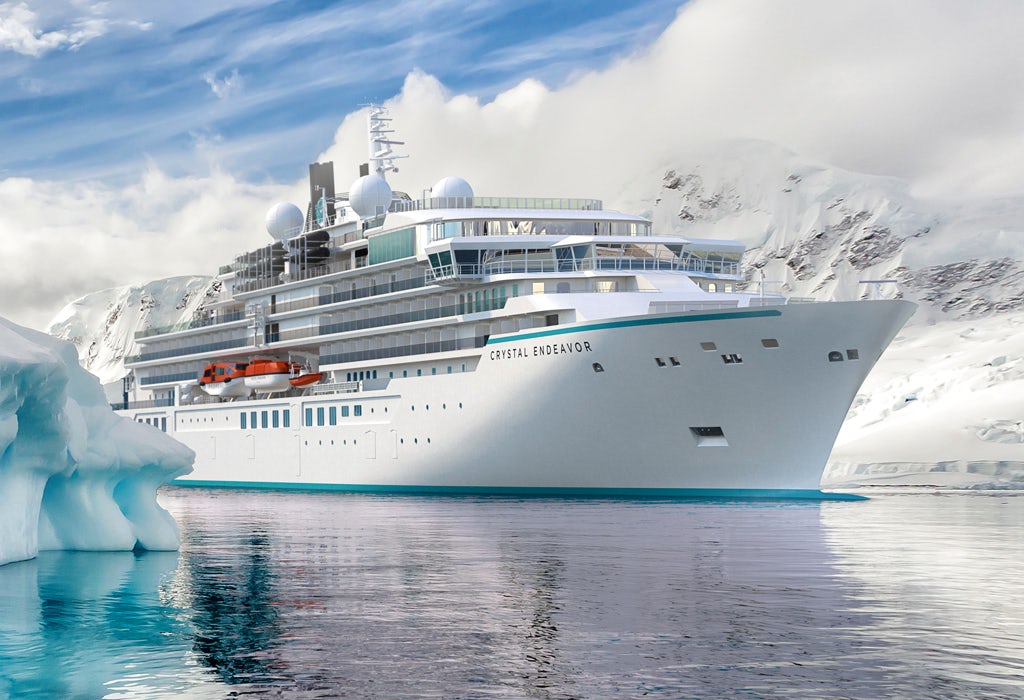 Artist's rendering of the incredible Crystal Endeavor.
Along with far-flung itineraries and polar-class upgrades, this intimate luxury vessel will accommodate only 200 passengers in 100 suites plus include a private conservatory; indoor and outdoor Jacuzzi; sightseeing area with 270-degree views; an infinity pool that can become a dance floor or dining area; and a large, full-service spa and wellness center. Endeavor is open for booking now - be the first to explore in elegance!
Insider Tip: Offshore dynamic positioning technology will allow the Crystal Endeavor to automatically maintain its position, which means she can float atop coral reefs and other delicate marine life without the use of potentially damaging anchors and will also use ROV (remote operated vehicles) so guests will be able to see sunken ships and other relics, including the famous Titanic!
Cunard Line
Ship Name TBA (2022)
Cunard's as-yet-unnamed next-generation vessel will be the first new-build ship since the launch of Queen Elizabeth in 2010 will continue Cunard's legacy of superior service and elegant style. Sharing the iconic livery and red funnels, the new ship will accommodate up to 3,000 guests⏤the largest in the fleet⏤and feature distinct Cunard signatures and brand new luxury experiences.
Disney Cruise Line
Disney Wish (2021) & Ship Names TBA (2022 & 2023)
Disney is adding three more ships to the family-friendly line's fleet starting in 2021, bringing its total to seven. The new ships are expected to be slightly larger than Disney's two newest vessels, the Disney Dream and Disney Fantasy, which measure 130,000 tons each and debuted in 2011 and 2012, respectively. Disney Cruise Lines expects each of the new ships would have about 1,250 cabins, the same number found on the earlier ships.
Insider Tip: Disney is known for innovation, and that's found on their cruise ships as well. The were the first cruise line to offer water coasters at sea and the first to offer high-tech virtual windows in windowless "inside" cabins.
Hurtigruten
MS Fridtjof Nansen (2020)
Sister to the recently launched MS Roald Amundsen, this state-of-the-art expedition vessel comes online this year and like her counterpart, will feature new and environmentally sustainable hybrid technology that will reduce fuel consumption and show the world that hybrid propulsion on large ships is possible.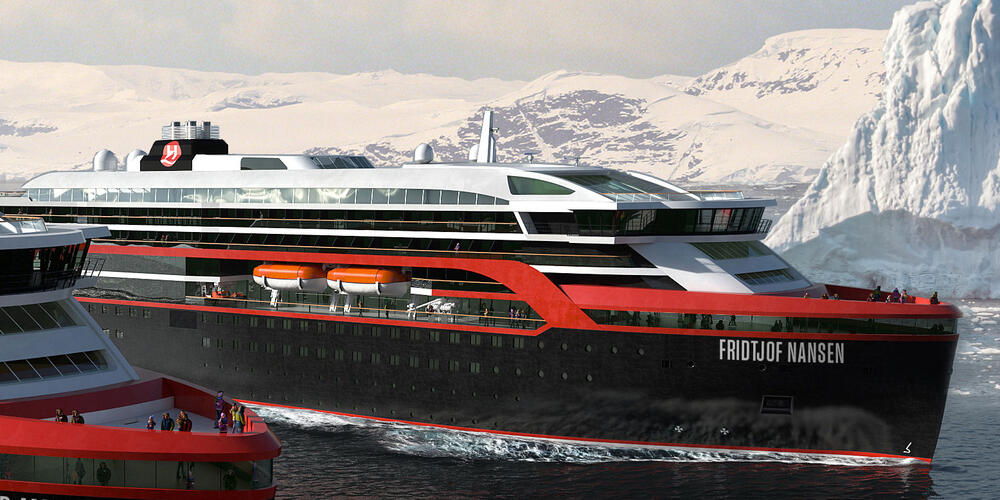 The MS Fridtjof Nansen is designed to cut emissions by sailing partially with electrical propulsion.
The second of two hybrid ships Hurtigruten will have added to its fleet over the next few years, the MS Fridtjof Nansen continues the way toward a more sustainable way of exploring the earth's precious polar regions.
Insider Tip: Hurtigruten's new hybrid technology will make sailing with electric propulsion for 15–30 minutes a reality and reduce fuel consumption and CO2 emissions by 20%, amounting to more than 3,000 metric tons of CO2 per year.
Lindblad Expeditions
National Geographic Endurance (2020) & Resolution (2021)
Purpose-built for polar navigation, the newest addition to the Lindblad Expeditions fleet is the National Geographic Endurance, which will be followed in 2021 by sister-ship the Resolution.
An ice-class Polar Code PC5 (Category A) vessel with a patented X-bow® for powerful wave-slicing action provides an extremely smooth ride in all conditions and also reduces spray on deck for superior observation.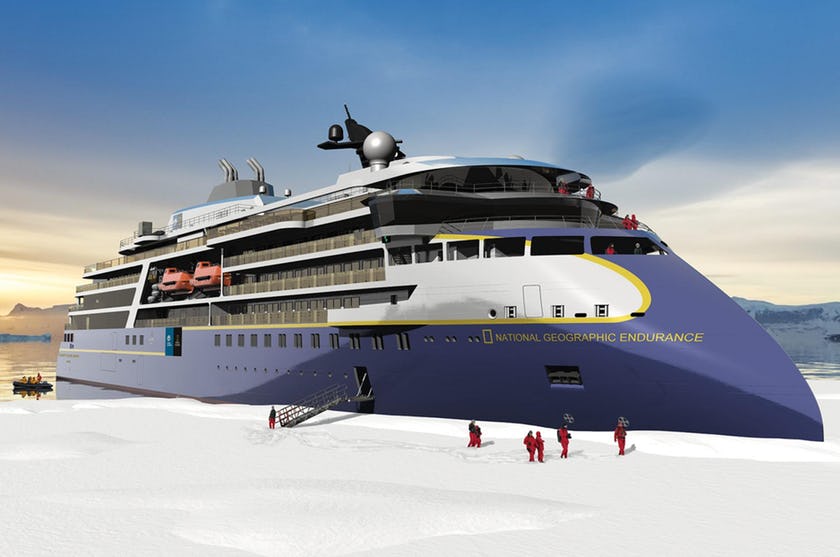 Both of Lindblad's purpose-built polar ships will ensure authentic adventure cruising.
Open for reservations now, the incredible Endurance accommodates 126 guests in 69 spacious cabins—all of which face outside and have large windows or balconies, private bathrooms, and an expedition command center with tablets and USB/mobile device docking.
Insider Tip: Named in honor of famed polar explorer Ernest Shackleton's ship, the Endurance is designed to explore uncharted waters and new latitudes, including Northeast Greenland, remote Jan Mayen island, the Northeast Passage, and more.


The ship also carries a fleet of Zodiac motorized landing craft, kayaks, snowshoes, and cross-country skis; as well as a sophisticated equipment that allows onboard undersea specialists–National Geographic photographers, certified photo instructors, video chroniclers and more–unique access and ability to share the underwater world.
Oceania Cruises
Ship Names TBA (2022/2025)
The next chapter of Oceania begins with a complete re-imagining of their current fleet under their OceaniaNEXT initiative which elevates every facet of the guest experience to new levels, but the next generation of their luxury fleet will arrive starting in 2022.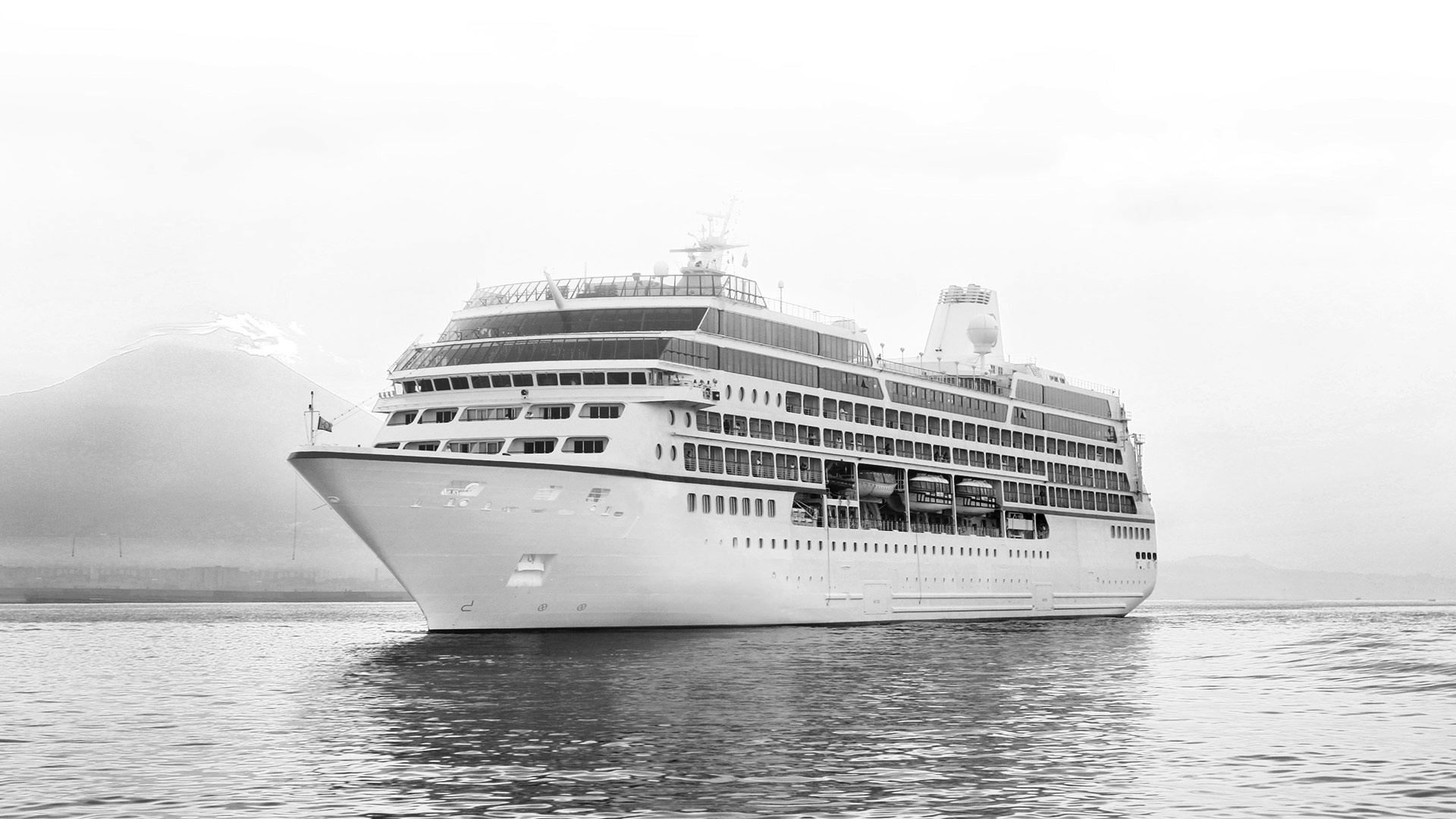 Two new cruise ships added to the Oceania fleet means more chances to taste the finest cuisine at sea.
The two new Allura-Class ships will represent an evolution of the Oceania Cruises experience with all the elements guests treasure – a warm, intimate, residential style; the most spacious standard staterooms afloat; amazing suites, and of course, the finest cuisine at sea.
Quark Expeditions
Ship Name TBA (2020)
This yet unnamed polar expedition ship will carry two helicopters and a fleet of 20 Zodiacs, with four Zodiac embarkation points to speed up the ship-to-shore landing process. Modern amenities like a spa and fitness facility, multiple restaurants and a design that optimizes fuel, water provisioning and waste handling will make this an extraordinary ship to explore the polar regions.

Regent Seven Seas
Regent Seven Seas Splendor (2020) and Ship Name TBA (2023)
Regent has signed a contract with Italy's famous Fincantieri shipyard to build yet another 750-guest sister ship to compliment the recent Seven Seas Explorer, the most luxurious ship ever built, and the new Seven Seas Splendor in 2020, the ship that perfects luxury.
The suites onboard Regent's new ships are among the most luxurious at sea.
Building on the success of its predecessors, Regent Seven Seas Cruises' newest additions continue to set the standard for defining elegance at sea. The addition of these two intimate, stylish and spacious new ships will total six all-suite vessels for the most inclusive luxury experience at sea.
Regent Seven Seas Splendor is open for booking now! Click here to get bonus savings and InsiderExtras on a variety of destination rich itineraries.
The Ritz-Carlton Yacht Collection
Azora (2020) & Evrima (2020)
After years of excitement, the luxurious Ritz-Carlton Yacht Collection is finally here and its arrival has caused waves throughout the luxury cruise industry. The first-ever cruise vessel from luxury hotel brand The Ritz-Carlton®, the 298 passenger mega-yacht Azora is like nothing else.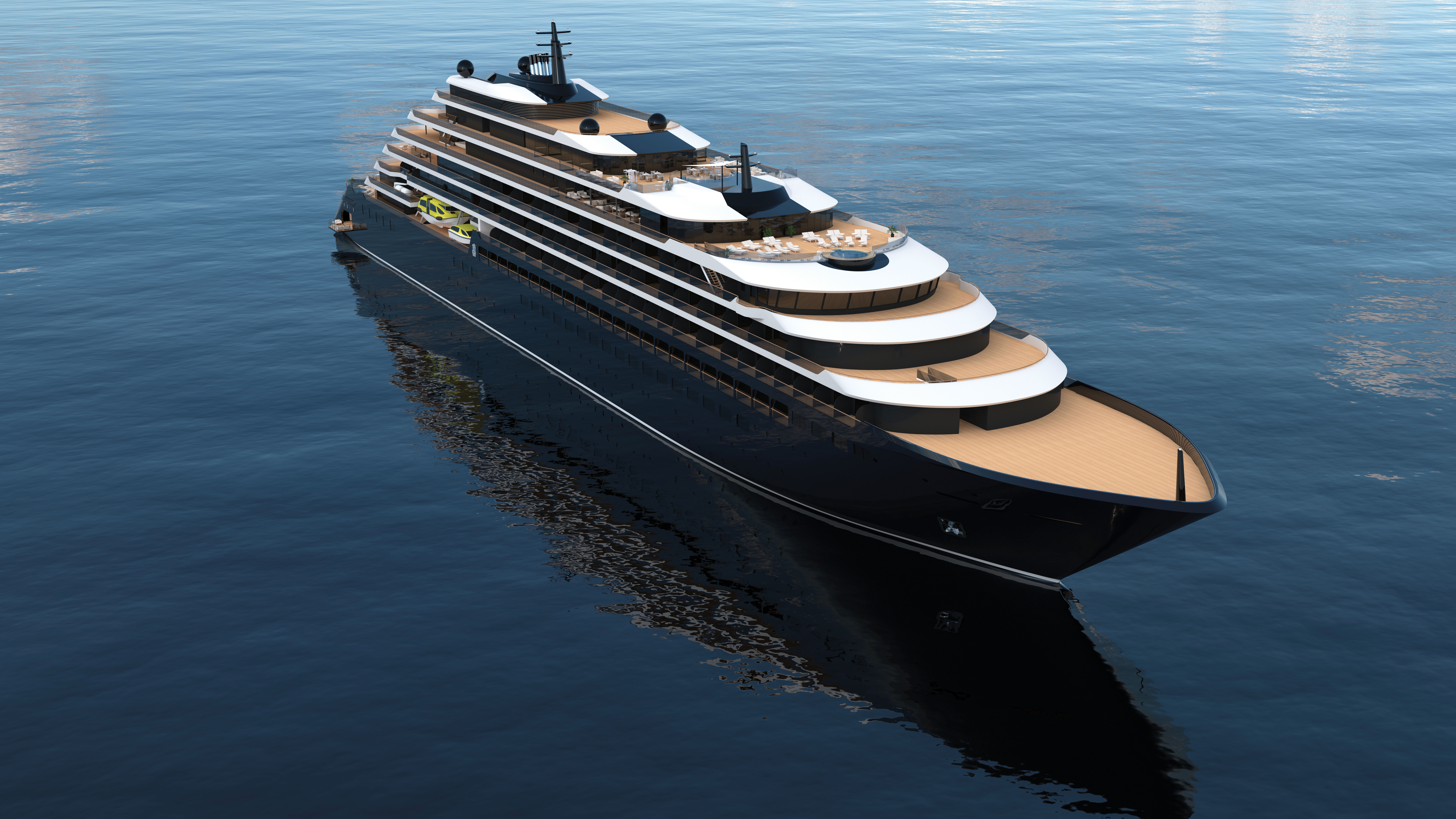 Live untethered, live fully on a luxury yacht cruise from The Ritz-Carlton.
Designed to combine the luxury lifestyle of their high-end hotels and the casual freedom of a yachting vacation, bespoke voyages on the new Azora - and her first sister-ship the Evrima expected to sail in 2020 - will range from seven to ten nights, offering many overnight calls and uniquely curated experiences ashore. Explore the Caribbean, Mediterranean, Europe and New England on one of 39 luxury yacht itineraries open for reservations now!
Insider Tips: The state-of-the-art Ritz-Carlton yachts will feature 149 suites, each with its own private terrace, plus personalized service, elevated dining and luxury amenities in a relaxed, casually elegant atmosphere.
Seabourn
Seabourn Venture (2021) & Ship Name TBA (2022)
You can now add Seabourn to the list of cruise lines getting into adventure-style cruising with the announcement of two new expedition vessels scheduled to debut in June 2021 and May 2022, respectively. The name Seabourn Venture pays tribute to their unique excursion programs, and the fascinating places yet to be explored.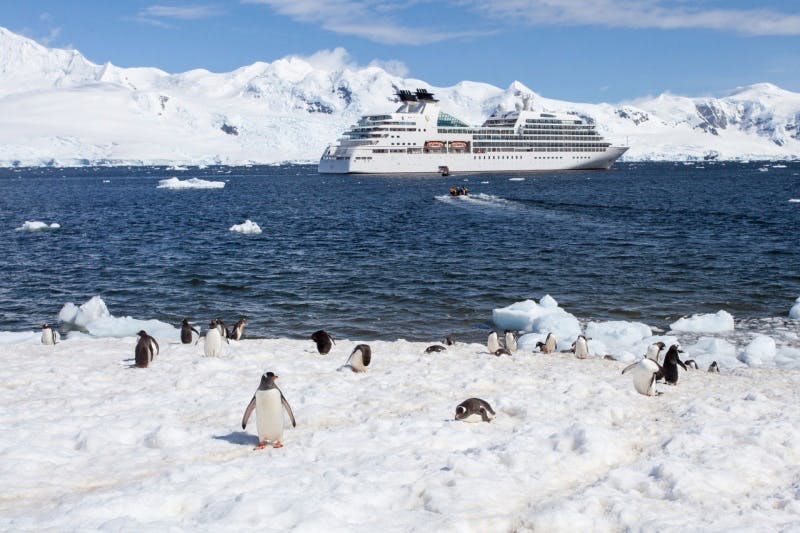 Seabourn's expedition ships will visit Antarctica, the Arctic, and other hard-to-reach global destinations.
The Venture will hold up to 264 passengers each and offer all-suite luxury accommodations, plus they'll carry their own submarines as well as kayaks and motorized Zodiac boats for exploring. Built with strengthened hulls that meet PC6 Polar Class standards, these ultra-luxury ships will comfortably operate in the icy waters of Antarctica and the Arctic and will include a plethora of modern hardware and technology that will extend their global deployment and capabilities.
Silversea Cruises
Silver Moon (2020) & Silver Dawn (2021)
The debuts of the ultra-luxurious Silver Moon followed by the Silver Dawn, sister ships to the recently released Silver Muse, will expand Silversea's impressive fleet to 11 incredible six-star ships, and once again significantly raises the bar in the ultra-luxury cruise market with a wealth of enhancements to the onboard experience, while satisfying the uncompromising requirements for comfort, service, and quality of the world's most discerning travelers.
Silver Origin (2020)
The first destination specific ship built by Silversea (with others on the way), Silver Origin is the height of experiential travel in the Galápagos. Never before will the islands been so superbly presented: a team of Ecuadorian national expert guides, the highest crew-to-guest ratio in the Galápagos, 8 Zodiacs, all-inclusive, all-suite accommodations, seamless hybrid spaces that offer an extraordinary voyage – for extraordinary people.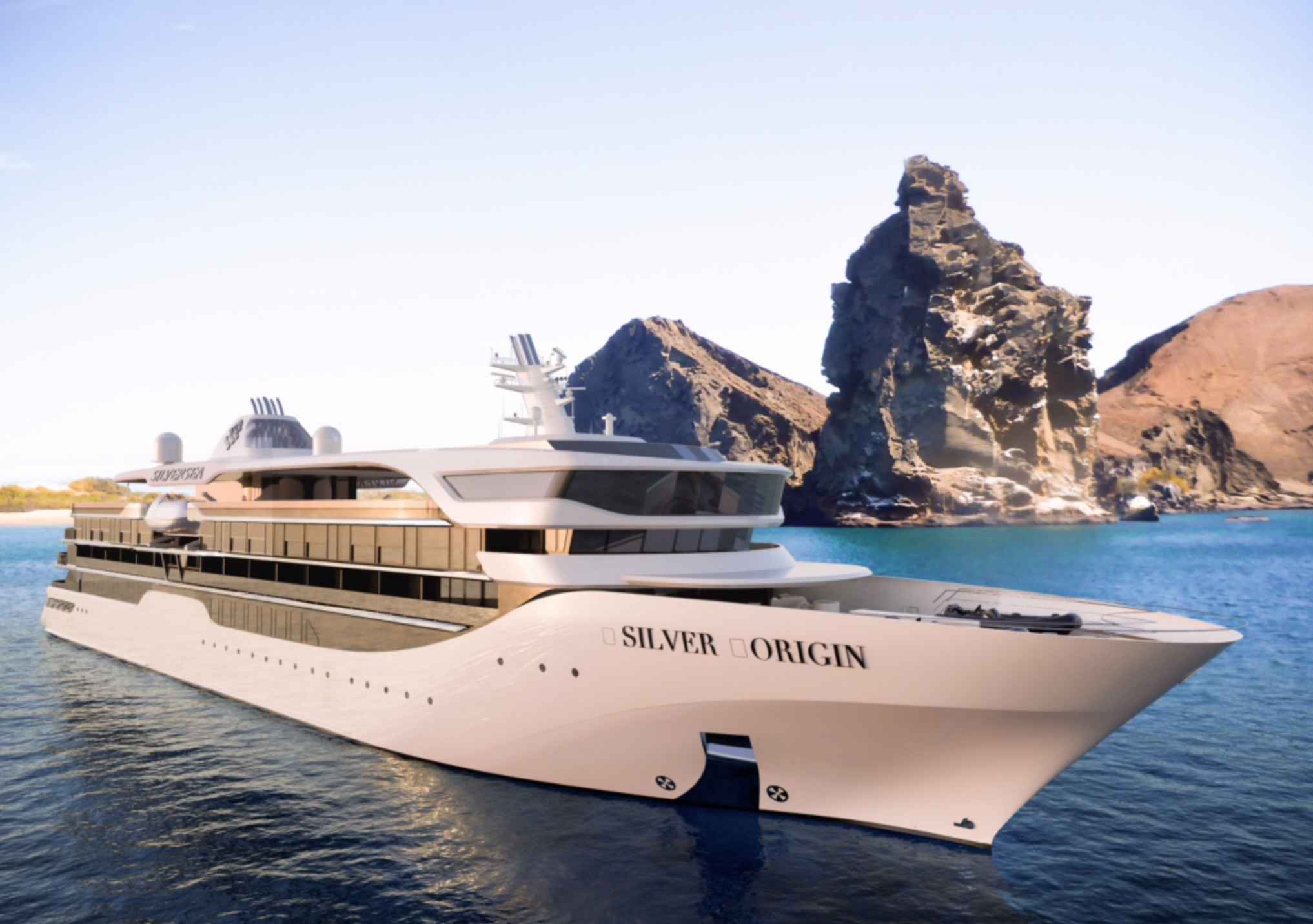 Arriving 2020, Silver Origin will be the most elegant ship ever to sail the Galápagos.

Also one of the most environmentally friendly cruise ships ever and designed entirely with these unique islands in mind, Silver Origin will combine Silversea's local destination expertise with the cruise line's trademark level of luxury to offer guests the ultimate destination experience.
Viking Cruises
Viking Venus (2021)
The 930-guest small ship Viking Venus—the seventh Viking ocean vessel–is being designed exactly like her beautiful sisters and will have her maiden voyage next year. An eighth ocean ship has already been announced as well for 2022 making Viking one of the largest, most impressive fleets in the world.
A cutting-edge carbon copy of the other Viking Ocean ships in the fleet, this small, all-veranda contemporary ship combines form and function with understated but elegant experiences designed to enrich your interaction with every destination you discover.
Viking Octantis (2021) & Viking Polaris (2022)
Viking Cruises will enter the expedition market in 2021 with the debut of the first of two state-of-the-art adventure ships known as the Polaris Class. Viking hasn't provided many details about these expedition vessels other than they will be equipped with zodiac rafts, onboard submarines, and a highly trained expedition team - plus they will be designed to run on both traditional marine diesel oil and natural gas to decrease their environmental imprint in sensitive regions.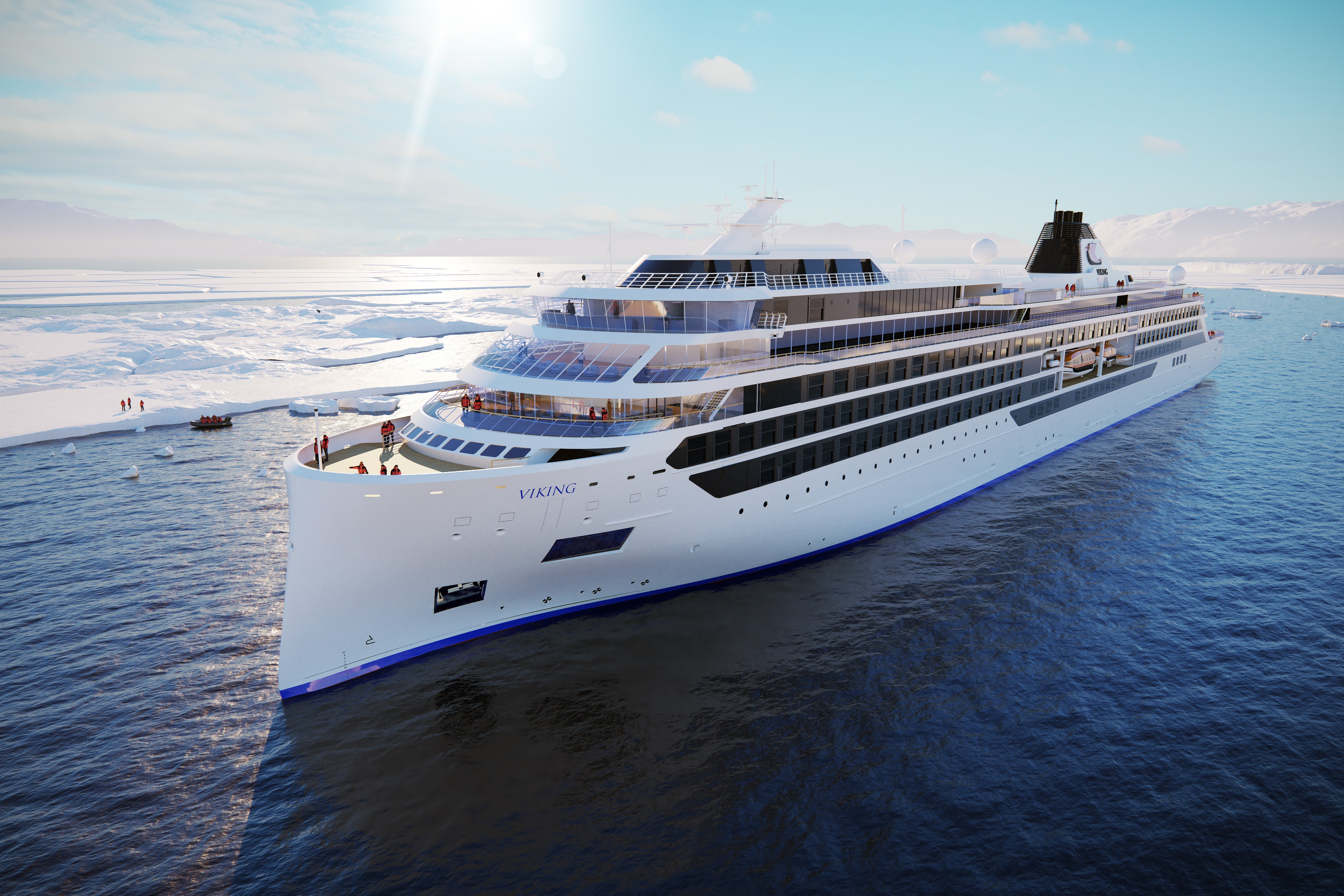 Viking's new Polaris Class expedition ships will be one of the most advanced adventure vessels ever built.
As part of the Viking commitment to "The thinking person's cruise," this cutting-edge cruise line also partnered with some of the world's most prestigious scientific institutions to provide Viking Resident Scientists for each expedition - experts who will conduct research on board and provide guest interaction and enrichment.
Virgin Voyages
Scarlet Lady (2020) and Ship Names TBA (2021/22)
One of the most exciting new entries into the cruise space is the arrival of Virgin Voyages. Tapping into the nostalgia of the classic days of sailing with the creation of the indulgent and innovative Scarlet Lady, setting sail in 2020, billionaire Richard Branson is creating an elegant, adult-only experience that doesn't just cater to the elite.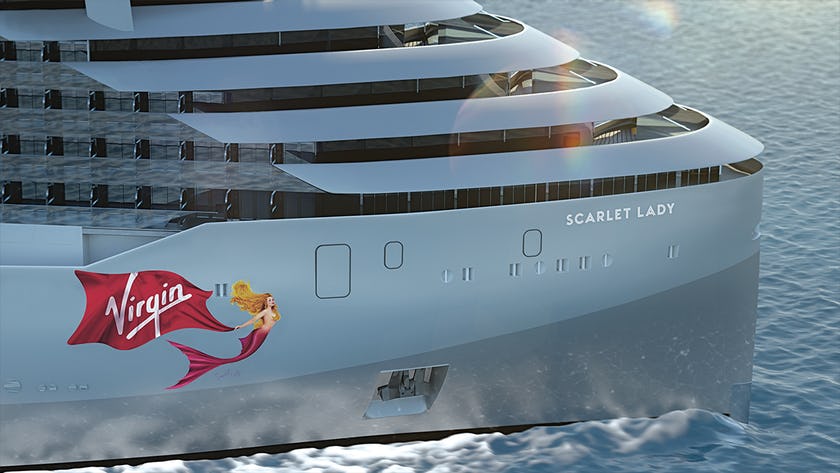 The Scarlet Lady will be an homage to classic cruising with a uniquely modern twist.
Inspired by historic vessels and legendary glamour, these contemporary cruises will hold 2,700 cruisers and be like nothing else ever offered in cruising. Both the all-new Scarlet Lady and her sister-ships expected to arrive in 2021 and 2022 respectively, will have an exclusive, distinctive, and luxurious feel–nostalgia served up in a contemporary way–that speaks to today's traveler, tomorrow's cruiser and those who never thought about ocean sailing as a vacation option.
Insider Tips: Virgin Voyages' other mission is to minimize the environmental impact of their ships while working to secure a healthy future for the ocean with eco-friendly design and technology including the ability to turn waste heat into clean energy, converting heat into electricity, minimizing waste on board and purifying wastewater.


For more insight or inspiration on the newest ships and nicest remodels—plus the very best deals you can find anywhere—speak to a CruiseInsider expert today at 1 (877) 734-6858 for insider access to everything coming soon to cruising.