You've booked your once-in-a-lifetime cruise and are almost ready to begin your global journey. You'll see dozens of exotic destinations, experience new cultures and cuisines, and explore the world in unmatched luxury—and you'll certainly want to keep your friends, family and followers updated about your exciting adventures.
But how do you stay connected with the world while you're actually out exploring it? Follow our recommendations, then sit back and enjoy your cruise knowing you'll stay connected whether you're out in the middle of the ocean or docked at an out-of-the-way port.
Here's how to remain in touch with loved ones while traveling without all the long waits, latest technology, or loads of ridiculous fees.
Plan in Advance
Tell the most important people in your life when and where you'll be traveling—family members, doctors, neighbors, friends—and ensure they have your itinerary, a copy of crucial documents and all your contact info. Plan when you "check-in" with home in advance as some ports have better internet access and stronger connectivity than others. Share this communication plan with your loved ones at home so they know when to expect a call and which days they won't hear from you.
Insider Tip: Write your email offline or in a word processing program, and then hit send or paste what you've written into the email as soon as you log in. This won't change your connection speed, but it will save you money and time when the internet is limited.


Make sure to let your bank, credit card company and mobile phone carrier know you'll be gone for weeks and see what options they may have for extended travel. There are many international plans and prepaid phone packages designed for traveling to different countries that won't charge you for every text, email or Facebook "like."
Stay Mobile
Most people nowadays travel with their laptop, tablet and smartphone making it possible to connect from any device whether using the ship's internet (which can be slow and spotty) or visiting a local internet cafe in port (which can be easy but expensive.) The best bet for smartphone users is finding Wi-Fi hotspots ashore where you can Facetime for free or download all your emails at no charge.
Insider Tip: Most ports have free Wi-Fi where the ship's actually dock. Our cruise experts, local tourism offices and even the ship's crew - who know all the hotspots in the ports they frequent - can be very helpful in pointing out where you can quickly connect and check messages at your convenience.


If you're looking to truly minimize mobile fees, here are a few cost-saving tips to remember:
Beware of incoming text messages.
Turn off everything that's "automatic"—software updates, streaming services, attachment downloads, cloud-based syncing and push notifications.
Limit streaming of movies, music and videos.
Keep your phone in airplane mode to prevent big data charges and don't use the ship's mobile network to download any messages as data costs while roaming on a mobile network can be very heavy.
If you're using your phone to surf or check messages, you can use the ship's internet, just turn off your phone's ability to access mobile signals while keeping the Wi-Fi ability active.



Insider Tip:

Keep communications costs down by sending short, but more frequent, text messages instead of calling. ("Just landed in Barcelona. Weather is beautiful. Off to cruise ship.")




Use your cellphone sparingly while at sea.
Internet Onboard
For those new to cruising, one of the most discussed (and disappointing) aspects of modern-day cruise ships is the internet access, or lack thereof. Everyone expects it to be as quick and reliable as it is in their homes, and disappointment mounts as speeds slow to a crawl and connectivity becomes impossible. While some locations and cruise lines offer stronger connections than others, managing your expectations and making the most of the ship's services, is the best way to avoid frustration.
When deciding to buy the cruise's internet package, consider that some cruise lines charge by the minute, while others offer daily or voyage-long packages. Our experts know which plan is best and even how to get free internet, so let us help determine which plan is right for you.
Getting internet access at each port is easier than you think.
While cruises offer the perfect escape from the real world—one that we highly recommend disconnecting from while cruising—if using the internet is a priority when planning your vacation, here are some insider tips and tricks for surfing the web at-sea:
Some cruise lines offer ship specific apps that, along with making reservations onboard or learning more about daily activities, allows users to stay connected with other guests during your cruise and for calling loved ones back home for a nominal per minute fee.
Cruise ship internet rates are the same whether using a laptop or a cell phone, so if you want to quickly check messages need only log on for the few minutes it takes to download messages before signing off.
For those searching for the fastest Internet connection, try to use the web when the fewest people are online, such as early morning, late at night or in port when most passengers are ashore.
Because some ships switch to terrestrial (land-based) towers when sailing close to shore, try saving the bulk of your browsing, emailing and uploading for times when you're nearest to land.
Many cruise ships can now automatically detect the amount of bandwidth required and will limit heavy usage streaming services like Skype, FaceTime, Netflix and YouTube, or block them entirely.
Back up your data on your devices and computer before you depart, whether on an external drive or with a cloud-based service.


Insider Tip: Every stateroom on AmaWaterways river cruises comes equipped with an Apple computer so guests can stay connected in the comfort of their cabin and not have to use a business center. They are also the only river fleet with 4G onboard and spend more annually on wireless service than they do on fuel.
More Solutions
Whether you need a dedicated connection or if you're determined to spend some time off the grid during your journey, having the ability to get online or get your messages--even at a moment's notice--is important to most vacationers. Here are some additional solutions to help you stay connected on your cruise.
Google Voice
Signing up and getting a Google Voice phone number in the U.S. is free and is perfect for those that don't want to pay for all those "unimportant" phone calls. Google Voice sends all your messages–cell, home, work and more–straight to a voice mailbox. A few minutes after receiving a call you'll get an email with the voicemail transcribed along with a link to listen to the message if necessary. It's not perfect, but it's a smart way to control your phone costs and eliminate unwanted or unnecessary phone calls while traveling abroad.
Helpful apps
Many cruise lines have their own on-ship communication apps, but here are others we recommend for staying connected while cruising:
Create a Travel Blog
While most travel blogs are written by professional writers looking to get noticed or get paid, the concept of a personal travel blog is perfect for private use as a way to keep your inner circle up to date on your journey.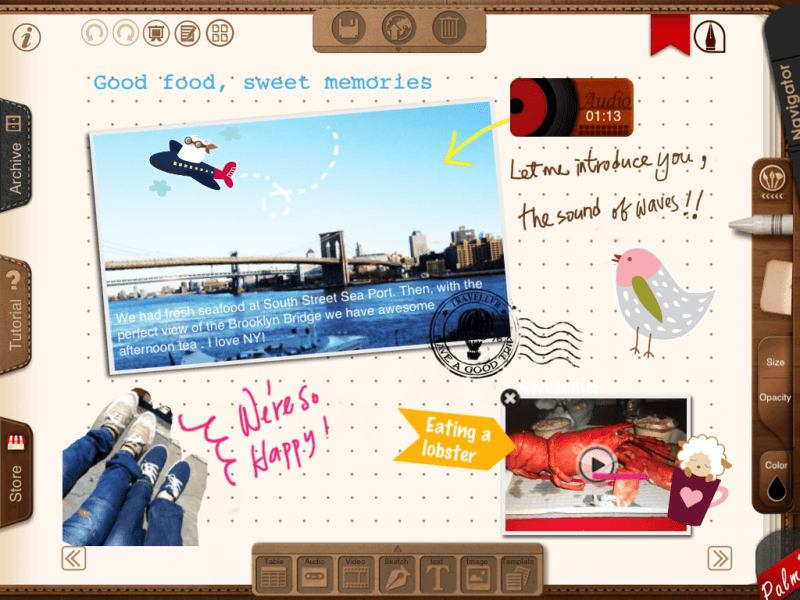 Updating personal travel blogs are a popular way to stay connected while cruising.

Use a simple template from Wordpress.com, a simple to use, free blog with free hosting and tons of design ideas and themes included. Simply update the blog as often as you'd like with any content you want–photos, videos, recommendations, comments and articles–and every time your followers visit the page, they'll be updated on your ongoing adventures.
Insider Tip: You can create a secure password for family members only so your blog is not accessible to the public and can only be viewed by the people you invite.
Consider a 'virtual assistant'
If you can afford it, it's easier than you think. Outsource your check-ins to a virtual assistant who can screen your emails, respond on your behalf, make calls on certain days, and can quickly inform your family that all is okay while keeping tabs of every task you ask them to (i.e. work is good, pets are fine, plants are watered, etc.)
Ideal for those who need to stay in contact with happenings back home but don't want to be attached to their phone or worry about constantly informing family and friends about your safety, whereabouts, or day-to-day happenings.
Prepaid cards & phones
Some mobile phones allow you to buy a prepaid "disposable" SIM card - a small plastic card containing your account information that gives some U.S. phones access to a carrier's network overseas - that installs directly in your phone. You may not have the same U.S. phone number, but you'll typically still have access to most of your phone's capabilities, including photos, games, and most apps. And when you return to America, simply swap SIM cards to return the phone to normal. Prepaid international SIM cards can be cheap, starting at about $5.
Insider Tip: If you plan on doing work while away or just want the reliability of internet any time, consider a service called TEP where you rent a handheld device and it provides you wireless internet access wherever you go. Average price is $295 for 30 days.

Perhaps think about a pre-paid calling card or even buying a disposable mobile phone. You can purchase a "temporary phone" online for as low as $20 in advance or on arrival, or possibly even find one for sale at an airport kiosk. These disposable cell phones operate on local wireless service providers' networks, but be aware of connection costs and service fees, which can vary wildly, from free to $5 per minute of talk time if you're calling from the cruise ship or rural destination.
Regardless of whether you want to stay connected or go completely off-the-grid, these technology tips are guaranteed to make it easier for you to stay in touch when you need to. But if you'd prefer not incurring any expenses or truly want to unplug and unwind on your vacation, consider using our best tip of all: the off button.
For more information about staying connected on your cruise or to find your perfect vacation, speak to a CruiseInsider expert at (877) 734-6858.