Packing for any vacation can be a struggle, but if you've never been on a cruise before, there are some things you might think you should bring but don't really need.
Of course, you know potentially harmful items like knives, guns or any other weapon isn't going to be allowed, but what else should you leave off your packing list?

Our experts know what's allowed and what's prohibited and we can even recommend some handy items you'll surely want to take with you. But here are some items – from the obvious to the surprising – that you can definitely leave off your cruise packing list:
Drugs, Beer and Liquor
Medical marijuana, regardless of whether it's been legally prescribed where you live, is not allowed on any cruise line, nor is any illegal drug. While wine is allowed on most cruise lines, there may be a limit on how much you can bring and corkage fees may be assessed if it's consumed outside of your cabin.
Insider Tip: Alcohol that's purchased in port or onboard may be temporary "held" by the cruise line during the voyage, but it will be returned to you on the night before or morning of disembarkation.
Anything With a Heating Element
Candles, incense or any device that can potentially start a fire, like a coffee maker, iron, heater, electric blanket, kettle, or hot plate, are banned on almost all cruise lines for obvious safety reasons. Most lines will have coffee machines, irons, hair dryers and other items that you'll need for daily life, so no need to bring your own.
Matchbooks and basic lighters are generally okay for onboard use, but novelty lighters, personal-torches, fireworks, flares, and pyrotechnics are considered too dangerous and will likely be banned.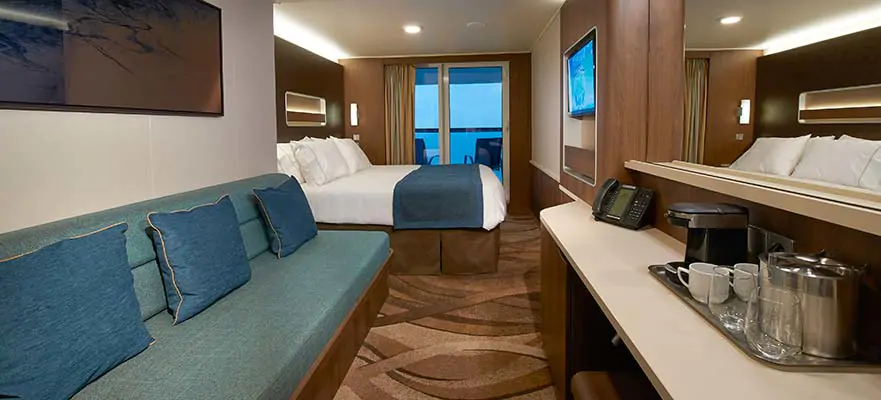 Most cruise cabins come equipped with coffee makers and more.
Drones or Other Remote Flying Devices
Most cruise lines do not allow drones or any other flying device to be brought on board due to safety and security concerns. Beyond any potential interference with the ship's operation from a "rogue" drone, man cruise lines believe them to be a nuisance that affects the experience of other guests.
Insider Tip: If you bring a drone to Rome, not only will it be confiscated and never returned, you can be punished with jail time and massive fines of up to 100,000 Euro.


The few lines that do allow drones will only permit you to use them on land away from the cruise ship and with restrictions as to exactly where they're allowed to fly. Most cities also have local laws related to flying drones, too, so check the laws in each port before packing anything remote controlled.
Other 'Toys'
While it may seem obvious for most items, anything that can be launched off the ship or cause injury to a guest – like segways, hoverboards, boats or kites – are typically not allowed. Sports equipment such as canoes, kayaks, skateboards, rollerblades, surfboards, and bicycles will not be allowed either, as they can be a safety hazard or be simply too dangerous to bring on the ship.
Insider Tip: Items needed for personal mobility, such as wheelchairs or motorized scooters, as well as strollers, are allowed, but must be used responsibly and stored appropriately when not in use.
Basic Grooming Products
Leave the soap, shampoo, conditioner and hair dryer at home – most major cruise lines provide these items onboard. The only reason to bring personal grooming products is if you use a particular brand or need something beyond the basic amenities the ship includes. If you absolutely have to have your very own hair dryer, make sure it's less than 700 watts.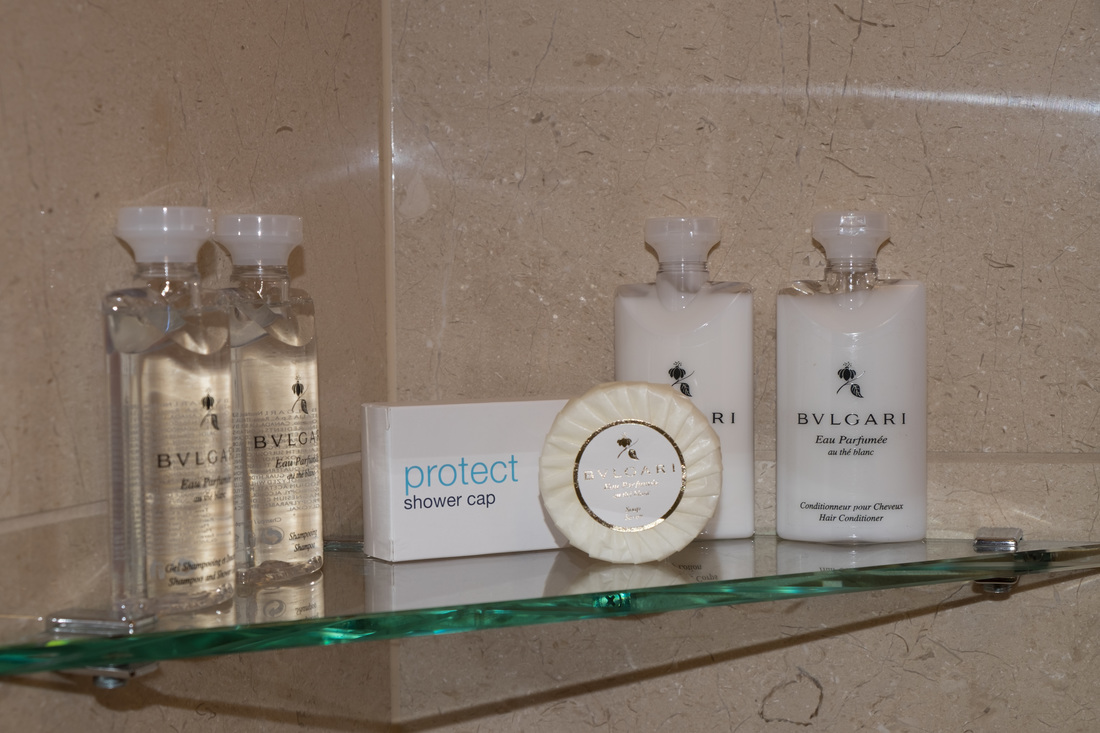 Celebrity Cruises provides luxurious Bulgari bathroom products in all staterooms.
Expensive or Irreplaceable Jewelry
It's never a good idea to bring your most valuable jewelry on a cruise, whether it's worth a lot of money or an heirloom piece. While most cruises are secure amd staterooms do include safes, with so many activities on and off ship and so many people on board, it's simply not worth the risk of loss. Plus, it's not recommended to show off pricey jewels in foreign ports and cities around the world.
Homemade Foods
While it's fine to bring sealed and prepackaged foods like energy bars, trail mix, candy, or dietary-specific snacks, most cruise ships don't allow homemade foods, fresh fruit, raw vegetables or even fresh-caught fish onboard.
With so many people on the ship and so many different, international ports, cruise lines want to limit the chances of causing or spreading any bacteria, germs or other illnesses that may affect guests, the crew or that can potentially be carried off-ship.
Inflatable Pool Items
More than a few passengers have tossed pool inflatables into their luggage thinking they don't take up much space and will be fun to use when spending time at the ship's pool. Though you can use them at a beach or in port, most cruise lines will prohibit them.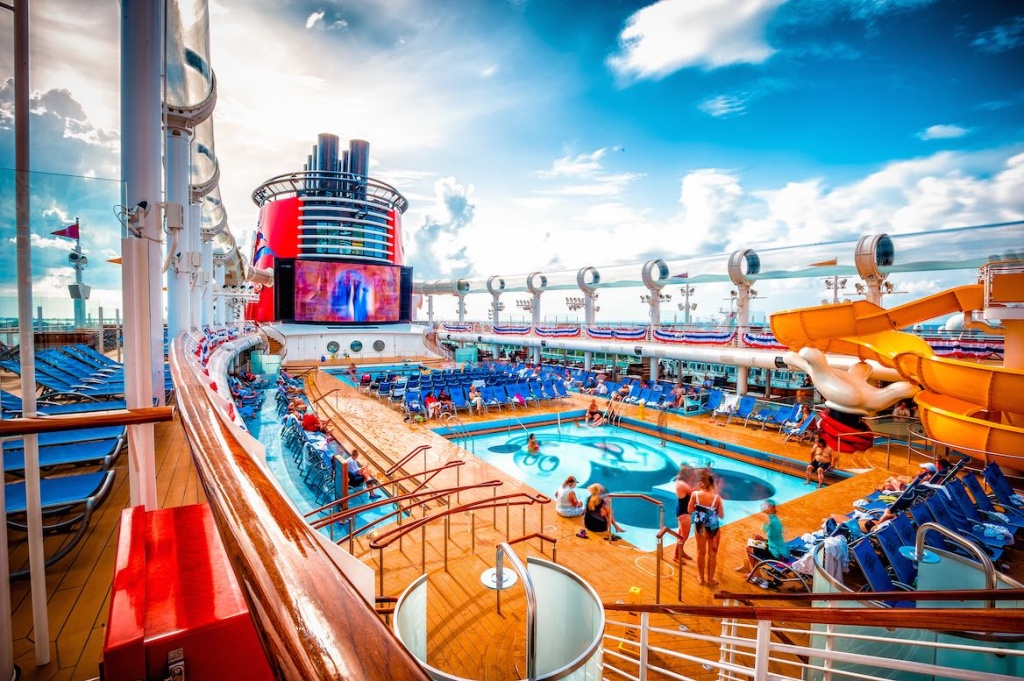 Disney Cruise Line pools are packed with things to do and don't require any fun items brought from home.
Other items like inflatable beach balls, floats, inner tubes, beach balls and noodles are not allowed to be used on ship due to the potential of those items accidentally ending up in the sea and the fact that these items could disturb other guests.
Towels
There's no reason to stuff towels in your suitcase. There will be plenty of towels in your room, the spa and at the pool. If you run out, you can always get more from your room steward without question. You can use the ship's towels both on board and even on shore to use at the beach or for excursions.
Insider Tip: There may be a small charge for unreturned towels at the end of your trip, but the rare "lost towel" fee will still be cheaper than the oversized baggage fees charged by the airlines.
Other Prohibited Items
The following are examples of random, yet very real items that guests are not allowed to bring onboard most cruise ships. Each cruise line's policy may be slightly different, but in general, we do not recommend packing any of these items for your next cruise:
Dangerous chemicals including bleach, petrol and paint


Handcuffs or restraining devices


Pepper or animal-defense sprays


Night sticks, clubs, tasers or weapons of any kind


Baby monitors


Hookahs & Tobacco Water Pipes


Electrical extension cords with surge protectors


Compressed gas tanks, bottles, and cylinders including dive tanks, propane tanks and aerosol cans


Emergency Position Indicating Radio Beacons (EPIRB), communication scanners, wideband receivers, satellite phones, HAM Radios, or transformers


Lasers and laser pointers

Insider Tip: Sneaking prohibited items onboard is simply a bad idea. Luggage is screened before you're permitted to board the cruise ship, and any contraband that's discovered will be confiscated and, depending on the severity of the situation, you might possibly be fined or face criminal charges for the item.


To learn more about what to pack and what not to bring on your next cruise, connect with a CruiseInsider travel expert today at 1 (877) 734-6858.