A trip to Alaska offers experiences quite unlike anything you'll find in the lower 48 states. From soaring mountain peaks (including North America's tallest) to icy glaciers, big game wildlife, massive icebergs, interesting history and unique culture, there's plenty of reasons to come.
However, when is the best time of year to visit? Due to its northern latitude, Alaska is a place that, for most purposes, is best experienced during their short summer months.
Advantages of Cruising to Alaska In the Summer
Summer in Alaska isn't long but it will offer the most daylight, best temperatures and most vibrant nature. From mid-May until the middle of September, you can count on having a nice visit with summer daylight and plenty of natural beauty.
June tends to be the driest month and also has the most daylight, with the summer solstice (June 21) being the longest day of the year.
If you're planning to visit Denali (Mount McKinley), the best time of year to visit is from mid-June until the end of August. July is the warmest month in Alaska with long days and gorgeous nature at every turn. Bookings tend to fill up early for July, so plan ahead if you hope to book a trip to Alaska during this summer period.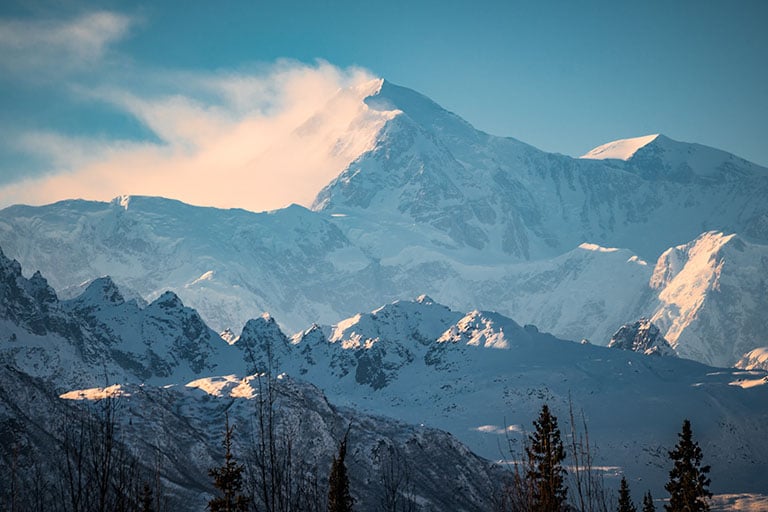 Denali National Park
August and September are usually wetter months. You'll find cooler, but still manageable temperatures. Along with the cooler weather comes changing leaves. Denali National Park boasts beautiful, vibrant foliage this time of year.
Insider Tip: The Alaskan Arctic, with its clear skies, is one of the best places in the world to see the Northern Lights. If you want to maximize your chances to see them, you'll need to visit northern Alaska in the offseason—around the equinox months of March and September is usually best.
But Isn't It Always Daylight in Alaska in Summertime?
Alaska is quite large, and while you may have heard that it stays daylight all summer and dark all winter, that's hardly true for most of the state.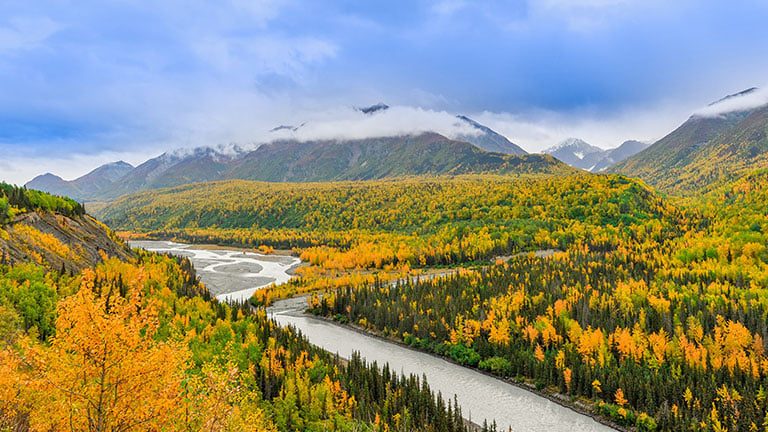 Alaska, Anchorage
While the northernmost towns see approximately two months of darkness in winter and more than two months of daylight in summer, the daylight/dark balance becomes more moderate as you travel south. In Anchorage, the longest day of the year (the summer solstice) has about 19 hours of sunlight, whereas, in Ketchikan to the south, you'll have closer to 17 hours of daylight on the longest day.
When is the Best Time to See Wildlife in Alaska?
Regardless of the season, there's always wildlife to be seen in Alaska. In the spring, when Alaska comes to life after the long winter, you'll be able to see returning migratory birds along the wetlands, bears will emerge from their dens and caribou will be on the move toward their calving areas. Along the coast of western Alaska, spring is a good time to see seals, walrus and bowhead whales.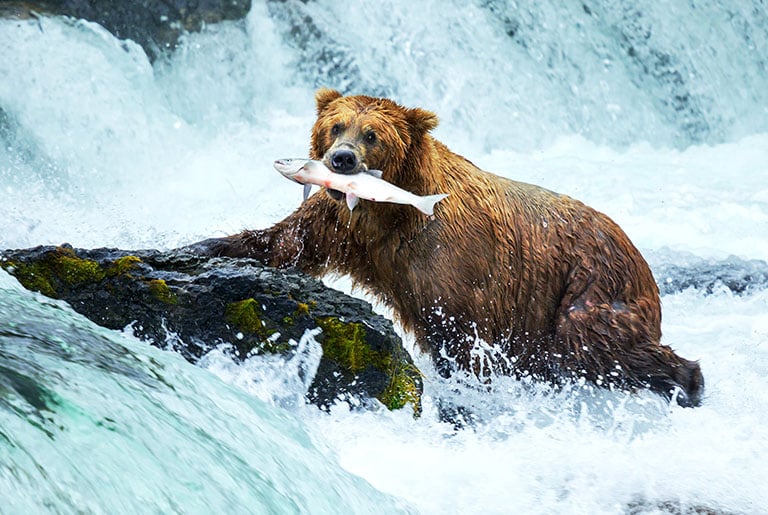 The popular summer months are a good time to see bears and other animals who concentrate along streams full of spawning salmon. During the summer, Moose cows with calves can be seen along roadsides, fur seal pups and Steller sea lions have their babies and spectacular concentrations of migrating birds can be seen throughout the state.
The fall doesn't disappoint either as it's mating season for moose, goats, caribou and muskoxen. Beluga, grey and bowhead whales migrate near the state's west coast and numerous other animals can be seen on the move as they prepare for winter.
Even if you find yourself in Alaska during the less-popular winter months, there's no lack of wildlife to spot. There's less vegetation, so animals and their tracks are easy to spot. Plus, it's a good time to spot a bald eagle as the world's largest concentration of them congregates along the Chilkat River near the town of Haines.
To begin planning your next adventure, click here to see all of our Alaska cruises. If you need help planing your adventure or have questions, connect with our travel experts today at 1 (877) 734-6858.