If you're looking for the best cruise suites these days, the high-seas competition is fierce, with luxury cruise lines pulling out all the stops featuring some ultra-lavish, over-the-top suites and a larger variety of options than ever before.
With so many options to choose from, it would be impossible to pick just one cruise line as the top when it comes to hosting the most luxurious suites. Among multiple cruise lines, you'll find everything from family suites to cabins that come with butlers and hot tubs, inside and out.
We're not just talking perks like balconies—those are almost always worth the extra cost when sailing through scenic destinations. Only a few years ago you'd probably pay double for a balcony cabin, but now on a standard, seven-day cruise it's typically just $100 more than a window cabin, and $150 to $200 more than an inside stateroom.
The best of the best cruise suites not only have that balcony for enjoying scenic ocean views, but they can also be house-sized and boast a wide range of luxuries. Let's breakdown these different suites by cruise line.
Silversea
The Owner's Suites onboard Silversea, including Silver Spirit, Silver Cloud, Silver Explorer, Silver Wind, Silver Whisper, Silver Muse, Silver Cloud Expedition and Silver Shadow, are billed as "apartments at sea," offering plenty of stylish comforts for cruising. Available in one- or two-bedroom options, up to 1,668-square-feet, you'll be welcomed with Champagne and fruit and have a dedicated butler throughout your cruise.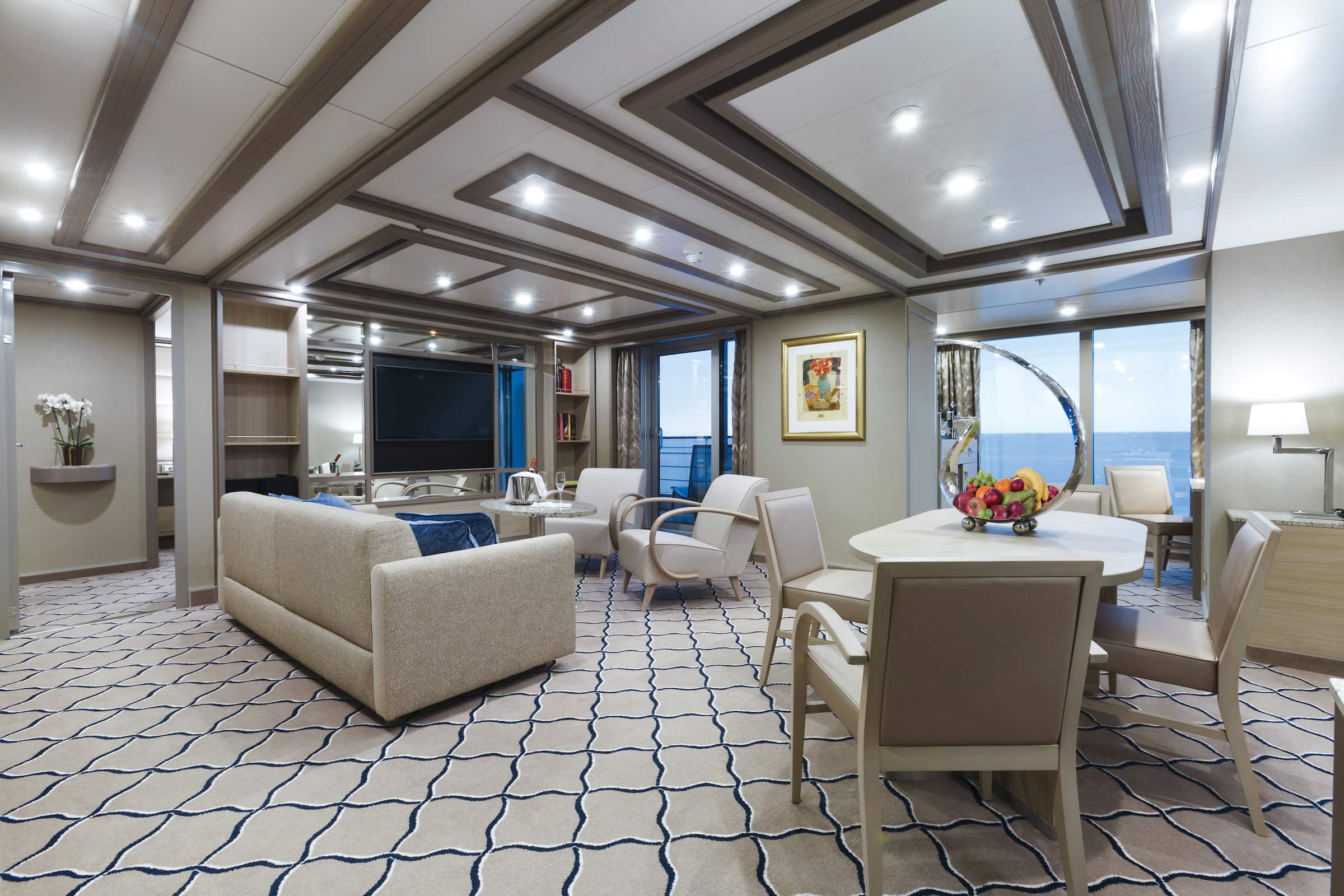 Owner's suite onboard the Silver Spirit
Wake up every morning to an espresso made in the Illy machine, and get ready for the day in your marble bathroom with a full-sized tub and shower, and a powder room. You'll have a large, furnished veranda and floor-to-ceiling glass doors for gazing out at the passing views, and your butler will help make arrangements for a complimentary dinner at the Relais & Chateaux wine restaurant. Of course, your evening wear will be pressed and ready to go.
After a delectable night, look forward to a peaceful night's sleep, ensured with beds that include a handmade Savoir mattress with a horsehair topper and pillow menu.
Insider Tip
It's well worth the cost to book a suite that includes concierge services. Concierge-level cabins mean that any special requests, shore excursions, dinner or spa services will be taken care of for you. You may have access to an exclusive lounge for relaxing, drinking and snacking in private, along with extra in-cabin amenities like a welcome fruit basket or afternoon canapés.
Norwegian
Norwegian Cruise Line is an ideal pick for families with categories that include a Two-Bedroom Family Suite as well as options in The Haven, a ship-within-a-ship suite complex. Its Villa category added even more luxury cabins like the Haven 3-bedroom Garden Villas available on Norwegian Jewel, Norwegian Star, Norwegian Pearl, Norwegian Gem, Norwegian Dawn and Norwegian Jade.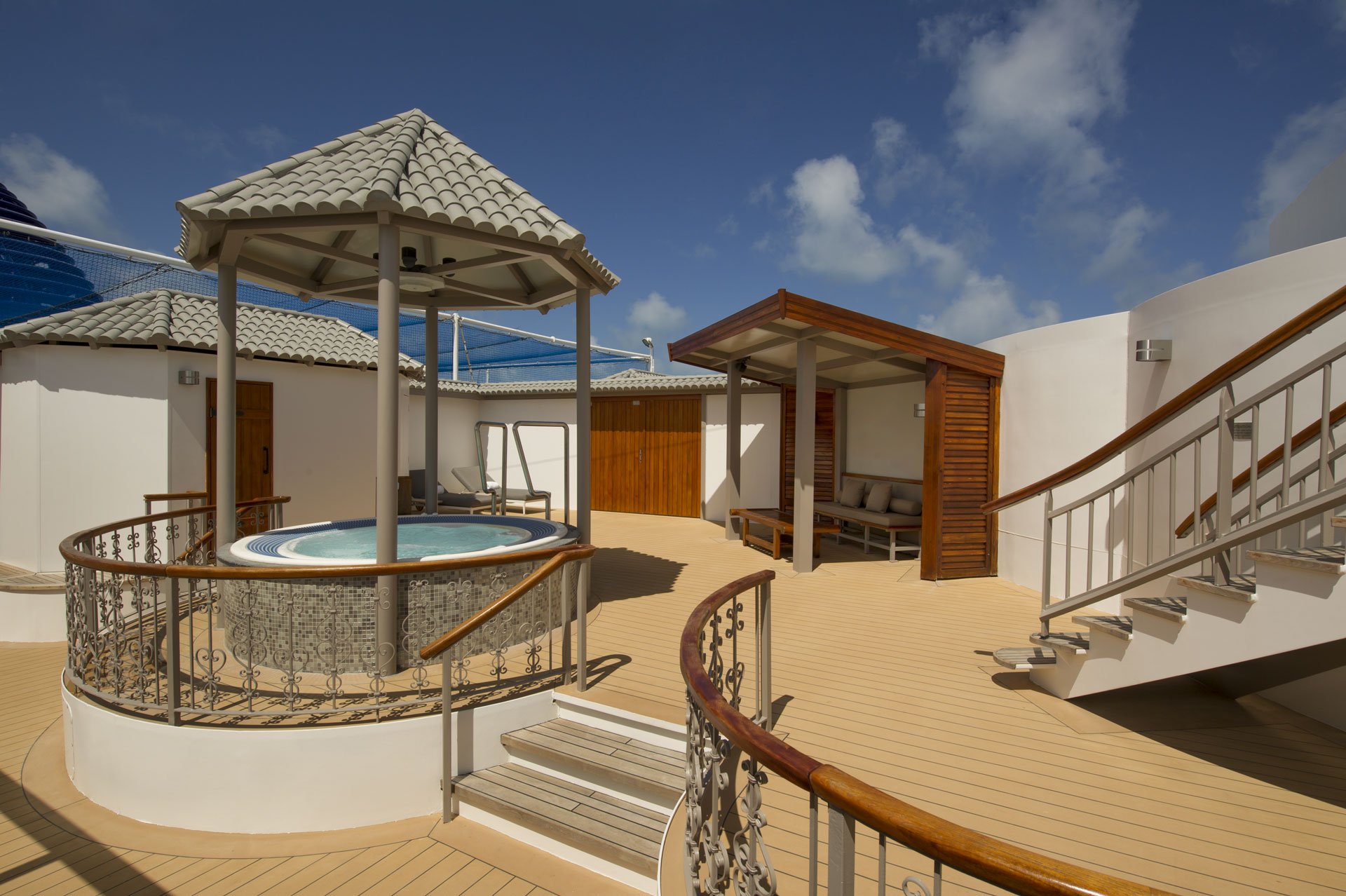 Garden Villa balcony area
This is one of the largest suites you'll find at sea, offering plenty of privacy, seclusion and space, with some as large as nearly 6,700 square feet, sleeping up to eight guests. They all include butler service and private garden hot tubs with thatched roofs for shade. Plus, those who book one of the Garden Villas get access to all Haven amenities, like a fitness room, sundeck and private pool.
Insider Tip
A suite can mean you have a separate bedroom, a small sitting area, or a curtain that separates the sitting area from the bed. It's important to review cabin layouts to be sure of what you're getting. "Standard" perks in the most luxurious suites generally include high-end amenities like walk-in closets, whirlpool baths, large dining tables, robes and slippers and upscale bath products.
Seabourn
Seabourn is widely considered to be one of the top luxury cruise lines. It has suite-only ships with standard suites measuring 250- to 300-square feet and other categories that include sprawling multiroom penthouse suites. The Seabourn Venture and her soon-to-be-named sister ship will be launched in 2021 and 2022 respectively. They'll feature the high-end Wintergarden Owners' and Signature Suites that offer lots of unique, sophisticated details, allowing passengers to travel like royalty while visiting destinations that include Northern Europe, Australia and New Zealand, South America, Alaska and Antarctica.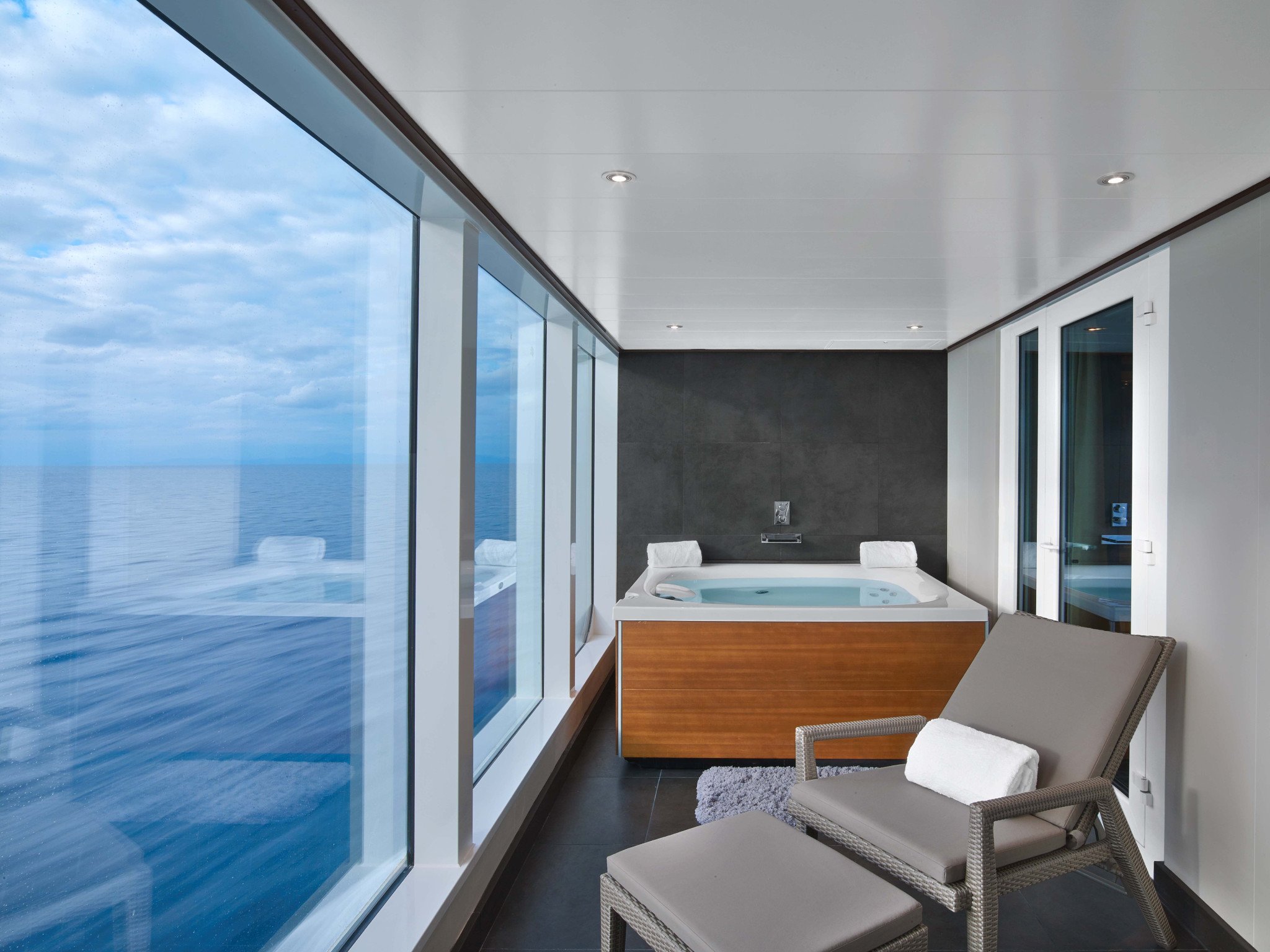 Wintergarden Suite onboard the Seabourn Encore
The Grand Wintergarden Suite is spread across two stories, providing nearly 1,400 square feet with a sculptured staircase. It leads to a master bedroom with a queen-sized Duxiana Axion adjustable bed that faces expansive windows showcasing the passing scenery. Other highlights included a stocked wet bar with a bottle of Shackleton Blended Malt Scotch Whiskey, an ode to the spirit onboard the 1907 British Antarctic Expedition. The Signature Suite also boasts about 1,400 square feet, with lots of indoor and outdoor spaces. One bedroom comes with a sliding glass door that leads to a large, curved veranda with a canopied whirlpool tub, comfy chairs, sun loungers and a sofa.
Insider Tip
Always book early when seeking one of the best luxury suites as there is only a limited amount on any ship. Cruise lines won't ever be panicking trying to get rid of excess suite inventory unlike they might with more standard options.
For more expert advice on choosing a cruise suite, call our CruiseInsider travel experts today at 1 (877) 734-68508.