River cruising has long been associated with retirees and baby boomers, but many lines have begun to forgo their sedate, "stuffy" reputations to offer fun adventures for the whole family!
With exciting sailings, exclusive savings and entire ships designed to appeal to children of all ages and multigenerational family adventures, there has never been a better time to get the brood on board a river cruise.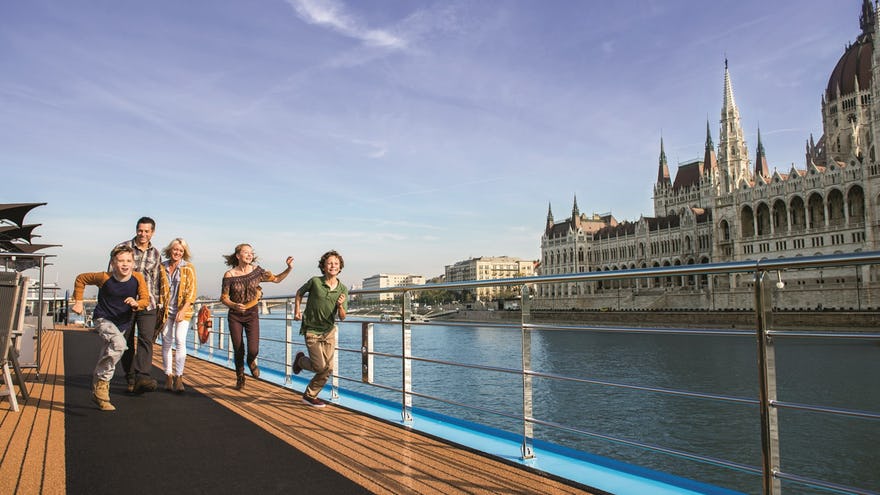 River cruising means time together in the world's most famous cities.
We suggest speaking to a CruiseInsider expert at 1 (877) 734-6858 to learn more about options that fit your budget or bucket list, but keep reading to learn which cruise lines do it best and tips for making the most of your family river cruise.
What Makes a River Cruise Perfect for Families?
A leisurely river cruise is the perfect way for families to connect while experiencing the history, cuisine and culture of exotic locales in a peaceful, scenic and enriching way. Your luxury hotel travels with you as your family visits hilltop castles, medieval sites, amazing cathedrals, bustling marketplaces and historic villages–treasures straight out of history books and fairy tales.
Here are some of the ways river cruising is perfect for families:
Waking up in the heart of a new city every day makes each port a new adventure.


Packing and unpacking only once (unlike a land tour) makes exploration easy.


Bundled pricing with lots of extras included in the fare keeps costs down.


A focus on enrichment–authentic shore excursions, immersive tours, unique cultural performances and chances to try local food–means your kids will actually be engaged.


River cruises are more casual than their seafaring counterparts so everyone can cruise comfortably.


A smooth, gentle ride along the world's most remarkable waterways means all the fun of cruising with none of the fuss.


And most importantly, because river cruise ships are smaller, you'll spend more quality time together as a family than you might on a large ocean cruise.
Choose the Right River
There are certainly river cruise options in Asia, Africa and South America, but the bulk of family-centric experiences are focused on the most famous European rivers like the Rhine, Danube, Seine and Rhone.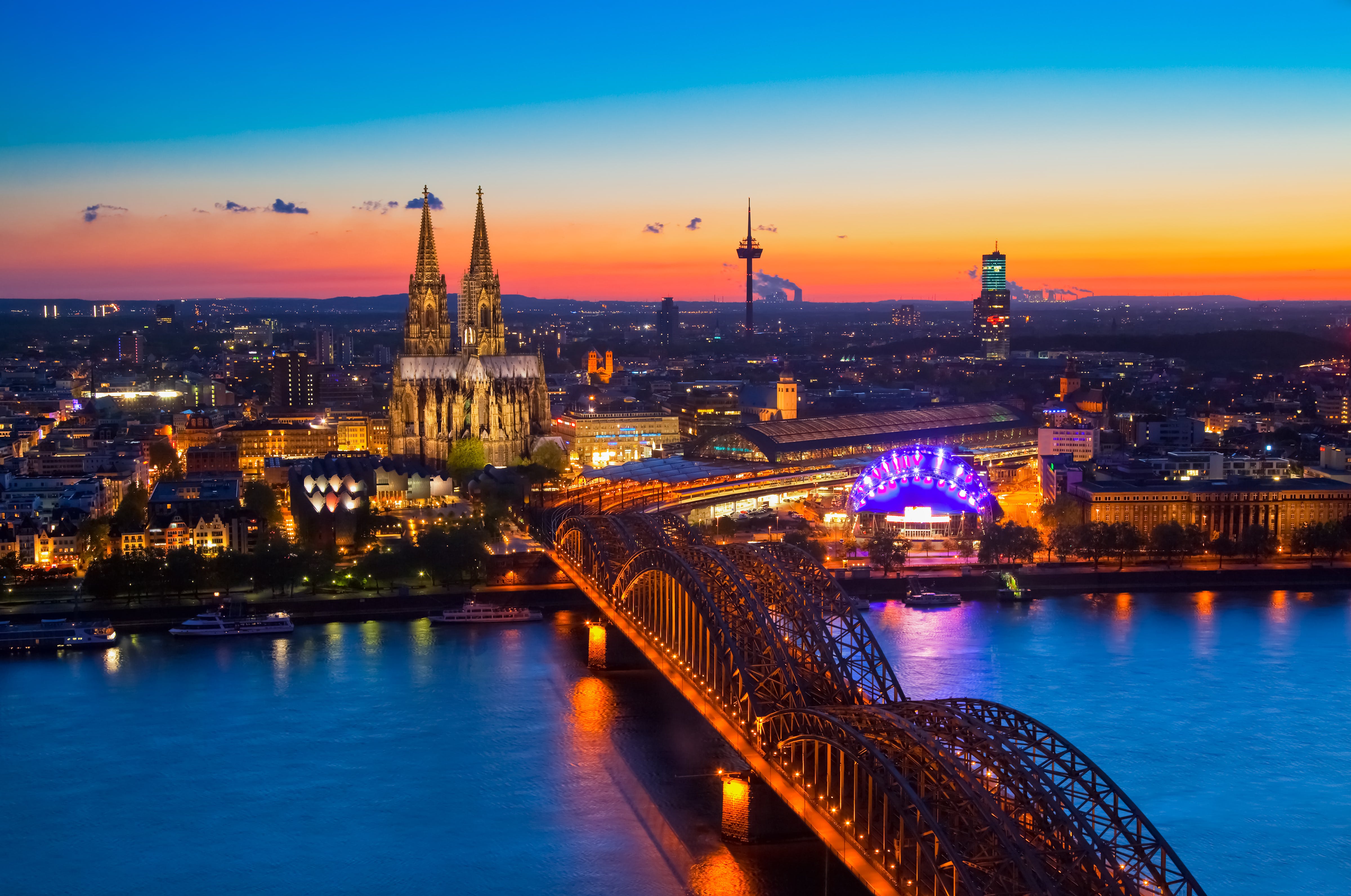 Rhine River voyages include overnights in some of Europe's most beautiful cities.
These majestic rivers offer plenty of choices as they travel through Europe's most history-rich regions lined with more big cities, beautiful castles, gothic cathedrals and gorgeous countryside than you can count. European river cruising in particular, is prime territory for older children, tweens and teens with a passion for exploration or a hunger for history.
Insider Tip: Vienna (along the Danube) is a great choice for kids of all ages, thanks to its multitude of options. Take the kids to the Prater, Vienna's inner-city amusement park, for a ride on the Weiner Reisenrad, which literally means the "Vienna Giant Wheel," a Ferris wheel constructed in 1897 that is visible from Vienna's Ringstrasse.
Take Advantage of Deals
We have insider access to the very best deals on a variety of family-friendly voyages. But families on a budget should consider cruising either late March or in the fall, when colder temperatures prevail. In general, voyages between May and September (the high season) are usually 15 to 20 percent higher than the average fare. When the temperatures in July and August go up, prices tend to go down slightly.
Specially themed Christmas market cruises can be priced lower than those during any other time of the year, offering the best deal in Europe overall. And for families with eight or more people, group discounts are usually available and may include extra perks that smaller parties can't get.
Insider Tip: Take advantage of Uniworld's special pricing which is 25% off the fare for younger guests 4 to 17 years old when traveling with an adult. Or check out Tauck and their waived single supplement fee, making it easier for a single grandparent, parent, or additional family member to travel with a larger family group.
Find the Sailing That Fits Your Family
On many family-focused itineraries there are activities designed to bring everyone together and others dedicated to younger travelers. We can recommend voyages that will engage, enrich and entertain every member of your family, but beyond a "good deal," look for the ones that truly cater to the kids by including specific amenities, special niceties or stimulating activities for children like scavenger hunts, cooking classes, language lessons, arts and crafts, and interactive games.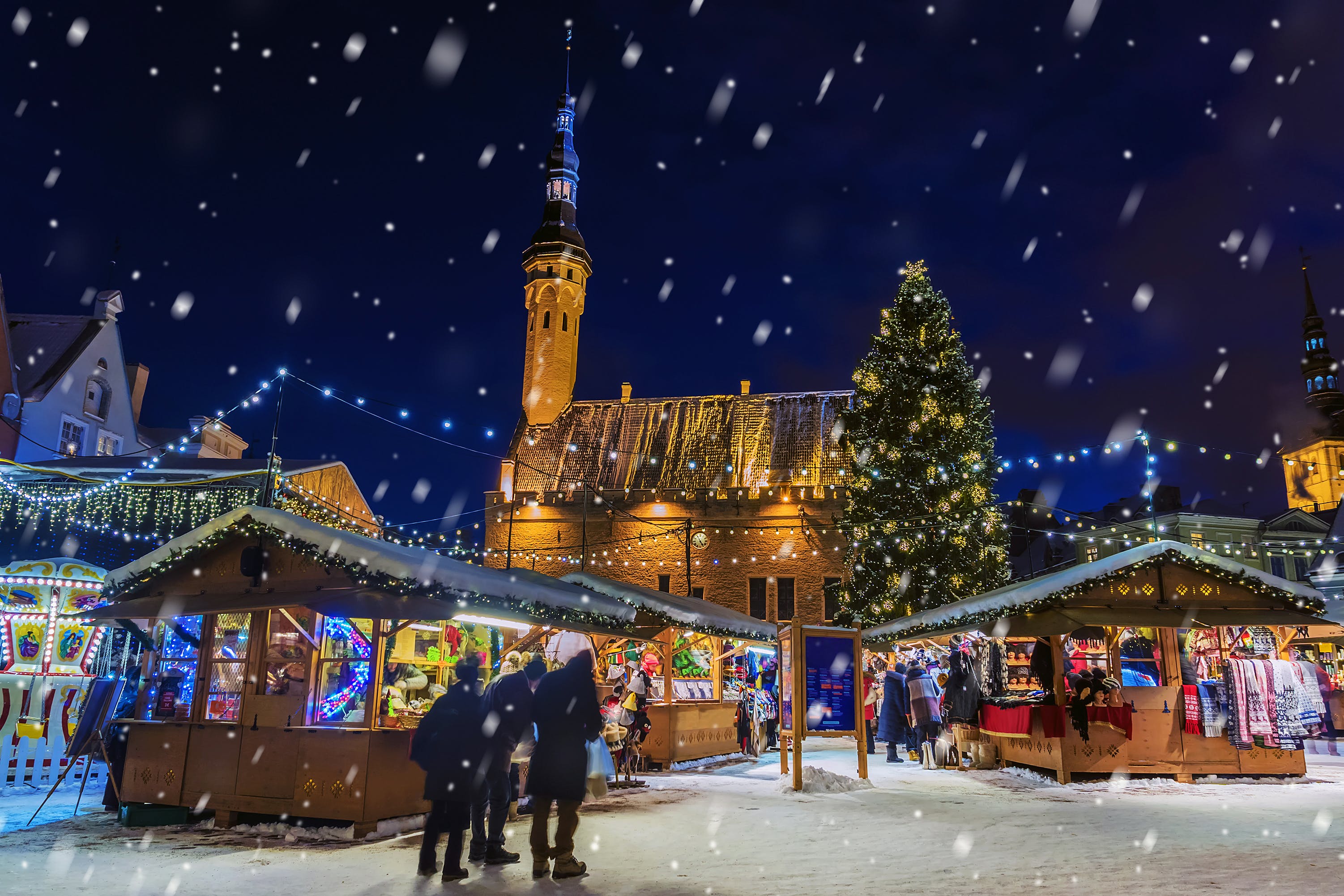 Experience true holiday merrymaking on a family river cruise through Europe's most famous Christmas markets.
Where and when you're going matters too. There's more to do along the Rhine than many other rivers and while summertime is king in Europe, most lines offer Christmas market cruises which are particularly popular for families as the destinations and the cruise lines go out of their way to make the festive holiday experience extra special.
Plan Your River Cruise Now!
Family-branded voyages typically run about 10 to 15 times a year per cruise line, mostly during the summer or over the December holiday season. With such high demand and so little inventory, we recommend you book well ahead to guarantee your family gets the sailing and stateroom you desire.
Since summertime is considered prime river cruising season–coinciding with when kids are off from school–an affordable, action-packed European river cruise could top the list for "most memorable summer vacation ever"!
Insider Tip: Summer itineraries start to fill up in the fall. Plus, there are savings to be had by securing your reservation well in advance! Early river cruise bookings–generally 12 months in advance for peak season departures and nine to 12 months for other periods–tend to get you the best prices.
Leave the Little Ones at Home
Even the most kid-friendly cruise lines don't cater to the tiniest tots. There are minimum ages to sail on some ships and restrictions on participating in many excursions, but frankly, your adventures just won't be as action-packed with little babies in tow. Some tours may require lots of walking, many activities require active participation and most accommodations may not fit a crib or a stroller. While we recommend a minimum age of 8 for your tiny travelers, we are happy to work with you to choose the river cruise best suited to younger children.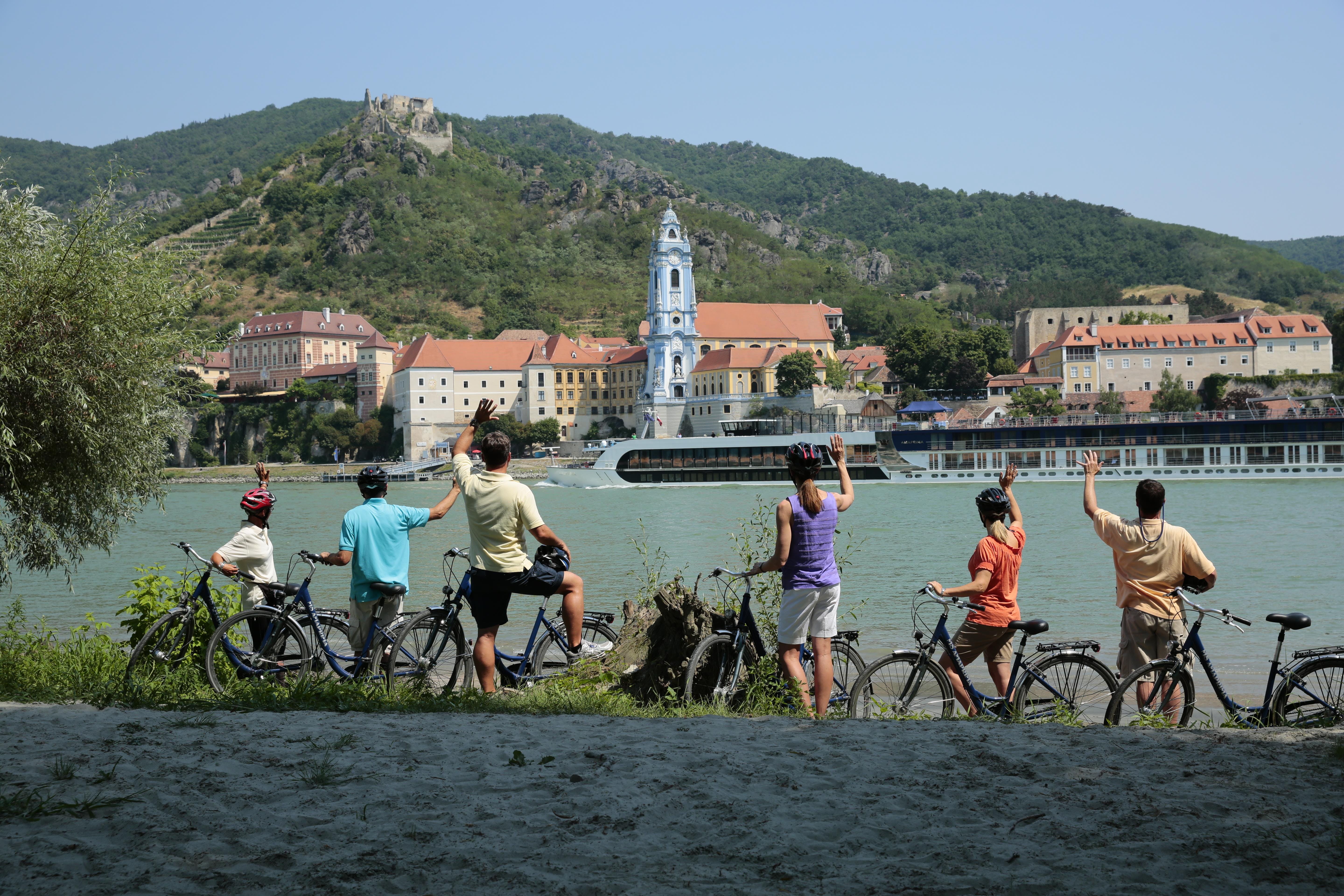 AmaWaterways journeys include bicycles for forging new paths as a family.
Remember a Few Caveats
River cruising doesn't have too many drawbacks, but there are some caveats to keep in mind. For one, because of their smaller size and focus on the destination, there aren't any kids clubs, big pools, water slides, alternative restaurants, arcades or other things found on larger ocean ships.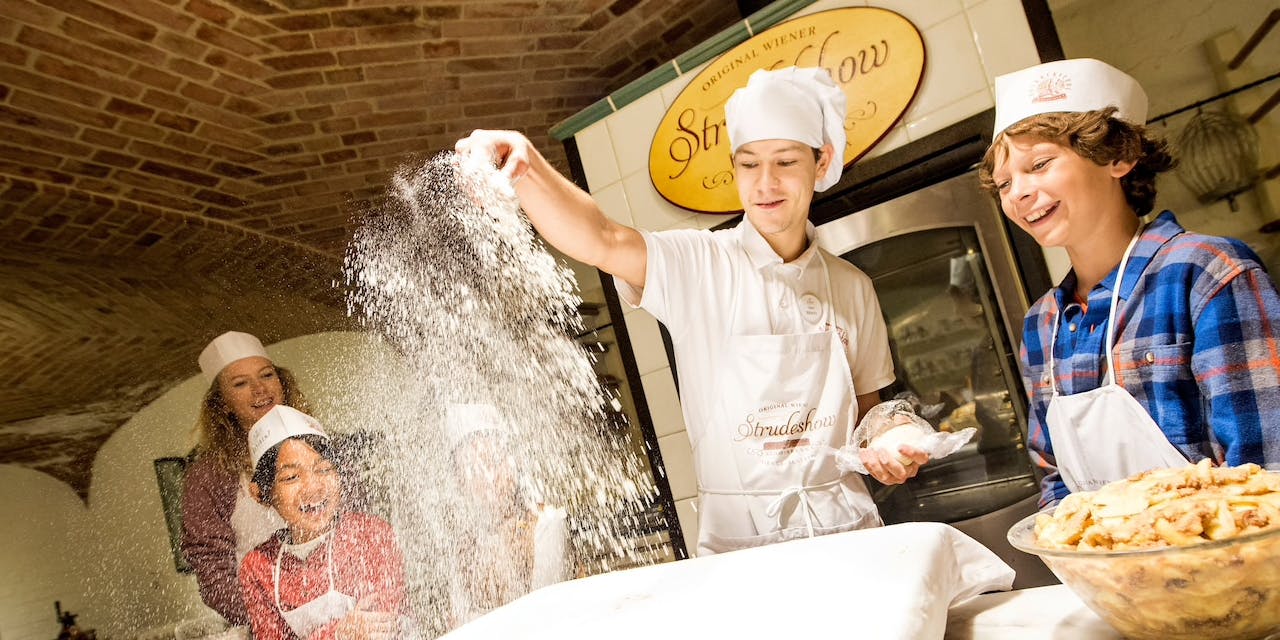 Onboard and in port, you'll learn new skills from local artisans who love to share their craft.
And with the exception of a few ships, the cabins on many river boats are not configured for more than double occupancy, meaning that a family of four will have to purchase two staterooms. However, what these cruise lines lack in outrageous splash parks and over-the-top staterooms, they more than make up for in locally inspired activities, authentic adventures and magical family moments.
The Best Family-Focused River Cruise Lines
Tauck
Truly the pioneer in family river cruising, this luxury line's most famous family-specific itinerary is "Tauck Bridges" which now traverses France's Seine River along with classic sailings down the Danube, Rhine and Rhone. These vacations are all about bringing families together (creating bridges), which means you'll likely see more of your children than you do at home. Activities on a Tauck river cruise are designed to be interactive and fun for both adults and kids and can include:
Sword fighting lessons
Shooting arrows from a Middle Age crossbow
Biking through charming villages
Navigating a hedge maze at a royal palace
Geocaching in the countryside
Learning how to mold marzipan from a chef in Germany


Insider Tip: A fully inclusive river cruise line, Tauck fares may seem a bit steeper than others, but their price includes gratuities, hotels, luggage service, airport transfers, beverages, some meals, shore excursions and much more, which makes them the ideal stress-free family vacation.
AmaWaterways
Partnering with the most kid-centric company on the planet, AmaWaterways features Adventures by Disney, a tour group that offers immersive adventures for families. Along with kid-focused menus, storytelling professional guides and interactions with Disney characters, you'll enjoy a wide range of activities designed with everyone in mind to experience the best in each destination. Each magical stop is an invitation to experience new cultures and participate in thrilling family-friendly adventures including:
Ziplining above the Black Forest
Enjoying a family bike ride along the river
Visiting a local apricot farm
Making strudel in Vienna
Painting clogs in Holland
Touring a medieval castle in Hungary


Insider Tip: AmaWaterways is one of the only cruise lines to have ships designed with families in mind, offering cabins that sleep up to five, plus a limited number of interconnecting cabins, which is a first in the family-friendly river cruise segment.
Uniworld
It's no wonder Travel + Leisure magazine has named Uniworld the "Top River Cruise Line for Families" year after year. With so much included for everyone, Uniworld truly makes travel a family affair with kid-friendly cruise itineraries featuring onboard visits from local children and special pillow gift each night for younger passengers from the destinations visited that day. They also offer discounts for children and a variety of inspired, youthful activities including:
Dessert making with the ship's pastry chef
Tasting local soft drinks with the resident Soda Sommelier
Pretzel twisting workshops in Wertheim
Searching for specters in Venice on a spooky "ghost walk"
Making holiday arts and crafts
Biking, hiking and Segway tours


Insider Tip: Available on all multigenerational Uniworld ships, parents can also go onshore and leave their children in the care of Family Hosts for Junior Cruisers (ages 4 to 11) and Young Cruisers (ages 12 to 18), who will supervise and coordinate onboard activities. Or kids can attend the Young Travelers Lounge which has a wide selection of video games, board games, movies and candy jars.


A family river cruise is the perfect way to explore new places and enjoy new things together as a family–seeing ancient sites, experiencing magnificent cities, and immersing yourself in the culture and cuisine of places that can't be reached on a traditional cruise ship or typical land vacation.


Connect with one of our experts today at 1 (877) 734-6858 to learn more about family-friendly travel options or to let us help you create the ideal family river cruise vacation that fits your family's unique sense of adventure.