It's not hard to understand why river cruising is currently at the peak of popularity. The appealing aspects of a river cruise are obvious; unpacking only once, intimate ships, calm water, great service, docking in the very heart of famed cities and fairytale villages, and so much more.
There are river cruise options to fit every passion, personality and price point, but not every river cruise experience is the same. Our accredited advisors know river cruising like no one else and are well-versed in every ship, every river, and each port-of-call. As such, we're often asked, "What river cruise line is right for me?" While the answer isn't always that simple, the same cruise line always seems to come up in our conversations - Uniworld River Cruises.
A Uniworld journey is unlike anything you've ever experienced and beyond anything you could have expected.
Whether it's a Christmas market voyage, a French wine adventure, a themed cruise or a quiet romantic journey through the heart of Europe, boutique river cruising with Uniworld is pure luxury on water and is consistently one of CruiseInsider's top recommendations and most popular cruise options.
So what makes Uniworld a truly unsurpassed and unforgettable river cruise experience? Here are eight reasons why we think Uniworld River Cruises simply can't be beat.
1. It's Truly Luxurious
Many cruise lines say it, but not many truly live up to the luxury they boast. Uniworld does. The finely appointed staterooms are stunning. The Italian marble-lined bathrooms are packed with extravagant amenities, plush robes and more. There is even a pillow menu to choose from! Comfort and elegance extends into every aspect of Uniworld ships like the expansive Sun Deck, plush lounges and beautifully designed common areas.
Insider Tip: The beds on Uniworld ships are from Savoir® of England—bedmakers to the world's finest hotels—and are draped in the highest quality linens available anywhere.
2. The Ships are Stellar
Inspired by the rivers upon which they cruise—a blend of old-world elegance, the latest technological innovations, and ultra-luxurious amenities—Uniworld's iconic ships exemplify true artistry, the very essence of their boutique philosophy.
Each and every ship in the fleet is rich in character and truly one-of-a-kind, with its own distinctive theme and color palette, original art and sumptuous furnishings and antiques.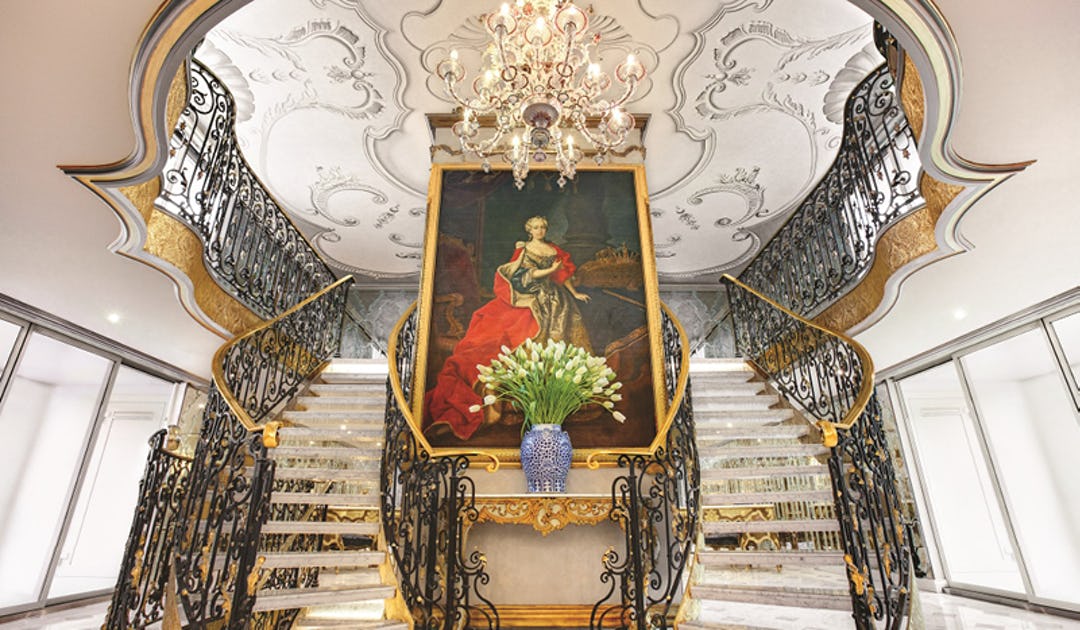 Uniworld's boutique river vessels are all individually themed and distinctly appointed.
3. It's All-Inclusive
Your Uniworld cruise fare covers almost everything, from fitness classes and free gratuities to wine and Wi-Fi. All your meals. All your drinks. Airport transfers. Butler service. Onboard entertainment. All of it is included. Even most shore excursions are complimentary too.
Insider Tip: Book a select 2018 Europe voyage by September 30, 2017 - a part of their "Masterpiece Collection" and your airfare will also be included along with the all-inclusive amenities standard on every Uniworld cruise.
4. Shore Excursions are Incredible
Most river cruises include walking tours and basic sightseeing in their fare, but very few include over-the-top experiences like wine-tasting luncheons at a French chateau or a personalized chef's tour of a local farmers market. Whether you're looking for adventure, looking at architecture or just looking to explore on your own, Uniworld's shore excursions always go above-and-beyond.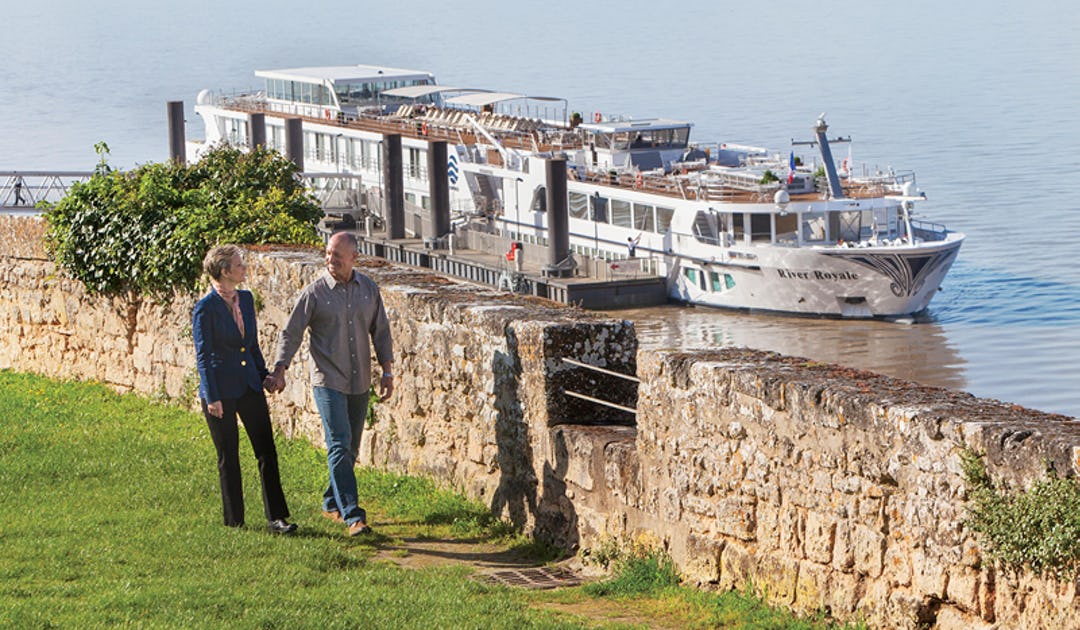 Uniworld's shore excursions offer dozens of options to enjoy every destination.
Insider Tip: Uniworld provides guests traveling ashore with complimentary bicycles, Nordic walking sticks, umbrellas (if needed), reusable water bottles, and more to ensure every excursion is perfect.
5. Cuisine is World-Class
Menus are filled with local farm-to-table ingredients and regionally inspired dishes permeate every meal. From eating foie gras or Niçoise salad as you meander through the French countryside to enjoying hand-made sausages and fresh schnitzel as you sail through Austria—and even simpler, standard cruise fare executed to perfection—every meal on Uniworld is an epicurean event.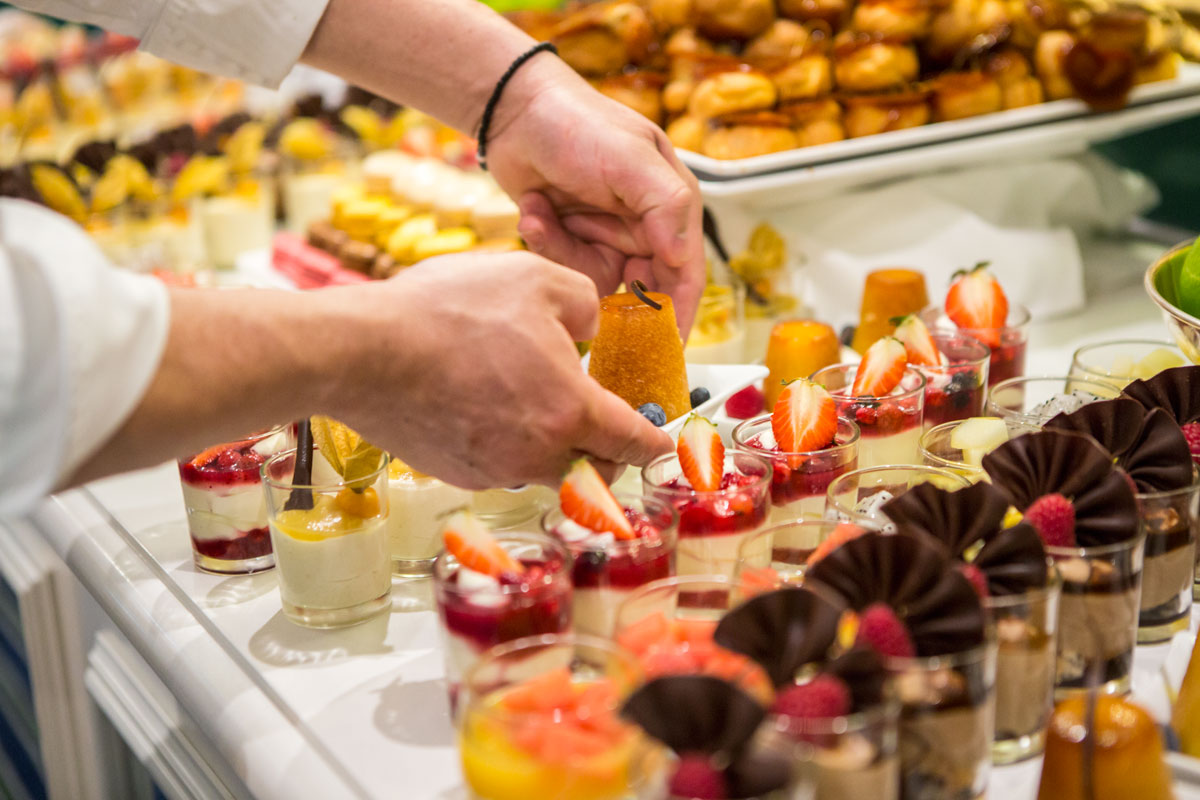 Uniworld's food is artful and inspired by every locale they visit.
6. Privately Owned Motor Coaches
Why does this even matter? Sometimes the rivers are too low to traverse and you'll need to reach the next city on your itinerary by land. Or perhaps you'll need to drive to a nearby destination for your day's activities. When necessary, you'll find comfortable, clean Mercedes-Benz motor-coaches awaiting at the dock.
Insider Tip: Unlike many other river lines who outsource, all nautical, culinary, hospitality, and onshore activities—including the motor coaches—Uniworld owns and operates their land vehicles and more, which makes every land adventure simple and seamless.
7. Exceptional Service
Boasting the highest staff-to-guest ratio in river cruising and numerous industry awards to back it up, Uniworld is well known for truly superior service. Their well-trained, energetic English speaking staff knows every passengers name and more. By getting to know you, your interests, your preferences and your style, they're able to deliver an experience that is just the way you'd like it to be.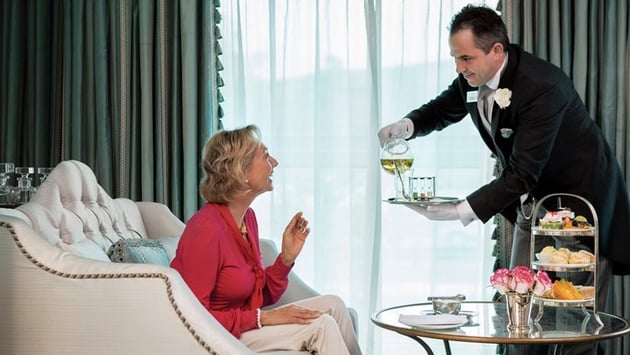 Uniworld's butler service exemplifies their 6-star service philosophy.

From Butler service to breakfast in bed, Uniworld actually has a name for the little niceties that take your cruise from great to grand—Tiny Noticeable Touches (or TNTs for short)—which set the stage for their 6-star service philosophy.
Uniworld's credo, "No request too large, no detail too small," is evident in every interaction with guests and taken to heart onboard every ship.
8. Authentic Adventure
See where many holiday traditions began in Germany, Austria and Hungary's festive Christmas markets. Sip wine straight from the world's most famed French wineries and explore centuries old vineyards with fellow wine connoisseurs. Sail through Southeast Asia in safety and style as you explore the timeless wonders of Vietnam, Cambodia, & The Mekong. Cruise the Nile in a manner once reserved for queens and pharaohs as you visit Egypt's ancient sites and splendors. Luxury and adventure await in China, Russia, India, and along many more of the world's most incredible rivers.
Insider Tip: For Christmas Market sailings, Summer is the best time to start planning one of these festive, fantastical journeys through Europe's legendary Christmas cities. The voyages begin around November 25th and typically go through the New Year, even after Christmas is over.


Quite simply, Uniworld puts a unique, luxurious spin on regular river cruising, with floating boutique hotels that are meticulously designed with the signature touches for which their company is known.
If you're interested in learning more about Uniworld River Cruise deals or the incredible destinations they visit, speak to a CruiseInsider expert at 1 (877) 734-6858.