It's true what they say, that oceans take you to countries, while rivers take you through them. The chance to explore ancient sites, experience magnificent cities and immerse yourself in the culture and cuisine of places that can't be reached on a traditional cruise ship is the allure of river cruising.

But which river cruise line is right for you? What amenities or services are offered by each? How does each river cruise line compare?

Whether you're considering your very first river cruise or you're a seasoned river cruise veteran, here is our breakdown of the very best luxury river cruise lines.
Comparing the Cruise Lines
Peaceful, scenic and intimate, river cruising offers a smooth, gentle ride along the world's most remarkable waterways visiting the world's most historic cities and hidden charms in style and safety.
The handy chart below offers a quick comparison of the world's best river lines, but read on to see why our experts recommend each of these river cruise options.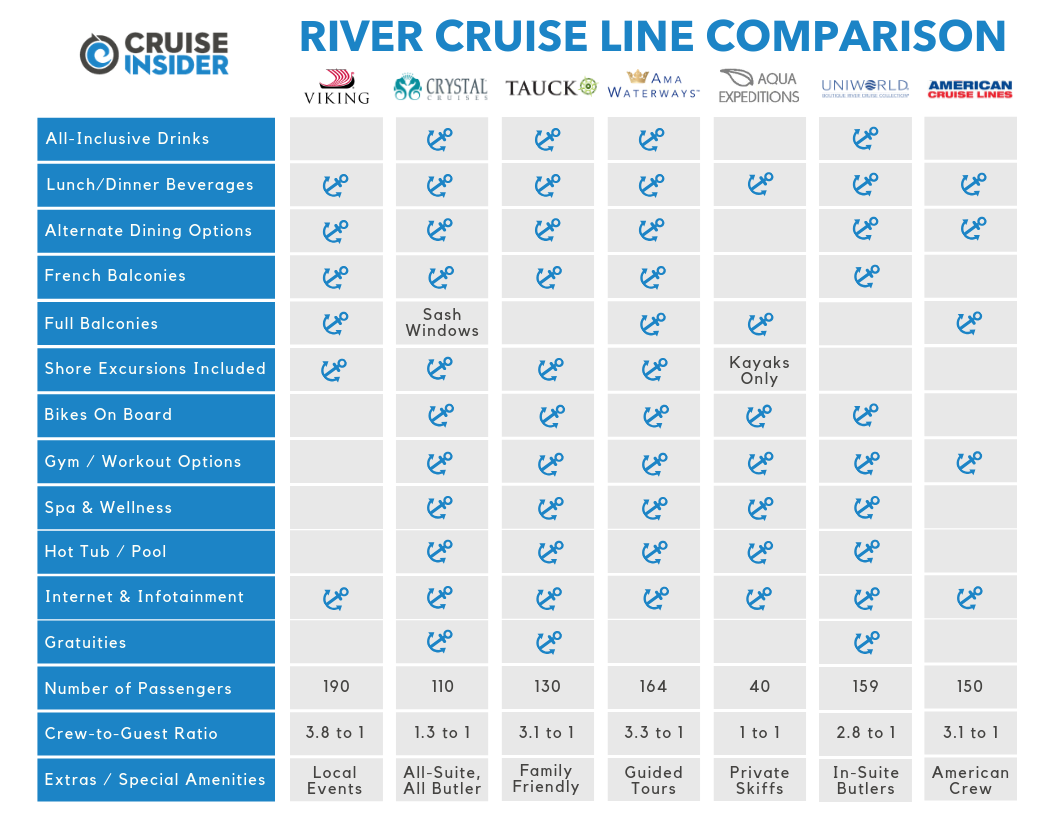 Viking
Exploring the world in comfort, Viking boasts the largest river cruise fleet on earth and is also one of the most well-regarded and most-awarded, offering destination-focused itineraries on the rivers of Europe, Russia, China, Southeast Asia and Egypt.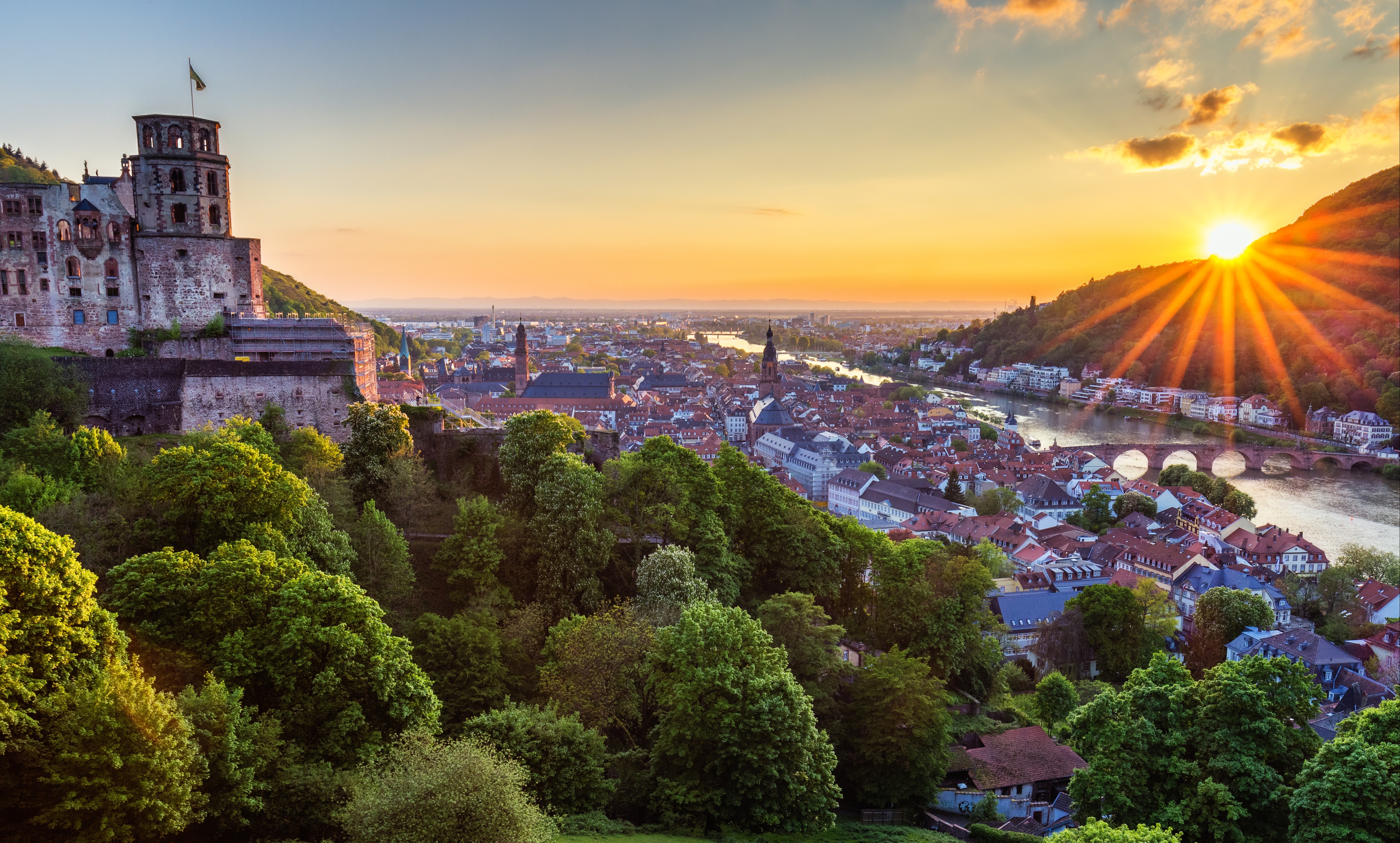 Viking's most popular river voyage is their "Rhine Getaway."
On a Viking river cruise you'll enjoy exciting cities, culturally enriching local experiences including visits to UNESCO world heritage sites, and spacious accommodations aboard elegant, state-of-the-art ships.
Why our experts recommend Viking:
Destination-centric voyages
Complimentary shore excursions in every port of call
Port taxes & fees
Ground transfers (with Viking Air purchase)
Free Wi-Fi
Beer, wine & soft drinks with onboard lunch and dinner
24-hour specialty coffee and tea
Onboard and on shore enrichment lectures & destination performances
River-view staterooms including stateroom stewards, hotel-style beds, 40" LCD TV's, and heated bathrooms with spacious showers and premium toiletries

Insider Tip: Viking's most popular river voyage – The Rhine Getaway – is the "World's #1 River Cruise" visiting Amsterdam, Cologne, Basel and other European gems. This 7-night journey reveals a rich landscape of castles, cathedrals and culture and is considered the top itinerary for first time river cruisers.
Crystal
Setting a new standard for luxury river cruising in Europe, Crystal's all-suite, all-butler river ships ensure that each detail of your journey is quietly noted and your every wish is graciously fulfilled.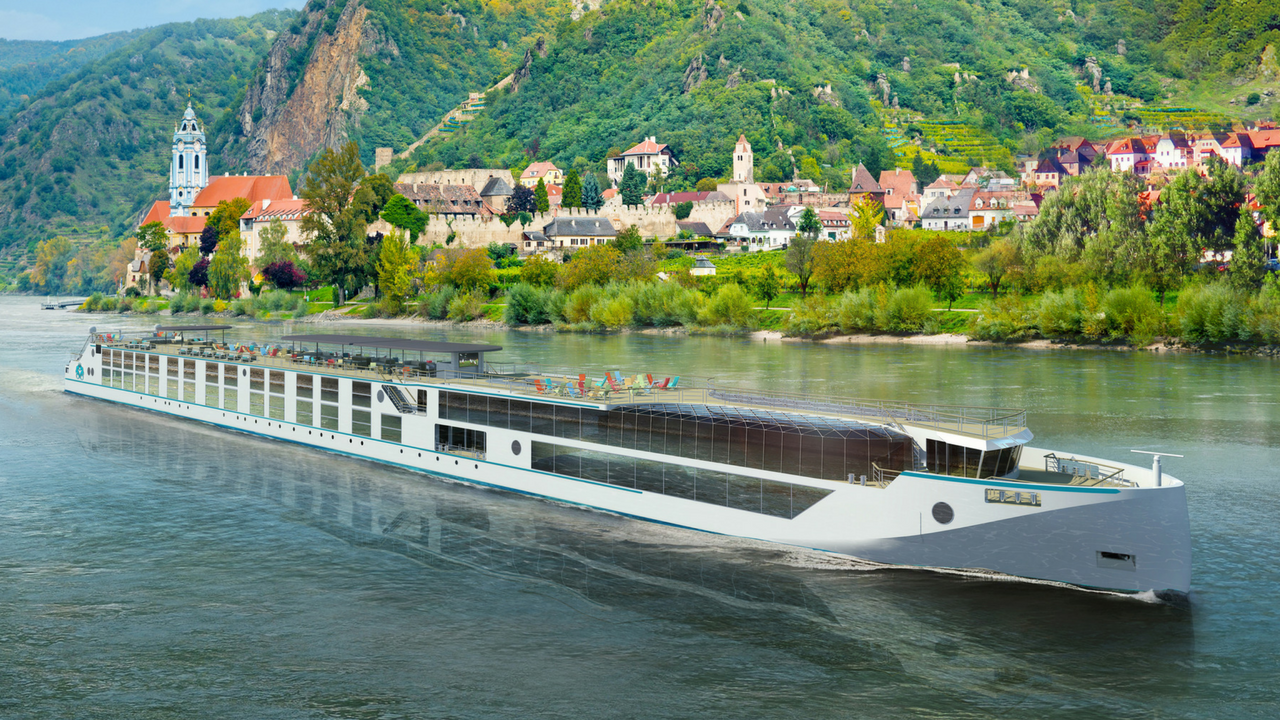 Crystal has 5 luxurious river vessels that epitomize elegance down to every detail.
All staterooms on Crystal river ships are suites – the largest suites of any European river fleet – and each suite features a personal butler, a king-size bed and high-tech in-suite amenities including bedside iPads, interactive TVs, ambient lighting and more.
Why our experts recommend Crystal:
All-suite, all-butler accomodations
24-hour room service
All gratuities, both shipboard and shoreside
Unlimited fine wines, spirits, beer, soft drinks and bottled water
Complimentary, unlimited Wi-Fi/internet
Onboard entertainment and enrichment
Daily yoga and fitness classes
Free use of eBikes in select destinations
Complimentary airport transfers
Tauck
Just one voyage with Tauck and you'll see why they are consistently ranked among the very best in all of river cruising. With uncommon access to unique experiences ashore, plus over-the-top service and truly personalized attention, Tauck removes the guesswork of river cruising and offers superior value in every category.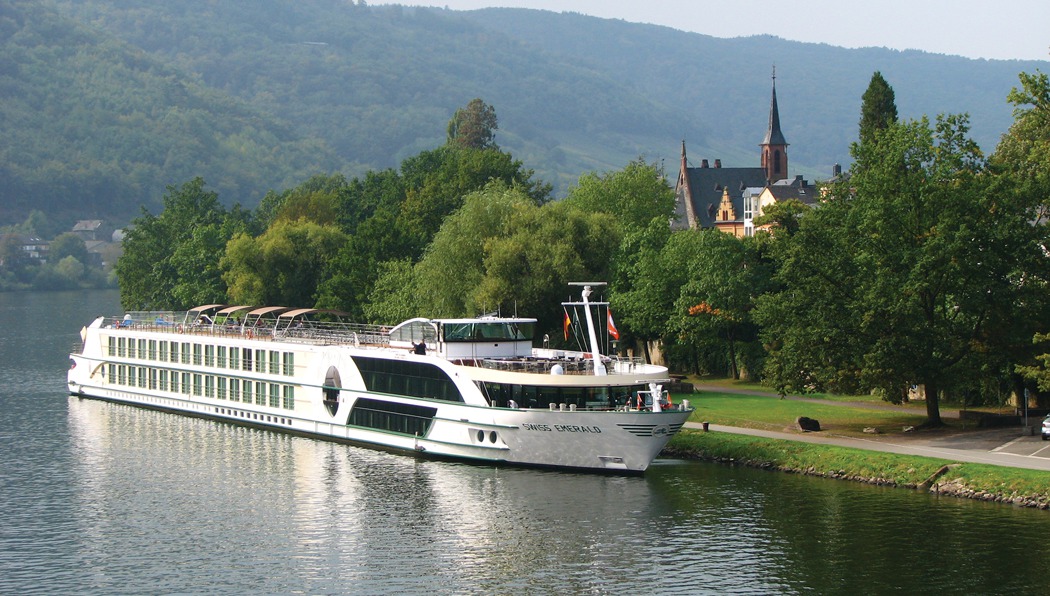 Tauck's river ships often dock just steps away from the center of Europe's towns and villages.
With 90 years of expertise in both cruising and custom land journeys, Tauck is the unparalleled leader in premium travel experiences for every age and adventure at sea, on shore and every stop in between. Tauck ensures every moment of your ship experience and shore excursion is meaningful.
Why our experts recommend Tauck:
One of the most family-friendly river cruise lines
At least four Tauck Directors on every river cruise
Highest tour director-to-guest ratio in the industry
Complimentary shore excursions
Unique shoreside experiences and private cultural performances
Fine European-style shipboard dining
Unlimited complimentary beverages on board
Special Solo Traveler savings on all European voyages


Insider Tip: Tauck Bridges are special itineraries designed for families and multi-generational engagement for guests of all ages. These award-winning adventures are among the most popular family-friendly tours in the world.
AmaWaterways
An AmaWaterways river cruise is about more than the destination – it's the journey. See the world in luxury and comfort with all-inclusive river cruise vacations navigating the great waterways of Europe, Africa, and Southeast Asia.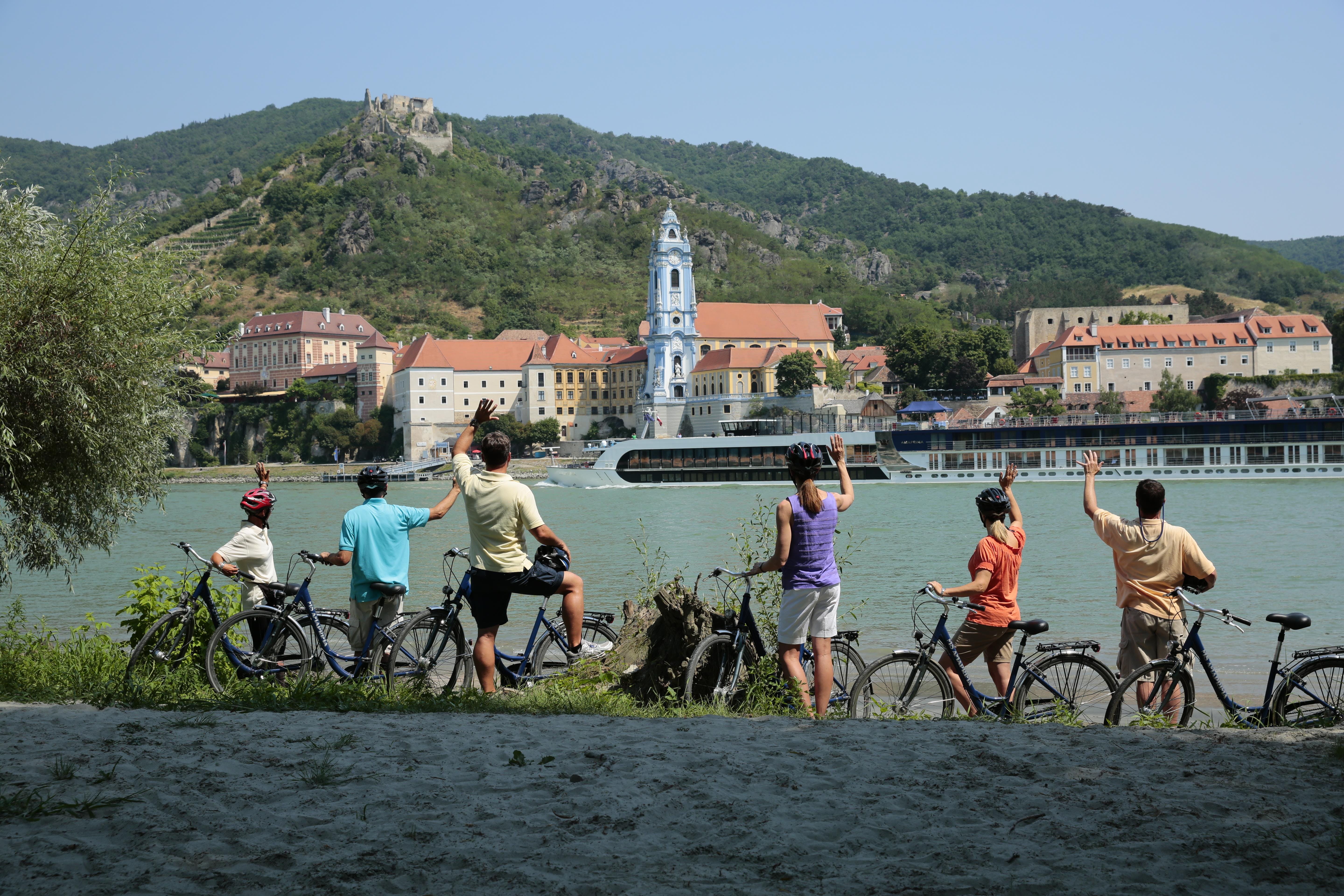 AmaWaterways offers complimentary guided bicycle tours along European rivers.
With some of the highest-rated ships in Europe, each vessel features an incomparable array of amenities and complimentary extras: spacious staterooms with balconies, ship-wide 4G Wi-Fi, beverages with dinner, gourmet dining in multiple venues, nightly entertainment and more.
Why our experts recommend AmaWaterways:
High staff-to-guest ratio (1 staff member for every 3 guests) on every ship
A menu of shore excursions in every port, including small-group special interest tours
Choice of "tour paces" for various activity levels: gentle, regular or active
Staterooms featuring two private balconies — a French balcony & full outside balcony
Fewer guests (at most 164) onboard every ship
Larger staterooms with accommodations up to 350 square feet
Complimentary use of bicycles when on shore, plus guided bike tours
Evening at The Chef's Table specialty restaurant, at least once per cruise
Unlimited wine, beer and soft drinks with meals
Daily "Sip & Sail" cocktail hours
Complimentary Wi-Fi shipwide
Local, traditional nightly entertainment

Insider Tip: Whether it's traditional Bavarian music, a local quartet or contemporary piano favorites, you will enjoy an eclectic schedule of onboard entertainment every night aboard AmaWaterways.
Aqua Expeditions
Aqua Expeditions offers unparalleled travel experiences, in the utmost comfort, for modern-day adventurers cruising the world's most exotic rivers and remote ecosystems. You'll connect with riveting cultures, be exposed to vibrant diversity, and be immersed in the local customs, history, and wildlife.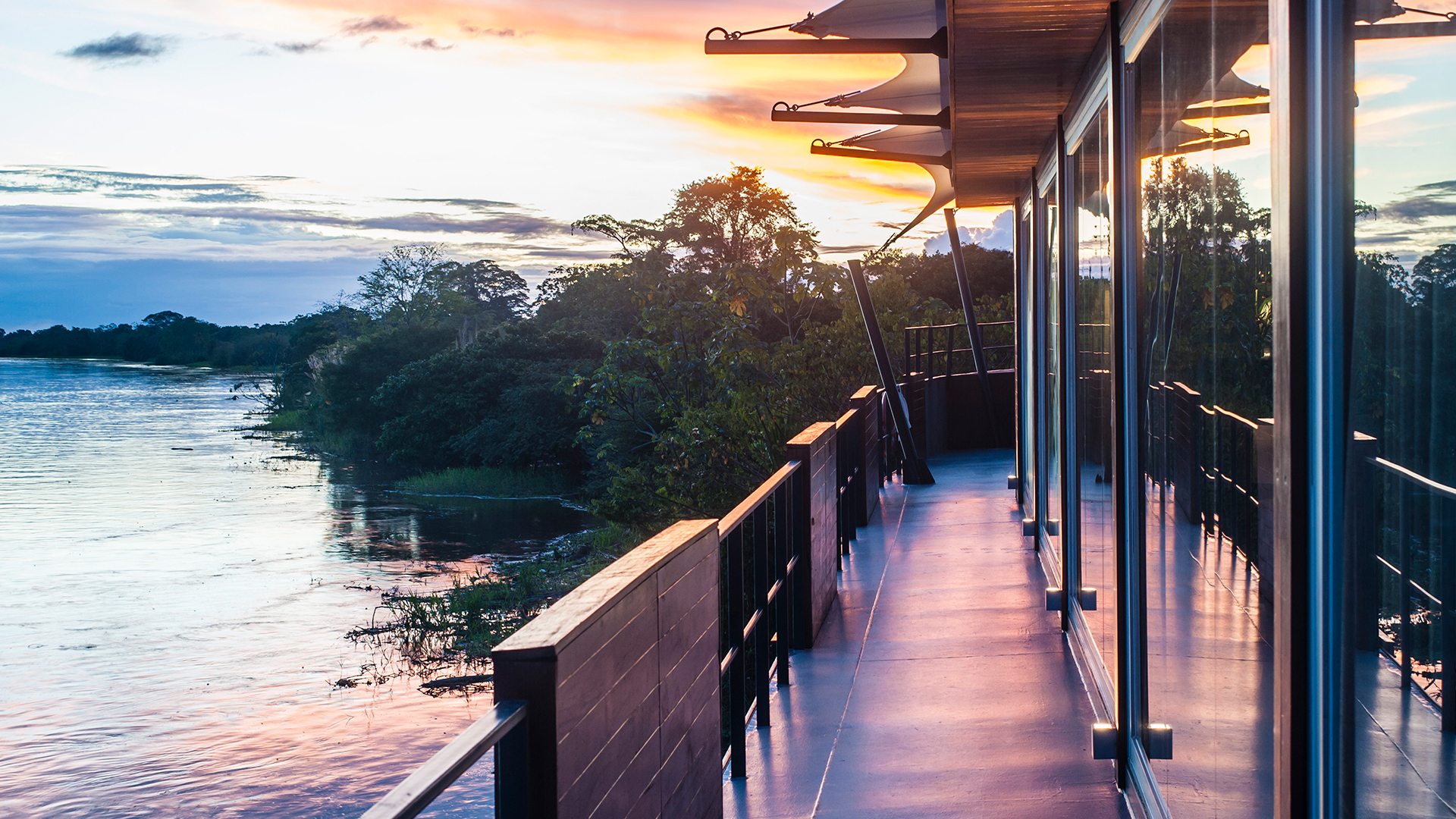 Aqua Expeditions offers incredible views on observation decks and from all staterooms.
On Aqua Expeditions, you'll experience unique, immersive journeys surrounded by exotic wildlife and the rugged, natural beauty of Amazonia or the culturally diverse Mekong Delta, while enjoying these remote locales in luxury and at your leisure.
Why our experts recommend Aqua Expeditions:
Modern, state-of-the-art ships designed to be the ultimate river safari vessels
Spacious suites fully appointed with luxurious accommodations and amenities
Floor to ceiling panoramic windows in every suite, each with gorgeous views
1:1 crew-to-guest ratios providing attentive, world-class service
5-star cuisine led by chefs sourcing their ingredients from local riverside markets
Private speed boats and tenders for water-based excursions and land adventures
Bicycles provided free of charge to explore independently on shore
Interconnecting family suites available on both vessels

Insider Tip: Aqua Expeditions is the only river cruise line that provides expert naturalists to lead you on such excursions, carefully designing trips off-ship based on season, cultural events and even current wildlife habits.
Uniworld
Uniworld's Boutique River Cruise Collection offer luxurious voyages along some of the world's most iconic rivers in Europe, Egypt, India, Africa, China, Russia and Southeast Asia.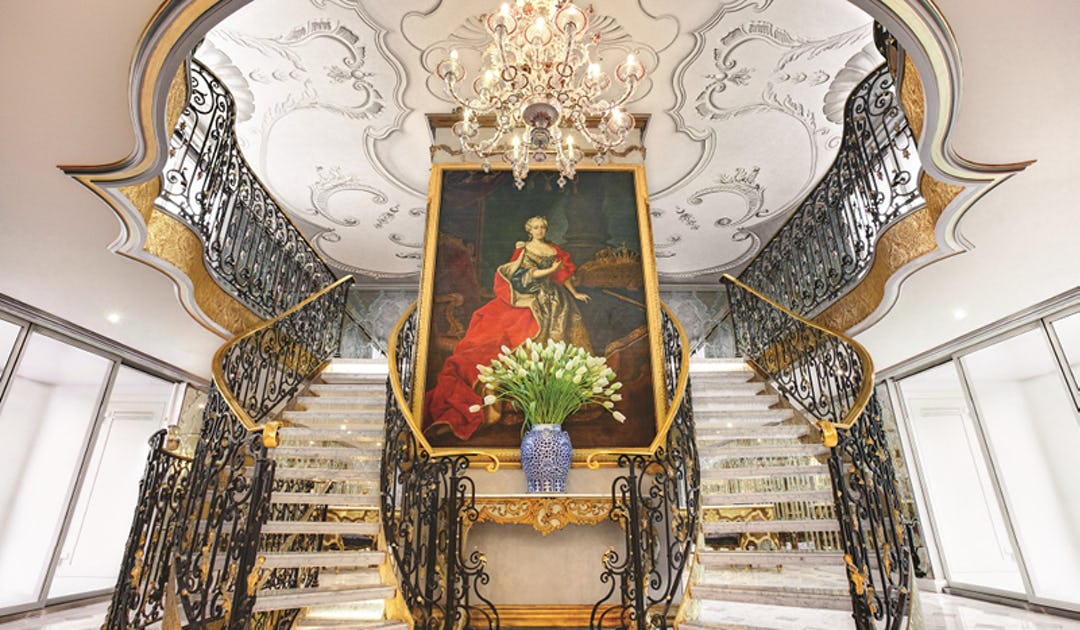 With unique themes and one-of-a-kind artwork in each, Uniworld's ships are more like museums.
Each Uniworld ship itself is a masterpiece, uniquely appointed and rich in character, not two ships are alike. Providing discerning guests with an unsurpassed and unforgettable river cruise experience, Uniworld elevates all-inclusive river cruising in to an entirely new level.
Why our experts recommend Uniworld:
The most all-inclusive river cruise experience in Europe
Impeccable service with one of the highest staff-to-guest ratios in river cruising
A variety of personalized excursions led by English-speaking local experts
Tour options ranging from active to more authentic "Do As the Locals Do"
All gratuities included both onboard and ashore
Elegant riverview staterooms and suites with the finest linens, towels, beds and Asprey bath products
In-suite butler service for all European cruises
Unlimited beverages including premium spirits and wines
Shipwide internet and Wi-Fi access
All scheduled airport transfers
Complimentary bicycles and Nordic walking sticks for use on shore

Insider Tip: Uniworld's award-winning excursions and curated services include once-in-a-lifetime offerings such as a private art tour or a conversation with an Austrian princess in her 13th century castle.


With CruiseInsider's extensive river cruise expertise and established reputation for savings, service and special extras you can't get anywhere else, you'll rest easy knowing that our experts will always help you find and save on a river cruise experience that's right for you.
Speak to one of our river cruise experts at 1 (877) 734-6858 to start planning your luxury river cruise adventure now!