The Mighty Mississippi is the world's fourth longest river, cutting through the heart of America. The river is so vast (nearly 2,350 miles in length) it's split up into two separate main cruising regions, the Upper and Lower Mississippi.
Both provide a distinct experience, which is why understanding the differences between Upper and Lower Mississippi River cruises is crucial to making the best decision. Here's what you need to know.
The Lower Mississippi
There are countless options for a cruise on the Lower Mississippi, providing plenty of flexibility for your itinerary. Cruises operate in both directions between New Orleans and Memphis, St. Louis to New Orleans and Memphis to New Orleans. Some of the most popular stops along the way include Vicksburg and Natchez, Mississippi and Baton Rouge, Louisiana.
Insider Tip: Round trip options are available, though there are usually fewer port stops due to the longer journey.
Cruises on the Lower Mississippi are usually hosted in spring or fall, with the best months being April, May, October and November due to the high heat and humidity in the region. If you're looking to delve into southern U.S. history, there is arguably no better option. Itineraries through the Deep South visit places like battlefields, antebellum plantations and cities rich in Civil War history. Lower Mississippi River cruises are a great option for music and food lovers too, with plenty of jazz, rock and blues to enjoy, along with mouthwatering Creole and Cajun dishes.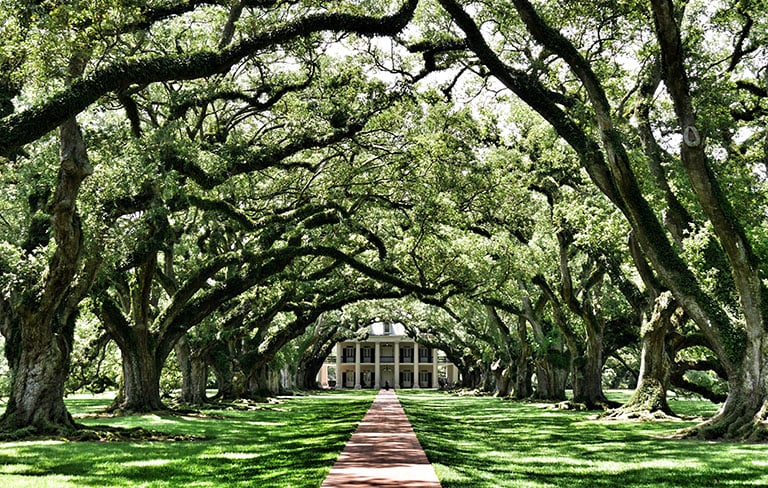 Oak Alley Plantation
American Cruise Lines offers Lower Mississippi excursions roundtrip for seven nights from New Orleans on the Queen of the Mississippi, stopping at the following locations:
Oak Alley Plantation
Natchez, Vicksburg
St. Francisville
Baton Rouge
Houmas House


You'll travel on a luxury paddlewheeler that recreates the grandeur of riverboats of the past while still boasting the modern river cruising technology of today.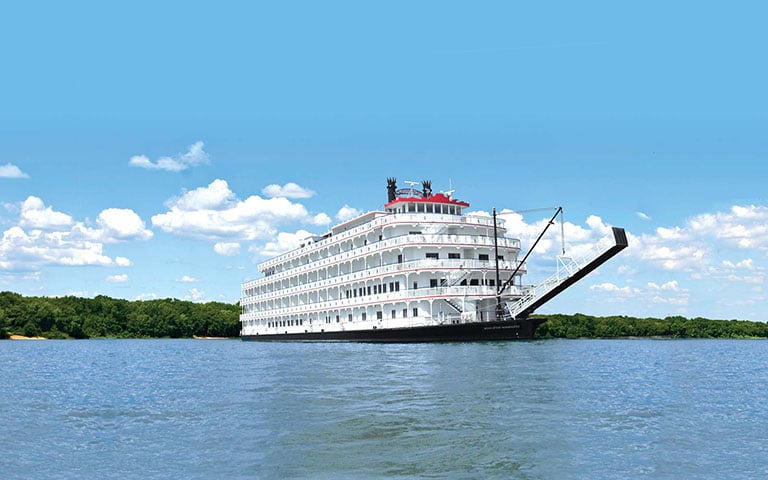 Queen of the Mississippi
The Queen of the Mississippi includes especially spacious staterooms, an opulent dining salon, library and six lounges. America's 10-night Mississippi River Gateway Cruise also travels on the Queen of the Mississippi, from New Orleans to St. Louis, with the following stops:
Baton Rouge
Natchez
Frogmore
Vicksburg
Memphis
New Madrid
Paducah
Ohio River


Each itinerary mentioned above focuses on the American Civil War, food and music and exciting cities.
The Upper Mississippi
Upper Mississippi River cruises travel between St. Paul, Minnesota and St. Louis, Missouri. While various cruise lines may offer slightly different ports of call, for example, the American Queen Steamboat Company stops in Clinton, Iowa while American Cruise Lines visits Davenport, Iowa, sailings will always begin and end in St. Paul or St. Louis.
What makes it interesting to modern engineering fans is that it cruises under a series of over 20 locks. The upper part of the river also typically experiences lower temperatures and less humidity in the summer, making it more enjoyable if you're looking for a river cruise during the warmer months of the year.
Insider Tip: The northern part of the Mississippi River is abundant with wildlife. Look for otters, turtles, bald eagles, hawks, egrets and more.
It's important to understand that Upper Mississippi River cruises require certain water levels for riverboats to fit underneath the many bridges that span the river from St. Louis to the north. This is why the cruising season on this stretch typically doesn't start until after July. The optimal time for a river cruise along this northern section is from August to October.
American Cruise Lines offers a 7-night Upper Mississippi Cruise on the Queen of the Mississippi from St. Paul to St. Louis with ports of call in the following locations:
Red Wing, Minnesota
Lacrosse, Wisconsin
Dubuque and Davenport, Iowa
Hannibal, St. Louis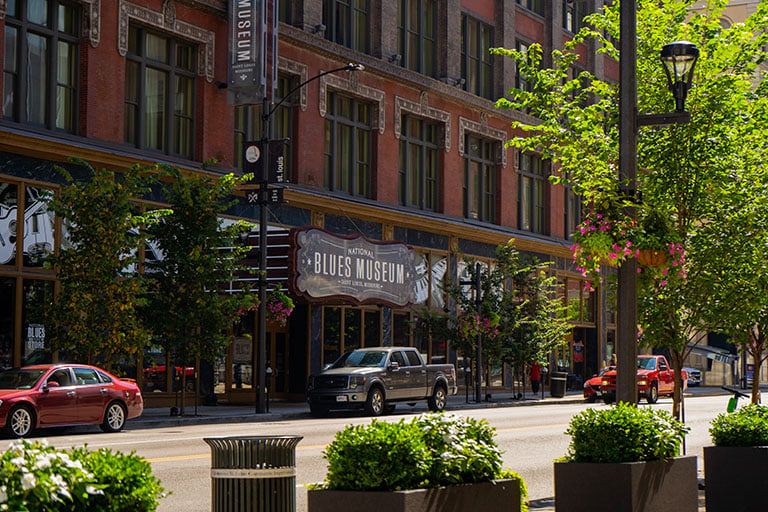 National Blues Museum, St. Louis, Missouri
It's an ideal itinerary for those who want to follow the footsteps of two of Mark Twain's legendary characters, Tom Sawyer and Huck Finn.
Want to learn more about Mississippi River cruises? Click here to see all of our Mississippi River cruises with Viking Cruises and start planning your next stateside river cruise.
If you want to learn more about Mississippi River cruises with Viking Cruises click here. If you have questions or would like help planning your next cruise, connect with one of our travel experts to day at 1 (877) 734-6858.