Cruise cuisine has long been a cliché, characterized by big buffets and "baked Alaskas", but bad food at sea is thankfully a thing of the past. Today's most luxurious cruise lines now feature gourmet restaurants with globally inspired dishes, giving diners more gastronomic options than ever before.
Shipboard dining has advanced to the point where Michelin-star master chefs can now prepare anything on ship that they can on land, maybe even more.
Partnering with iconic celebrity chefs, renowned wineries, famous foodies, revered magazines, and legendary cooking schools, food and drink is now at the forefront of today's cruise experience.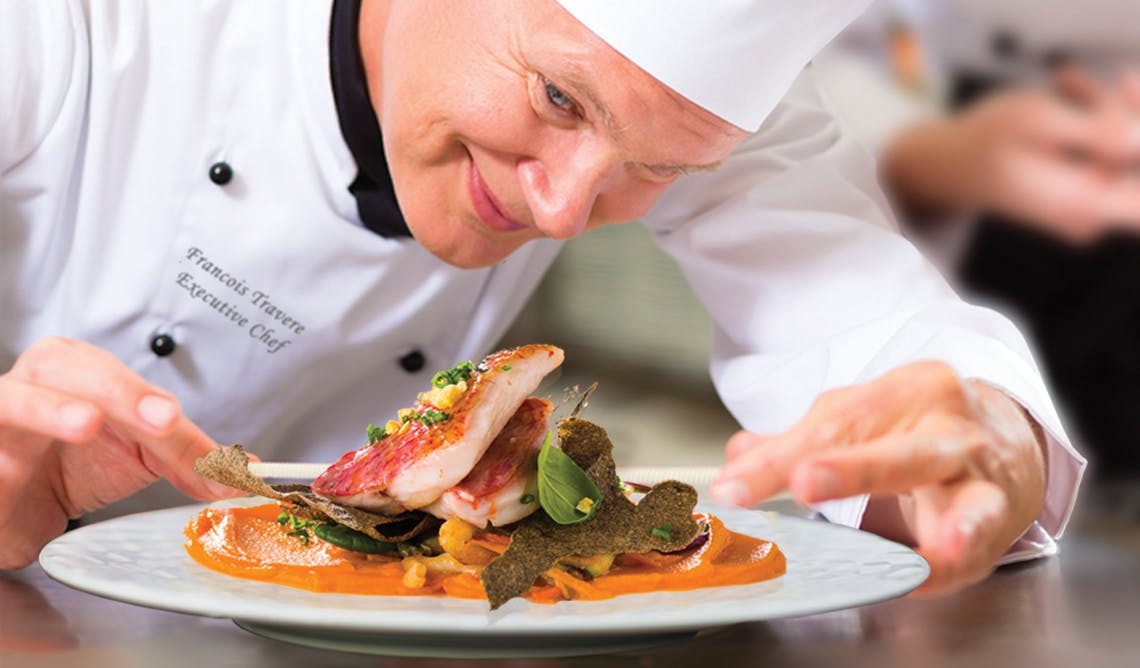 Today's cruise lines like AmaWaterways have top-notch chefs creating world-class cuisine.
Locally sourced ingredients. Seasonal, sustainable products. Fresh produce from the ports-of-call they visit. Internationally inspired flavors. Award-winning master chefs. Exclusive, ever-changing menus. Reserve wines and craft cocktails. Immersive guided foodie tours. Vegan and allergy-friendly offerings. Hands-on culinary classes. With onboard culinary choices this good, even the most savvy gourmands will question ever going ashore to eat.
Our Experts' Top Picks
Our insiders have sailed on every major cruise line and have eaten hundreds of dishes in dozens of the best restaurants at sea. We've collected their favorite meals, most memorable experiences, and can't-miss menu items and turned it into a virtual "pot-luck"—an easy to digest list of the very best dishes and dining options at-sea—so you can eat and drink like an insider too on your next cruise.
Appetizers
"At Toscana on the Oceania Marina, definitely begin your meal with either the 'Octopus Carpaccio with Champagne Vinaigrette' appetizer or the 'Artichoke and Parmesan Cheese Timbale with Black Truffle Sauce'…or just order both like I did!"
- Annette Holt
"Enjoy the foie gras slider starter on Regent Seven Seas Mariner—it's as luxurious and delicious as it sounds and pairs well with the ship's elegant decor."
- Marci Goode
"Seabourn's ships have small-plate tasting menus that offer some of the most scrumptious bites you'll ever experience, including 'Lobster and Lemongrass Presse with Lobster Herb Ravioli'. But the very best appetizer? Their incredible breadsticks, which could be the tastiest bite on board."
- Jennifer Bustamante
The "world's best breadsticks" can be found aboard Seabourn Cruises.
Soup
"The 'Seafood Bouillabaisse' on Azamara Club Cruises at the Mediterranean-inspired specialty restaurant, Aqualina, is hands-down the best I've ever had. Ever!"
- Marci Goode
"At Jacques Pepin's signature restaurant on the Oceania Marina, they ladled their fresh 'Pumpkin Soup with Toasted Walnuts' directly out of a giant pumpkin! What a cool presentation."
- Adam Lazarus
"In Restaurant 2 aboard the Seabourn Odyssey, I wanted to drink a gallon of their 'Chestnut and Porcini Mushroom Soup'. Absolute heaven in a bowl."
- Tricia Ashton
Cream of Forest Mushroom - Crystal Cruises


Insider Tip: Only offered once per cruise in the main dining room, Crystal's "Cream of Forest Mushroom" soup is a layered, luxurious four-mushroom soup served in an oregano-laced bread bowl - a signature dish aboard the line's luxury ships for more than 20 years.
Salad
"Prime 7 on Regent had two incredible salad options that I loved, the 'Tuna Tartare on Avocado' salad and their 'Mixed Greens with Pumpkin Seeds, Cranberries, and Beets'. Both were really healthy and really yummy."
- Lisa Summer
"The 'Watermelon and Duck Confit Salad' is one of the true favorites of Red Ginger onboard Oceania. The crisp texture and sweetness of watermelon perfectly balance the chewy richness of duck. It's next level good."
- Michele Valentino
"At Oceania's Polo Grill, the 'Original Cobb Salad' comes with your choice of grilled protein—Prime steak, chicken breast, ahi tuna, or jumbo shrimp—or 'all of the above' as I asked for (and received.) Sure, it was a little over-the-top, but it was oh so worth it.
- Wendy Hathorn
Tuna Tartare on Avocado Salad at Prime 7 - Regent Seven Seas Cruises
Breakfast
"Breakfast under the beautiful sky and billowing sails of a Windstar yacht is the best way to start your morning. My staples were the scrambled eggs with smoked salmon, chocolate-filled French toast, and fresh-fruit kebabs with almond crème."
- Lisa Summer
"My favorite breakfast item is Regent Seven Seas' fluffy Belgian waffles with fresh blueberry compote—pretty simple but absolutely sublime."
- Michele Valentino
"Eating the 'Eggs Benedict with Lobster' aboard the Seabourn Quest as we docked in Copenhagen was one of the best dining experience of my life!"
- Brooke Cromwell
Brunch Buffet on Deck - Windstar Cruises
Hors d'oeuvres & Cheeses
"The amuse-bouche platter on Windstar changed every day and served us fine meats and fish accompanied with fresh, artisan cheeses that absolutely melt in your mouth. Delicious!"
- Cristina Crawford
"My favorite cheese dish was on the Silversea's Spirit, in their speciality dining room called La Terrazza, during our Italian cruise. We enjoyed family style-Buffalo mozzarella that came right from Naples, air-dried Parma ham and organic balsamic vinegar and olive oil direct from Umbria."
- Sue Estabrook
"Nothing beats the cheese trolley in Jacques restaurant on Oceania. Served on a beautiful glass-encased marble platter, all the cheeses are imported from France and are all AOC-certified (which means they're all authentic!)"
- Kelly Berardi
Caviar In the Surf Event - Seabourn Cruises



Insider Tip:

If you're booked on one of Seabourn's warm-weather itineraries, don't miss their "Caviar in the Surf" event - one of the line's most-beloved beach activities - where ship's officers stand waist deep in the water serving up all the caviar and Champagne you can consume.
Snacks
"Eating the decadent and delicious lobster nachos—complete with an incredible ocean vista—at the Pool Grill on Regent Seven Seas Explorer is one of the most out of this world experiences ever!"
- Michele Valentino
"On my AmaWaterways river cruise through Bulgaria, they had the most delicious savory pastry called Banitsa, made of dough and stuffed with a variety of things like cheese, spinach, rice and meat. I ate one (or two) every day."
- Brooke Cromwell
"Sometimes when you're away from America for awhile, you crave a juicy burger. Oceania has the very best at-sea. I've tried several of their Black Angus burger creations poolside and my favorite is the Kobe with Wagyu beef, black truffle sauce and baby cress. Eat it with a side of their hand-cut, crispy truffle fries dusted with parmesan. You're welcome!"
- Tricia Ashton
Black Angus Double Burger at Waves Grill - Oceania Cruises
Seafood
"On our Windstar cruise, we went on a fishing excursion during the day and caught our very own fish! That evening for dinner, the chef cleaned and prepared it for us to-order. What a memorable meal for sure."
- Lisa Summer
"The Norwegian salmon on Viking Ocean Cruises—the dish dubbed the "Chairman's Choice"—was to die for. Fresh salmon. Homemade chive sauce. Pickled cucumber. And it's available on a complimentary basis 24 hours a day! What's not to love?"
- Jennifer Bustamante
"Surprisingly, my favorite dish I've ever had on a cruise was the 'Miso Glazed Seabass' from Red Ginger on Oceania, mainly because I don't usually like fish! But I simply loved this dish!"
- Michele Valentino
Miso Glazed Seabass at Red Ginger - Oceania Cruises



Insider Tip:

The most requested fish dish on Oceania Cruises is the 'Miso Glazed Seabass' cooked in a hoba leaf, which is only served at Red Ginger. The experience of this unctuously flavorful dish relies heavily on the quality of the sea bass, which Oceania's chefs personally oversee to ensure the freshness of each filet.
Pasta
"The best pasta dish I've ever had at sea is also one of the best I've ever had, period. It was at Toscana on Oceania, the "Vulcano di Capelli D' Angelo alla Sorrentina' was so simple, elegant, clean and flavorful. Basically, it's homemade angel hair pasta with a fresh tomato sauce topped with 'Sorrento Bufala' mozzarella straight from Italy."
- Adam Lazarus
"On our Uniworld river cruise through Italy, we enjoyed a full-day excursion to Bologna, where we made our own pasta at a hands-on workshop. We then ate pasta for dinner onboard—fresh 'Linguine with Zucchini and Vongole'—and it was, quite frankly, the best pasta I've ever eaten in my life."
- Brooke Cromwell
"On Crystal, the signature pasta dishes were 'Lasagna alla Casalinga' and 'Butternut Squash Ravioli'—they were so fresh, authentic and incredibly tasty."
- Robin Stephens
Pasta Making Shore Excursion - Uniworld Boutique River Cruises
Main Courses
"One of the can't miss dining experiences at-sea (and one of the healthiest) is the lava stone cooking at Grill on the deck of Silversea's Whisper. I had a beautiful prime ribeye steak and Berkshire pork chops that I actually cooked at the table on a red hot volcanic rock! So fun. And so good!"
- Marci Goode
"Oceania Marina. Polo Grill. It's the ultimate beef experience. I wanted to eat there every night. My favorite thing was the Prime Rib. Aged 28 days, it was buttery and tender and perfect. I get hungry just thinking about it."
- Annette Holt
"Prime 7 on Regent Seven Seas is the tops! We must have eaten there five times during our 12-night cruise. My favorites were the American Wagyu chopped steak and the gigantic 36-ounce Porterhouse, which they carve tableside. (The double-cut Kurobuta Berkshire pork chop was incredible too!)"
- Caroline O'Hara
Lava Stone Cooking Experience at Grill - Silversea Cruises
Dessert
"I was blown away by Viking's 'Nutella Panna Cotta'. This rich and creamy custard, when combined with hazelnut spread, instantly became one of the best cruise desserts ever."
- Brooke Cromwell
"Four words: 'Espresso-Citrus Panna Cotta'. It's a fantastic dessert inspired by NYC celebrity chef Charlie Palmer and found only on Seabourn ships."
- Marci Goode
"One of the coolest and most creative desserts I've ever had was the 'Chocolate Mousse Burger' from Oceania's Polo Grill. It actually looks like a cheeseburger, but it's made of chocolate mousse, almond pastry, a layer of apricot jelly, and a trio of marshmallows - each in a different sauce!"
- Mercedes Hawkins
Insider Tip: On Vikings' river cruises through Vienna, you'll not only eat the best strudel ever, but you can learn how to make this authentic dessert right alongside the ship's pastry chef.


Nutella Panna Cotta - Viking Cruises
Coffee & Tea
"Afternoon tea on Oceania was so elegant, yet so casual . . . and so much fun! Even my college aged son loved it! Best. Scones. Ever!"
- Marci Goode
Enjoying my steamed latte and chocolate croissant on the Azamara Quest while overlooking Monte Carlo was a remarkable experience. The view seemed laughably second to the food."
- Brooke Cromwell
"A truly special event on Crystal Cruises was their Mozart Tea experience. We were greeted by staff dressed in velvets and brocades and ate incredible cakes and pastries from Austria."
- Robin Stephens
Afternoon Tea - Oceania Cruises

For more delicious recommendations or the best deals on foodie cruises, connect with a CruiseInsider expert at 1 (877) 734-6858.