Depending on the cruise line you sail on, your experiences onboard and on shore, and the packages you've purchased, determining how much to budget for and how much cash you bring on your cruise can vary greatly.
So what do things actually cost onboard? Which cruise lines include what? And how much cash should you take on your next cruise? We're here to help you figure it out!
Experts say the average cruise passenger spends anywhere from $52 to $89 per day, but the amount you'll spend will, of course, vary based on cruise line, ship, experience and your individual preferences.
Walking around with wads of cash is unwise while traveling in general, but cruise lines are in many ways considered a "cashless society" where your room key or ship ID is used to charge items to your cabin versus money. If preferred though, you can certainly choose to use cash in most situations on a cruise - bars, spa, casino, excursions, shops, etc.
Insider Tip:

While onboard, we recommend leaving most of your cash in the safe inside your stateroom along with important documents, passports, credit cards, IDs and more.
What Do Things Cost on a Cruise?
If you plan on eating at specialty dining restaurants, sipping cocktails every day, enjoying spa services or taking excursions in every port, you'll probably spend more.
If you're all about relaxing by the pool and don't plan to use the spa, drink a lot, gamble or shop, you'll probably spend less.
Unless you've purchased a special package, some of the possible expenditures to budget for on a typical cruise may include:
Specialty dining (≈$25-45 per person)
Massage and other spa treatments (≈$100-$200 per service)
Laundry services (≈$1-$10 per item)
Babysitting (≈$10-$20 per hour)
Alcohol, coffee or specialty drinks (≈$5-$15 per drink)
Additional food items (≈$5-$15 per item)
WiFi/Internet (≈$5-$25 per day or device)
Casino gambling (it depends)
Onboard activities like bingo or poolside games (≈$5-$25 per event)
Photography (≈$25-$45 per photo)
Onshore activities and excursions (≈$50-$250 per person or per outing)
Gratuities (varies; see more below but tips can be ≈$10-$25 per day)

While the above provides a general idea of how much money you might want to bring, here's what you may need to know to determine the amount of cash that's right for you, and our tips on how to protect your funds.
Cash Depends on the Cruise Line
While most premium lines and mega-ships offer pre-paid packages and fares may include more than just stateroom and meals, most do charge for a majority of items that luxury lines typically include.
Our CruiseInsider experts can help recommend the right cruise line for you and provide more insight on the perfect onboard package, so you can budget as best as possible. Many of our favorite luxury cruise lines, however, are all-inclusive experiences!
The top cruise line like Regent Seven Seas, Crystal Cruises, Silversea and others charge one all-inclusive fare which covers your stateroom, food, drinks, onboard entertainment, and - in most cases - may even include extras like WiFi, gratuities, select shore excursions, transfers to and from the ship, airfare (select staterooms), ship-wide or special activities, events and enrichment, and in-room niceties.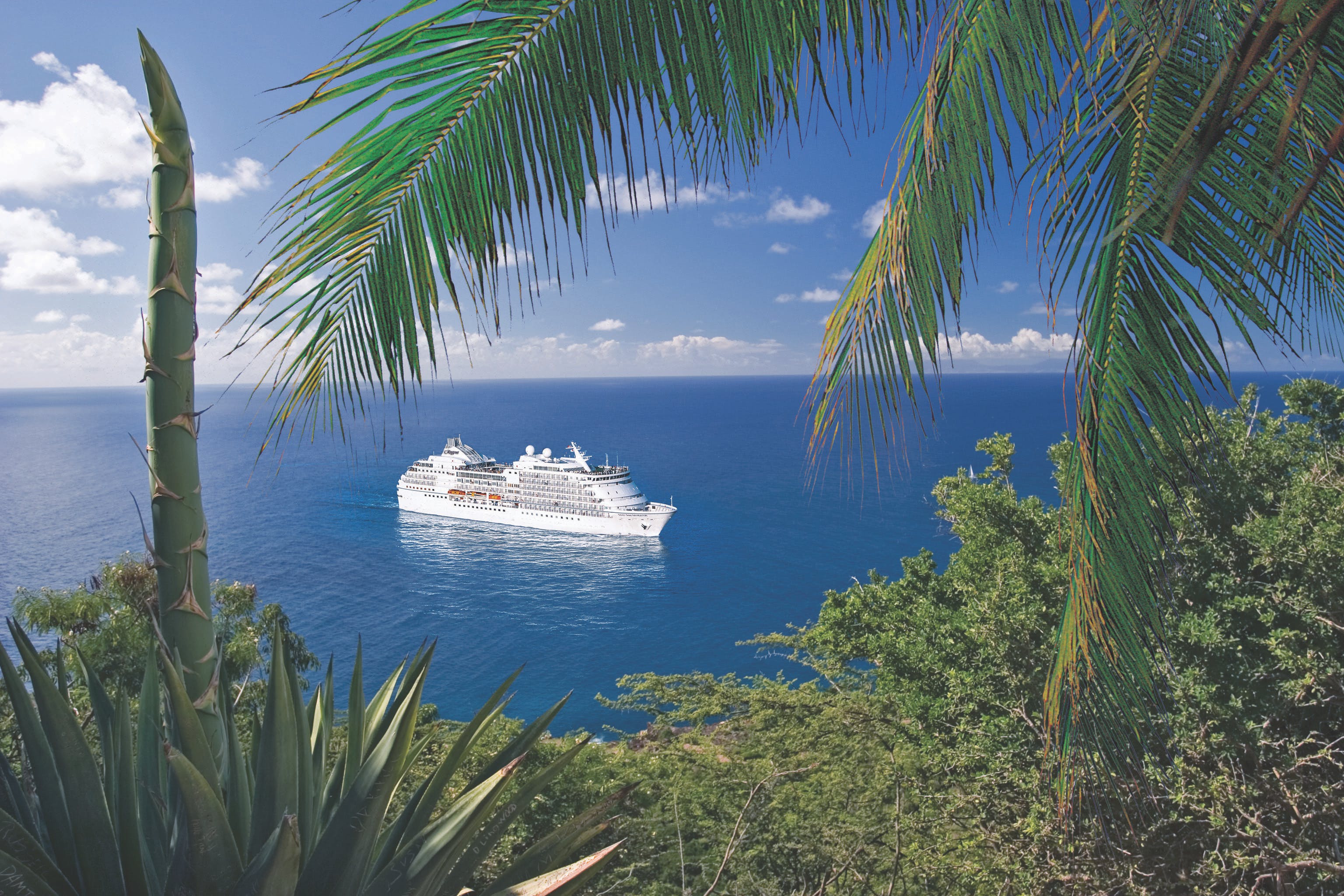 Regent Seven Seas is known as the one of the world's most all-inclusive cruise lines.
Technically, on the all-inclusive lines, you could go the entire trip without opening your wallet at all! Spending anything after embarkation is up to you, as the only things not included on any cruise line would be shopping, souvenirs, spa treatments and casino gambling. For these things, you'll need to bring some additional money.
Insider Tip:

U.S. dollars can often be used when visiting popular cruise destinations like Mexico and the Caribbean, otherwise you may need foreign currency. In most cases, you'll pay the lowest rates by using an ATM in port to withdraw the money you'll need rather than onboard your ship.
What You'll Need Cash For on a Standard Cruise
Carrying too much cash on a cruise is probably not the best idea with the nerve-wracking possibility of losing it but at the same time, carrying too little might mean you'll run out. Finding the right balance is key as cash access is limited on cruise ships. Some small-ships and river vessels don't have ATMs at all, and while most ocean ships do, the transaction fees are typically double that of what you'd pay on land.
On the ship. You probably won't need much actual cash while onboard, as many cruise lines will just charge purchases to your account. Even ship casinos these days have cashless credit systems. On nearly all cruises, passengers are given an itemized bill at the end of the trip listing all charged expenses.
If you've received any shipboard credit, that amount will be applied to your bill and you can go over each item to be sure all charges are accurate - then the total will be charged to your credit card on file. Prevent any last day surprises by asking for a breakdown of charges each day or keeping good track of your daily expenditures.
Insider Tip:

Booking with CruiseInsider means extra perks and additional shipboard credit on most sailings! The amount may vary by cruise line, special offer, stateroom category or itinerary, but be sure to ask our experts if you are eligible for more shipboard credit!


In port. You will most likely need cash while you're off the ship, especially in foreign ports. Not only can it save you money in foreign transaction fees that most credit card companies charge, but if you're traveling to certain parts of the world, you may encounter places where credit cards aren't accepted.
We recommend paying for on shore purchases that are over $10 with a credit card to reduce the amount of cash you need to carry when off-ship and for a good record of your purchase, and use pocket change or local currency for the rest.
In many spots, you'll need cash for everything from sweets to sodas to souvenirs sold by street vendors and small mom-and-pop shops. If you're cruising to large cities, say Rome or Barcelona for example, you'll be able to use plastic in most cases. From shopping and shore excursions to dining and drinking, there will be plenty of ways to spend – so think about the overall itinerary and what your priorities are when it comes to budgeting your money.
Tips & Gratuities
Crew members on many premium line often rely on tips from passengers to supplement their incomes. While some cruise lines include tips in your fare, on some lines it isn't mandatory if you aren't satisfied with their service. Generally though, most cruise lines where gratuities aren't included, we suggest tipping $10 to $15 per day per passenger.
Insider Tip:

For a standard 7-night premium cruise with no pre-purchased package, a couple should budget between $140 to $168 for tips while on board.


There is an exception, however, to the above gratuity rule. The higher-end luxury cruise lines, including Regent Seven Seas, Silversea and Seabourn, have explicit no-tipping policies as gratuities, other than spa treatments, are built directly into their fares. Passengers are always free to give additional tips in cash for extraordinary service and for ancillary tours or excursions, but it's not expected.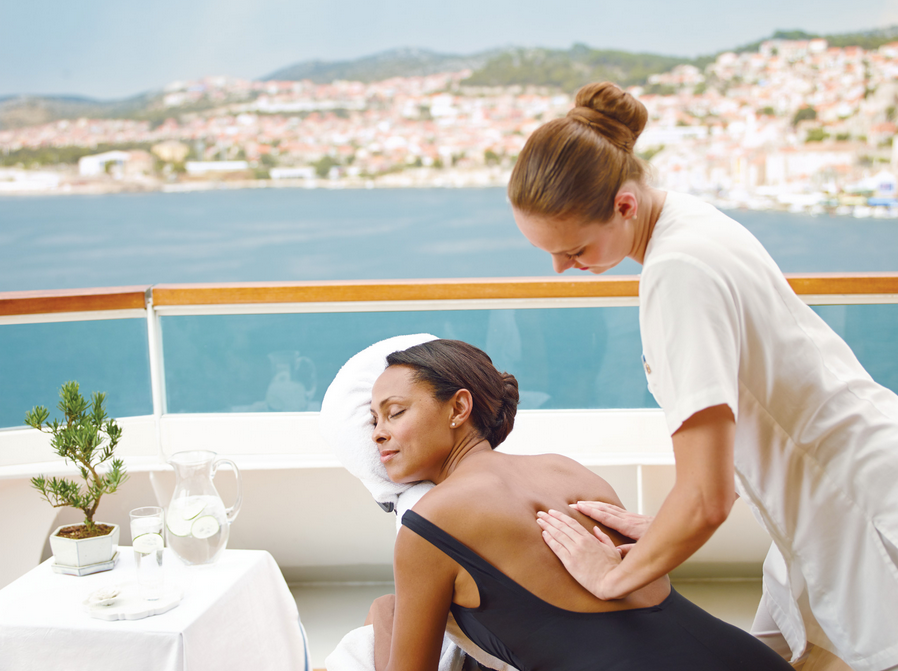 Seabourn offers world-class spa treatments and wellness services you'll want to try.
You may also need to think about tipping at other points throughout your cruise. From cabs or transfers who will transport you to and from the ship's terminal, to tour guides or shore excursion leaders, to wait staff and other service providers in port cities, these gratuities are not typically included in most cruise line packages.
Insider Tip:

Calculate an additional 15 to 20 percent of the total price to tip your drivers, bartenders, wait staff and tour guides when enjoying any destination.


For more info or specific answers regarding how much cash you should take on a cruise and the typical expenditures you can expect both onboard and in port, speak to the experts at CruiseInsider!
We will help you plan your vacation (and your budget) every step of the way. Give us a call at 1 (877) 734-6858 for more information!