Some cruise lines "rule" the river. Others cruise lines "own" the ocean. But only one cruise line truly reigns supreme over both–Viking Cruises. Offering destination-centric river and diverse ocean cruising, Viking excels at exciting journeys that are competitively priced for genuine value and maximum experience.
What makes Viking so popular with cruisers? Intimate, inclusive river itineraries are designed to help you explore nuances of your destination: its food, culture, people and customs. And Viking's new luxurious ocean liners let you see the world differently–up close and in depth–giving you access to small ports that larger ships cannot reach, and allowing you time to get to know your destination and its culture intimately, at a more relaxed pace.
Our
CruiseInsider experts
can answer your questions and help plan your ocean or river adventure, but
keep reading to learn more about what makes Viking so popular
with both experienced cruises looking for something new and
new cruisers
looking for a truly unique experience.
The Viking Difference
Called "the thinking persons cruise line", Viking understands the difference between a tourist and a traveler. Travelers want to explore, to learn, to understand, and Viking believes traveling on a cruise should be more than just a trip—it should be a doorway to cultural insight, personal enrichment and authentic exploration.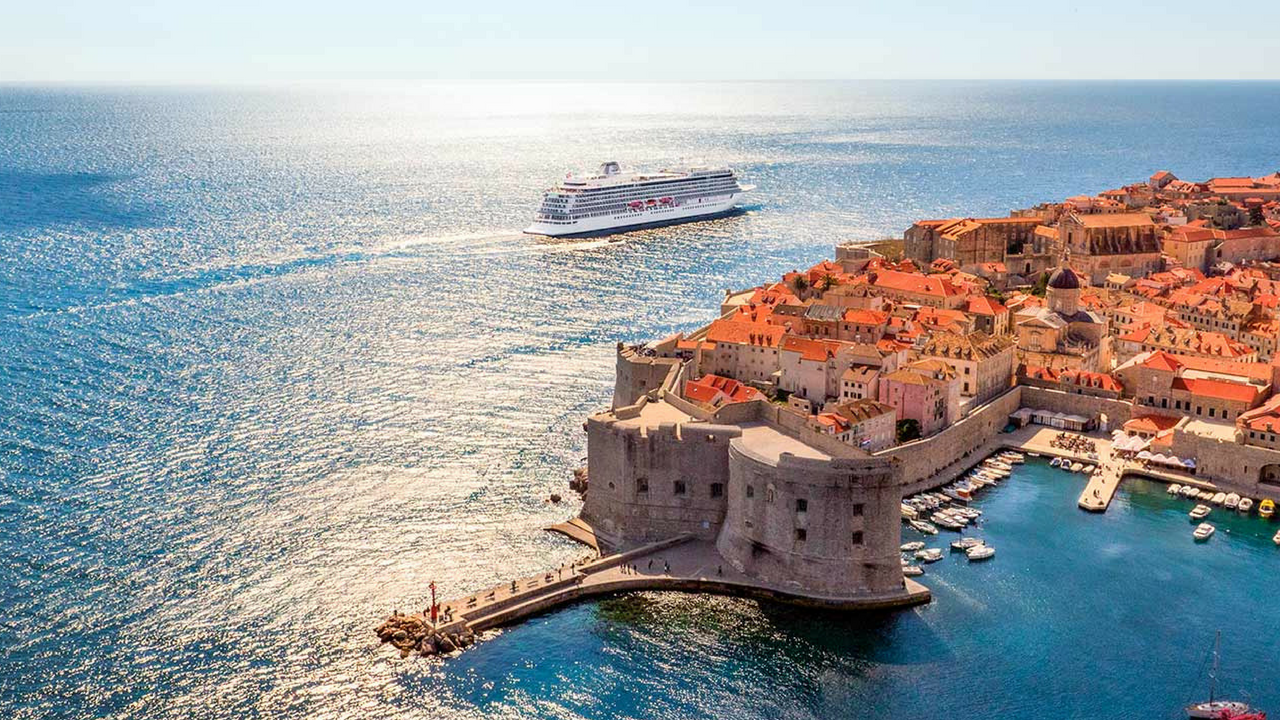 Viking Ocean ships explore the world's most popular places.
Whether it's a river cruise or an ocean voyage, their intimate, inclusive itineraries are designed to help you explore nuances of your destination: its food, culture, people and customs. Behind-the-scenes insight and broad enrichment opportunities set Viking apart from other lines as well, as shore excursions cover cultural and historic highlights allow guests access to events and places otherwise difficult to visit.
The River Cruise Leader
Viking is the undisputed heavyweight champ of the upscale river cruise market. Visiting cities, towns and villages that traditional big boats usually can't access, they put their emphasis on longer shore visits, understated luxury and cultural-driven itineraries.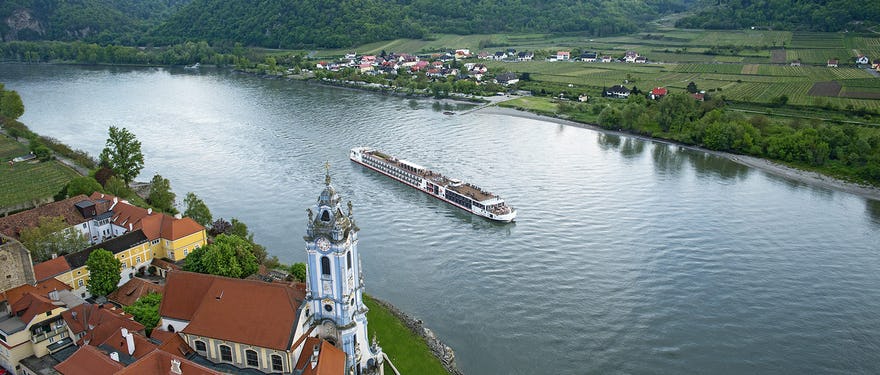 Viking has more than 60 river vessels sailing every major river in Europe.
Dedicated to adults who want immersive experiences and authentic exploration without the corny cruise clichés both on board and in port, a Viking river cruise is for travelers who are far more interested in the cities they're visiting than the ship that's taking them there.
Insider Tip: Viking now operates more than 60 river vessels in Europe, Asia and North Africa (Egypt)–the largest river fleet in the world–and plans to launch dozens more new vessels in coming years to sail the Rhine, Main and Danube rivers in coming years.

Viking's famous Longships are perfect for serene river voyages–long and low-slung, they are sleekly designed to squeeze under medieval bridges and through the narrow canal locks of the most famous waterways in the world. The ships carry less than 200 passengers and though spartan, they offer stylish accommodations, locally focused dining and entertainment that's inspired by the cultures of the ports visited.
CruiseInsider's recommended voyage
Viking's most popular river voyage–the Rhine Getaway–is the "World's #1 River Cruise" and visits Amsterdam, Cologne, Basel and more European gems. This 7-night journey reveals a rich landscape of castles, cathedrals and culture and is considered the top itinerary for first time river cruisers.
Reinventing Ocean Cruising
With a stylish and state-of-the-art fleet, Viking has truly reinvented the ocean cruise category. While most cruise lines are building bigger and more over-the-top ships, Viking excels in a thoughtful, authentic and well-designed small ship experience that brings you closer to the world's cultures.
There are no casinos, kids, umbrella drinks or needless distractions, and there is never any sales pressure to purchase spa packages or specialty items–a cruise with Viking is all-inclusive, so any extras you add are entirely up to you.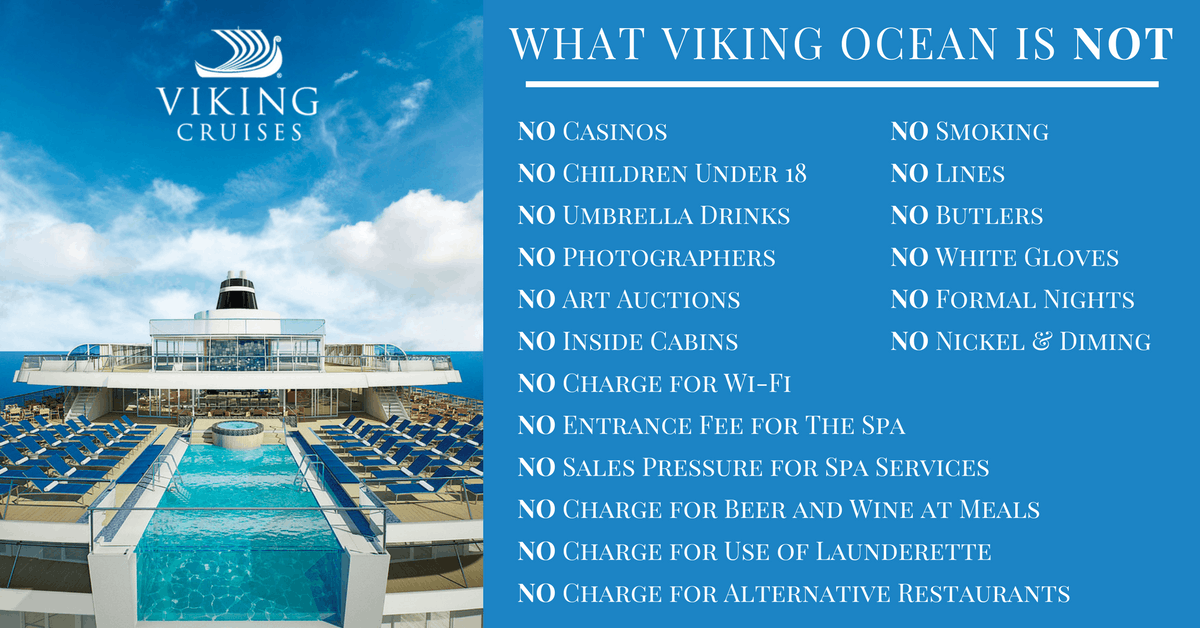 Viking knows what they are and are not...and they are not a one-size-fits-all cruise line.
Their brand new all-balcony ocean ships emphasize style and spaciousness–quiet ships with Scandinavian design, an understated elegance and an emphasis on tranquility using simplicity, texture and calming artwork. You will cruise to intriguing and often little-known ports, enjoying ample time ashore, many overnight stays and an included excursion in each port of call. If you prefer an elegant, serene ship ambiance, more time in each port and an inclusive experience complete with exquisite dining and thoughtfully curated shore excursions, Viking Ocean Cruises are perfect for you.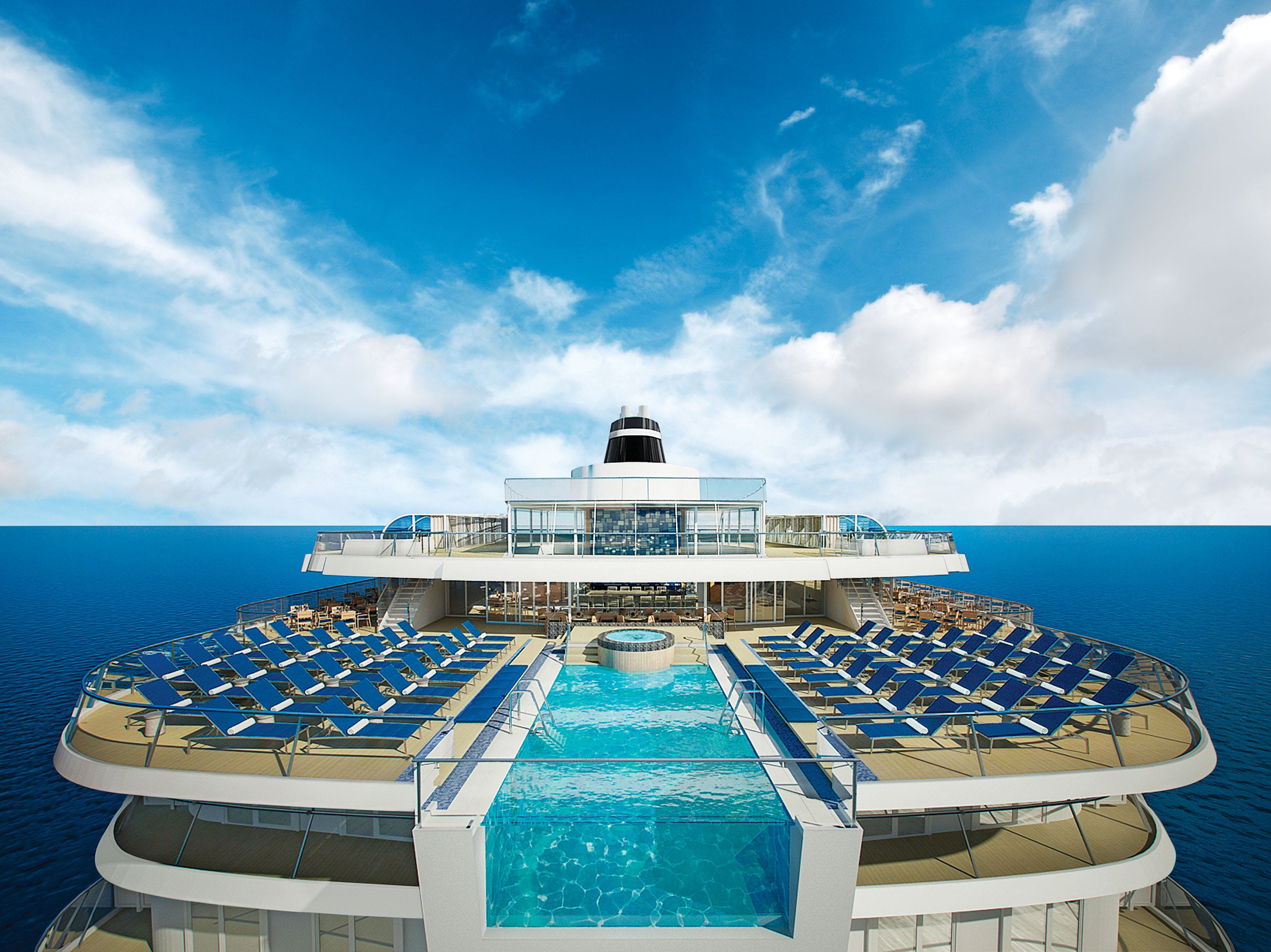 Viking's new ocean ships are all exactly the same and all state-of-the-art.
CruiseInsider's recommended voyage
Viking's #1 ocean itinerary–Viking Homelands–sails the Baltic in sleek style with so much included in the fare. Tour scenic fjords, hillside towns and medieval cities in the legendary homelands of the real Vikings as you sail the clear waters of Scandinavia and the Baltic on this 14-night ocean cruise.
Serene Scandinavian Design
Vikings ships are beautiful, with simple, modern Scandinavian design that is both contemporary yet comfortable. It's a brilliant balance of practicality and luxury, but without a bit of pretentiousness. Viking has designed their vessels down to the most minute detail—from river ship roof decks for the ultimate vistas; to serene gardens perfect for a calming cup of tea; to a Scandinavian-inspired Nordic sanctuary of wellness; to every well-appointed stateroom, an open and airy sanctuary with a sweeping view of your surroundings.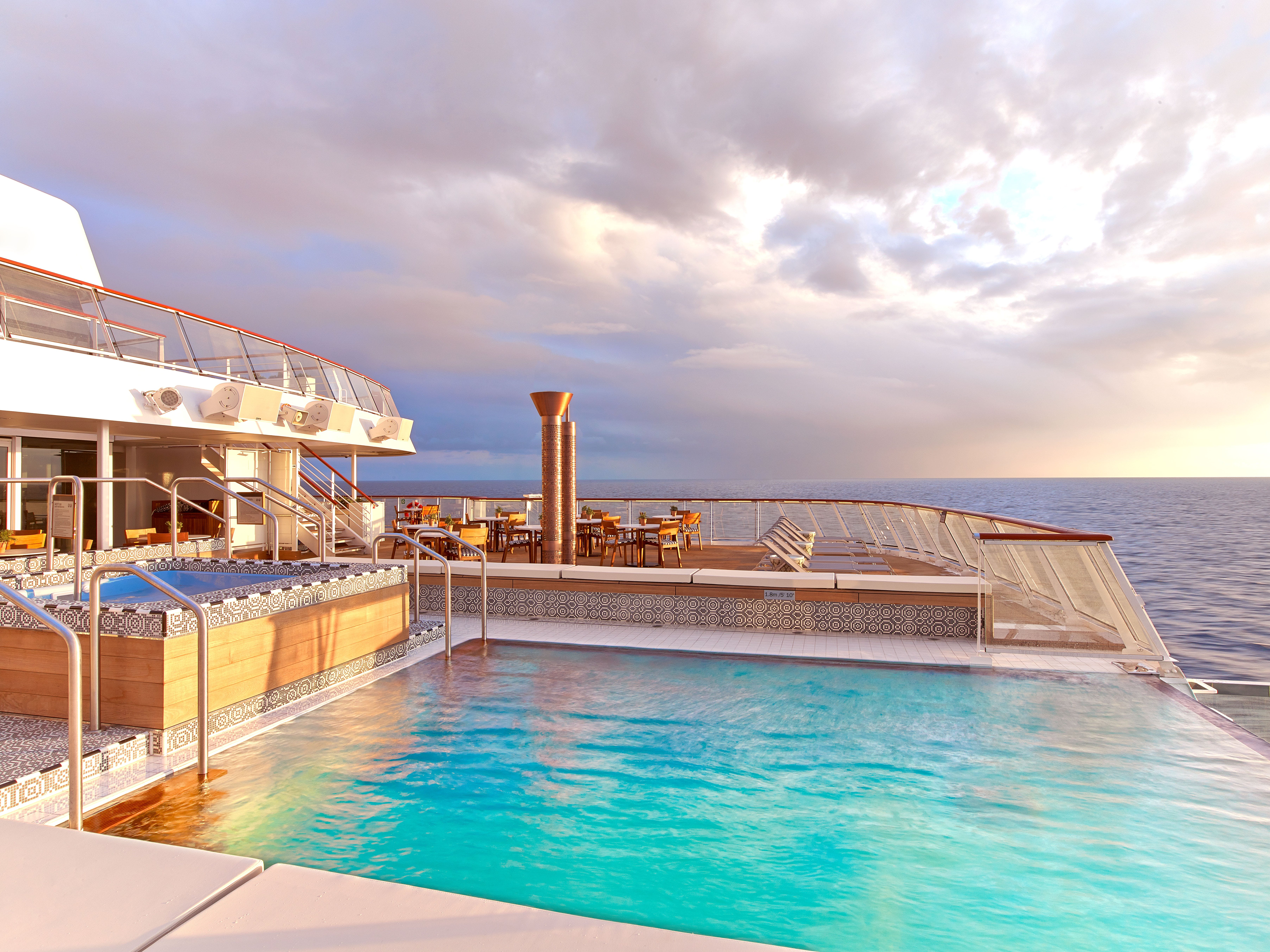 The sleek negative edge pool at the rear of every ocean ship boasts some of the best views on board.
Viking has six nearly identical "small-ship" ocean vessels, each with only 465 staterooms, and has plans for more "sisters" to join the fleet in coming years. Destinations are the focus and relaxation is the fiber of every ship as passengers can immerse themselves in any port-of-call or find infinite spots onboard for reading books, playing games or snoozing.
Destination Focused
Viking challenges the notion that cruises don't give you the ability to immerse yourself in a destination. Whether it's exploring Europe's legendary cities on a river cruise or enjoying local activities along the Mediterranean on an ocean voyage, all Viking passengers will experience a deeper understanding of the ports and places they visit. Viking cruises are as much about the destination as the ship. You will spend time in port thoroughly immersed in each destination.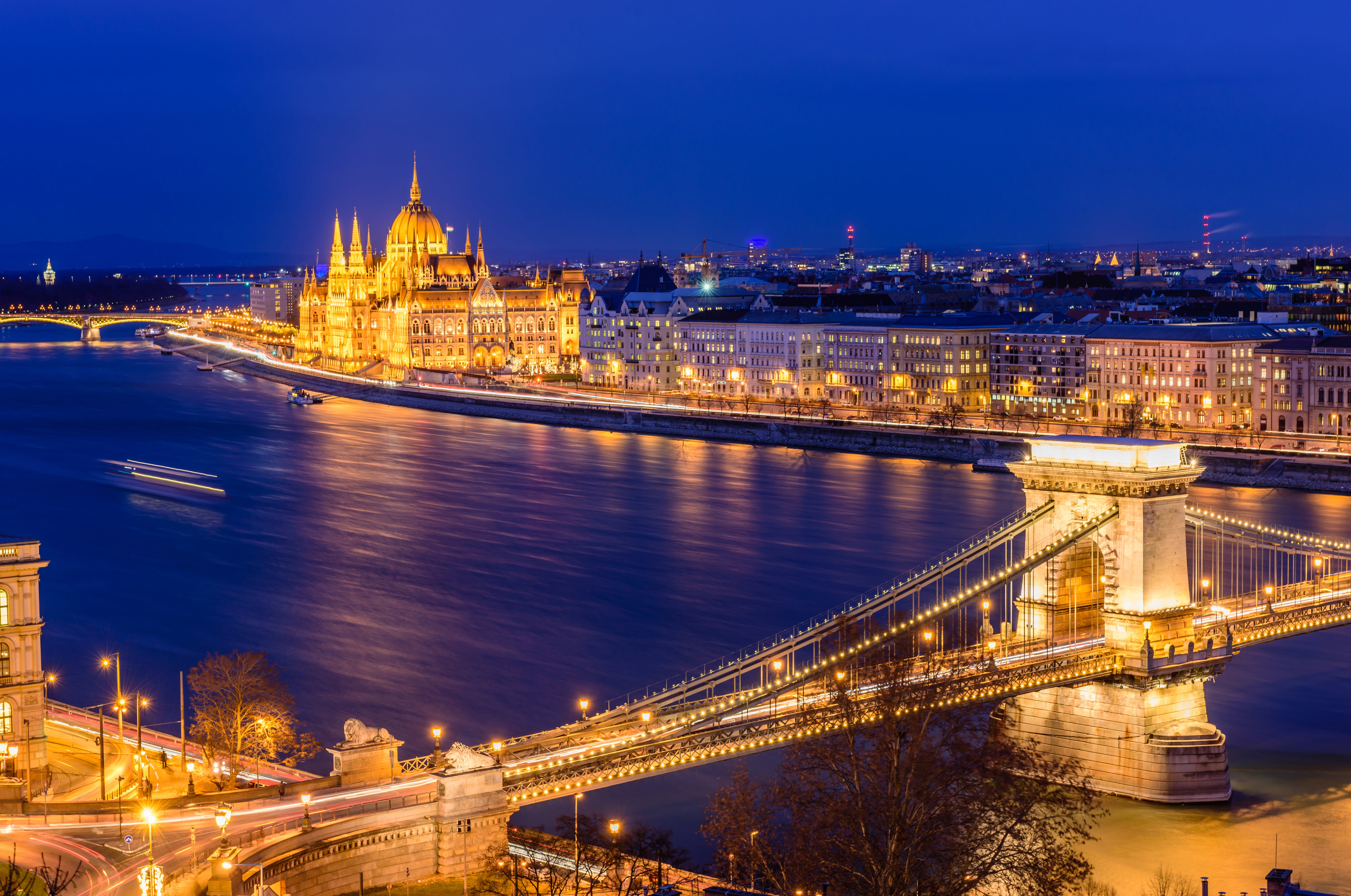 Experience Budapest at night and explore Hungarian landmarks along the Danube river.
Viking also seamlessly incorporates the itinerary and local inspiration into its dining options and onboard enrichment programming. With lectures focusing on topics like history, culture, politics and architecture you'll get true insight about every place you visit from knowledgeable, local, English speaking guides leading every excursion.
Insider Tip: Viking visits ports when its passengers will have better access. For example, Viking visits the Mediterranean in the early spring and late fall when most other cruise lines redeploy to warmer climates. As a result, you'll battle fewer crowds and spend more time seeing sites and less time standing in line.


And whatever your tastes, Viking's destination-focused dining philosophy is an important part of your journey. Viking celebrates the cuisine of every region they visit both on shore and on every ship with foodie tours, cooking classes and specialty dishes at every meal—so you have choices, not just in food selection but where and how you enjoy them.
Viking's Inclusive Value
When you travel with Viking, there are no surprises or hidden fees. The price you pay covers just about everything—port charges, Wi-Fi, meals, lectures, activities, shore excursions and more—including hotel accommodations on select cruise + tour packages. You won't be nickel-and-dimed or feel like you're whipping out your card to pay for every little thing. In fact, it's one of Viking's core values to avoid these industry-accepted gouging practices.
A Viking voyage makes budgeting easy–especially for a first-time cruiser–as you'll pay one fee that covers the cruise fare and a host of extras including:
One shore excursion in each port of call, led by a knowledgeable local guide
All onboard meals
Multiple dining venues including alternative restaurants
Wine, beer & sodas with onboard lunch and dinner service
Specialty coffees & teas available 24 hours
Bottled water replenished daily
Unlimited internet
First-class hotels for overnight stays on select packages
All port charges & government taxes
Self-service launderette with iron/ironing board
Top-rated spa and state-of-the-art fitness center access (on ocean cruises)
Great for First Time Cruisers
Quite simply, Viking is the perfect choice for first-time cruisers. Why? Most everything is included. The ships are small enough to enjoy but not big enough to be overwhelming. There is no standing in long lines, no shouting kids, no surprise fees–just ships designed with the destination (the view!) in mind and service as the mindset. Itineraries typically have fewer sailing days and are more port-intensive, which allows first-time cruisers to truly see the world in style, not the inside of a casino or the interior of a cabin.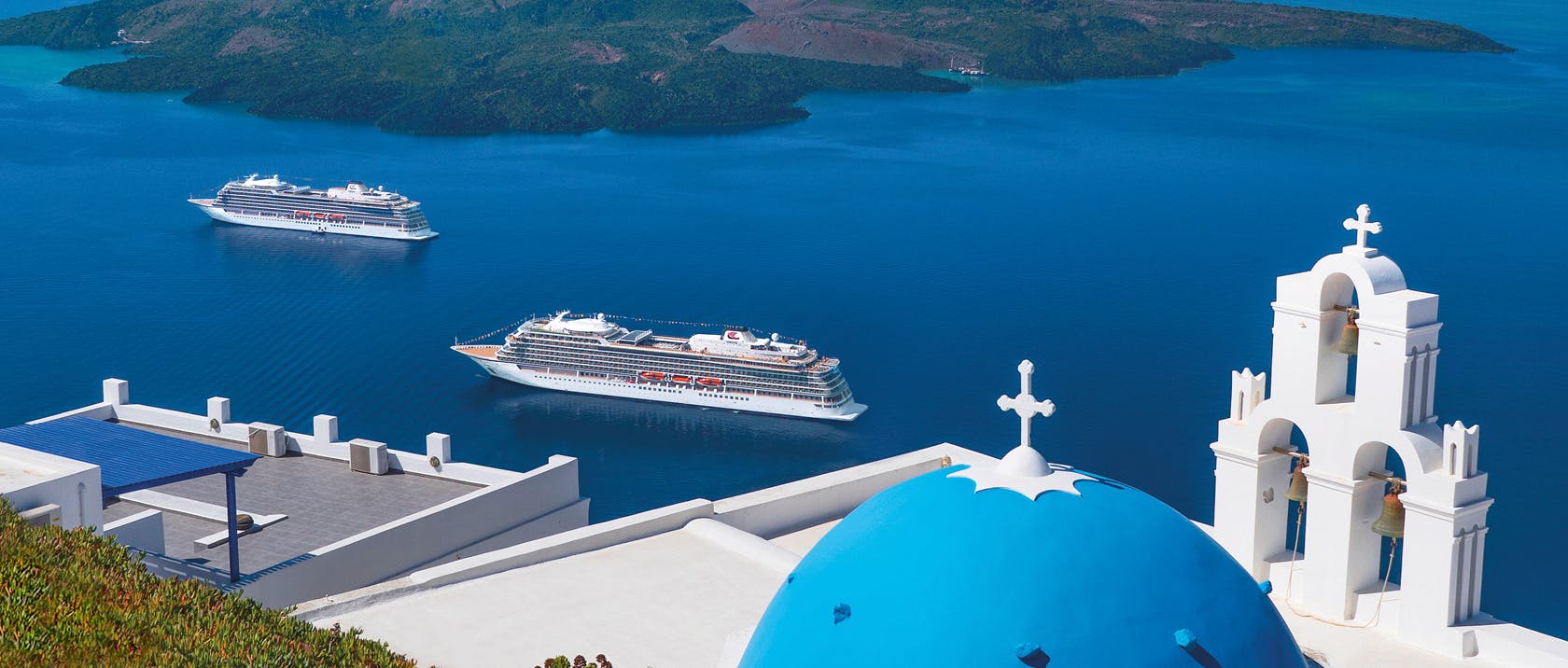 From Santorini to the Seine River, Viking has options for every traveler and taste.
A Viking river cruise offers the most convenient way to see many incredible destinations on one journey. Consistently ranked as the "#1 River Cruise Line in the World", Viking does river cruising on an intimate scale, with a personal touch. You'll meander along the world's great waterways safely at the serene pace of the river, gliding past magnificent vistas and pausing to explore riverside ports, all while unpacking your bags just once.
And if the ocean is calling you, all of Viking's seafaring ships are nearly identical and every voyage is inclusive, so you'll have virtually the same experience no matter which of the 930-passenger vessels you choose.
Skyrocketing from a small river cruise company just 20 years ago to one of the biggest and best cruise lines in the world, Viking's variety of options and stellar reputation is tempting travelers to try what hardcore cruisers have known for years, that whether it's by river or by ocean, a Viking voyage is one of the top ways to explore the world and one of travels best vacation values.
To experience a Viking voyage yourself, search from a variety of special offers or speak to one of our travel experts toll-free at 1 (877) 734-6858 to sail and save like an insider.