Maybe you've done the "traditional" cruise or enjoyed sailing on a smaller ship, but you're longing for something different. If you consider yourself to be more of an adventurer and learner than a tourist, expedition cruising could be the perfect fit.
Travel to places most people have only heard about or seen on television and gain a worldly perspective few are fortunate to know. Expedition cruising–especially on Silversea's all-inclusive luxury ships–will change you in ways no other vacation can.
If you've got the spirit of a true adventurer, consider following the path of some of the world's bravest explorers by setting sail to the unspoiled end of the world: Antarctica.




Silver Explorer sailing through Skjouldungen-Fjord.
Unspoiled Antarctica
Considered to be earth's last great wilderness frontier, Antarctica wows with real beauty and the raw power of nature. You'll share the landscape with some of the most unique wildlife on the planet, as Antarctica and the neighboring islands are home to six penguin species, at least six species of seals, nine species of whales, wandering albatross, blue-eyed cormorants, and other impressive creatures.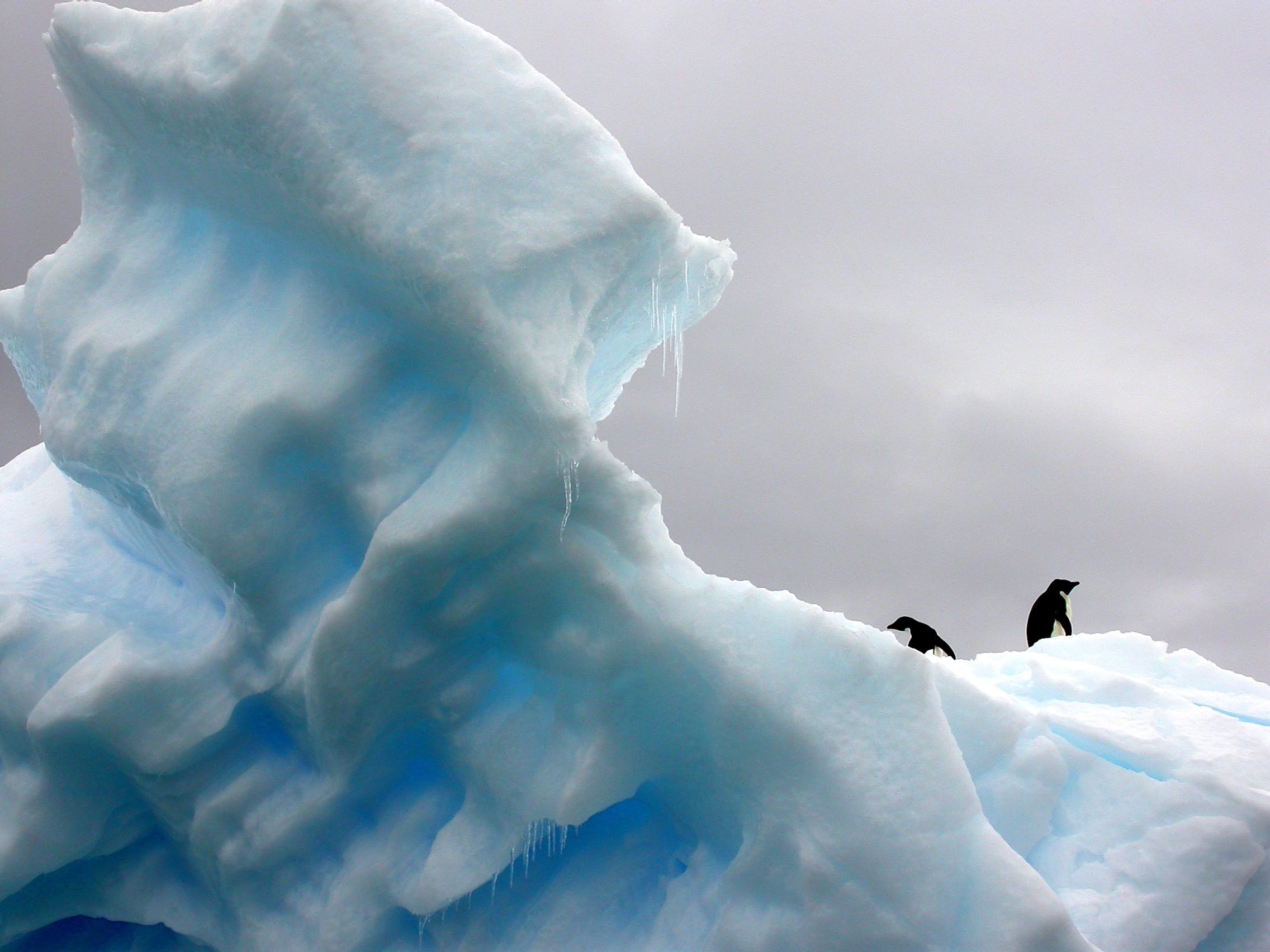 Six species of penguins can be found throughout Antarctica.
Setting foot on this last continent, a place untouched by humanity, is the pinnacle of expedition cruising. And Silversea's luxury Antarctica cruises offer the highest standards of comfort, safety and style of any expedition adventure anywhere in the world.
Imagine observing and photographing these wild animals in a truly native habitat filled with vast icebergs and calving glaciers, then returning to your ship to enjoy what is probably the most southernmost afternoon tea in the world. If Antarctica is one of your bucket list destinations, then Silversea's blend of elegance and exploration is sure to satisfy the most tentative traveler to the most seasoned thrill seeker.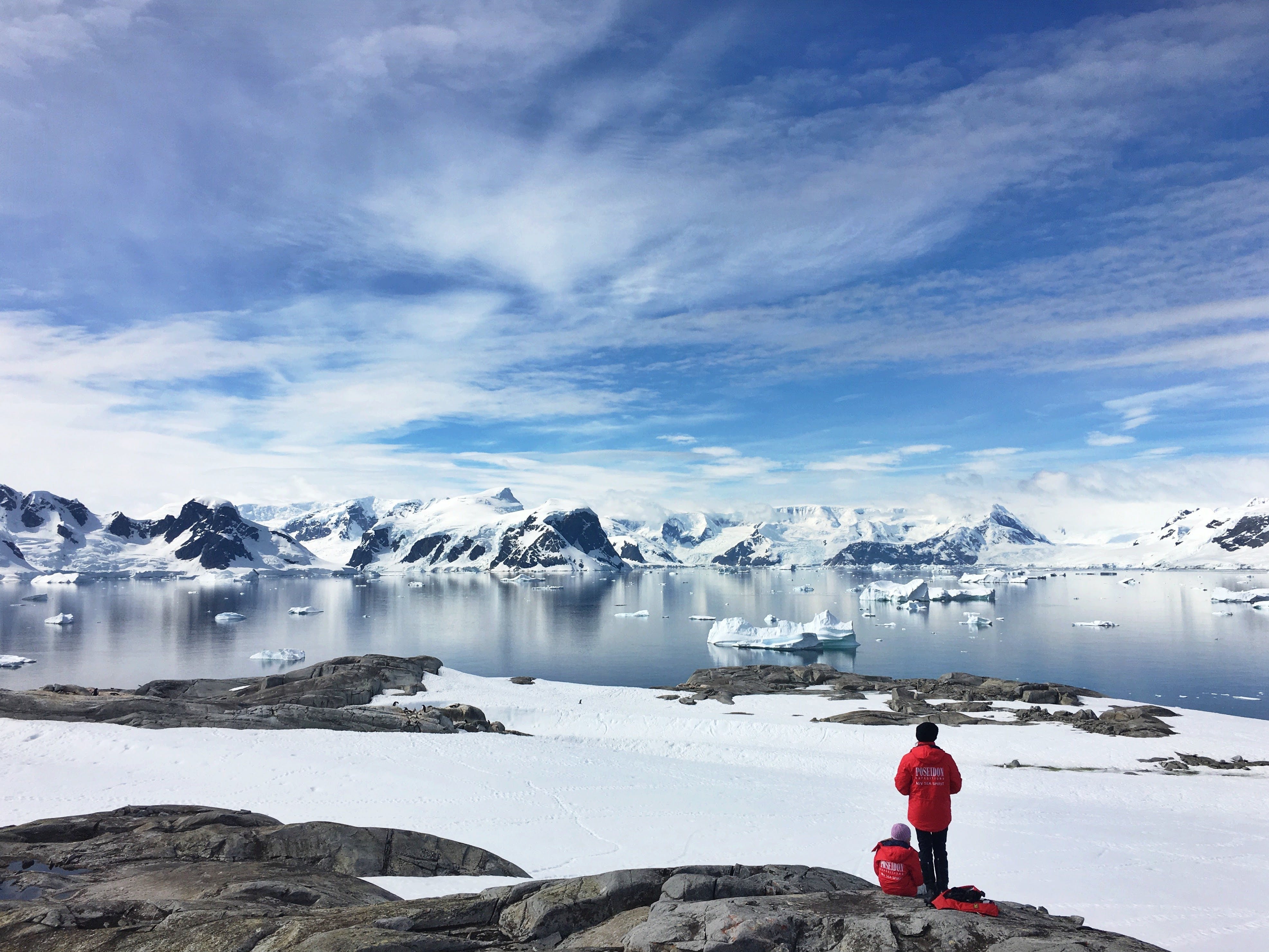 Antarctica is truly one of Earth's bucket-list destinations.
Where Rugged Meets Refined
While the thought of an expedition cruise might bring to mind ideas of physical exhaustion or "roughing it," booking with Silversea will guarantee you the highest quality service and amenities. You won't have to sacrifice luxury to have a unique, immersive vacation.
Insider Tip: With 16 brand-new Zodiacs, the only Relais & Chateaux restaurant in Antarctica and a pole-to-pole expedition itinerary, Silver Cloud really does break the ice between expedition and luxury.


As a leader in luxury cruising, Silversea offers all-inclusive expedition cruises on all seven continents. Your cruise fare includes airfare from Buenos Aires to Ushuaia, airport transfers, luggage handling, and a one-night pre-cruise hotel stay to ensure you are ready and rested to begin your voyage.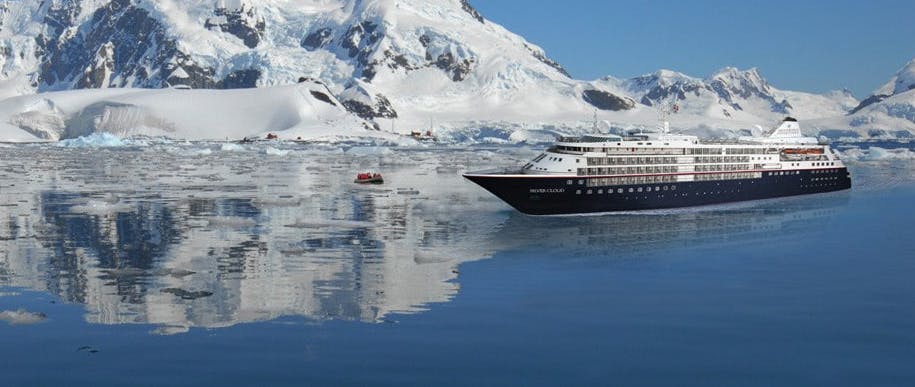 The Silver Cloud offers up-close-and-personal interactions with nature.
Most sailings aboard Silversea's recently refurbished Silver Explorer and Silver Cloud Expedition are 10-19 days. Both ships are equipped with a fleet of Zodiac boats for flexible shore access and boast a nearly one-to-one guest-to-crew ratio, ensuring your needs will be swiftly satisfied by professional staff and your questions will be expertly answered by expedition guides and scientists.
Insider Tip: The Silver Explorer accommodates 144 guests; the Silver Cloud Expedition can house 254. These smaller ships allow you to gain exclusive access to remote areas, as ships with more than 500 passengers are prohibited from landing by tour operator regulations.
Exploring Antarctica
Drake Passage
Most Antarctic cruises include travel through the Drake Passage, which separates the cool and humid Tierra del Fuego climate from the frigid regions of Antarctica and is known for penguin, seal, and whale sightings. This gorgeous route was essential for trade in the 19th and 20th centuries before the Panama Canal opened in 1914. Modern ships and technology make the once-difficult journey far more manageable, but crossing Cape Horn is still thought of as a major accomplishment for any sailor.
Insider Tip: Expedition cruises tend to have a more fluid itinerary than traditional cruises, which supports the true spirit of adventure. The captain and expedition leaders may modify the plan based on weather or water conditions, wildlife sightings, or other factors.
South Shetland Islands
With their proximity to South America, the South Shetland Islands are often the first viewable part of the continent and the most visited by travelers and researchers alike. The archipelago includes nine major islands; the largest, King George Island, houses twelve research stations operated by various countries.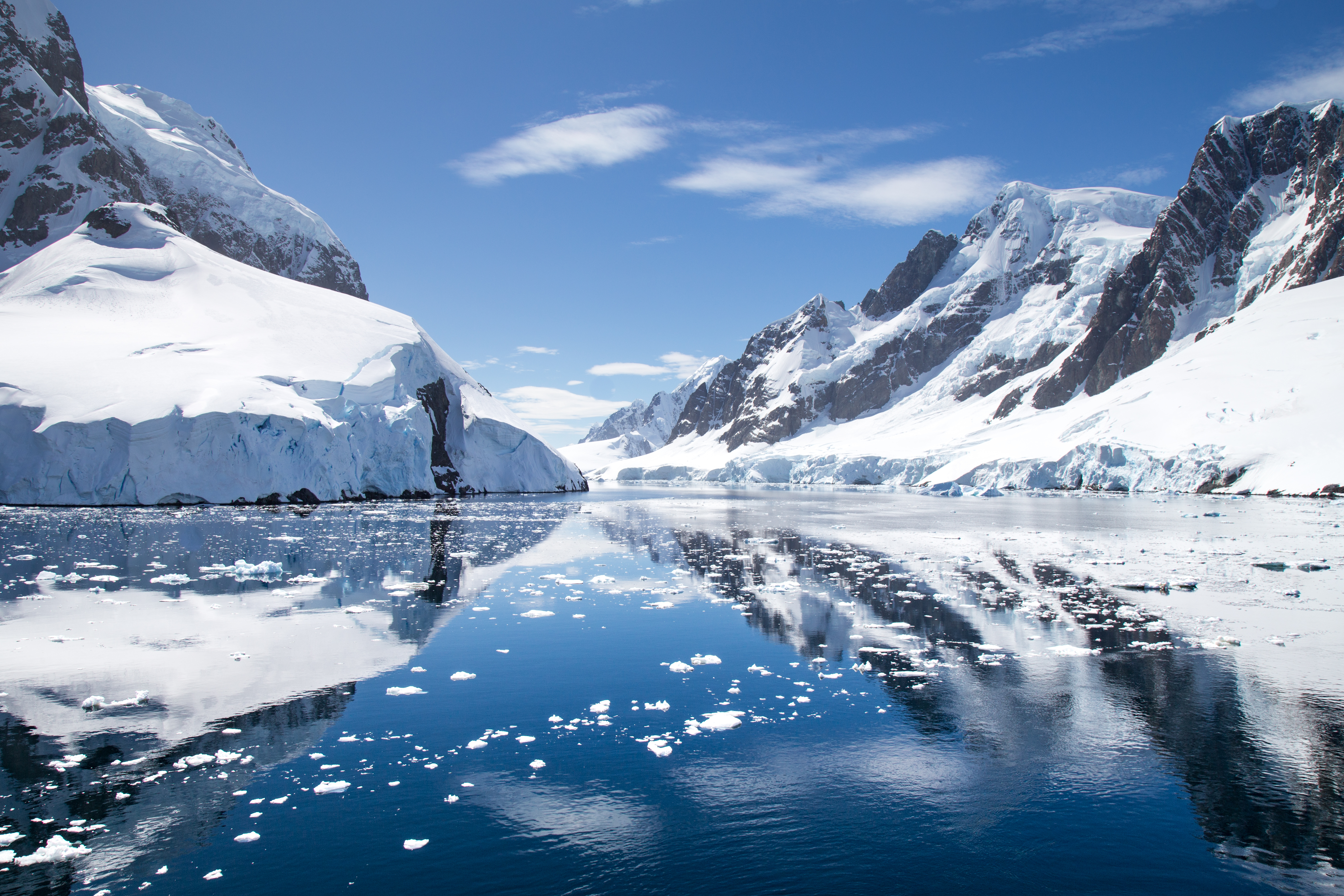 Antarctica's Lamaire Channel is one of the most photo-worthy places on planet earth.
While Elephant Island is home to countless penguins, it was also a makeshift home to members of explorer Sir Ernest Shackleton's 1915 expedition who became stranded after a shipwreck. The horseshoe shape of Deception Island creates one of the continent's most protected harbors. Take the polar plunge in this unique landscape with an active caldera.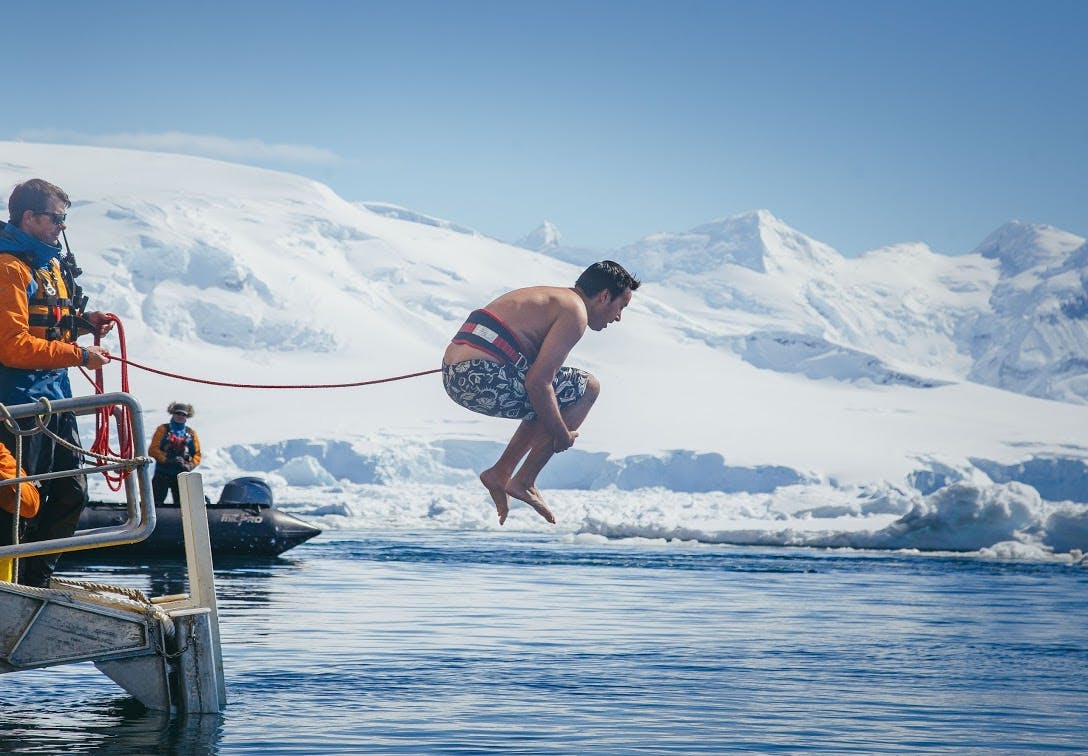 For true immersion into Antarctica, adventurers can take the "polar plunge."
Antarctica Peninsula
The Antarctica Peninsula is an 800-mile strip of mainland Antarctica that extends north toward South America. Research stations have been in operation here since the 1950s. You might have an opportunity to speak with researchers about their work. If conditions permit, your ship may stop at Paradise Harbor or Neko Harbor. Witness calving glaciers and delight in serene landscapes at these pristine locations.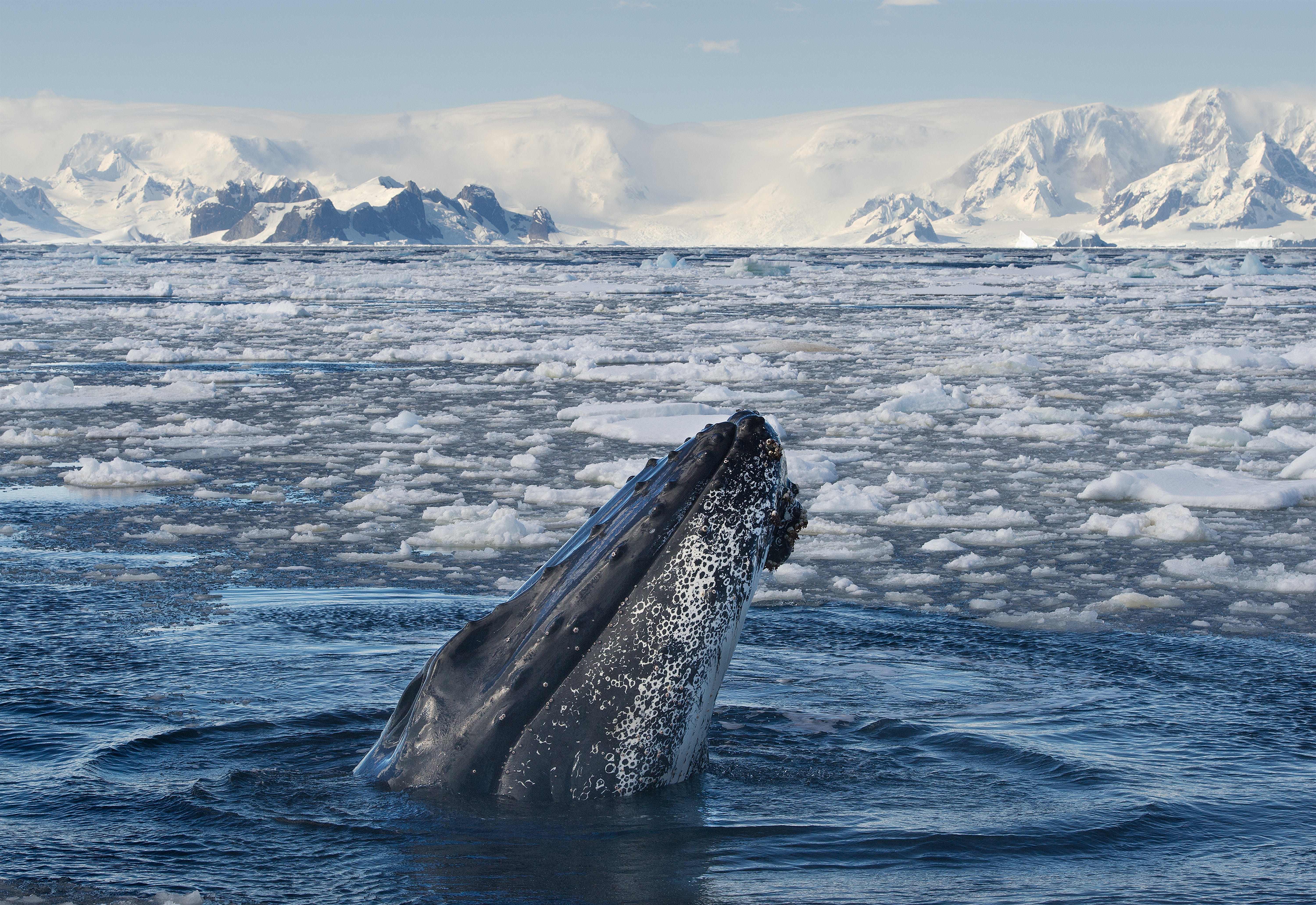 Whales make frequent appearances on polar expeditions.
If you opt for a longer cruise, your itinerary may also include South Georgia and the South Sandwich Islands. Captain James Cook circumnavigated South Georgia in 1775 and claimed it for Great Britain. The island was used as a whaling base until the 1960s, and most of the stations are now abandoned. Grytviken is perhaps the most civilized station, with a small gift shop and post office. This station also features the South Georgia Museum and a church that has hosted a handful of weddings. Sir Ernest Shackleton is buried at Grytviken and many travelers offer a toast at his grave. The South Sandwich Islands are inhabited by literally millions of chinstrap penguins. There are a number of active volcanoes here as well.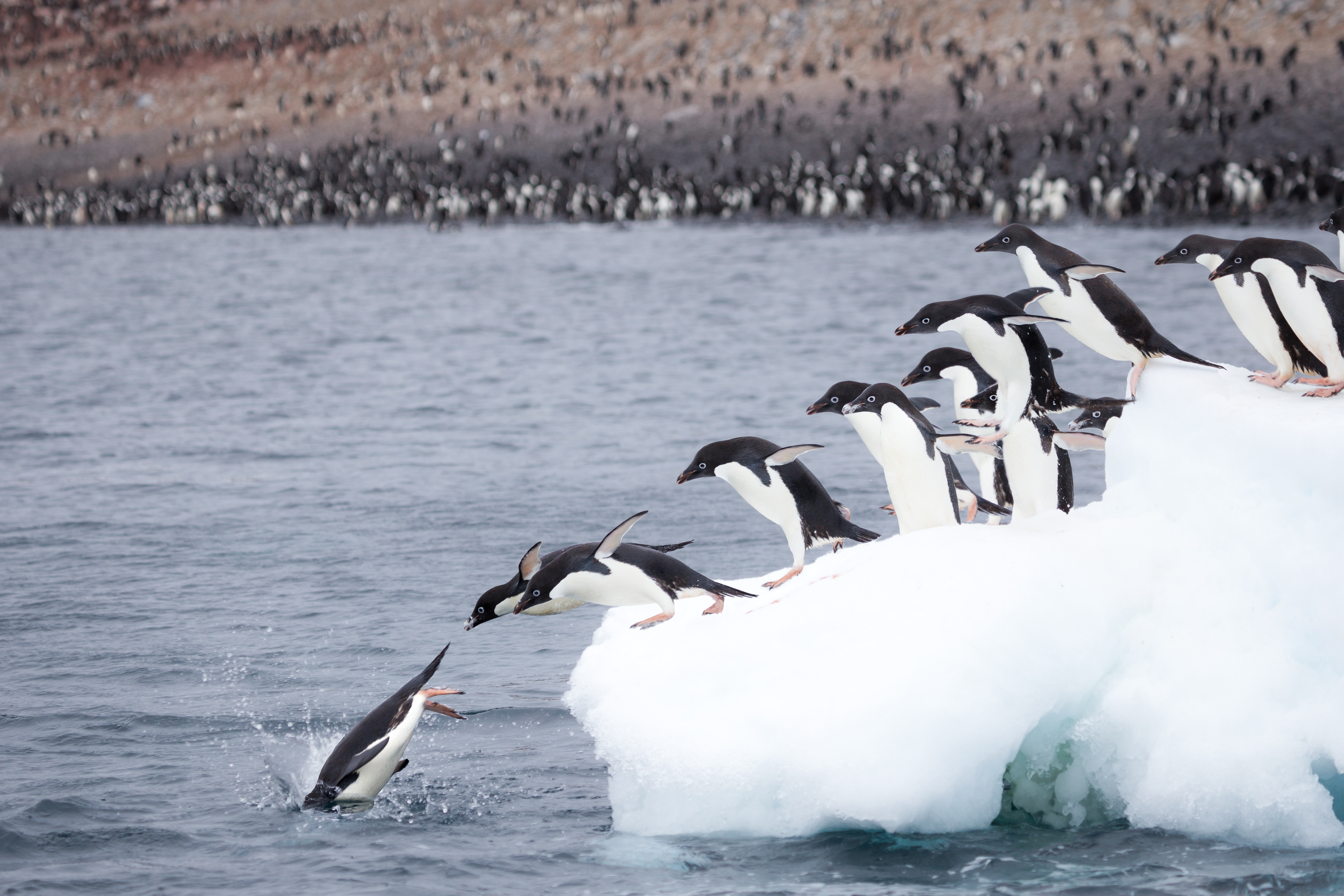 Millions of penguins make their home throughout Antarctica's islands.
West Point Island, one of the Falkland Islands, was established as a sheep farm in 1879 and has been offering its spectacular scenery to cruise visitors since the 1960s. Stanley, the Falkland Island capital, offers charming British flavor. Tour the quiet streets and reflect on memorials from the 1982 Falklands War.
Education and Enrichment
While the expeditions are undoubtedly the focus of these voyages, the learning doesn't stop there. Get the most out of your experience by attending enrichment talks on board with one of a dozen highly qualified experts including ornithologists, scientists, biologists, historians, photographers, naturalists, and anthropologists.
Insider Tip: On average, fewer than 37,000 people visit Antarctica annually (between November and March), proving it to be a destination reserved for only the most passionate travelers. December means peak daylight hours (perfect for photographing the newly hatched penguin chicks) and the height of research activity.

Connect with a CruiseInsider advisor to plan your Antarctica adventure with the guidance of an experienced travel expert by calling 1 (877) 734-6858.