The Greek Islands are one of the world's most alluring destinations. Unique cultures, ancient treasures, stunning architecture, jaw-dropping sunsets and breathtaking beaches along azure waters define this legendary Mediterranean island chain.
There are over 6,000 Greek islands total – 227 of them inhabited – so the decision as to which island to visit can be rather challenging. But with so much magic and mythology to experience in the Greek Isles, why choose only one or two places when you can experience dozens of the most iconic and idyllic islands on a luxurious Greek island-hopping cruise?
From the sugar-cube houses of Santorini to the famous windmills of Mykonos to the the medieval alleyways of Monemvasia and more, the Greek Isles is one of the most diverse and drop-dead gorgeous places on the planet.
And the most efficient and affordable way to explore the very best Greek Islands and to maximize your time in the Mediterranean? A luxurious small-ship cruise!
Why Choose a Greek Island-Hopping Cruise?
With so many small islands and so much to see, exploring the Greek Isles any other way is logistically challenging and very expensive. A Greek island-hopping cruise lets you easily enjoy many islands, multiple ports and a variety of enchanting towns and village.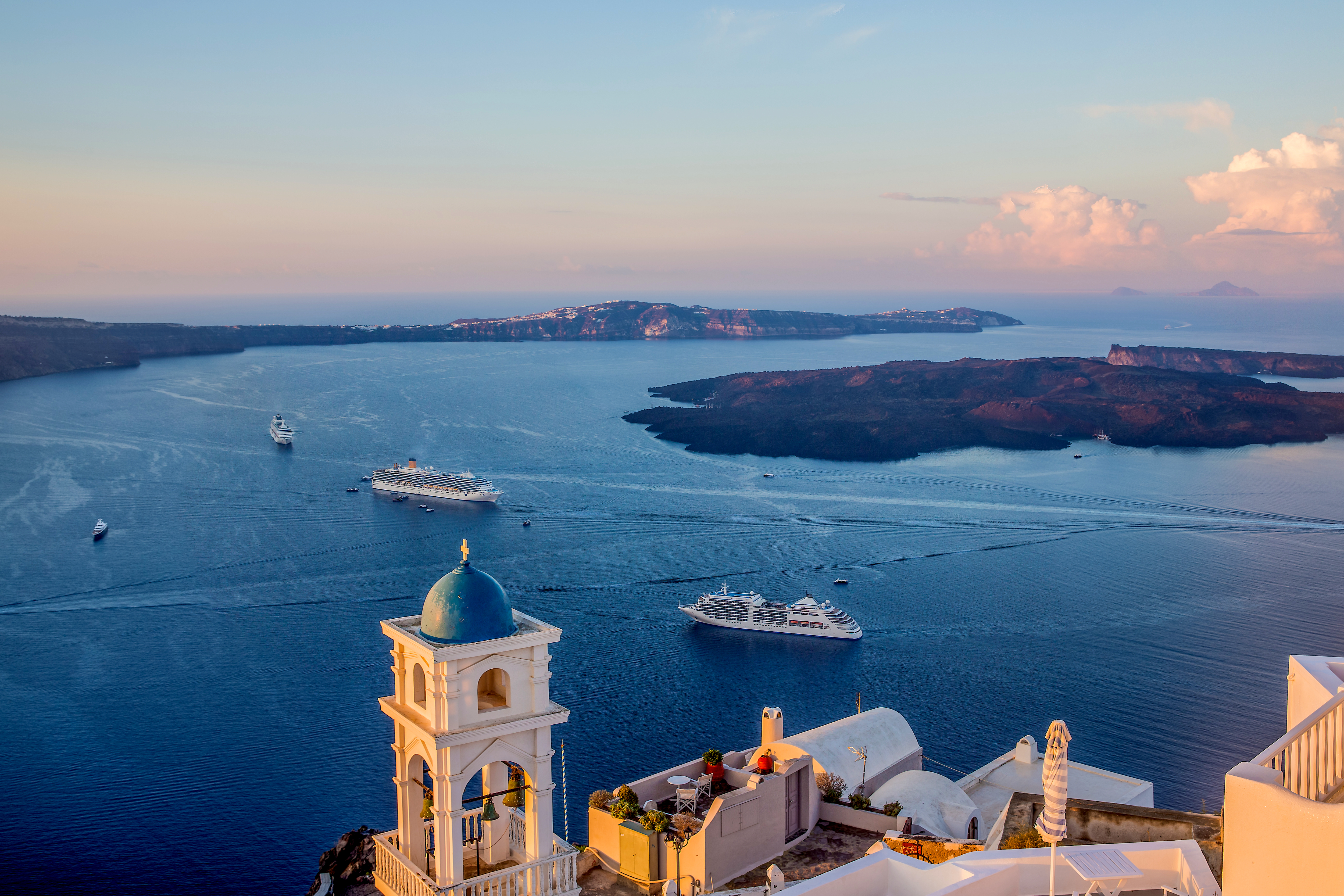 See all of Greece on an island-hopping adventure through this iconic region.
Elegant accommodations onboard, authentic shore excursions and locally focused enrichment only enhance every voyage. Plus, an island-hopping cruise means you'll only pack and unpack once and not have to worry about flights, hotels and transfers.
While larger ocean liners usually only stop at the most popular islands and tend to pass by the true hidden island gems, the stylish small-ships and luxury yachts that truly focus on the Greek Isles – like the ones recommended by our CruiseInsider experts – can sail you right into the secluded beauty of hard-to-reach coves and hidden inlets, ports and places the big ships can't access.
Top Cruise Lines Visiting the Greek Isles
Windstar Cruises
Windstar offers small-ship cruises that first-time cruisers, experienced cruisers and everyone in between can enjoy. The small harbors dotted throughout the Greek Isles are especially suited for Windstar's small cruise ship exploration.
You'll enjoy the best of the region aboard Windstar — from the ancient ruins of Sparta and Mystras to the pure indulgence of the Mediterranean lifestyle and beyond. The elegant Windstar fleet operates several different round-trip voyages from Athens with ports of call at famous islands like Mykonos, Santorini and Rhodes as well as the smaller, hidden ports of Nafplio, Monemvasia, and Patmos.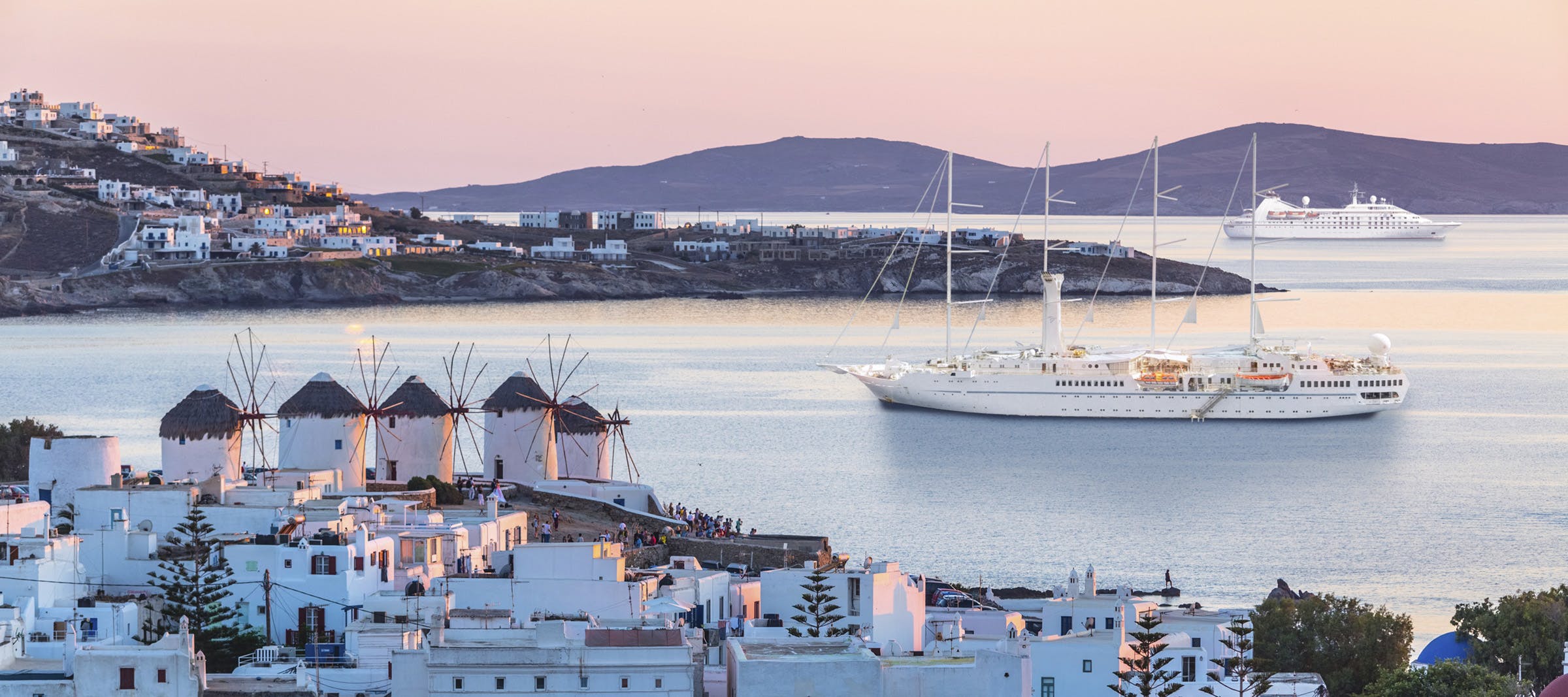 Windstar ships call on the Greek Isles most exclusive and exotic ports-of-call.
Ships like the Wind Star, a 4-masted sailing yacht, accommodate a maximum of just 148 guests, making each passenger feel like a VIP. Onboard gourmet meals are provided along with a variety of amenities like a casino, swimming pool, spa and water sports platform.
Insider Tip: Windstar's Greece itineraries typically include visits to UNESCO World Heritage Sites and even offer complimentary local "Destination Discovery Events" featuring dinner at the Celsus Library in the ancient city of Ephesus.
Silversea
Silversea is one of the pioneers of all-inclusive luxury cruises and is the pinnacle of small-ship decadence. This fleet of of ultra-luxurious small ships have a maximum of 304 suites and are able to moor or anchor in Greece's most remote ports-of-call. Famous for its exceptional personal service, enhanced amenities, luxury Oceanview suites and lively cosmopolitan atmosphere, making it the ideal way to immerse yourself in the Greek Isles.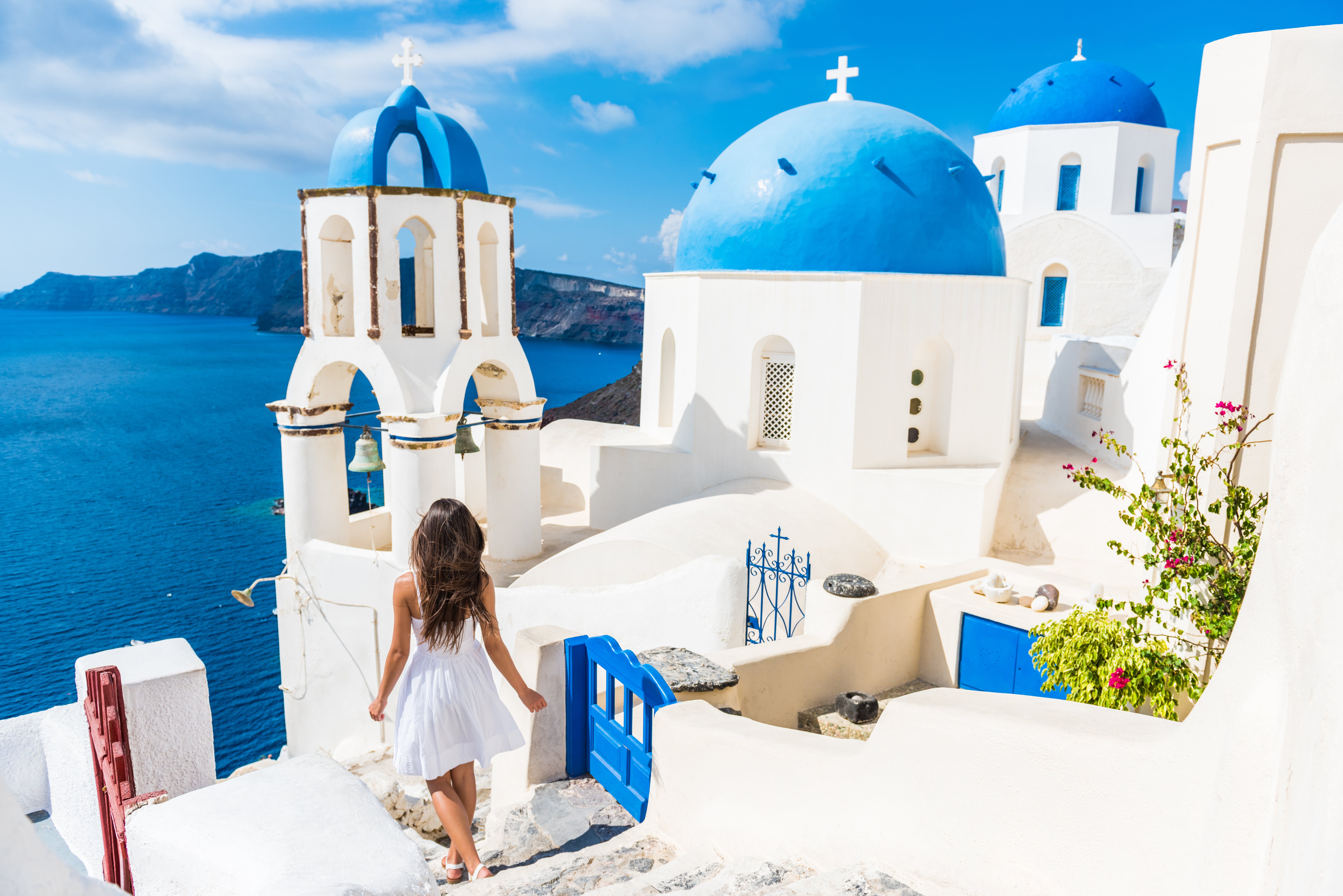 Crescent-shaped Santorini is one of most extraordinary islands in the Aegean.
There are multiple Greek island itineraries offered, with common stops on islands like Corfu, Santorini and Rhodes as well as a few less-frequented such as Kos and Hydra. Discover it all for yourself and set sail on a Greece cruise with Silversea that takes in the best of the world's oldest islands.
Insider Tip: Santorini's stellar sunsets are among the world's most famous and are not to be missed, which is why we recommend enjoying their beauty from your very own private veranda aboard Silversea's (almost) all-balcony ships.
Star Clippers
This incredible cruise line has an especially magnificent fleet, like the four-masted Star Flyer, a throwback to another era and quite the impressive sight as she glides across the sparkling waters of the Mediterranean. True clipper ships with a maximum capacity for just 170 guests, Star Clippers is a luxurious throwback to the heyday of seafaring in a region deeply steeped in mariner history.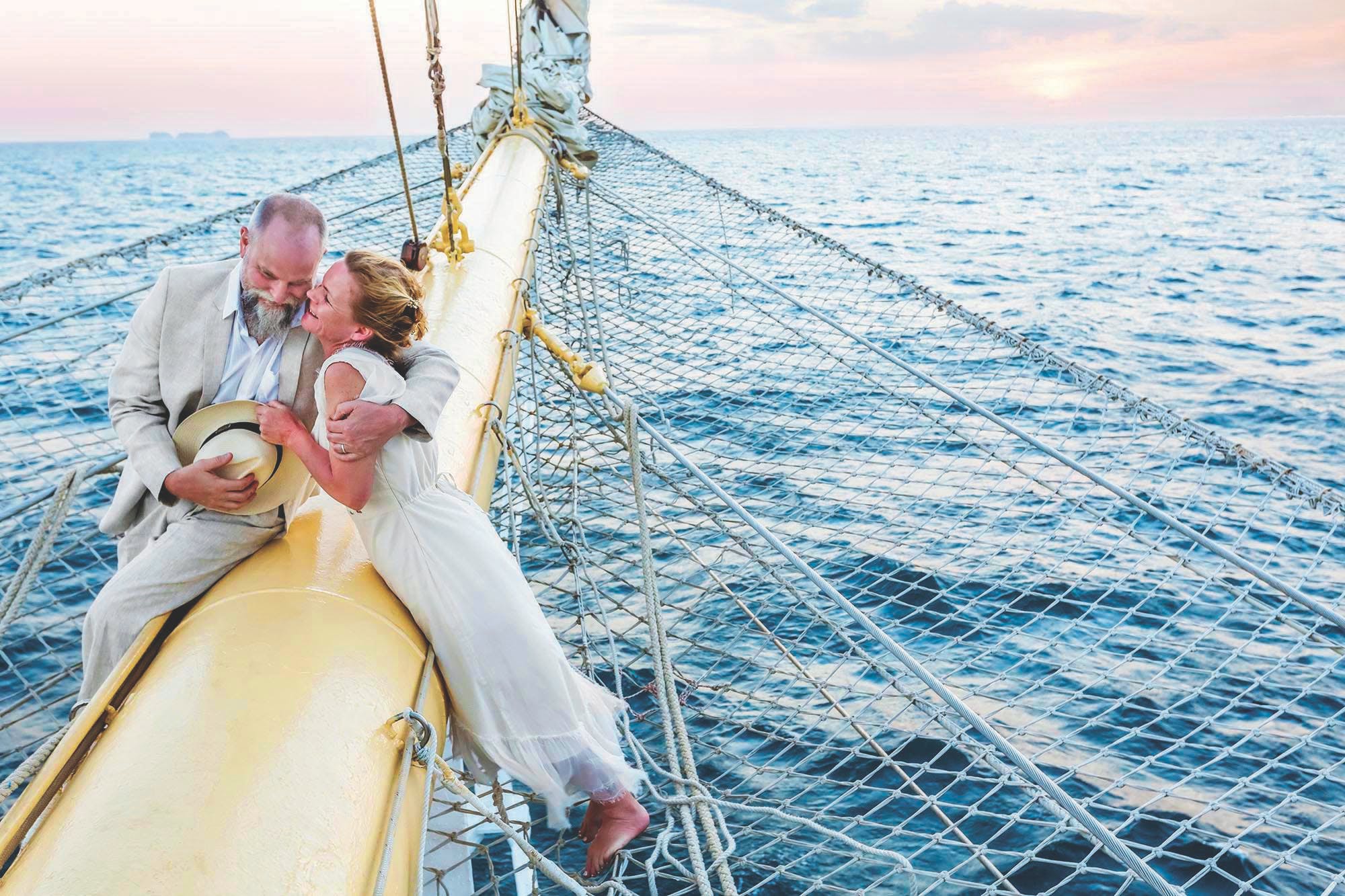 Be transported you back in time to the "Golden Age of Sailing" aboard Star Clippers.
Aboard Star Clippers, you'll feel as if you're sailing through the turquoise waters of the Aegean and Ionian Seas on your own private yacht. These unique vessels ooze opulence from the grand age of sail, complete with mahogany rails and an Edwardian-style library with a Belle Epoque fireplace. Other cruisers often gawk with envy when these ships sail into Greek ports like Skiathos, Santorini and Skopelos.
Insider Tip: Star Clippers recently launched their brand new "Mamma Mia Highlights" sailings through the Greek Isles – a 7-night itinerary visiting several of the sites where the movie Mamma Mia was filmed – including the island of Skopelos, home to the tiny chapel of 'Agios Ioannis sto Kastri', where the character Sophie was to be married.
Crystal Cruises
This award-winning cruise line is renowned for its sumptuous atmosphere, fantastic dining and outstanding personalized service. Thanks to its sleek size, Crystal Cruise ships can bring guests to some of the most exclusive shores throughout the Greek Isles where larger ships can't go.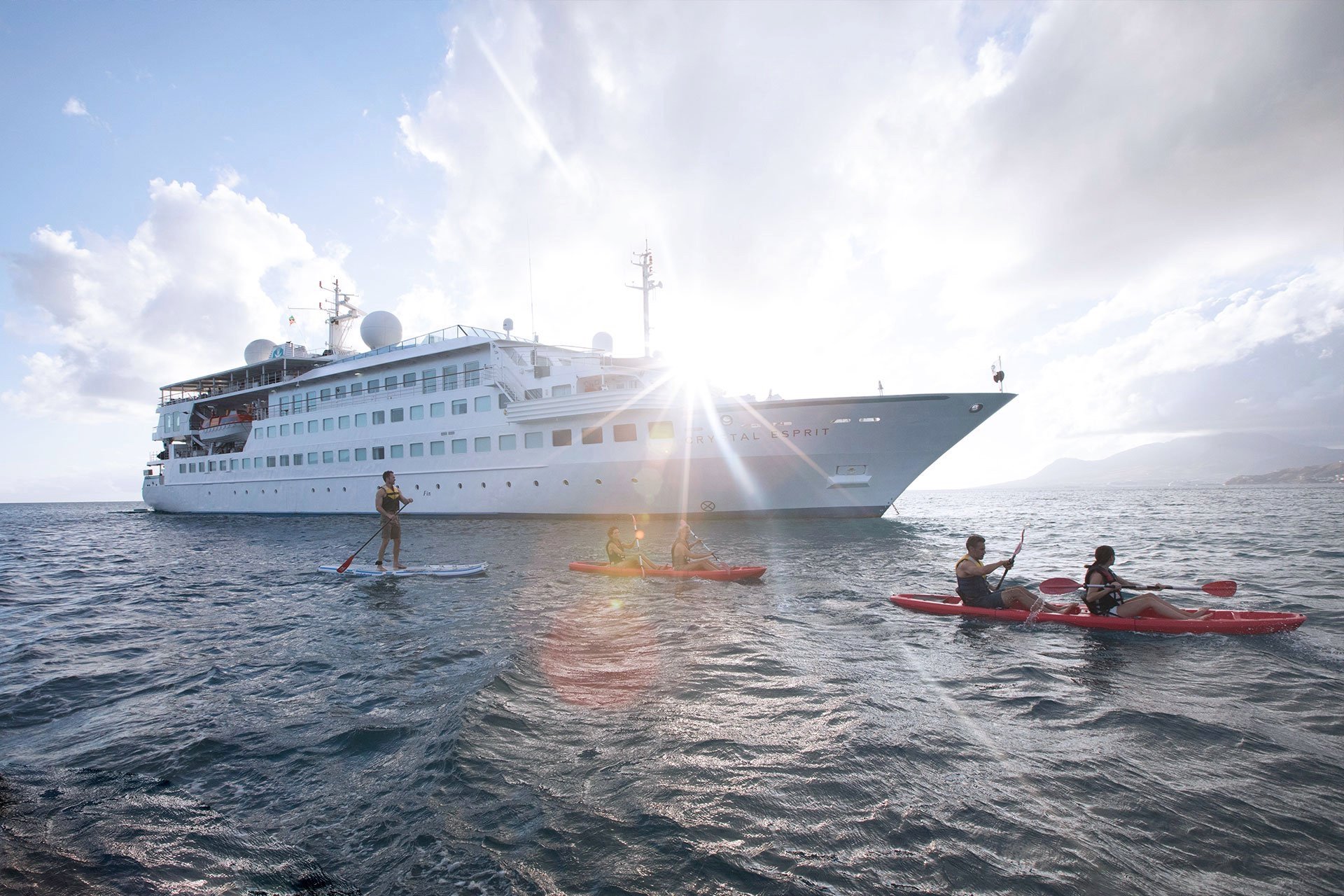 Crystal Esprit boasts six-star service that is luxuriously modern and stylishly nautical.
The diverse fleet includes intimate yachts like the Crystal Espirit which holds just 62 passengers who enjoy all-suite, butler-serviced accommodations and activities galore. Enjoy daily yoga classes on deck and complimentary snorkeling, kayaking and more from the marina platform, including an optional adventure in a submersible.
Calling on iconic islands like Paros, Mykonos and Delos, known as the birthplace of the gods Apollo and Artemis, you'll also explore the secluded coves and charming windmills of Patmos, jade waters and pearl-white beaches of Elafonisos and Chania's gorgeous Venetian mansions on a Greek island-hopping adventure with Crystal Cruises.
Regent Seven Seas Cruises
The all-inclusive, all suite intimate ships of Regent Seven Seas Cruises call on the hidden ports and hardest-to-reach places throughout the Greek Isles for adventures on roads less traveled.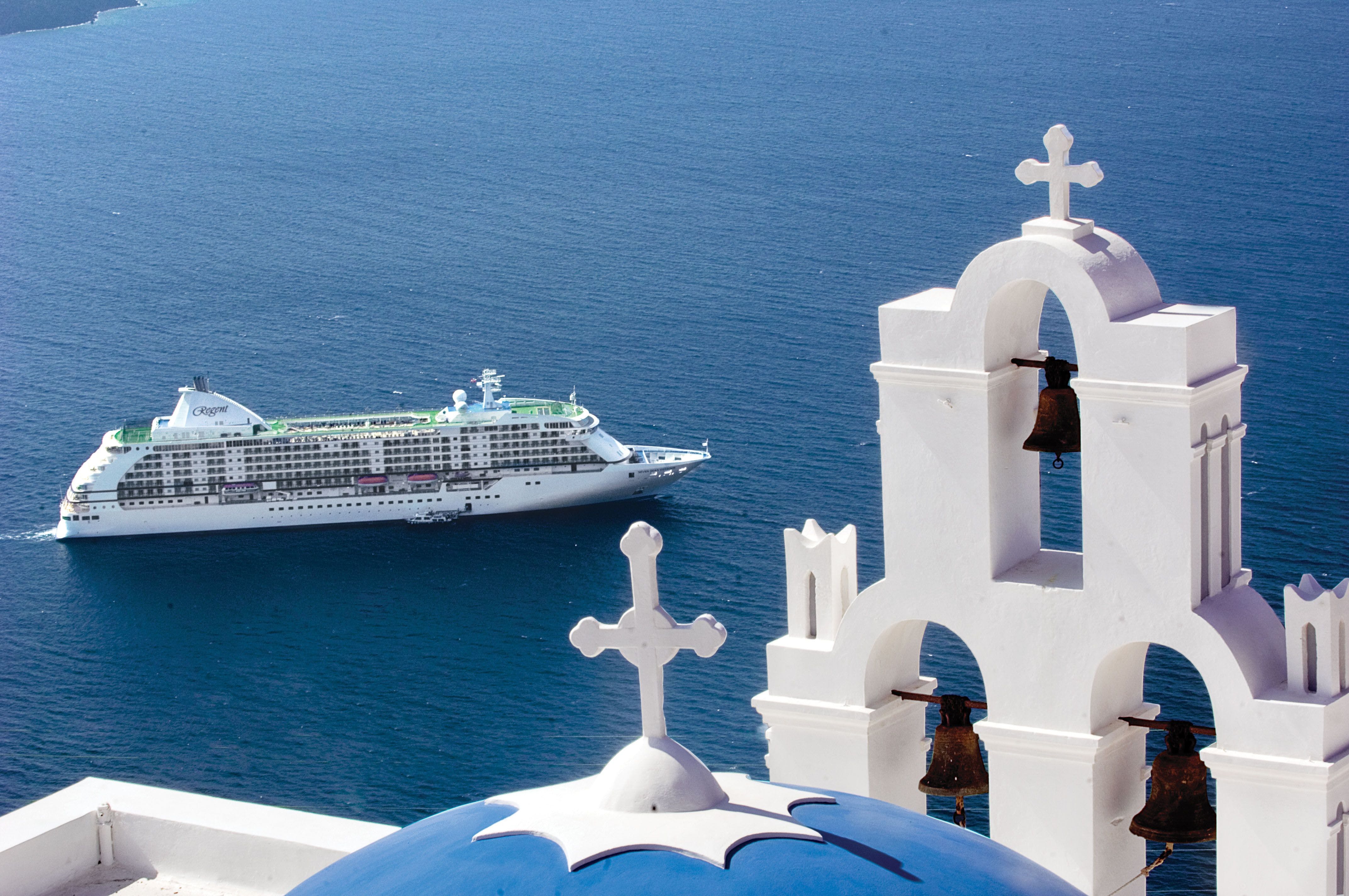 Regent Seven Seas Cruises offers an unrivaled experience exploring the Greek Isles.
Your unrivaled experience aboard Regent means every detail is taken care of both onboard and on shore, from enjoying the ship's luxurious accommodations to exploring the remote villages and cosmopolitan Greek cities featuring some of the world's most ancient and famous sights.
Insider Tip: With CruiseInsider's exclusive new-to-Regent promotion, first time Regent guests will get an extra $750 to use for an added perk to ensure your unrivaled experience begins before you even board. Click here to learn more!

On Regent, everything is included, which makes your Greek island-hopping adventure even more elegant. With immersive shore excursions included, you'll get a true taste of Greek island life with your choice of small, expertly led tours or opportunities to explore on your own.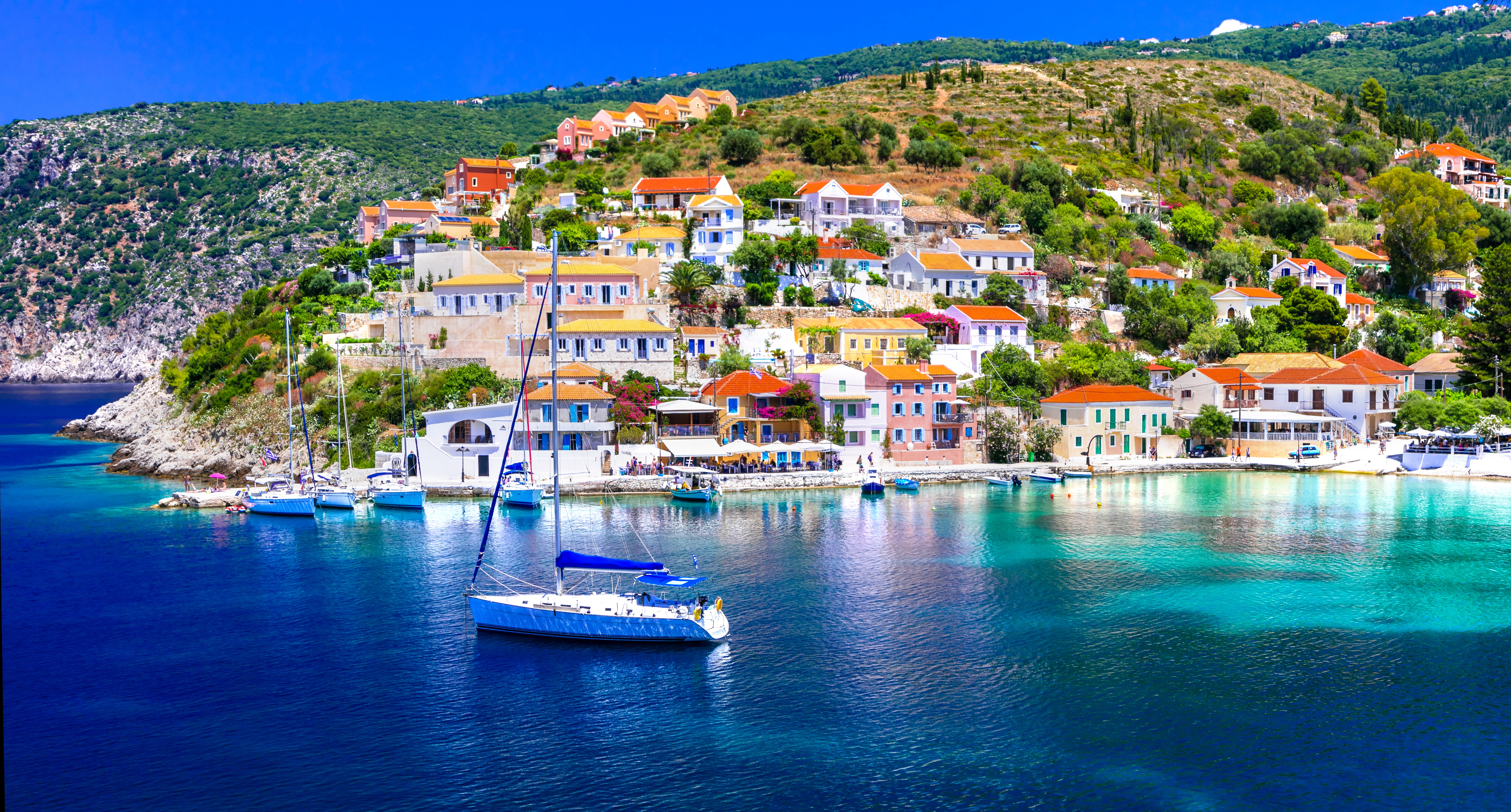 Explore Kefalonia's colorful towns and villages on a complimentary shore excursion.
Choose from a variety of excursions including a breathtaking boat trip around Mykonos's dramatic shoreline, shopping trips along Corfu's cliffside villages, visits to the hot springs and wineries throughout Santorini, or even a guided Ola village tour complete with a cooking class at Aeolos.
The Best of the Greek Islands
There is no one right answer when it comes to the best Greek Islands to visit on a Greek island-hopping cruise. There are island gems, pristine and unspoiled with timeless beauty, islands that are luxurious and cosmopolitan catering to the jet-setter crowd, and everything in between.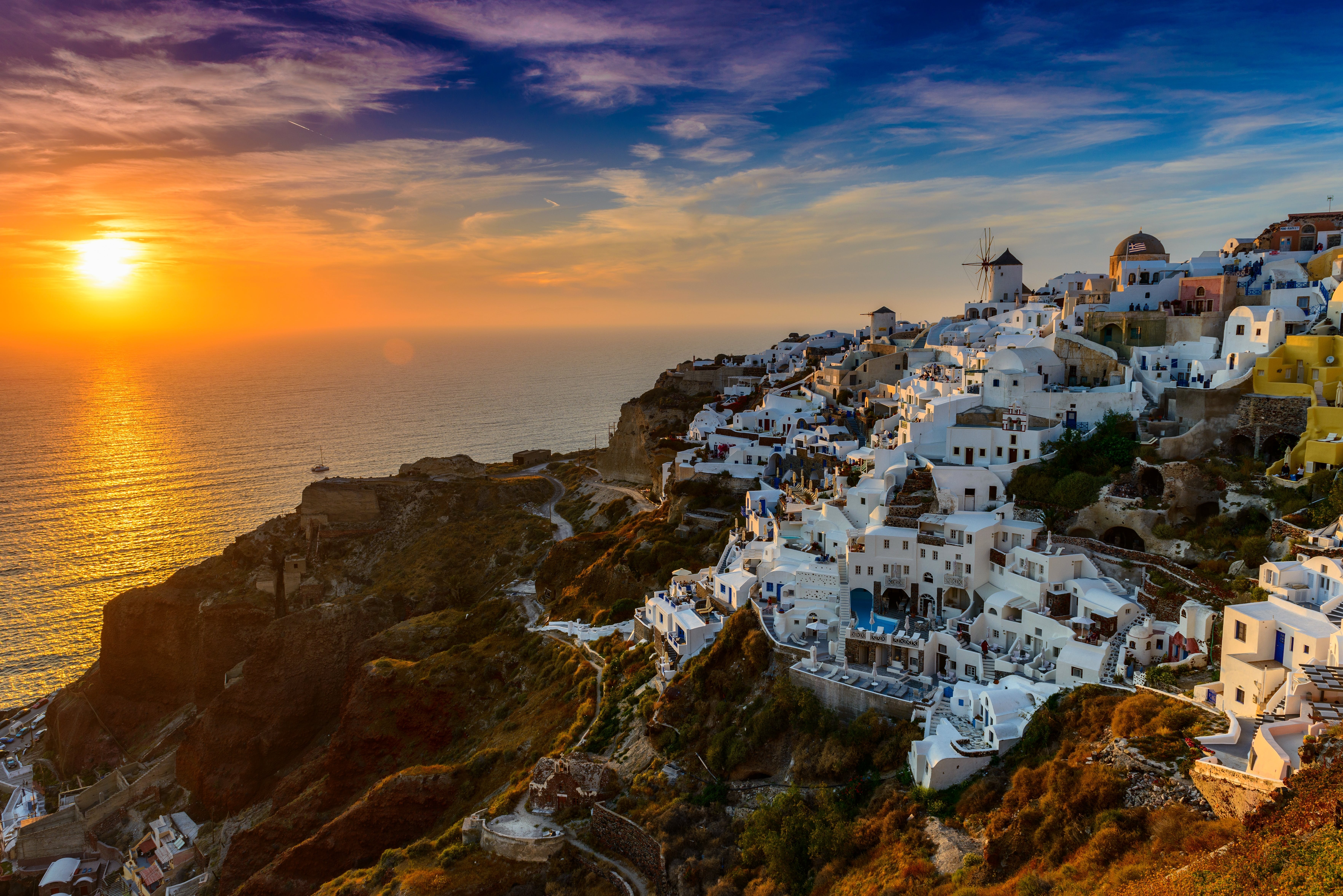 Mykonos is one of the prettiest and most popular of all the Greek Isles.
Want to experience the glamorous side of the Greek Islands? Head to the resort island of Mykonos and Santorini in the Cyclades, which offer a variety of beaches, spectacular views, flourishing nightlife and the full VIP treatment.
Rich with natural beauty and colorful history, the isle of Rhodes represents one of the most architecturally varied locations in Europe. Multi-cultural influences intermingle with the crystalline water, sunshine and dry air to cast a magnificent light over the island that the ancients dedicated to Apollo, the God of Light. Some of the other top isles that are often included in an itinerary in this region include the can't-miss gems of Milos, Kos and Andros.
Insider Tip: In the capital Athens – an open-air museum of impressive ancient temples, grand palaces, amphitheatres, Byzantine monasteries and more – you will discover many famous landmarks and historical attractions that date back as far as the 5th century BC.


Crete is one of the largest islands in Greece and offers a little bit of everything, from golden beaches to Minoan ruins, soaring mountains and charming villages. Visit Hydra and you'll feel as if you're stepping back in time to a place where people get around on their own two feet, by donkey or boat. It may not be filled with your usual tourist attractions, but it is an ideal place to relax and enjoy a more authentic experience surrounded by breathtaking scenery, where conversations are more often spoken in Greek than English.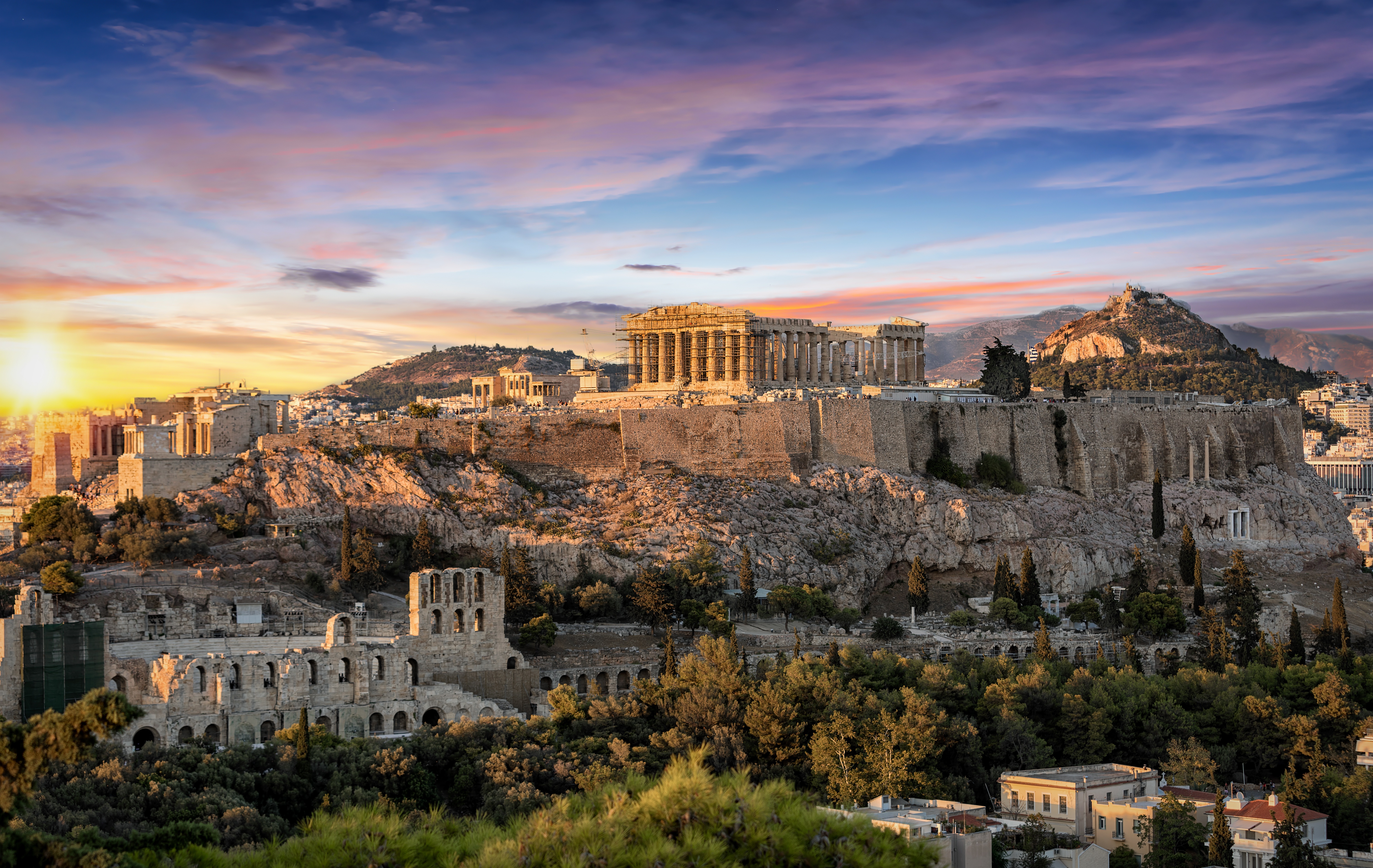 The legendary city of Athens offers both ancient sites and authentic culture.
Cruising in Greece is an unforgettable experience that is best enjoyed on a luxurious small-ship voyage. The warm, passionate Mediterranean hospitality that you'll receive when visiting and exploring the Greek Isles will be complimented by the over-the-top accommodations and authentic service onboard your opulent ship.
For more information about planning the perfect Greek island hopping cruise, connect with a CruiseInsider expert today at 1 (877) 734-6858.