One of the most frequently asked questions our experts get is "When's the best time to cruise?" The answer, however, is not so simple and depends on many variables including your personal tastes, trip specifics, your budget and what destinations you want to visit.
With so many diverse regions to choose from and so many cruise options, this guide will help narrow down your options so you can make an educated decision when determining the best time to go on the cruise that's right for you.
What to Think About When Planning
Many destinations like Hawaii and Caribbean may be enjoyable all year long. Other places like Alaska or the the polar regions are more seasonal. And some experiences like Europe's Christmas Market river cruises or a North American Fall Foliage cruise can only happen in a specific travel window.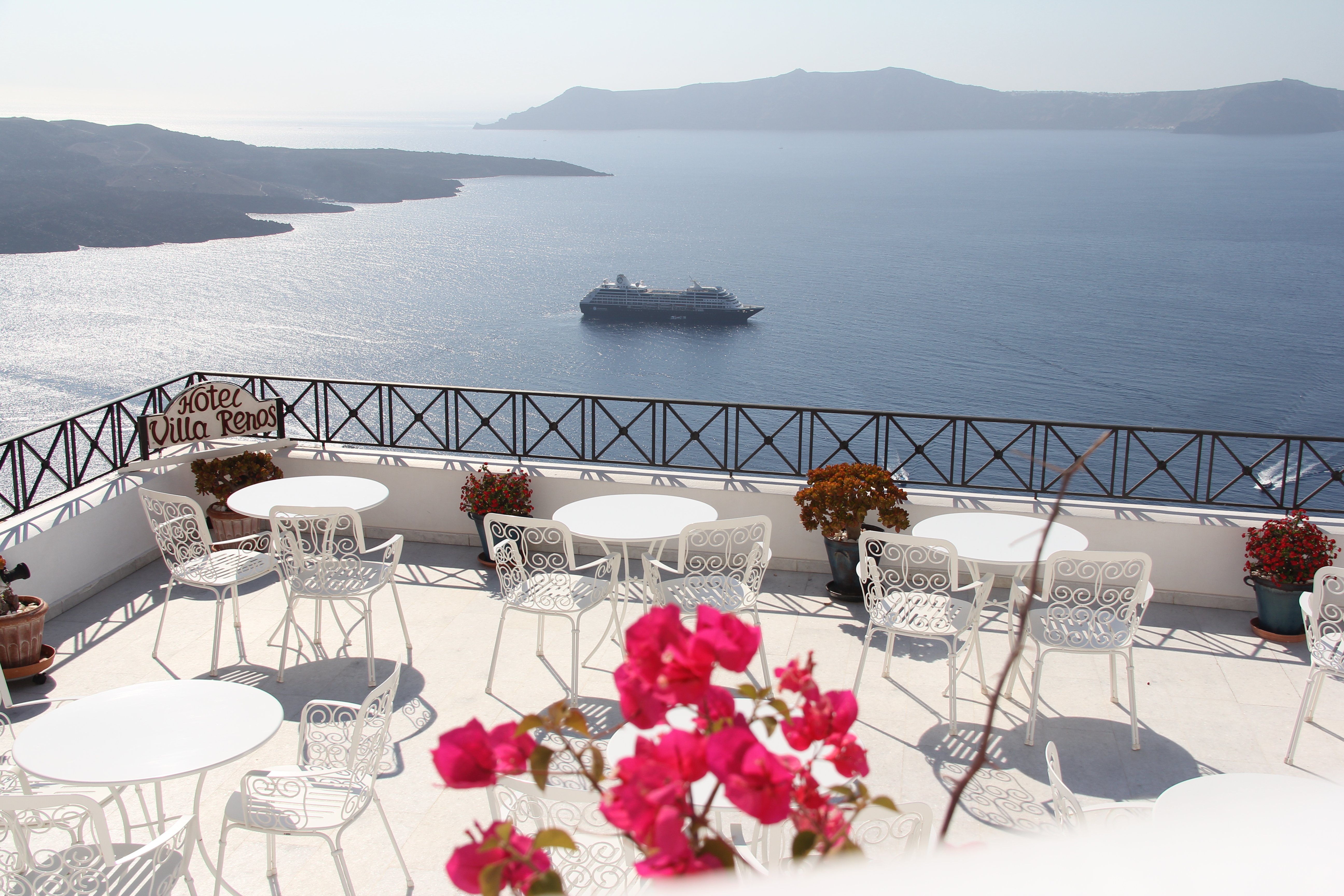 Azamara Club Cruises exploring the Mediterranean.
Peak season is typically considered the "perfect" time to cruise, as it's generally when the weather is the most pleasant and when a destination is at its most iconic, but it also means the largest crowds and highest prices. Typically, traveling just before or after this peak time of year – known as a destination's "shoulder season" – will be the best time for enjoying mild weather, less crowded ports and lower fares, and more elbow room on board.
Beyond picking the destination, as you plan your next cruise you'll also want to take into consideration your own vacation schedule. Summer may mean the kids are off from school but may also mean crowded beaches or packed ships. Also, factor in what you'd like to get out of your vacation – adventure, relaxation, family time, etc. – as each cruise ship and every itinerary offers a very different experience depending on what you desire. Sometimes the best deal may not coincide with the perfect dates, so you'll also want to find the most economical options that fit your preferences.
Best Time to Take an Alaskan Cruise
Alaska has a very short cruising season - summertime. With cruise ships traversing its waters from late April through September, the peak time to experience "The Last Frontier" is between mid-June and early August due to the longer days, optimal weather and propensity to spot wildlife.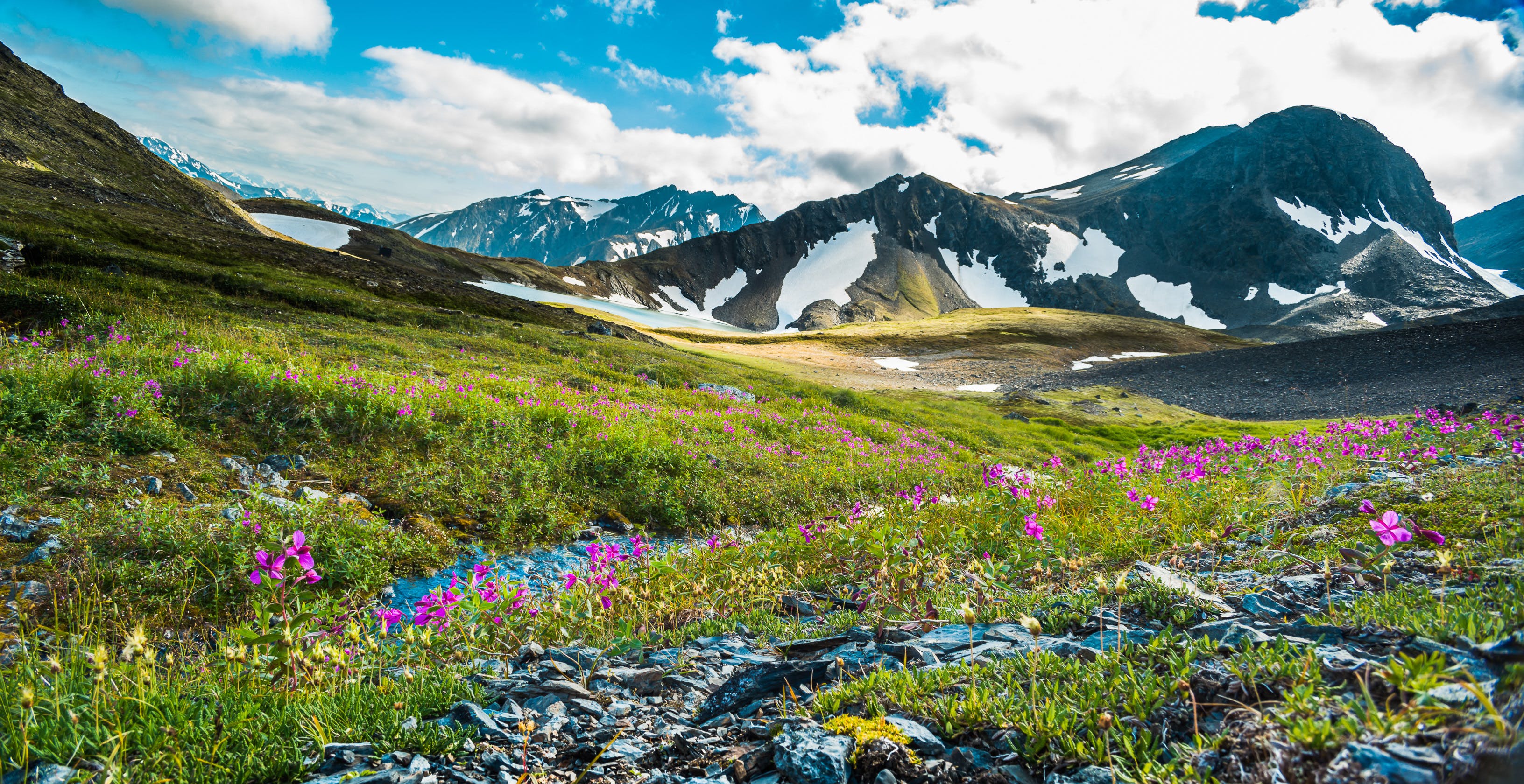 Alaska's beauty is in full bloom in the summertime.
However, if you'd like to cruise Alaska when you can score the best bargains, the months of May and September are often ideal. May is the driest month of the Alaska cruise season, which can mean some special excursions like glacier walks and flightseeing are less ideal. Alaskan wildlife is usually quite active in May, too. You can expect to see bears feeding on grassy hillsides, moose grazing in willow graves, whales breaching, birds overhead and more.
Insider Tip: Cruising to Alaska in May and September typically means cruising for a better price and having more room on board, however the wildlife and scenery may not be exactly the same as in peak season.
Best Time to Cruise Asia
The best time of year for a cruise through Asia varies by destination. Even choosing the best month to cruise Southeast Asia, in places like Vietnam, Thailand and Cambodia, can be complicated due to diverse weather conditions, rainfall and geography changes. For example, in Asia's coastal areas, a sweater and long pants can be necessary for cool nights but if you cruise just a few miles inland, it's likely to be much warmer. And ports near the equator will always be steamy with the occasional afternoon shower.
Insider Tip: Asia's monsoon season is from May through October, which means late fall through January is overall the best time to visit Asia if you'd like more pleasant temperatures with little to no rain.

Asia cruises are most common between November and March, as most cruise lines avoid scheduling during the hottest and rainiest times of year. If your Asian adventure continues north toward Russia and the Arctic Circle, the warmest weather will likely be in July and August. The shoulder months of May, June and September through early October provide a good balance of mild weather and fewer crowds onboard. Autumn in northern Asia also brings brilliant fall foliage views and stellar landscapes.
Best Time to Cruise Australia & New Zealand
Most cruise travelers choose to visit Australia and New Zealand between November and March. Because the seasons are reversed from what Americans are used to, these months coincide with holiday vacations and bring the best weather for cruising this wonderful and diverse part of the world.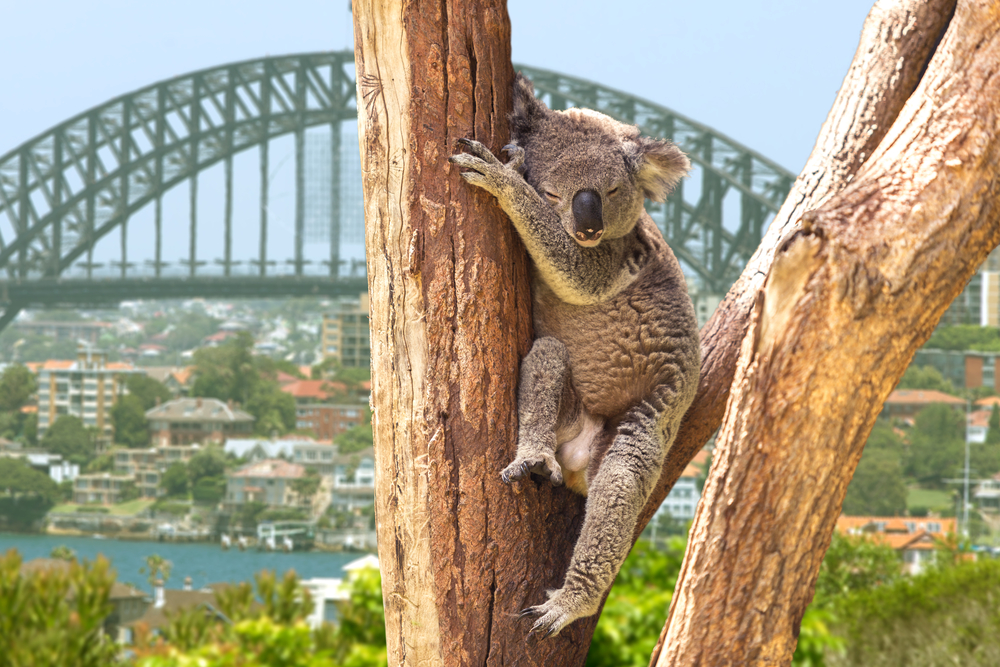 Australia is ideal at the beginning of the year.
The ideal period to travel "down under" is between early February and mid-March, which is also the warmest time of the year in this region. New Zealand's climate is generally temperate, but tends to vary more than Australia's, so it's recommended to travel with layers no matter when you visit.
Insider Tip: From a value standpoint, you may want to plan your Australian adventure in October, November or April, as the weather is relatively warm during these months and there is a greater possibility of finding discounted fares.
Best Time to Go on a Caribbean Cruise
Sailing in the Caribbean is enjoyable throughout the year, but it's generally best to go when it's colder in the northern hemisphere. December through April are the driest and most comfortable months, while late summer and fall are typically the cheapest due to the rar, but real threat of hurricane season. If you can go on a Caribbean cruise between mid-November and early December, or in April, you might be able to experience the best of both worlds.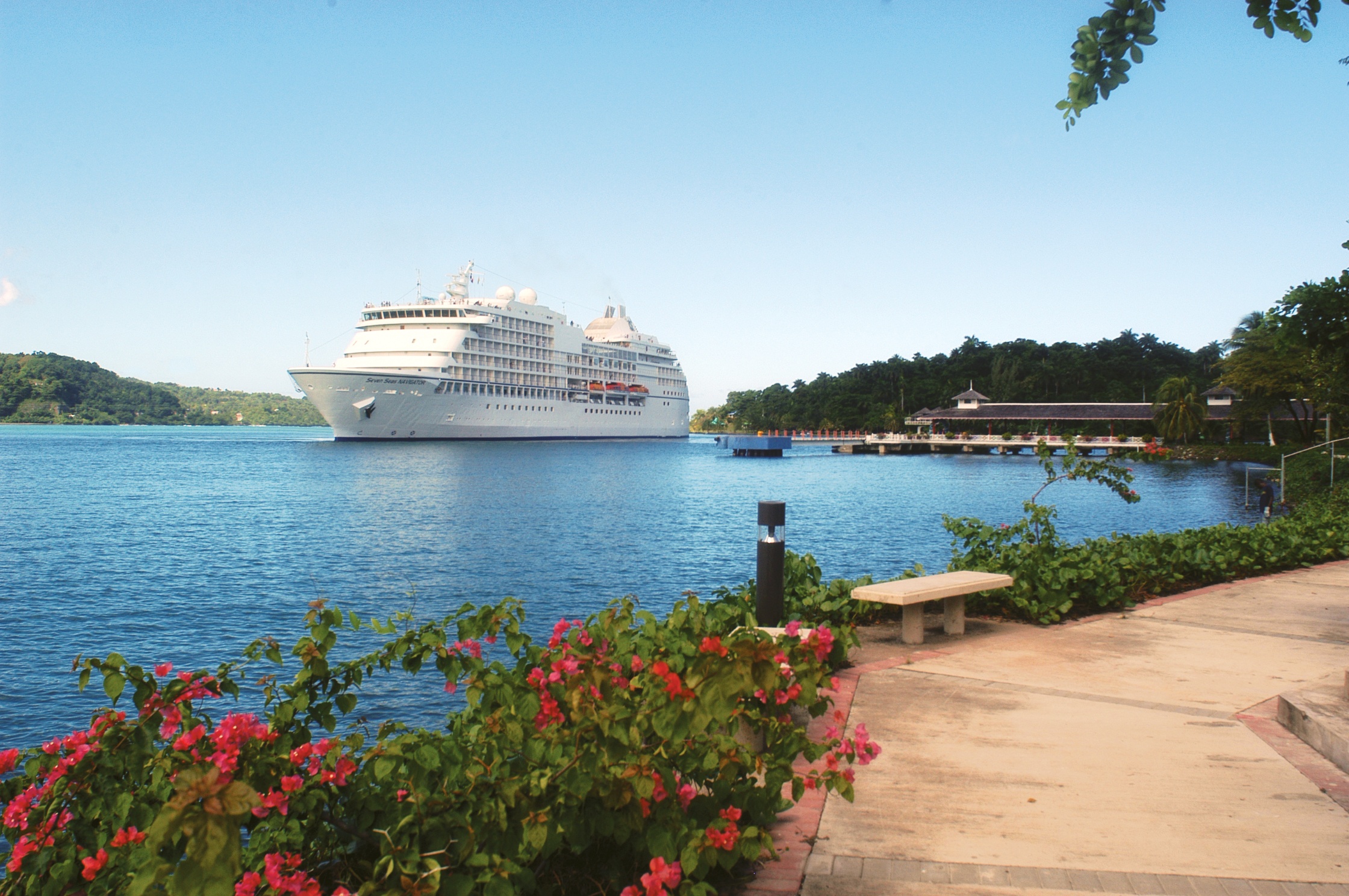 Regent Seven Seas Navigator in a beautiful Caribbean port.
Best Time to Cruise South & Central America

South America
As South America is extremely vast with several altitude contrasts, there isn't necessarily a single best time to cruise this region. Temperatures will vary dramatically, even within the same country, and your experience will change depending on whether you're on an Amazon River cruise or an ocean cruise.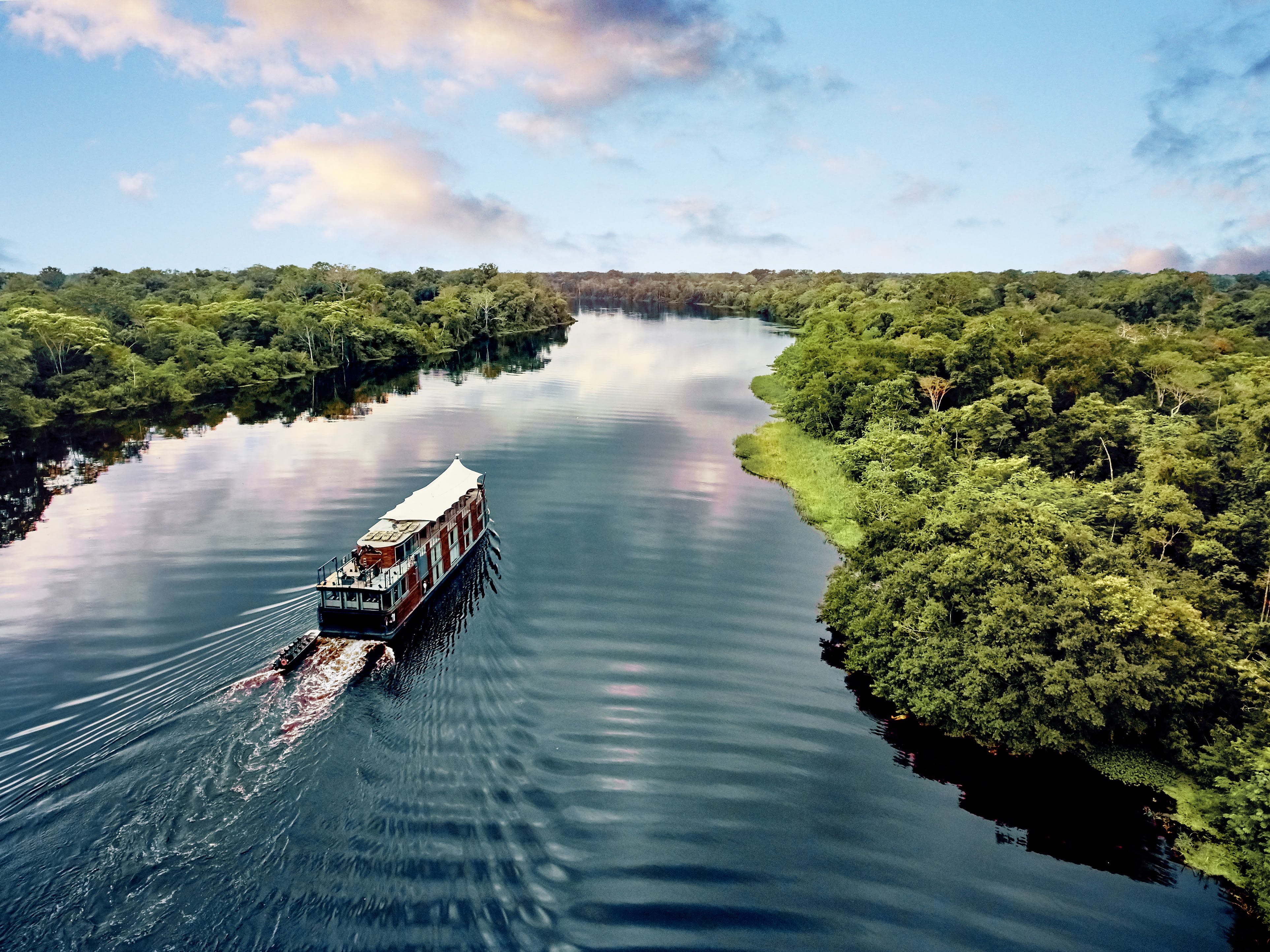 Aqua Expeditions explores the Amazon River in South America in luxury.

In most of South America, however, summer occurs from November through February while winter is between June and August. In our experience, October and November may be ideal for a cruise thanks to the spring-like weather conditions and the propensity of good travel deals that may be available. Throughout South America, temperatures are typically warm throughout the year, the only exception being the the chillier highland areas like Patagonia, high altitudes of the Andes mountains and the Southernmost regions closest to Antarctica.
Central America
In Central America, temperatures remain consistently warm throughout the year, the only exception being the higher elevation areas. The wet season is from April through early December, but there is still plenty of sunshine to be enjoyed. Hurricane season is September and October, bringing the most rain and sometimes flooding which usually won't affect your cruise. The peak cruise season in Central America is Christmas through Easter, which is also the driest time of year, which makes it ideal to experience the beaches, jungles and cities in ideal conditions.
Insider Tip: If wildlife watching and nature encounters are a priority for you, December and January are two of the best months to cruise to South America.
Best Time to Cruise in Europe
Europe is so vast and its climate and culture is so diverse that it's impossible to pick one month or time of year considered "the best time" to experience it. Europe is welcoming and wonderful all year long — and each season and every city offers a different ambience and adventure all its own.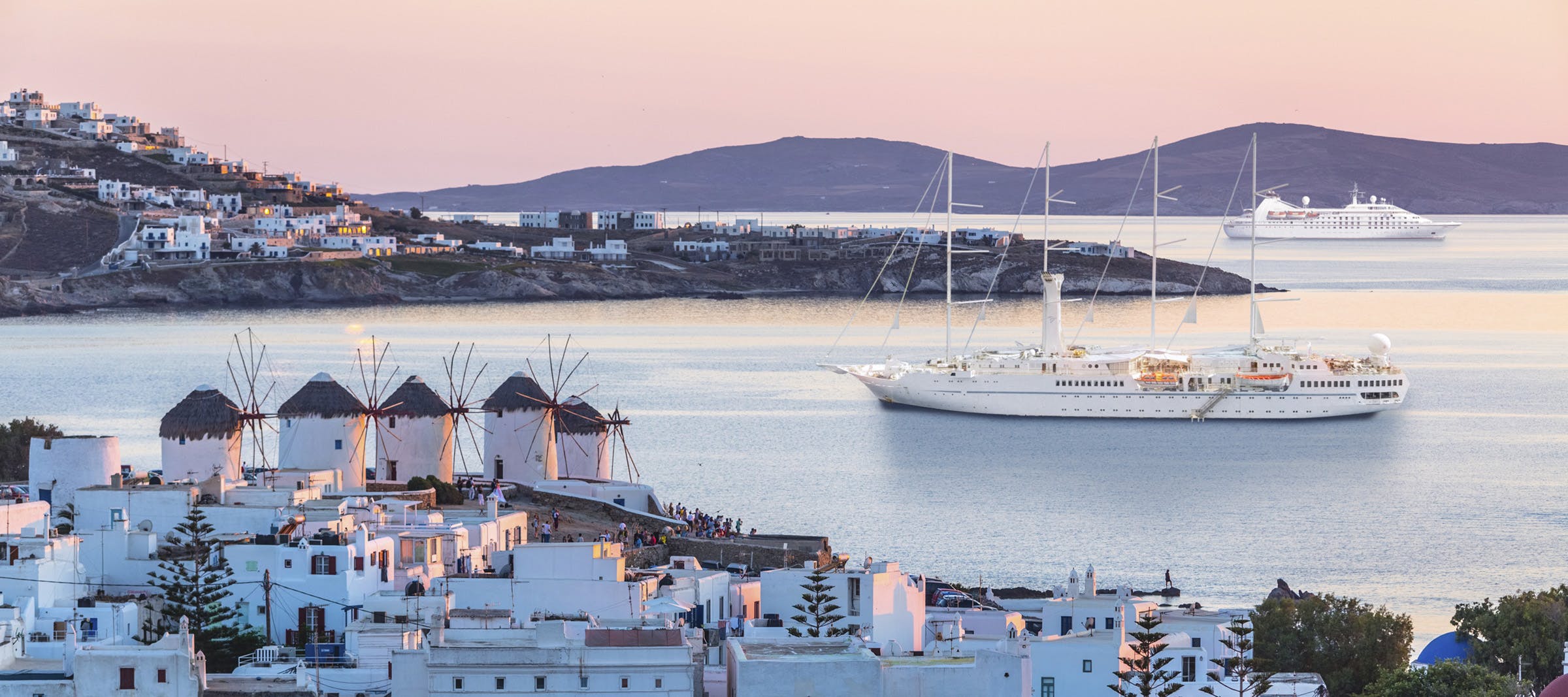 Windstar ships visit some of the smallest, most "hidden" ports in Europe.
Northern Europe
Generally speaking however, cruises in Northern Europe and the Baltics have a shorter cruising season (May to October), while peak cruising season in the Mediterranean is April through November. Particularly in the Baltic region, summers are short and sweet, lasting from June to August, which means the days are longer and the landscapes are still bright with spring and summer colors.
Insider Tip: August is traditionally the European holiday month, so in addition to tourists, the local crowds swell during this time of year. To avoid crowds and experience cooler temperatures, consider traveling in the shoulder months of May and September or early October.


Mediterranean
Most Mediterranean cruises sail in the summer months, when the sun and sand in coastal ports are at their peak and cities come alive with activity. If you're looking for a mix of sunshine and slightly cooler temperatures, try a cruise to the Mediterranean in June, September or October.

Silversea Cruises sails the Mediterranean in all-inclusive elegance.
Warmer areas like the Canary Islands and Greek Islands are popular all the way from March to December. The majority of tourists arrive to Europe in the summer months, while late spring and early autumn typically experiences milder temperatures and fewer crowds. The best fares can be had at the beginning and end of each season, with prices rising significantly from mid-June through mid-September.
European River Cruises
The best time to take a river cruise in Europe is definitely during the summer. Europe's rivers span thousands of miles and cross through many countries, but the fact they are all concentrated in the same region and are around the same latitudes tend to keep the temperatures relatively steady and similar on all Europe's most famed rivers.
Insider Tip: Special "themed" river cruises like wine country voyages in France, tulip and windmill cruises in the Netherlands, or traditional Christmas Market cruises on the Danube and Rhine Rivers are increasingly popular and can only be experienced in specific times of year.


A summer river cruise, between the months of June and August, means sunny weather, warmer temperatures and the most cultural "activity" in each port, perfect for appreciating the scenic landscapes of Europe and participating in excursions like walking tours, hiking & biking, or even just soaking in the sun on ship. Popular alternatives are the shoulder months during the spring and fall seasons, as it's easier to find discounts and the seasonal changes make for colorful vistas and culture all its own.
Best Time of Year to Cruise Hawaii & the South Pacific

Hawaii
The Hawaiian Islands can be comfortably cruised all year long, however, the ideal time to cruise is in the summer and fall, which is also the driest time of year. Summer is the most popular travel period due to school vacations, so the sweet spot may be mid-September through October. November to February is where you'll find some of the best deals for cruising, excluding holidays or special events.
Insider Tip: If you plan on embarking on a whale watching excursion in Hawaii, late October through May are regarded as the best months to go, as the most whale sightings typically happen between January and March.

South Pacific
In the South Pacific, August through October sees minimal rainfall. These months are also outside of the typhoon season, which is November to April. January to March is typically the most cost-effective time to cruise, but there is a better chance of inclement weather and ships may have to change course to steer clear of storms.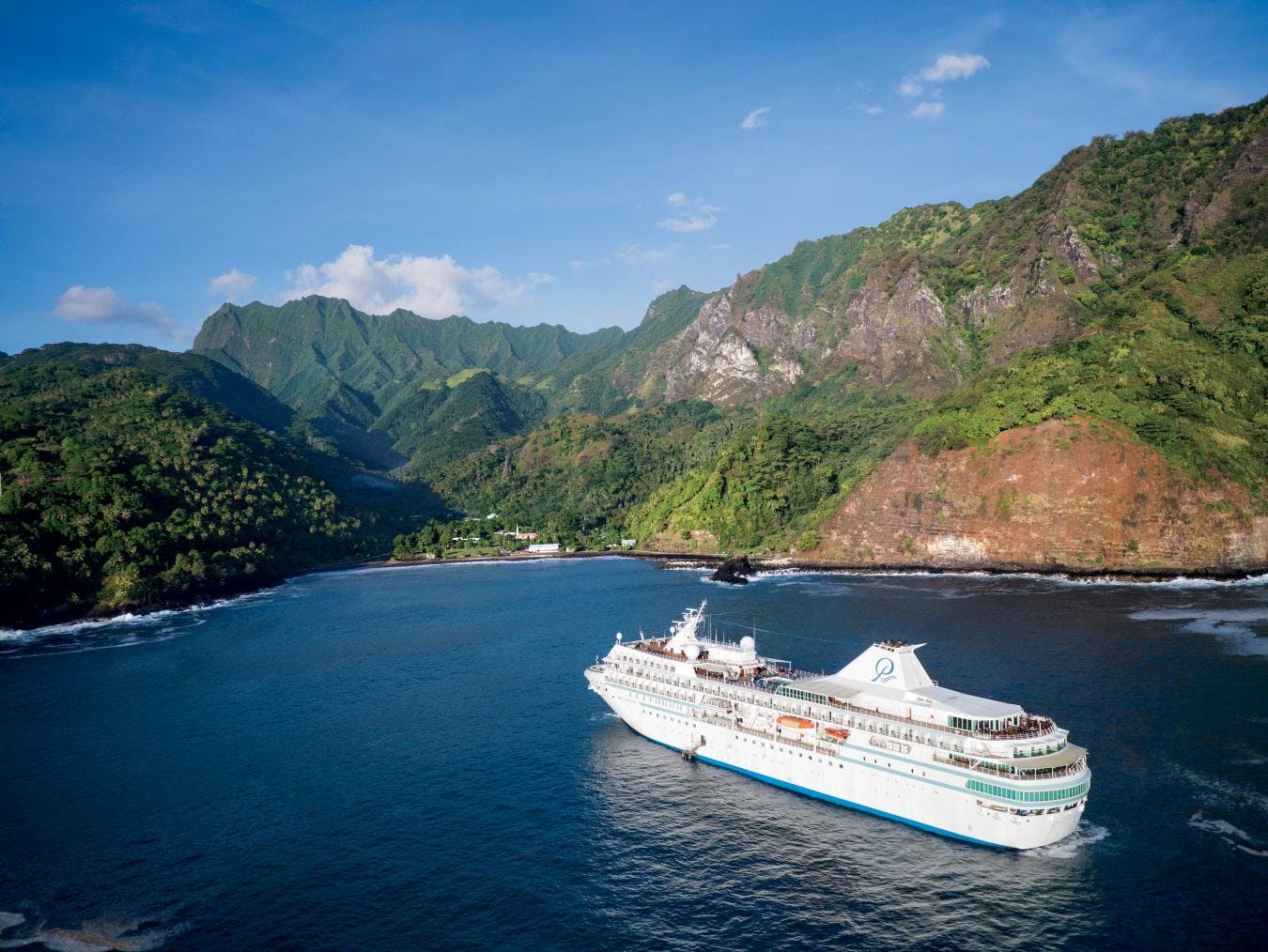 Paul Gauguin's ship is the only vessel that is in the South Pacific year round.
Best Time of Year to Cruise the Polar Regions

Arctic
The main season for Arctic cruises is summer, as most ships head north into the "The Land of the Midnight Sun" from May to September. The "24-hour daylight" in the Arctic Circle means sailings tend to be shorter and stay in the south of the region, as the winter ice is still melting. July and August is when the Arctic's flora comes into full bloom and the warmer temperatures make for ideal wildlife watching as Arctic birds, polar bears, walruses, seals and whales are actively hunting and raising their young.
Insider Tip: Smaller expedition ships use the warmer months of July and August to push even farther north, in some cases to the North Pole and through the Northwest Passage.


Despite freezing temperatures and days filled with darkness during the winter months, more and more people are taking Arctic cruises from October through April mainly due to Aurora Borealis. The chance to experience the natural spectacle of the Northern Lights in Norway, Iceland and throughout the Arctic Circle have gained in popularity and made expedition cruises to the Arctic a year-round adventure.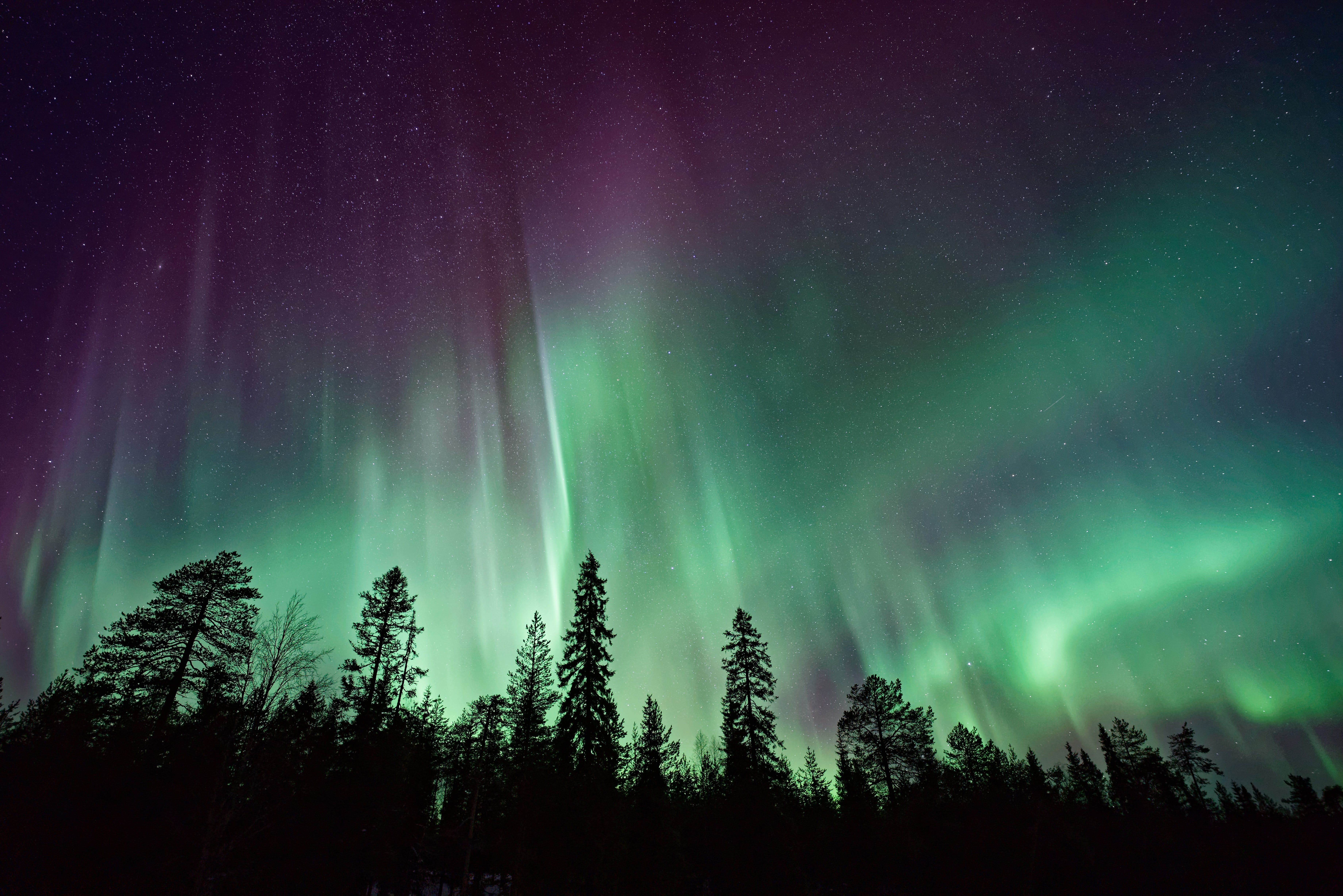 Seeing the Northern Lights in-person is a bucket-list experience.

Antarctica
From glacier hikes to wildlife encounters, deciding what time is "best" to visit this unique, uninhabited region depends on what you want from your adventure. November is considered the most "adventurous" time to visit Antarctica, as this is when the peninsula is most "undisturbed." Even with rules around how many people can go ashore at a time, the landing areas become more impacted and "muddier" as the season goes on.
Insider Tip: November voyages tend to be colder and wildlife may be less visible as the polar ice is still breaking up. Access to some areas may be limited, but this time also offer the most impressive icescapes, most pristine snow and the most stunning scenery of the year.


December and January provide the most sunlight (up to 20 hours a day) and temperatures are at their warmest. Penguins begin hatching and wildlife sightings are most plentiful during this time of year. February and early March are the ideal times to spot whales, however other wildlife like penguins and marine birds may already be gone. There tend to be less cruise lines operating at this time, which means you won't have to compete with other ships for landings, and you're also more likely to access areas further south as polar ice melts.
Best Time to Cruise USA, Canada & Mexico

USA & Canada
Sailings in New England and eastern Canada are ideal between May through October, with the warmest weather between late June and early September. The best time to cruise to this region of North America may be the first half of October on a fall foliage cruise, but sailings in May and later in October typically bring the biggest discounts.
Insider Tip: The Mississippi River winds through 10 U.S. states and is popular for paddlewheeler cruises from June through September or October. Peak cruising time on the Upper Mississippi is October to December and February to mid-June, with Spring and Fall being the most pleasant times for a cruise in this region.


Cruises through the Pacific Northwest in the U.S. and Canada generally occur in late spring through early fall. These months have mostly comfortable daytime temperatures and are also arguably the best cruise months for wildlife viewing, including the chance to watch orca whales, porpoise, seals and sea lions.
Mexico
Mexico can be cruised year-round, either as a dedicated Mexico trip or as part of a western Caribbean voyage. A cruise to Mexico can be vastly different though depending on the cruise line you choose can even vary dramatically depending on the particular area of Mexico you're traveling to.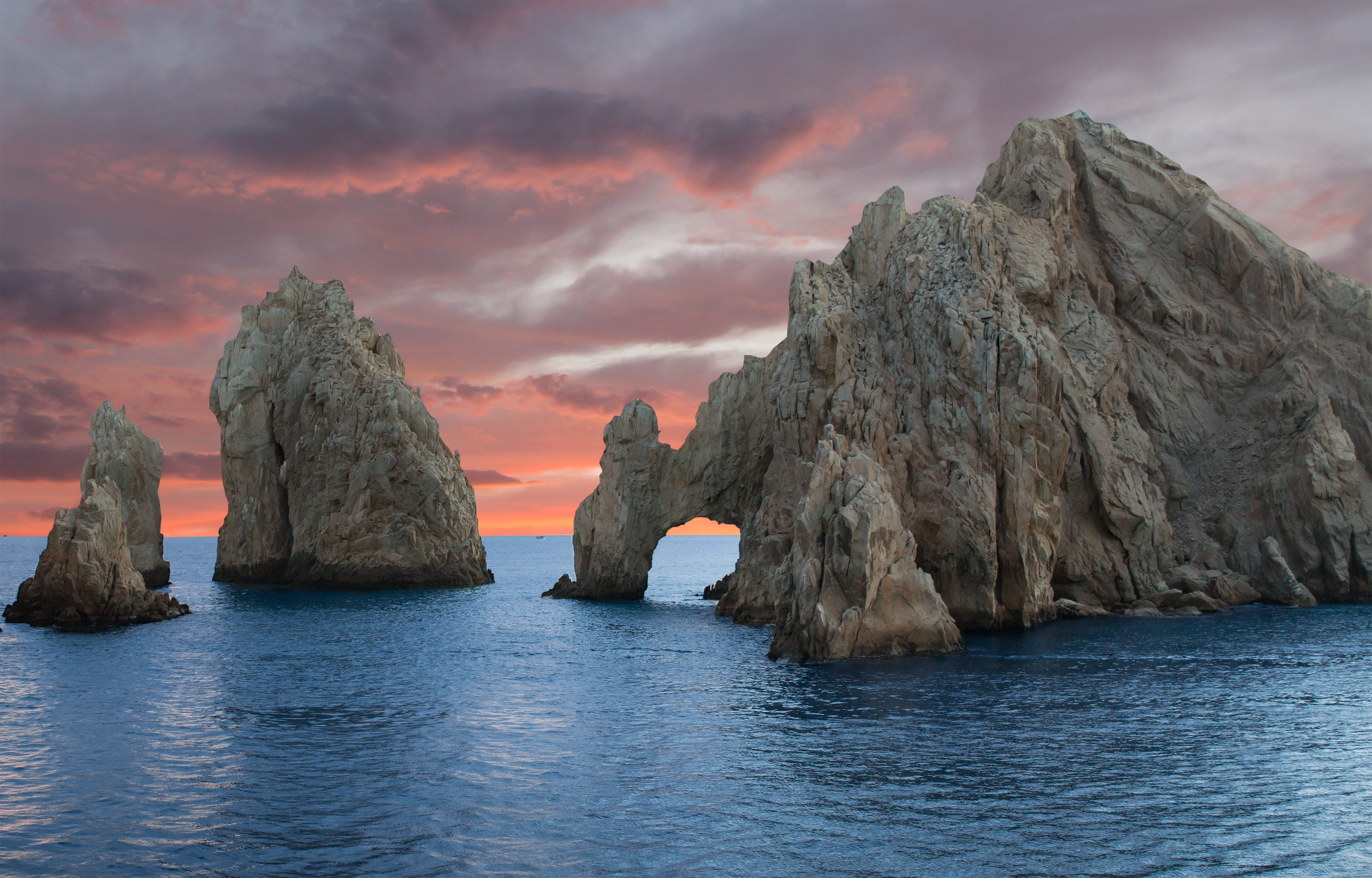 The famous rock formation of Land's End, near Cabo San Lucas, Mexico.
In general though, the best time for a Mexico cruise is during the dry season, which begins in November and runs through May. The very best deals can typically be found during the summer and throughout hurricane season–June through September–although hot and humid conditions and the occasional rainstorm are prevalent.
The world is filled with incredible places and our CruiseInsider advisors will help you plan the perfect cruise no matter where or when you want to travel!
Whether it's a summer vacation, a winter getaway, a Fall Foliage journey or any cruise experience in-between, we'll ensure you have a wonderful journey no matter when you set sail.
Connect with an today at 1 (877) 734-6858 for more insider information about where to cruise and when!