During this challenging time, we hope you stay safe, stay healthy and stay inspired to travel again when this passes. And when it does, we'll be here to help you plan your next adventure!
When the world is ready for travel again, you may find yourself itching to open your suitcase and prepare for your next adventure.
But with so many great places and new experiences available worldwide, choosing where to go will be your toughest decision. That's where CruiseInsider can help!
Whether you're searching for a renowned city, want to see famous sites or prefer to explore some lesser-known destinations, we've got you covered! Our Insider know-how means we've always got a feel for what's popular, what's up-and-coming and where to go next.
Not sure where to go once travel resumes? Here are some of the trending destinations that are destined to be topping everyone's travel wish list this year and beyond!
Slovenia
Although Slovenia is small, this rustic and rugged nation near the Alps is bursting with diversity and jaw-dropping beauty. Truly a nature lovers paradise, Slovenia's climate and terrain combine to form a harmonious paradise for travelers. Majestic mountain peaks covered in snow, emerald-green rivers and lakes and a stunning coastline along the Adriatic Sea make Slovenia a must-see.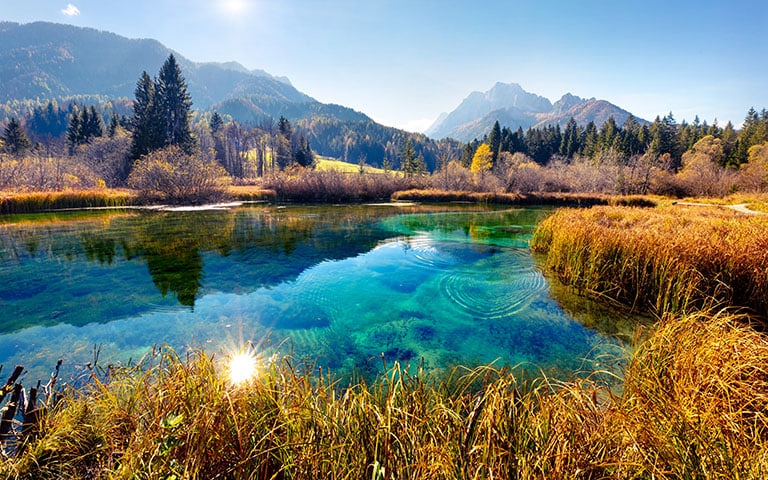 More than half of Slovenia is covered in forest, making it one of the greenest countries on earth.
Slovenia's natural treasures are only part of its incredible charm. The sun-soaked coastal town of Piran is a stunning display of Venetian-style architecture, arguably one of the best the Mediterranean has to offer. Adventure seekers will have a hard time leaving the Soca Valley with its varied terrain and ample activity offerings. Skiing, hiking, kayaking, cycling, zip-lining, canyoning and even ballooning - each will provide a different perspective of the majestic Slovenian nature.
Insider Tip
Nearly two dozen caves in Slovenia are open for exploration and we recommend you see at least one. The world's largest cave castle, Predjama Castle, is a medieval wonder built more than 800 years ago and has a network of secret tunnels used by knights during their plundering expeditions.

Experience Slovenia's sophisticated cuisine blending Hungarian, Austrian, Balkan, and Mediterranean dishes that were traditionally divided by social class. Wine lovers will enjoy the unheralded but unbelievably good options as the winemaking tradition here is strong, with one vine even dating back to the 16th century.
Morocco
Morocco - the gateway to Africa - is an impressive assemblage of culture: Arabs, Berbers, Muslims, and Jews have all made their mark in this exotic place known for its ancient sites, distinctive architecture and delicious cuisine.
Along with countless photos of epic mountains, Saharan oases and stunning waterfalls, you'll capture images of ancient medinas with stunningly ornate buildings featuring perfect symmetry, colorful rugs and vibrant tiles.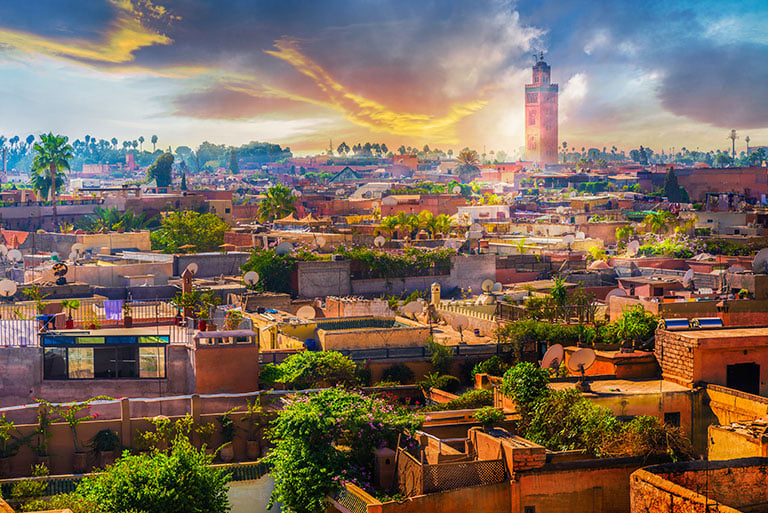 Panoramic views of one of the Marrakesh medinas in Morocco.
People-watching is prominent here, and a visit to any Morrocan city wouldn't be finished until you've shopped at a souk, one of the traditional open-air markets. The colors and fragrances will delight your senses as you barter with vendors over clothing, housewares, and souvenirs.
From mighty Saharan desert dunes to the mountainous High Atlas and Rif ranges to famed cities like Casablanca, Marrakesh and Tangier, Morocco is a diverse, storied destination that feels like something out of a fairytale - tailor-made for travelers looking for an old-world adventure that will unleash your inner nomad.
Insider Tip
Marrakesh is a convenient point of departure for camel-trekking and fantastic Sahara Desert tours—luxurious camping under the stars like you've never imagined!

New Zealand (South Island)
Nature is at the forefront of any New Zealand experience, with sunsets, stargazing and nine stunning national parks positioned throughout the South Island alone. Glaciers, mountains, beaches, rivers, lakes, fjords—whatever you're looking for, you'll find it all in the South Island.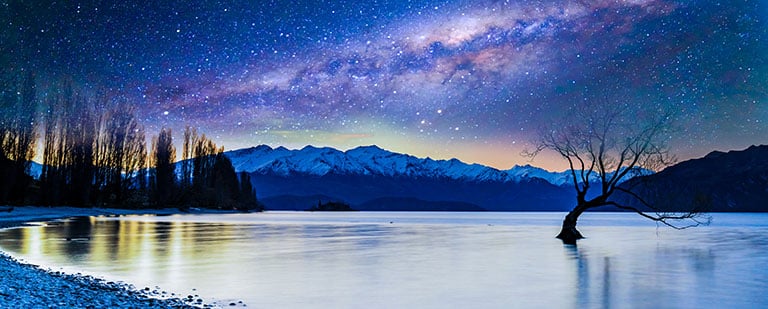 The epic sunsets and star gazing at Wanaka Lake, New Zealand are some of the best in the world.
As for culture and cuisine, South Island is a diverse and delicious blend of both. The only thing more interesting than the seasonal produce found here - stone fruit, fresh berries, unique root vegetables - are the warm, welcoming people you'll meet at one of the many roadside kiosks. Your best memories may include interacting with the local residents selling farm fresh eggs, homemade chutneys and relish, fresh seafood and artisanal dairy items you can't find anywhere else in the world.
Insider Tip
Spend some time at Hokitika Gorge, where you'll bask in the spectacular surroundings of what may be the bluest water you've ever seen in your life.

Wine lovers will want to explore the Marlborough region for some world-class pinot noir or renowned sauvignon blanc. Also make sure to visit a marae, a traditional meeting house and community center, to learn about the indigenous Māori people and their customs like carving, weaving, tattooing, and the haka war dance.
Dominíca
Not to be confused with the Dominican Republic, the mountainous island nation of Dominíca is found between the Caribbean Sea and the Atlantic Ocean as part of the Windward Islands. Nicknamed 'the nature island', Dominíca offers a dramatic, secluded sort of splendor that can't be compared to that of more populated and frequently visited Caribbean islands.
Natural hot pools and nearby Boiling Lake can be reached by a long but rewarding hike in Dominíca.
Dominíca is considered one of the most beautiful islands in the Caribbean and a nature lover's paradise. Its top attractions include the famous boiling lake - a literal bubbling volcanic hot spring - as well as dense rainforests perfect for zip lining, sulfurous hot springs for relaxation, winding rivers and superb diving for exploring, and the Caribbean's first long-distance hiking trail. Dominíca's blend of rugged beauty and relaxing island living make it the perfect pick for couples, families and eco-adventurers.
Insider Tip
One of the best beaches in all of the Caribbean, Batibou Beach is not to be missed with its soft, golden sand and calm blue water that's ideal for sipping a rum punch while relaxing in a hammock.
Panama
Panama may be most famous for the Panama Canal, but a second look will reveal this often overlooked nation is much more than just a link between North and South America.
Between the many idyllic islands, the laid-back Caribbean vibe and the beauty and biodiversity of the turquoise seas surrounding the country, Panama boasts some of the best beaches in the world. Surfing, boating, fishing, snorkeling, diving, whale watching and more - the two long coastlines make for a diverse tropical adventure.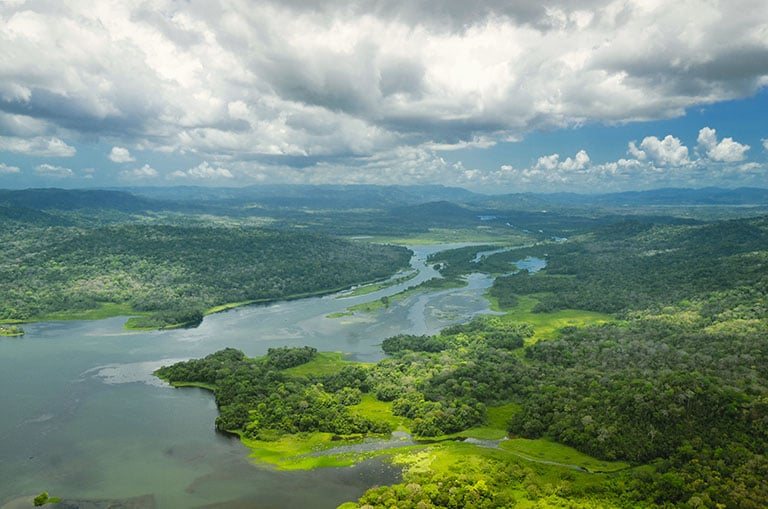 Aerial view of the stunning Panama Canal on the Atlantic side.
In terms of biodiversity, Panama is said to offer more than the United States, Canada, and Europe combined. (You can find over 1,000 types of orchids here and nearly that many species of birds.) Hiking, rafting, kayaking, zip lining, birdwatching, and horseback riding are all excellent options for passing the time in the gorgeous, nature-centric nation of Panama.
Insider Tip
Of course, most cruises that have ports of call in Panama will pass through the famous canal. Make sure to be out on deck when this happens, as you won't want to miss this remarkable display of engineering.
Beyond the beaches though are the activities and adventure associated with urban life, as Panama City is a bustling, culturally diverse and sophisticated city that is equal parts funky and fantastic. The people, food, architecture and nightlife of Panama City feels more like Miami than Central America and offers something for every type of tourist and traveler.
Portugal
For a destination saturated with old-world charm and outstanding scenery, Portugal is a top offering with cobblestone villages, medieval castles and a unique twist on traditional Mediterranean culture.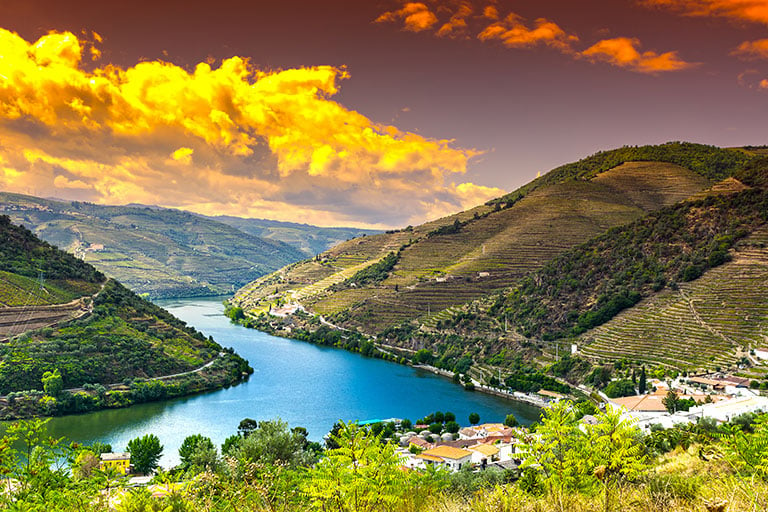 A relaxing river cruise along the Douro River is the best way to experience the wine, wonder and breathtaking vistas of Portugal.
Explore the Unesco World Heritage Sites in Tomar, Belém, Alcobaça or Batalha. Get lost in Lisbon's maze-like old quarter with narrow streets and steep staircases. Sample the port wine in Porto, take in fantastic sunsets, dine on fresh fish, olives, and cheese and indulge at local bakeries (don't leave without trying a legendary custard tart).
Insider Tip
See hundreds of species of marine life at Europe's largest indoor aquarium, Oceanario.
For something different and dramtically beautiful, a river cruise along the Douro is the ideal vacation. This river is considered up-and-coming in the cruise world, so chances are you'll be able to secure bragging rights among your friends and family for sailing it first. Start your voyage in Porto, Portugal's second-largest city known for port wine, then venture into the secluded rural landscapes of the Douro Valley where the almond trees and vineyards will be your ship's only company.
Scandinavia
Scandinavian countries are both steeped in Nordic traditions while staying on the cutting edge of innovation. It's no surprise that locals here tend to enjoy a high quality of life and happiness, living in convert with nature, ancient customs and modern technology.
Epic expanses of wilderness and some of the world's most resplendent national parks are found in every Scandinavian country. You'll see it all in the true north, from rugged fjords and snow-capped mountains to stunning coastlines and breathtaking glaciers - the great outdoors is actually what really makes this region so great.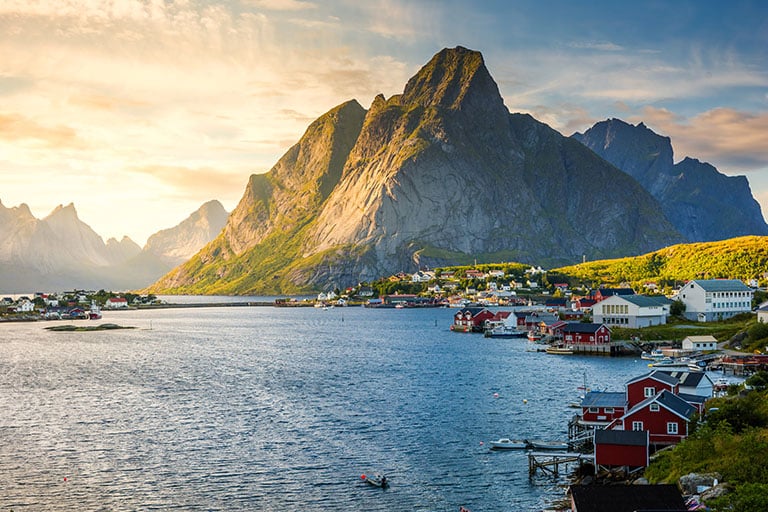 Small coastal towns and stunning views make Scandinavia a must-see destination.
Whether you want to experience big city life with its modern architecture and contemporary style or quaint fishing villages with their fairytale charm and the wonder of the Northern Lights, Scandinavia has it all. If you're truly interested in the hygge trend, why not go straight to the source?
Italy
Caesar, Nero, Dante, Michaelangelo—the history here is undeniably immense. If you haven't yet been to Italy or want to go back and see all the places you missed, when the current crisis has passed, experiencing authentic Italy will be easier and more affordable than ever.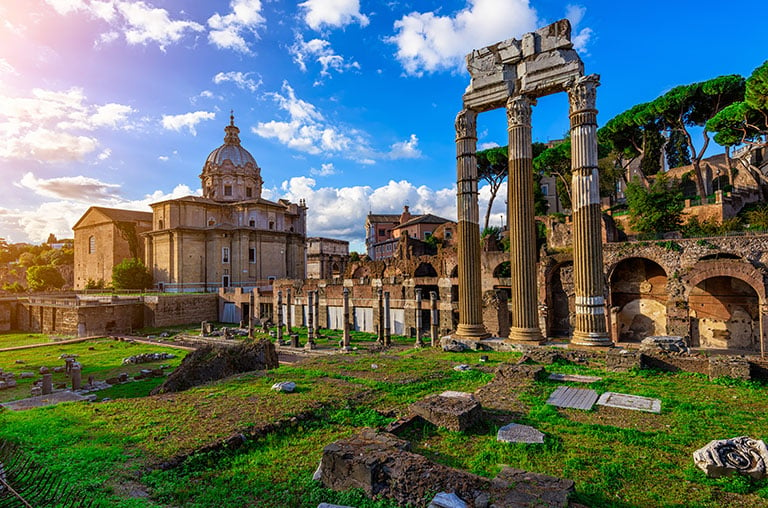 Roman history and architecture is still wound through every aspect of Italian culture.
About 50 UNESCO World Heritage Sites are scattered throughout Italy, so you're bound to get a taste of history no matter which city calls you. Venice, Florence, and Rome all offer high-profile attractions, and small villages scattered throughout the vast countryside give their own hidden treasures to those willing to venture out.
Art, architecture, history, shopping, food, wine, night life, people, heritage - whatever region you want to explore - Italy is the perfect mix of everything you'd want on a next-level adventure and is arguable the true epicenter of Europe's culture.
Insider Tip
Regardless of your religious affiliation, Vatican City is a spectacular trove of history and Renaissance art that is visited by over five million people annually and is definitely worth a day to visit.

Montenegro
Positioned southeast of Bosnia and Herzegovina, this stunning underrated Balkan nation boasts list-topping beaches and beautiful rugged wilderness that make Montenegro a slice of heaven along the majestic Adriatic Sea.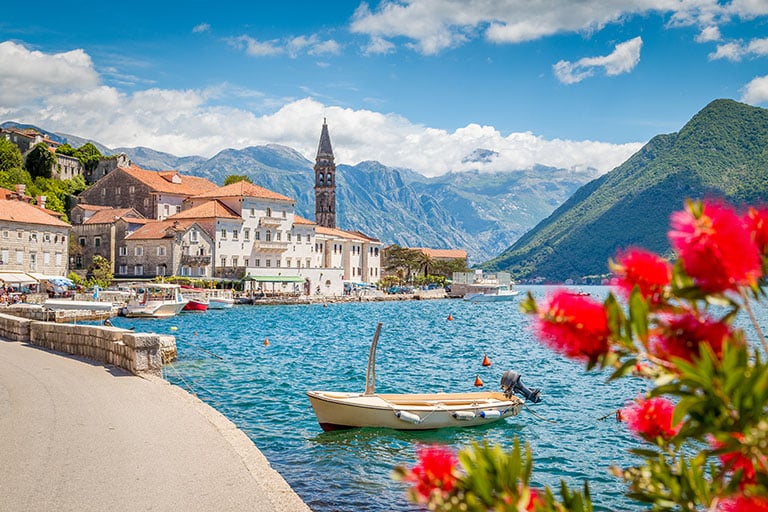 The historic town of Perast along the Bay of Kotor is considered one of the most beautiful cities in the world.
The scenery is so good it almost looks photoshopped, with miles of gorgeous coastline, breathtaking mountains and primeval forests dotted with medieval towns. If you can pull yourself away from the beaches (117 of them!), you can discover wonderful places like Perast, a waterfront town with a population of just a few hundred known for Our Lady of the Rocks, a tiny church built on a man-made islet just off the coast.
Insider Tip
Dig into the history of Montenegro with a tour of the Budva Citadel or feed your adventurous spirit by rafting on the roaring waters of the Tara River.

Which place is your must-see locale once travel resumes? With dozens of travel deals to these cities (and hundreds more!), speak to a CruiseInsider expert at 1 (877) 734-6858 for more destination inspiration or to start planning your next adventure!