For many people, the idea of cruising conjures up images of massive ships in the Caribbean or days at sea in the middle of the ocean, but there's another side or cruising worth exploring, especially for first-timers: river cruising in Europe.
Life on board a river cruise flows to the rhythm of the rivers, and the pace and personality of the rivers allow you to immerse yourself in the local culture, history and wonder of legendary cities, famous sites and picturesque landscapes along the way.
Ready to give river cruising a try? Read on for our expert highlights of Europe's most traveled rivers and our expert recommendations for planning your own river journey through France, Germany, Austria, Hungary, The Netherlands and more!
River Cruise Options
With river cruising, your ship will dock in the heart of the action, meaning shore excursions and exploration often begin just steps from your ship, right in the middle of Europe's most popular places and walking distance from historic sites, town markets, restaurants and pubs, and local events.
Ship sizes are typically smaller than what you'd find on the ocean, and itineraries often include more frequent stops and more time in port to enjoy the destinations. River cruise ships are also built to enjoy the views, both from your stateroom and throughout the ship's public spaces. They typically move at a slower pace too, so you'll have ample time to soak in all the alluring landscapes filled with historic castles, rolling vineyards, and quaint neighborhoods.
When planning a European river cruise, keep the seasons in mind: winter cruises can be quite cold but highlight the popular Christmas Markets, and the water can be very high in the spring which makes the ideal river cruise season is from April to October.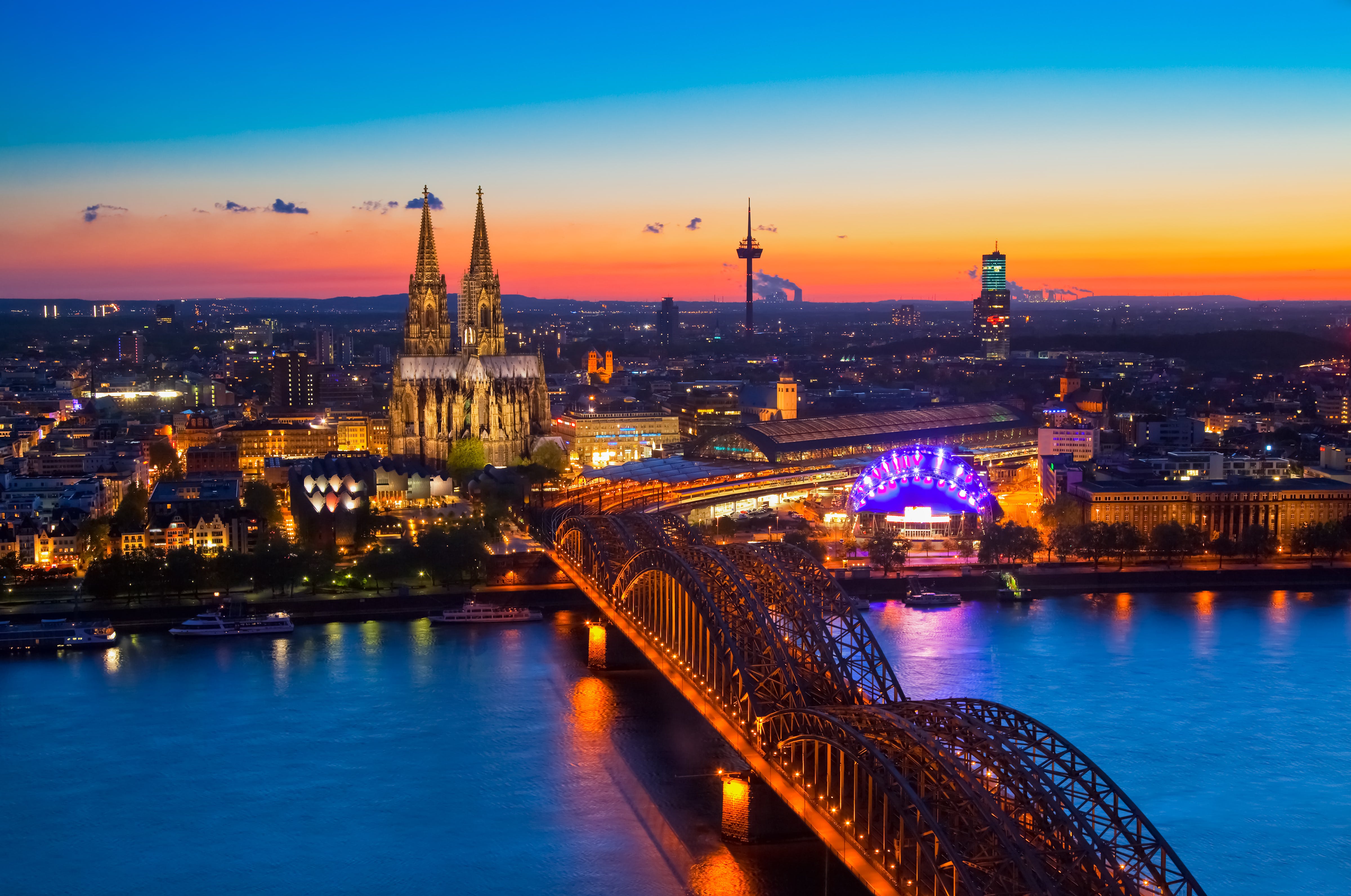 The Rhine River is one of the most scenic and most popular in Europe.
The Danube: Something for Everyone
If you are looking for a well-rounded European tour, the Danube is an excellent choice. Europe's second-longest river flows through 10 countries—more than any other river in the world. Enjoy the diverse offering of ports and tours from glassblowing in Germany, bike riding in Austria, cheese tasting in the Netherlands, or a carriage ride in Hungary, just to name a few.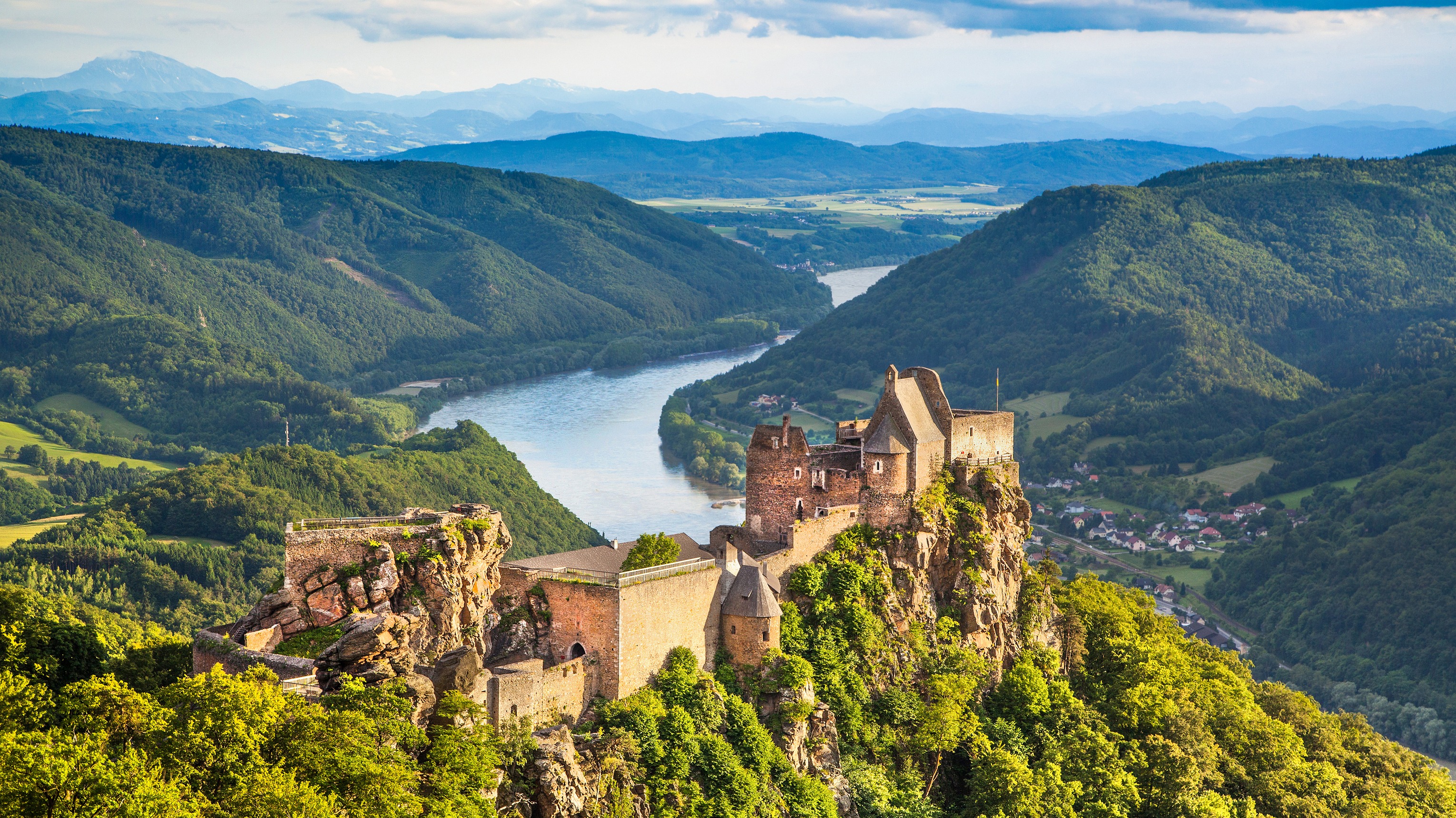 Castles and cathedrals dot the landscape along the Danube River.
A highlight of many Danube itineraries is Vienna, home of famous composers like Mozart, Strauss, and Beethoven. Here you can experience a ballroom dancing lesson, tour impressive palaces and public buildings, meet the Lipizzaner stallions, or take in a classical music concert. You'll have many options when it comes to choosing a Danube River cruise, so you're sure to find one that checks all your boxes.
Set sail with AmaWaterways from Nuremberg to Vienna to wander the world-famous Christmas Markets in Germany and Austria and experience the origin of many yuletide traditions in elegance and style. Uniworld also offers boutique Christmas Market cruises perfect for those wanting to experience the quintessential magic of the holidays while shopping for one-of-a-kind treasures and discovering the legends behind some of our most popular holiday customs.
Insider Tip: If you've got the time, see more of Europe with Viking's 14-night Grand European Tour, which sails from Budapest to Amsterdam. For a shorter vacation or to accommodate extended time on land pre- or post-cruise, try the 4-night Wachau Valley Getaway with Crystal Cruises.
The Rhine: European Culture at its Finest
The Rhine is a top pick for castles and culture. Switzerland, Liechtenstein, Austria, Germany, France, and the Netherlands are all situated along the Rhine, making it a popular choice with cruise goers who want to explore all that western Europe has to offer.
The Upper Middle Rhine Valley was named a UNESCO World Heritage Site in 2002 because of its valuable use for farming, transportation and trade, and its beauty has long served as a muse for artists, writers, and musicians. Vineyards have existed here for over 1,000 years producing Riesling, Gewürztraminer, and others.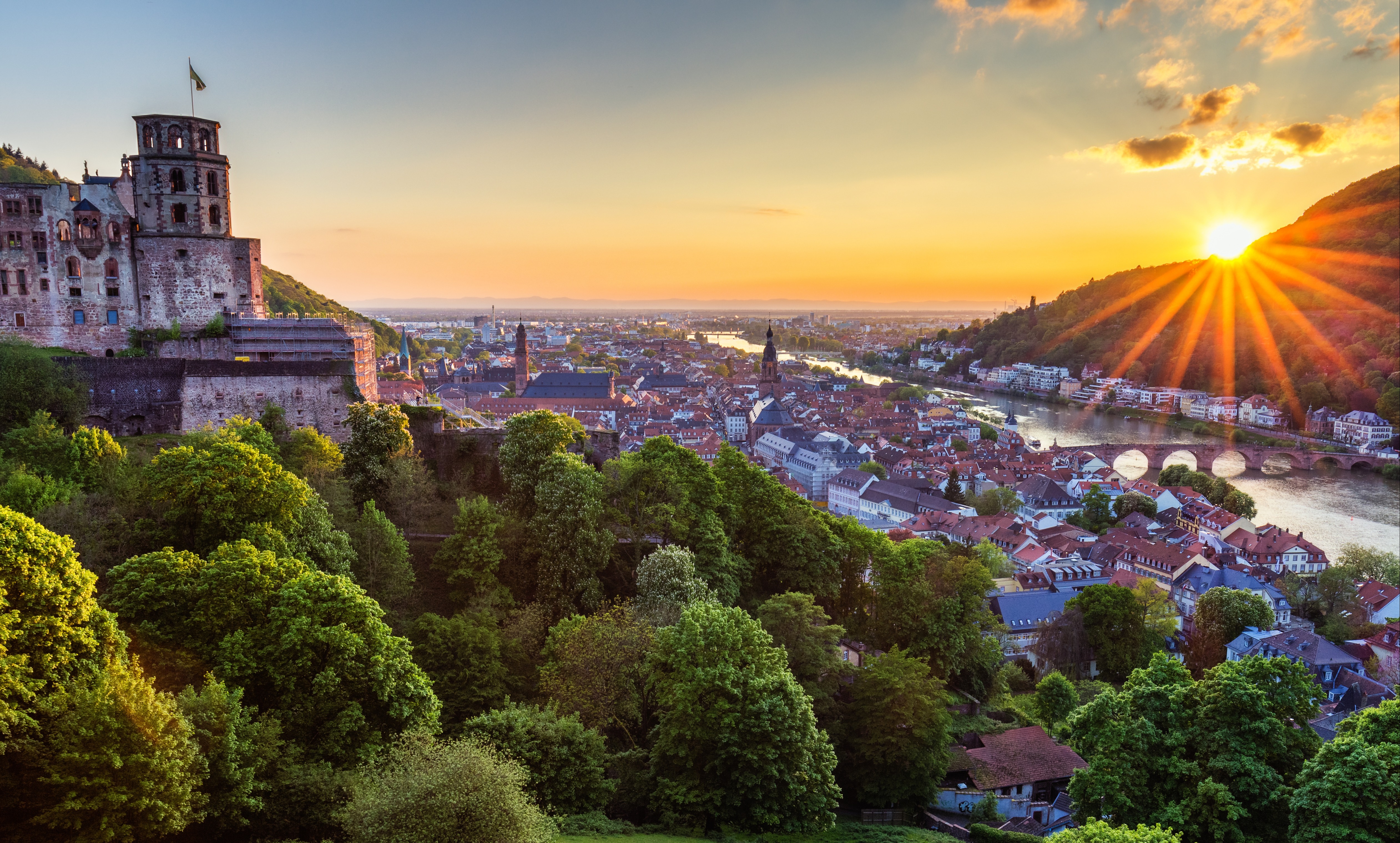 The Rhine River cuts through Heidelberg, Germany's city center.
Museums and art centers populate the cities along the Rhine. Take in the splendor of works by Rembrandt and Dali at the Museum Boijmans Van Beuningen or study the extensive van Gogh collection at Kröller-Muller Museum in the Netherlands. In Cochem, Germany, wine enthusiasts can view winemaking tools at the Schlagkamp Museum. Aircraft, classic cars, and musical instruments are on display at the Technik Museum in Speyer, Germany. Strasbourg's Palais de Rohan features 18th century Baroque architecture and houses three museums. The Red Star Line Museum in Antwerp tells the stories of those who emigrated to America on ocean steamers in the late 1800s and early 1900s.
Insider Tip: Sail from Amsterdam to Basel on Uniworld's Remarkable Rhine & Historic Holland itinerary, which includes stops at four UNESCO sites. Uniworld's Jewish Heritage Program offers visits to synagogues and museums to better understand and appreciate Jewish heritage.


Uniworld's Castles Along the Rhine itinerary features eight days of architectural masterpieces, including the Cologne Cathedral and Marksburg Castle. To experience the magic of the holiday season, book the Christmas Markets on the Rhine sailing with AmaWaterways and visit markets in Cologne, Strasbourg, Heidelberg, and Gengenbach.
The Rhône: A Wine Lover's Paradise
If your idea of cruising means always having a glass in hand, this one's a no-brainer. The Rhône will bring you through the Provence region of France where some of the world's best wine is produced. In addition, you'll have delectable dishes thoughtfully chosen and prepared by expert chefs. After spending just a bit of time here, you'll quickly understand why expatriate writers like F. Scott Fitzgerald were keen to settle in the region.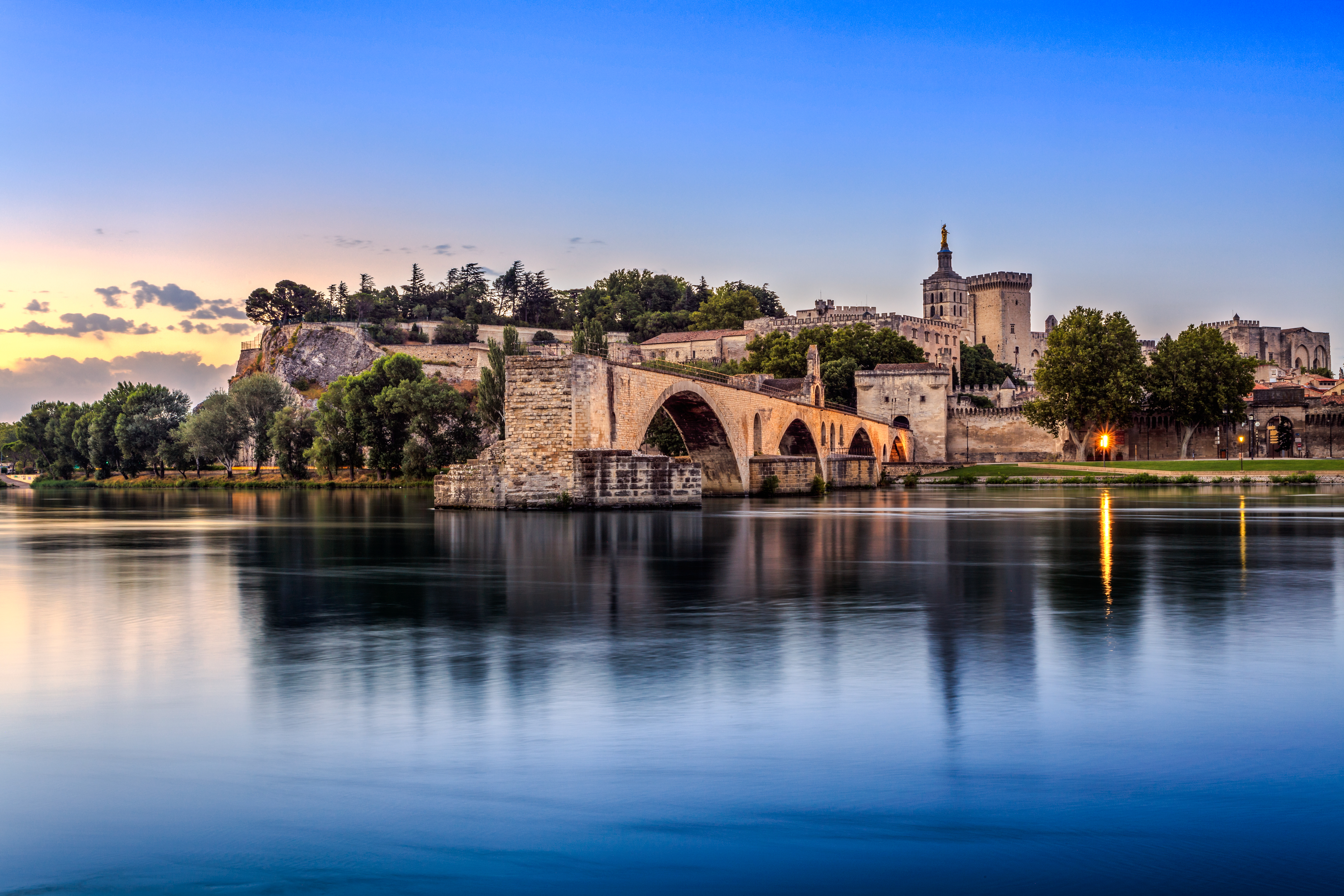 The Rhône River is a perfect mix of countrysides and culturally rich sites.
Time along the Rhône can be spent admiring the vibrant lavender and sunflower fields and charming riverfront villages, playing bocce ball, exploring UNESCO World Heritage Sites, and of course, tasting award-winning wines.
Insider Tip: Fly into Paris and take the high-speed train to Lyon to begin your 7-night Savoring France voyage with Tauck. Have peace of mind when you travel with Tauck knowing that everything is included—even beverages and shore excursions.
The Seine: Fusion of History and Modern Traditions
History buffs and hopeless romantics alike will agree that the Seine is the essence of France. With solemn sights like the beaches of Normandy and the Mathilde Bridge, where Joan of Arc's ashes were scattered, northern France is filled with both historical treasures and beautiful, sweeping vistas best enjoyed from your private balcony.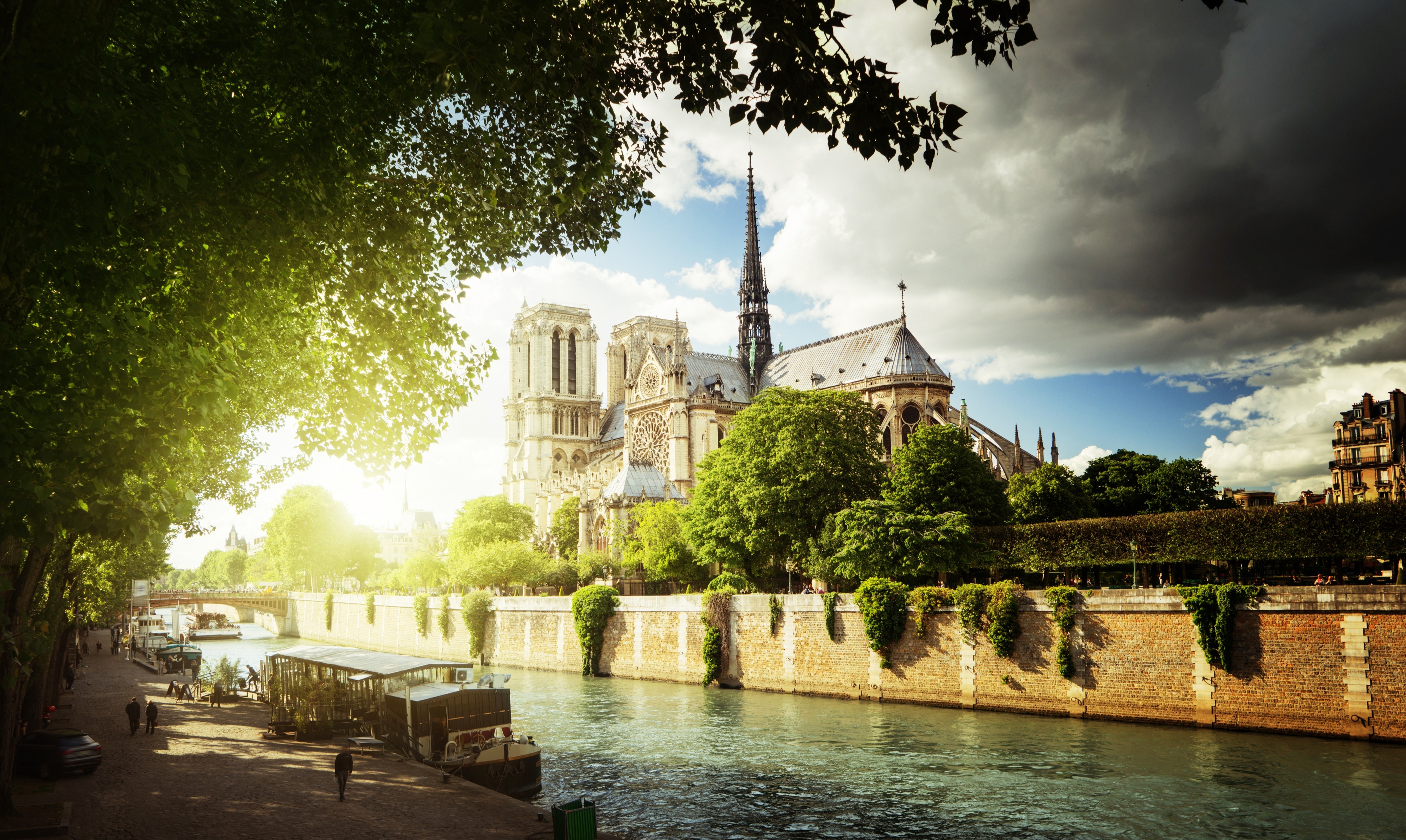 Seeing Paris, France from the Seine River is a site to behold.

How could you not fall in love with the City of Light? Although beaches aren't a centerpiece of river cruising, Paris transforms the walkways along the winding Seine into pop-up beaches each summer complete with imported sand, beach chairs, and palm trees!
Insider Tip: Enjoy three extra days in Paris with the 9-night Paris and Normandy itinerary offered by AmaWaterways or combine two itineraries with Viking's France's Finest sailing, which includes time on the Seine and the Rhône with a train ride connecting the two cruises.
Recommended River Cruise Lines
Since destinations and local focus is at the heart of every river journey, you'll want to start by deciding where you want to go and when. Selecting the right river cruise line will then depend on the on board and on shore experience you're looking for.
Several cruise lines explore Europe's most famed waterways, but a few river lines stand above the rest in terms of value, service and experience. Start with these cruise lines – our expertly curated recommendations – each catering to a specific type of traveler and each with their own unique characteristics:

Our advisors will help match you with the perfect cruise line and the right river, so contact an expert today at 1 (877) 734-6859 and start planning your European river cruise adventure!