The Galápagos Islands entice travelers from across the globe as a true bucket list destination with legendary and abundant wildlife that includes everything from giant tortoise and penguins to sea lions and blue-footed boobies.
But when should you go there? What can you expect? Which cruise line is ideal for experiencing this incredible region? What are the best Galápagos itineraries? We've gathered the best insider information so you can decide whether this destination is right for you...and which cruise line does it best!
Galápagos Basics
One of the last real places to experience untouched natural beauty, the Galápagos Islands are an incredible destination well-suited to visit on a luxury cruise. Part of the country of Ecuador - but located about 600 miles off of its coast - the isolated island chain is made up of 13 main islands off the coast of South America and several smaller ones and is considered one of the most remote, rugged and biodiverse regions on the planet.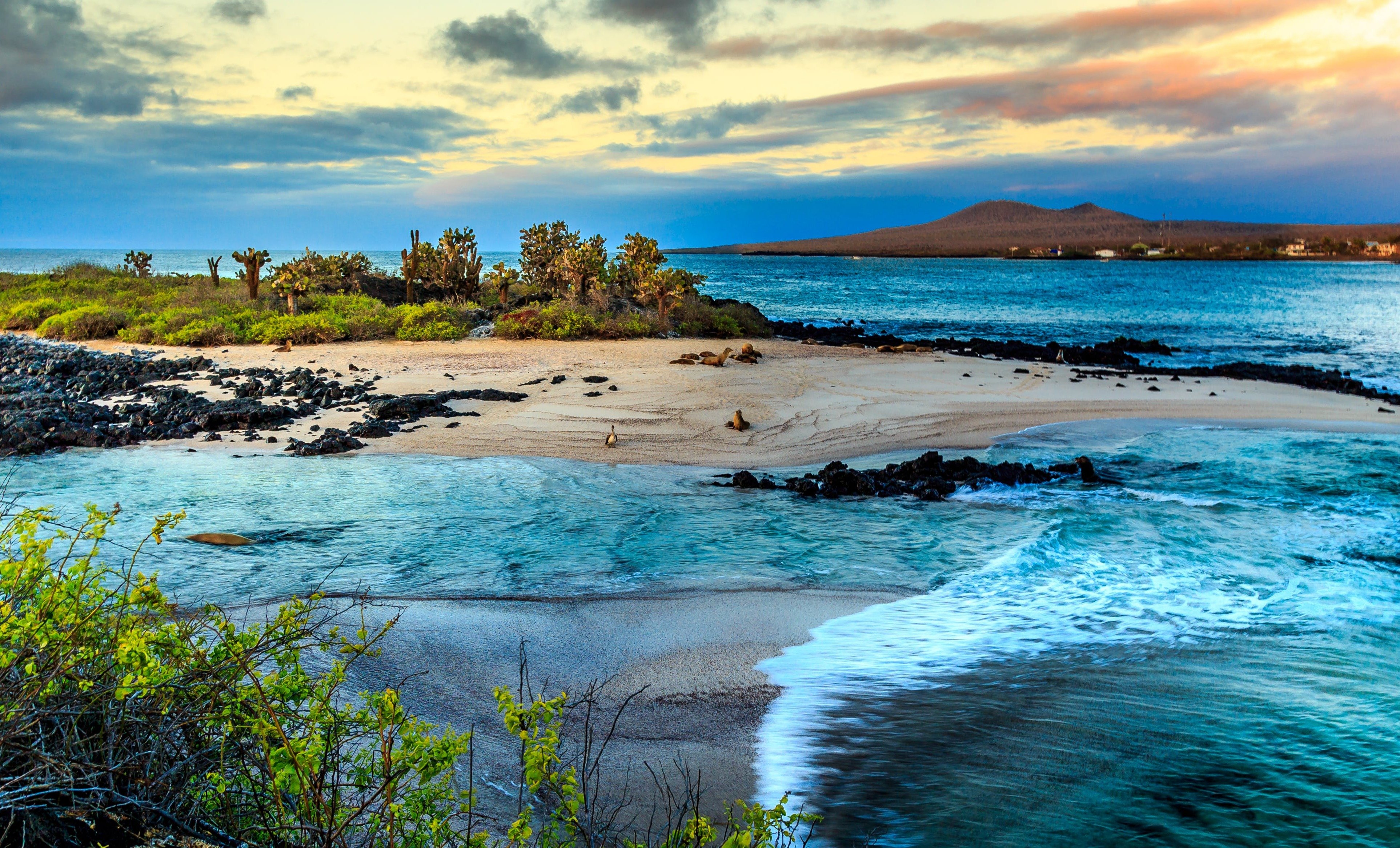 The Galápagos Islands are one of the most biodiverse places on the planet.
The Galápagos Islands are a major tourist destination and a must-see for bucket-listers, so book well in advance. Small expedition ships, in particular, tend to fill up fast because there are so few of them. As such, we recommend booking your adventure at least one year in advance.
Insider Tip: While in South America, take advantage of your proximity and extend your adventure and visit majestic Machu Picchu, contemporary Lima and historic Cusco.
What Is the Best Time of Year to Go to the Galápagos?
Luxury cruising is arguably the best way to experience the Galápagos, but one of the first things to consider before booking is when to visit.
There's truly no bad time to visit the Galápagos Islands, since the adventure is sure to be unique and unbelievable no matter when you visit. However, the seasons are split into two here—cool and dry from July through November, and warm and wet between December and June.
The best months to go really depend on what you hope to get out of the trip. During the second half of the year, the islands are often enveloped in mist. The land and water will be cooler, perhaps requiring a wetsuit for underwater activities, but the visibility is excellent which is ideal for snorkeling, diving and photography.
Insider Tip: Even though the Galápagos Islands are located on the equator, the weather isn't always tropical. Temperatures can get fairly cool at night and downpours aren't unheard of, so pack accordingly!


The warmer season brings more animals - tortoises, sea lions and land birds - who use the islands for breeding or nesting. In May, you'll be able to marvel at blue-footed boobies as they do their courtship dance in North Seymour.
While you can expect daily rain, showers are generally short with the rest of the day sunny and warm, typically hovering around 80 to 85 degrees Fahrenheit both on land and underwater.
What Animals Can I Expect to See In the Galápagos?
Over 180 years since Charles Darwin first arrived in the Galápagos, visitors to the island chain can still admire the same exotic and endemic wildlife the British naturalist saw, including animals you won't find anywhere else in the world.
The most popular island natives that you can expect to see on your Galápagos Island cruise include giant tortoises, sea lions, marine iguanas, penguins, crabs and dozens of diverse bird species including the famed blue-footed boobie, albatross, cormorants, finches, frigate-birds and more!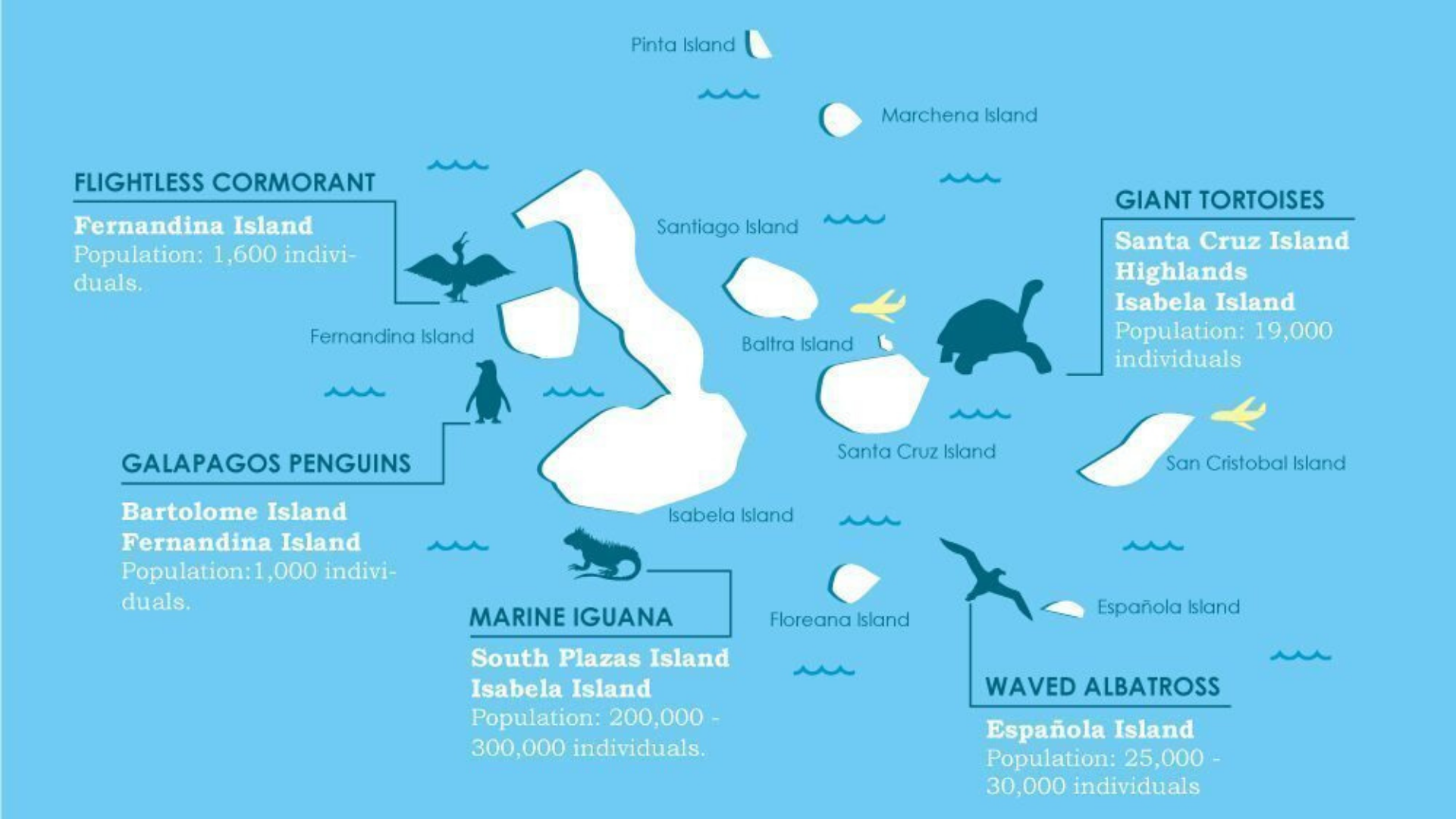 Each island in the Galápagos is home to unique species found nowhere else on earth.
What Cruise Lines Visit the Galápagos?
With these luxury Galápagos cruises, you'll be well set to explore this incredible destination in style aboard high-end cruise ships, mega yachts and expedition vessels that are state-of-the-art and more like sea-worthy boutique hotels.
Insider Tip: Boats in the Galápagos Islands are limited to a maximum of 100 passengers, so small-ship expeditions like Celebrity Flora, Silversea Galápagos and others can sail right up to the islands, making it easy to experience the region elegance and from the comfort of your luxury ship.


Because land-based explorations are limited to the five islands that can be reached in one day, travelers won't be able to visit the more distant islands that ship-based itineraries include.
Visiting the Galápagos on a luxury cruise gives guests the chance to explore deeper into this ecosystem and experience even more of the island's diversity. You'll waste less time traveling between islands by day, and each morning you'll wake up in a new destination ready for a full day of exploration.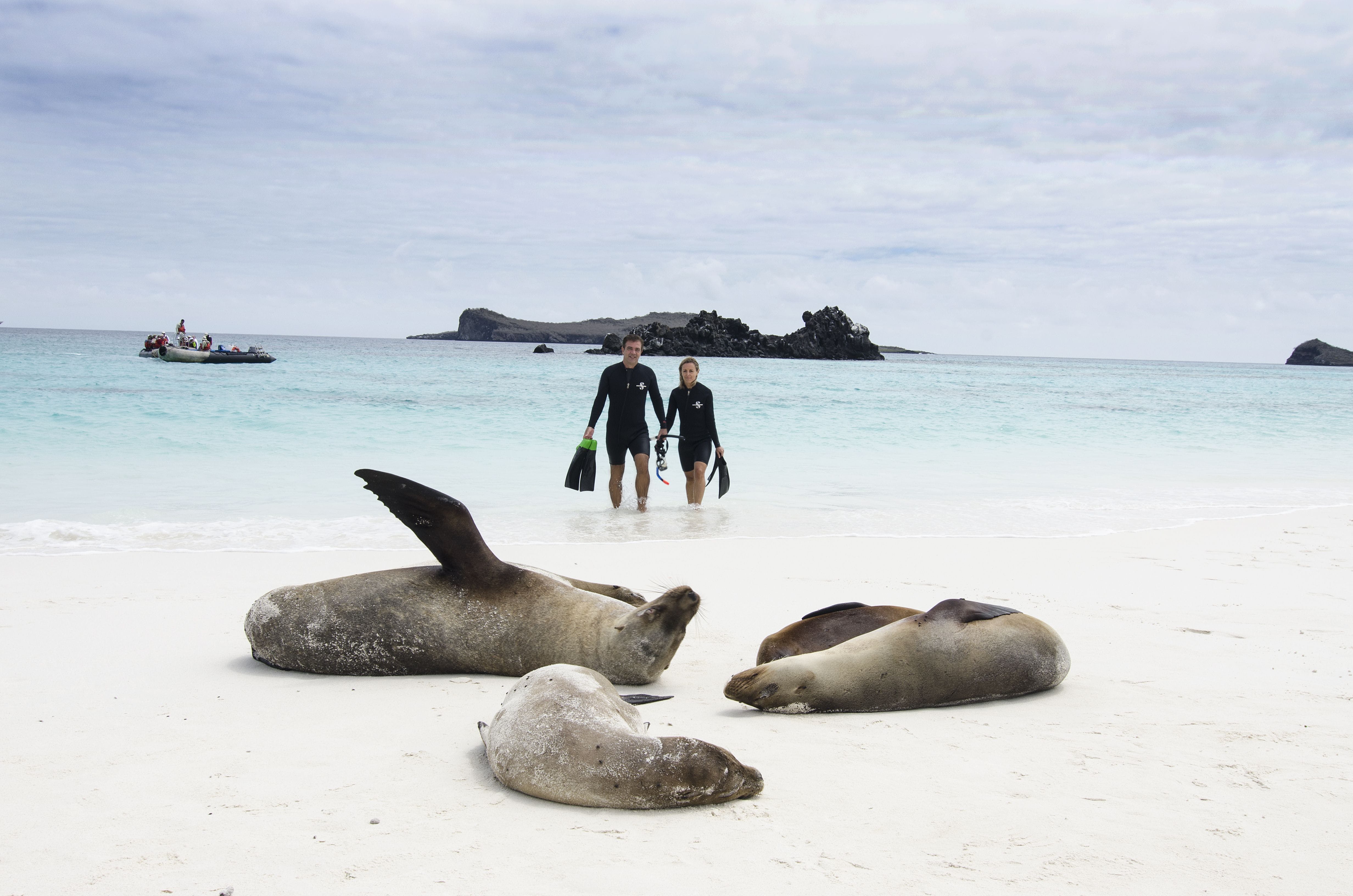 Snorkeling with sea lions - one of the islands most famous residents - is commonplace.
The benefit of traveling on a smaller-capacity cruise ship is a more intimate onboard experience, faster transfer times between your main vessel and the ship-to-shore boats or, even better, direct access to the islands right from your boutique cruise ship.
For a once-in-a-lifetime experience, consider one of these Galápagos luxury and expedition cruise ships - hand-picked by our CruiseInsider experts to ensure you experience this destination like a VIP!
Silverseas Cruises
Silver Origin • Silverseas Galápagos
These Galápagos luxury cruise options are a bit like glamping on the sea with the opportunity to spend your days exploring the world's most preserved waters and terrain—while nights can be spent enjoying Silversea Cruises legendary butler service from your luxury suite or sipping cocktails at the piano bar.
The most environmentally conscious ship (and first destination specific ship) built by Silversea, Silver Origin is the height of experiential travel in the Galápagos. Enjoy a team of Ecuadorian national expert guides, the highest crew-to-guest ratio in the Galapagos, 8 Zodiacs. Not to mention all-suite accommodations, Horizon Balconies, butler service, sophisticated interiors, interactive basecamp, Ecuadorian inspired cuisine and more - this 100-guest luxury ship is the epitome of expedition elegance.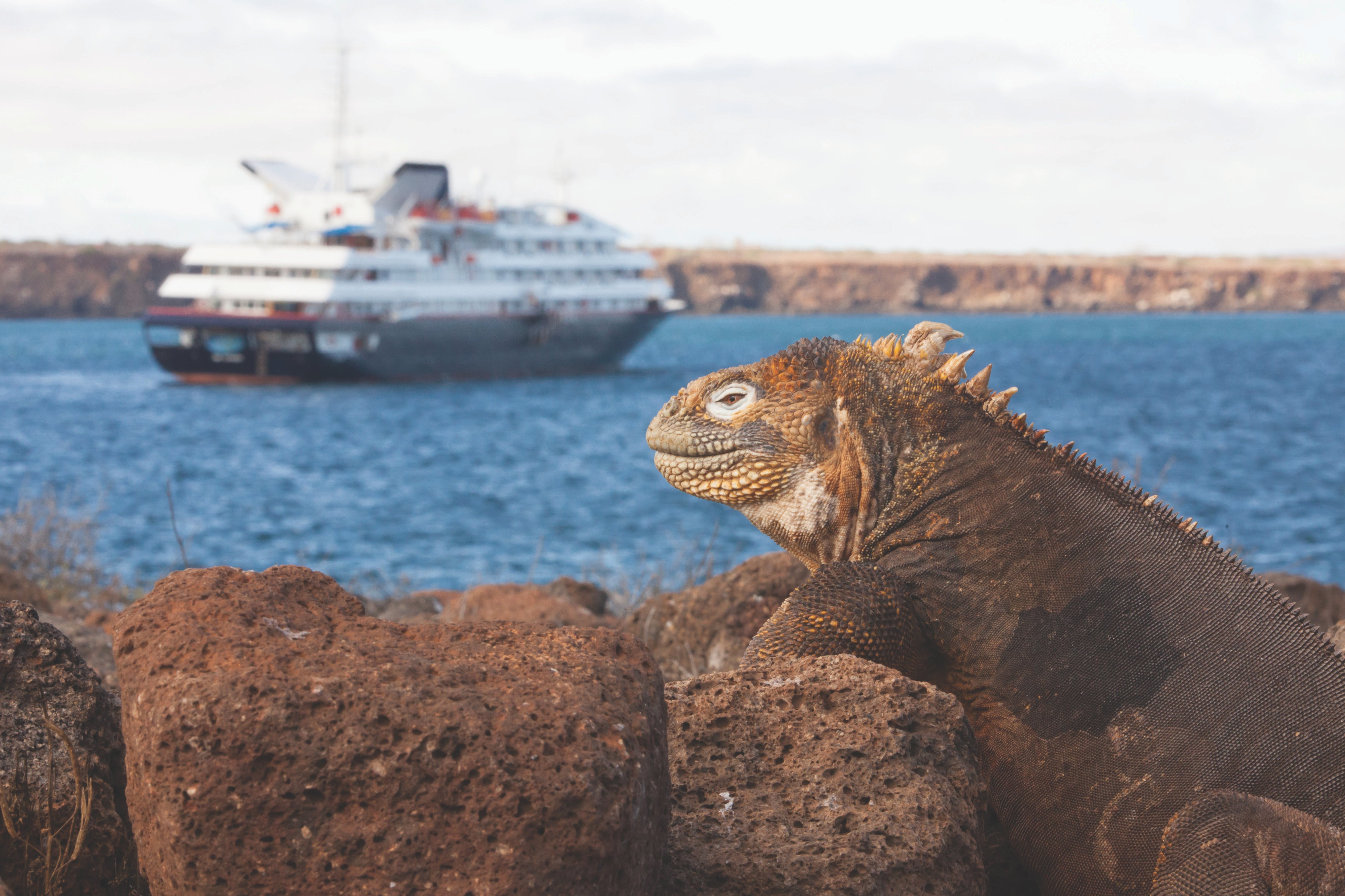 Silversea Cruises is the pinnacle of luxury expeditions in the Galápagos Islands.
The ship that set the bar for what luxury expeditions should be, you can also set sail aboard Silversea's smallest ship, the Silver Galápagos. With a maximum capacity for just 100 passengers, you'll experience the islands in elegance! Island hop from Isla Baltra near the center of the archipelago to Isla San Cristobal, home to the Galápagos capital, all in incomparable style and safety.
Highlights of the luxurious Silversea Cruises small-ships and itineraries:
All-inclusive. All-suites. And absolutely the pinnacle of luxury.
The stop on Isla Daphne Grande—typically, only scientists can land here - making this an extra-special opportunity for exploration.
Visiting Riba, one of the world's most exotic destinations where Galápagos sea lion pups can often be seen resting on the sand.
Exploring the brilliant underwater world around Isla Champion. Famous for its impressive clarity, these waters are great for spotting reef sharks along with playful sea lions and Pacific green turtles.
After a long day of exploration, enjoy sipping bubbly in the Jacuzzi on the sun deck, soothing muscles with a massage or even getting a mani-pedi in the beauty salon.
Extra-spacious cabins - and about half the suites - that come with a balcony for gazing out at the magnificent passing views.


Click here to see all our Galápagos Island itineraries!
Lindblad Expeditions
National Geographic Endeavor II • National Geographic Islander
Lindblad Expeditions is one of the most authentic, adventurous and immersive expedition cruise lines to visit the Galápagos Islands. To truly explore this area in style, Lindblad has two purpose-built ships (your moving basecamps) - the 96-passenger National Geographic Endeavor II and the 48-guest National Geographic Islander.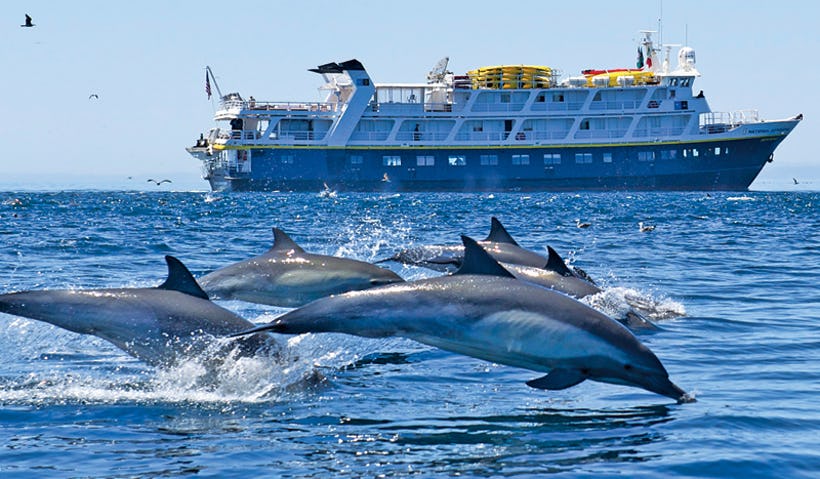 Lindblad's two Galápagos ships offer different, but equally appealing experiences of the islands.
Both exceptionally nimble and maneuverable, these two region-specific ships are not the same, but both are ideal for exploring the untouched islands up close and designed for year-round discovery and active exploration visiting areas larger vessels can't.
Highlights of these Lindblad Expeditions ships and itineraries:
Daily activities include naturalist-led guided walks, kayaking, snorkeling (gear is included) and stand-up paddle-boarding. Or head off on a scenic cruise aboard a Zodiac landing craft or in the glass-bottom boat aboard National Geographic Endeavour II.
Activities that are ideal for families with young children! The enthusiastic expedition leaders trained by National Geographic Kids provide tons of activities that are sure to keep everyone entertained like learning how to drive a Zodiac, wildlife photography and bridge visits with the captain.
Great viewing from all public spaces and are perfectly equipped for active exploration with an open, covered top decks, large windows in the lounges and cabins, and state-of-the-art tools for exploration.
Cocktail hours where the entire expedition community gathers in the lounge for a ritual called "Recap" where various naturalists, scientists and specialists will give talks, show videos, answer questions and outline the following day's schedule.
Luxury-minded passengers can expect highly personalized service from the crew along with fresh, regionally inspired cuisine and expansive decks that are ideal for photographing all the wildlife.
Itineraries between Baltra and San Cristobal with highlights that include discovering the marine iguana haven at Punta Espinoza on Isla Fernandina, hiking over lava flows and even through sea lion nurseries.


Click here to see all our Galápagos Island itineraries!
Celebrity Cruises
Celebrity Flora • Celebrity Xpedition • Celebrity Xploration
With more than 15 years operating luxury cruises in the Galápagos Islands, Celebrity Cruises provides several options to satisfy the travel styles of every modern explorer.
Aboard the brand new Celebrity Flora, a custom-built ship specifically designed for sailing the Galápagos, you'll enjoy all-suite accommodation with more luxuries and a wealth of modern amenities that feels like traveling on a mega-yacht.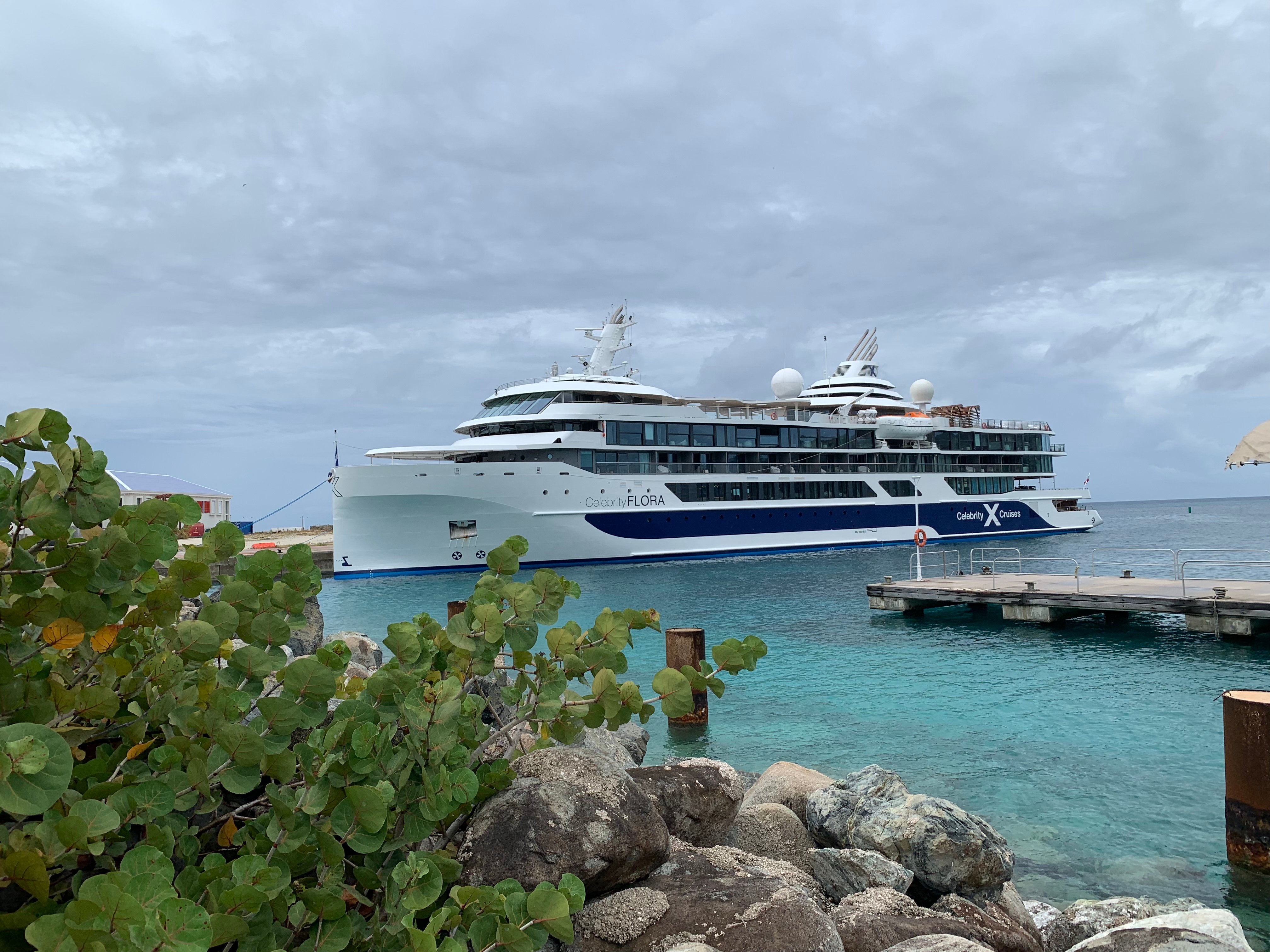 Celebrity Flora is the first ship of its kind to be built especially for the Galápagos Islands.
The brand new expedition ship Celebrity Flora marks an evolutionary turning point in the approach to ship design—creating a sense of being truly immersed in the destination, instead of just visiting it. With only 100 other pampered passengers, the Flora boasts the largest and most luxurious accommodations in the Galápagos Islands where every stateroom on board is a suite (many with balconies) and seamlessly intuitive service guarantees every creature comfort possible.
If you're looking for a more intimate adventure, the 48-passenger Celebrity Xpedition is the perfect combination of adventurous voyage and cosmopolitan bliss. Designed not just for luxurious travel, but for authentic exploration, this spacious mega-yacht was recently upgraded and sails the Galápagos Islands–one of the world's most pristine natural environments–seven days a week, 365 days a year.
Insider Tip: Looking for true luxury? Then choose the Penthouse Suite aboard the Flora - the largest, most luxurious suites sailing the Galápagos Islands. With up to 1,288 total square feet of indulgent home-away-from-home comfort, these lush havens are the ultimate complement to this extraordinary destination.


For the most intimate and immersive experience of all, the Celebrity Xploration is a Galápagos adventure truly unlike any other. Only 16 lucky guests will be indulged with unmatched access to this part of the world along with every creature comfort possible. This intimate ship features new itineraries with ports of call that Celebrity has never visited before and is perfect for family reunions, getaways with friends, and small groups who want to explore together.
Highlights of these Celebrity ships and voyages:
Whichever stunning Celebrity Cruises vessel you choose, you'll enjoy a truly all-inclusive experience. Meals, drinks, tips, Wi-Fi and most activities are all covered in your cruise fare!
Dine on delectable menus, curated by a Michelin-starred chef, and allow your Personal Suite Attendant to help you unpack. All this to ensure that your visit to these primitive islands is nothing less than perfect.
Twice-daily guided excursions led by certified certified Naturalists that uncover the best of each island and provide everything you'll need along the way.
Splurge for the exciting optional extra that includes a campfire-themed dinner with cocktails, a one-on-one naturalist guided stargazing session, and a night sleeping under the stars.
Experience this distinctive chain of islands with Celebrity's industry-leading stewardship and conservation efforts.
Visit Post Office Bay on Floreana Island. Often filled with pink flamingos, it's best known as the home of the world's most unusual post office. It operates a unique stampless system for sending mail as it has from this remote spot since the late 18th-century. Thousands of letters pass through this location with visitors often stopping to pick up and drop off postcards while exploring the island's ancient lava caves.


Click here to see all our Galápagos Island itineraries!
Tauck Cruises
Isabela II • Santa Cruz II
The casual atmosphere of Tauck's expeditionary vessels offer an ideal setting for the art of "conversation" that is conducive to the very nature of exploratory cruising, providing a special camaraderie with fellow explorers.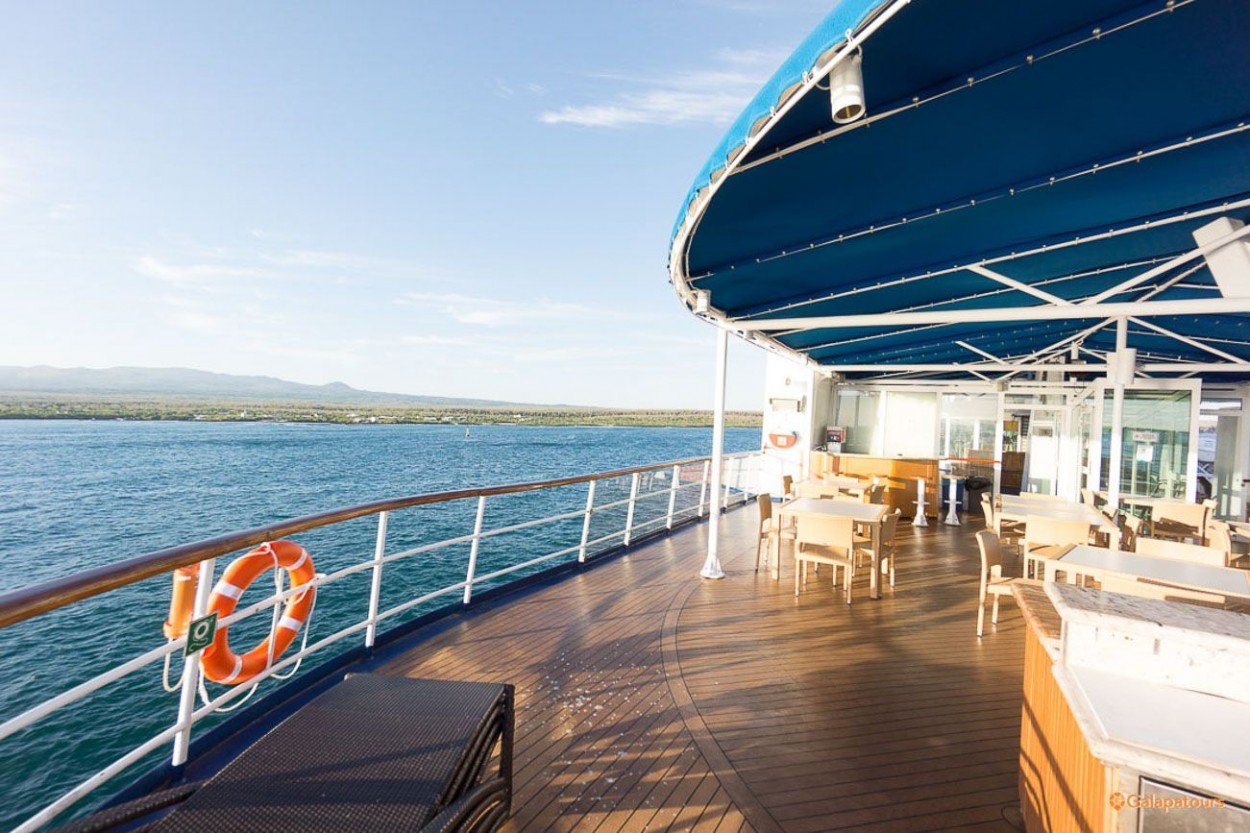 Tauck's Isabella II offers a relaxed, yet refined way to see this rugged destination.
An expeditionary-style ship, the recently renovated Isabela II is a sleek yacht perfectly appointed for an expedition through the Galápagos. It carries just 40 guests but has the amenities you'd expect from a much larger ship such as a library, boutique, lounge, comfortable dining room and spacious accommodations.
Insider Tip: To see a bit more of South America during your trip to the Galápagos Islands, book Tauck's 14-night Peru & The Galapagos Islands Land/Cruise Package. This trip combines the ancient wonders of Machu Picchu and Cuzco with a cruise through the highlights of the Galápagos.


Tauck's other option - the Santa Cruz II - is a true expedition ship built specifically with Galápagos Island cruising in mind. Conceived and created just for explorations in remote areas like the Galápagos Archipelago, the Santa Cruz II boasts five spacious decks and sleeps 90 guests in 50 contemporary designed staterooms – 36 of which can be interconnected, offering flexibility for families and single travelers.
Highlights of these Tauck ships and itineraries:
Starting your cruise with a stop in Isla San Cristobal where you're likely to see sea lions, frigate-birds, Galápagos tortoises, dolphins and swallow-tailed gulls. From there, you'll cruise to Genovesa Island, Buccaneer Cove, Isla Santiago, and many others, ending in Isla Baltra.
Specially designed ships to take you on adventures in off-the-beaten-path destinations, where landings on many days will be aboard Zodiac-style rafts that necessitate a "wet landing" to reach the shore.
Expedition guides, scientists and naturalists aboard to share their knowledge with guests and enrich their travels with perspectives on everything from botany to geology.
Click here to see all our Galápagos Island itineraries!
For more insider tips or information about Galápagos cruises, get in touch with our CruiseInsider travel experts at 1 (877) 734-6858 and we'll help you from planning to perfecting your expedition cruise!