From the first Sunday in Advent through Christmas Eve all across Europe, magical Christmas Markets spring up along the Danube and Rhine rivers allowing you to celebrate in authentic style where many Christmas traditions were first created.
The very best way to travel back centuries and truly experience these traditional holiday towns throughout Germany, Austria, Hungary and other idyllic places, is on a luxurious river cruise visiting the very best of Europe's charming Christmas Markets.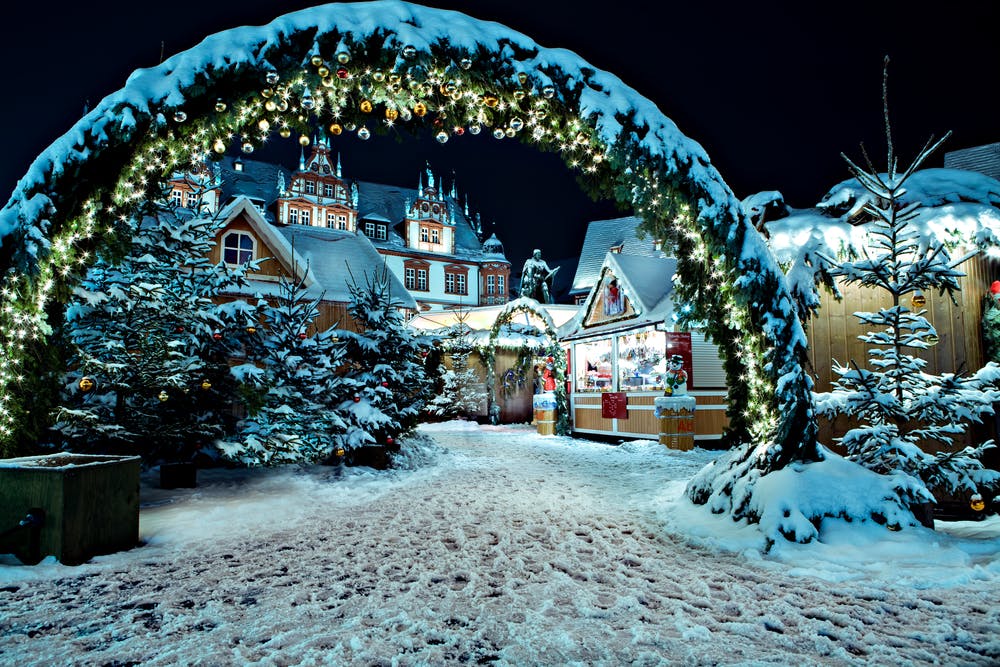 Christmas Markets in Europe overflow with tradition.

There are dozens of markets to decide from and many ways to experience Europe during the holidays. Whether you choose a Christmas Market river cruise with AmaWaterways, Uniworld, Viking, Crystal or Tauck, you won't be disappointed.
You will, however, be dazzled by the bright colors and lights, handcrafted gifts, traditional flavors, historic sites, children's choirs, and intense holiday aromas of Europe at its most festive time of year. Read on for our favorite Christmas Markets and highlights from each.
Nuremberg, Germany
Christkindlesmarkt
Set in the city's medieval square, the "little town of wood and cloth" shines in the heart of Nuremberg's Old Town. This legendary "Christmas City" is the largest and oldest Christmas Market in Germany and is known for its festive atmosphere with over 180 market stalls brightly shining with lights and traditional holiday decorations you won't see anywhere else on earth.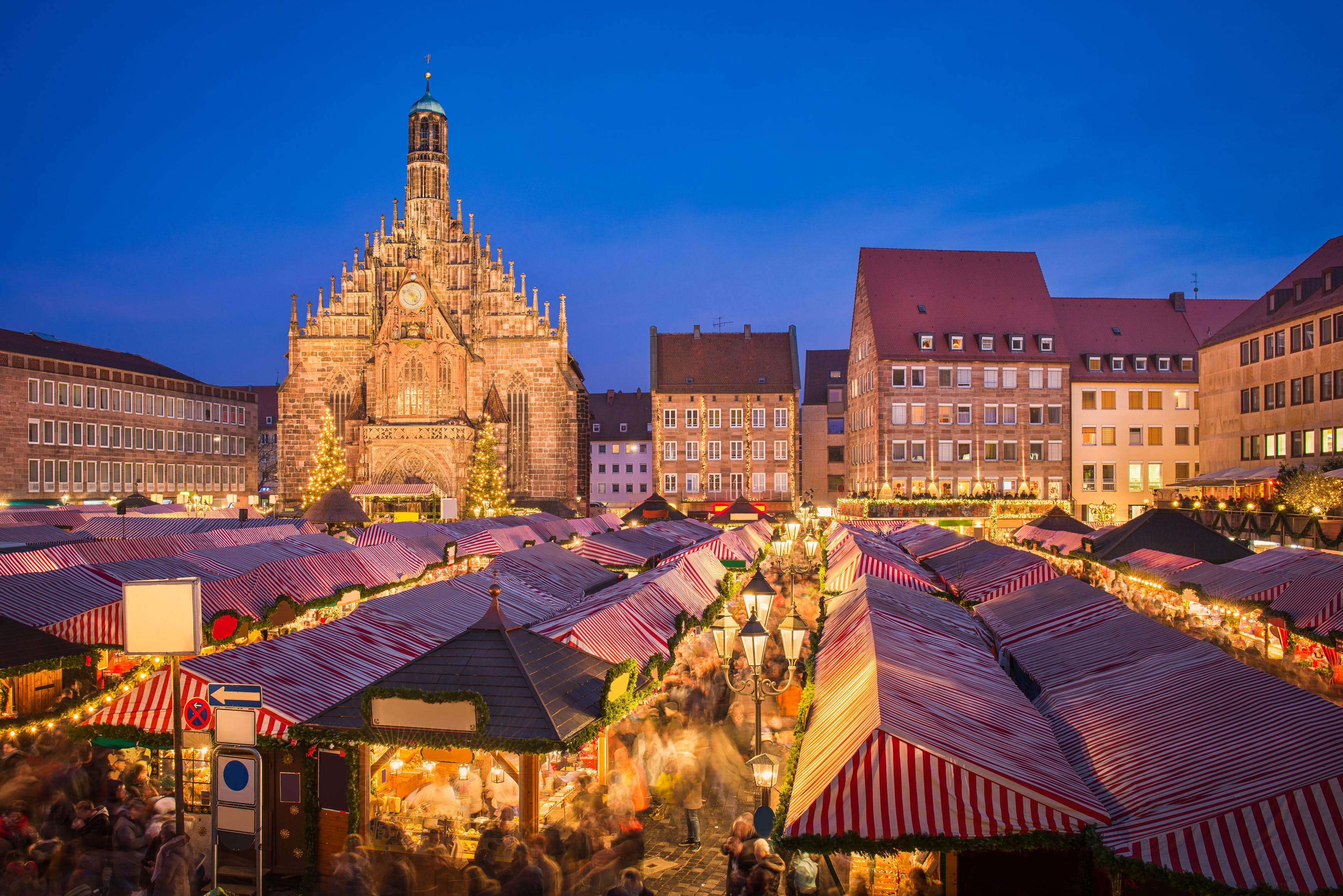 Christkindlesmarkt Christmas Market in Germany

What to buy: One of the most unique and most popular local items is the *zwetschgenmännle* or "prune man", a small figurine made from dried prunes and figs. With hundreds to choose from, these well-loved, hand-crafted statuettes are said to have been invented by a Nuremberg wire drawer in the 18th century and have been sold at this market for decades.
What to try: The enticing smells of mulled wine, rum punch, roasted almonds and gingerbread will fill the air (and you'll want to fill your stomach), but save room for a Nuremberg favorite that's not-to-be-missed - the delicious drei im weggla - three small Bavarian bratwursts served on warm, homemade rolls.
Insider Tip: Only handmade goods are allowed in this Bavarian market, so you'll see unique items for sale including handmade ornaments, one-of-a-kind toys and games and delicious holiday treats to eat and drink.
Vienna, Austria
Schloß Schönbrunn
While there are over a dozen Christmas Markets in Vienna, the market held in front of the baroque Schönbrunn Palace is one of the most elegant. A towering Christmas tree overlooks the square and stalls sell gorgeous handmade items unique to Austria.
Lanterns are hung in the trees to create a Christmas spirit as church choirs sing, and on the right night, a light dusting of snow makes this one of the most beautiful places to celebrate the yule in all of Europe.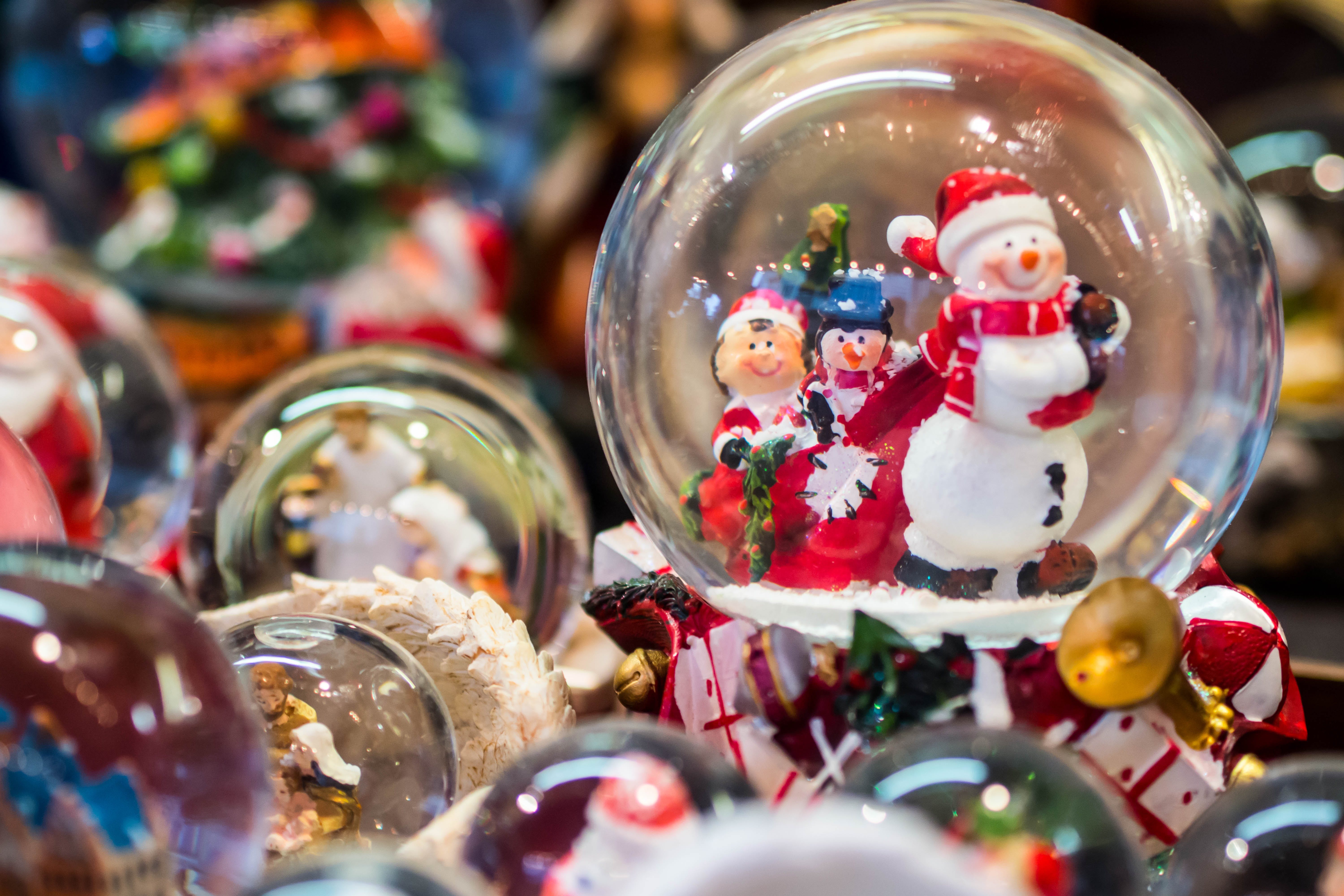 Original Viennese snow globes were invented here.
What to buy: You'll find more crafts than you count at this Christmas Market, including hand-painted, pressed-tin ornaments, artisan nativity sets and more - but this is the place to find an original Viennese snow globe! Invented not too far from Schönbrunn in 1900 by Erwin Perzy I, the first design–the Basilica of Maria Zell–contained snow made from ground rice.
What to try: The fragrance of freshly baked vanillekipferl–Austrian vanilla crescent cookies–along with hot, rum-spiked fruit punch fills the air and creates a wonderful atmosphere, but the tastiest treat to try is baumkuchen, a cone-shaped pastry rolled in nuts or sugar.
Insider Tip: The forerunners of Vienna's present-day markets with their seasonal gifts and mouth-watering treats date back to the Middle Ages when Albrecht I granted Austrian citizens the privilege of holding a December Market or "Krippenmarkt".
Regensburg, Germany
Romantischer Weihnachtsmarkt
Every year the charming courtyard of the famous Palais Thurn und Taxis in this beautifully preserved Medieval city is transformed into a can't-miss Christmas destination.
Offering both a bustling market and beautiful cultural events all winter long, this romantic Bavarian palace is still home to the Prince and his family, but during the holiday season serves as the stage for one of the most quaint and quintessential Christmas Markets in all of Europe.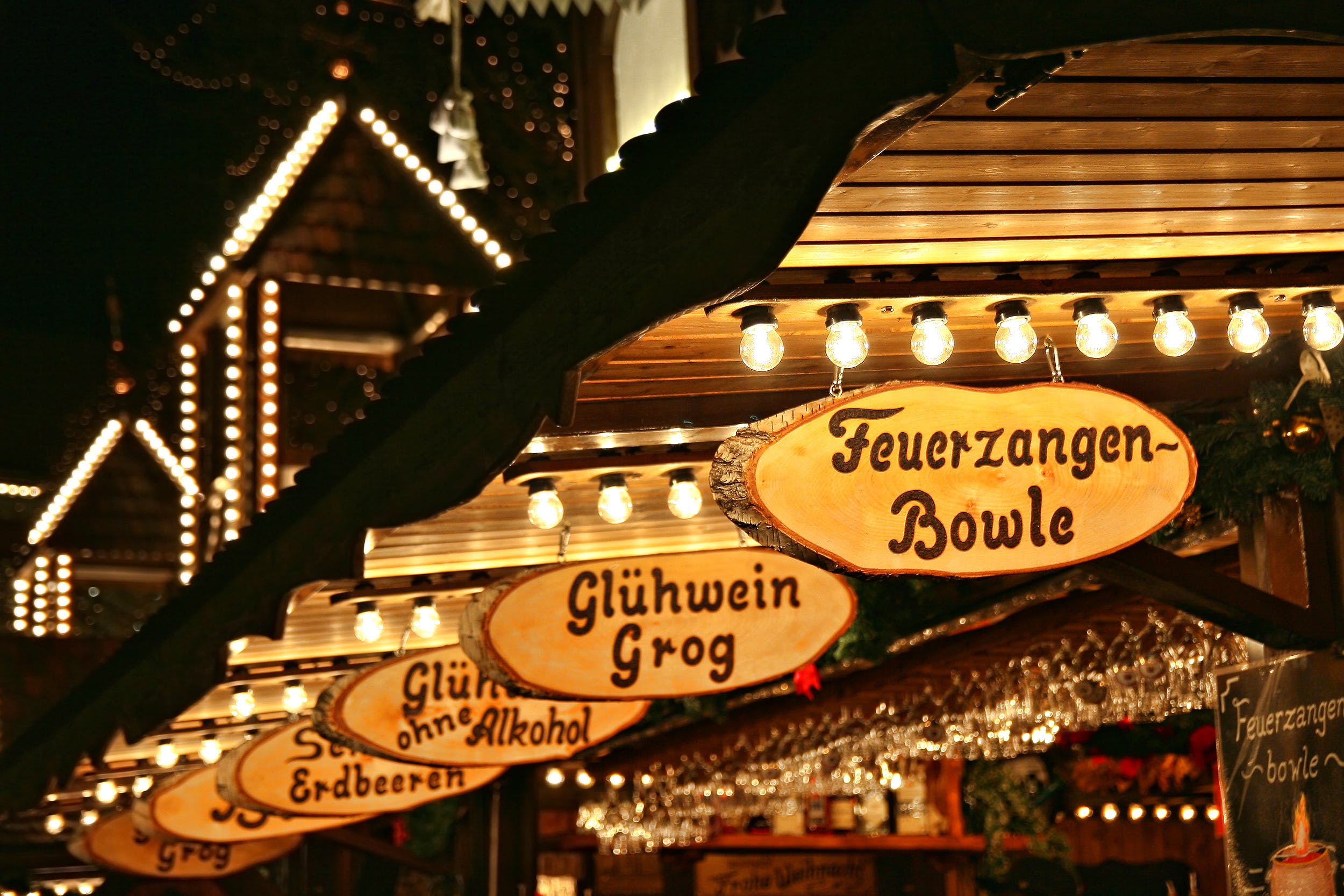 Romantischer Weihnachtsmarkt in Germany.
What to buy: There are endless varieties of votive candle holders, ceramics and handmade wooden toys and dolls to be found as well as alpaca wool products like gloves, hats and scarves, but one of the best gifts to bring home from this market is a bottle of the Bavarian spirit known as Karmelitengeist - a delicious local liquor dating back to 1721.
What to try: Here you can eat a flammkuchen, a crispy and smoky German pizza and sip a variety of mulled wines called glühwein. Roughly translated as "glow-wine" due to the hot irons once used for mulling, these German treats are made from red wine, heated and spiced with cinnamon, cloves, star anise, citrus, sugar and vanilla. But the best of the mulled wines may be the heidelbeerglühwein - warm blueberry wine served with a side of roasted chestnuts.
Insider Tip: Unlike many other markets, this one charges an entry fee. The price varies depending on which day and time you go, but typically it's the least expensive during the week and the few hours before closing.
Budapest, Hungary
Vörösmarty Tér Christmas Fair
The oldest and most internationally acclaimed Hungarian holiday markets is found in the heart of Budapest in the bustling and beautiful Vörösmarty Square. The Christmas Fair here is considered one of the busiest and best in Central Europe, but what makes this market so magical is that all the products sold there are guaranteed to be traditionally handmade by craftsmen.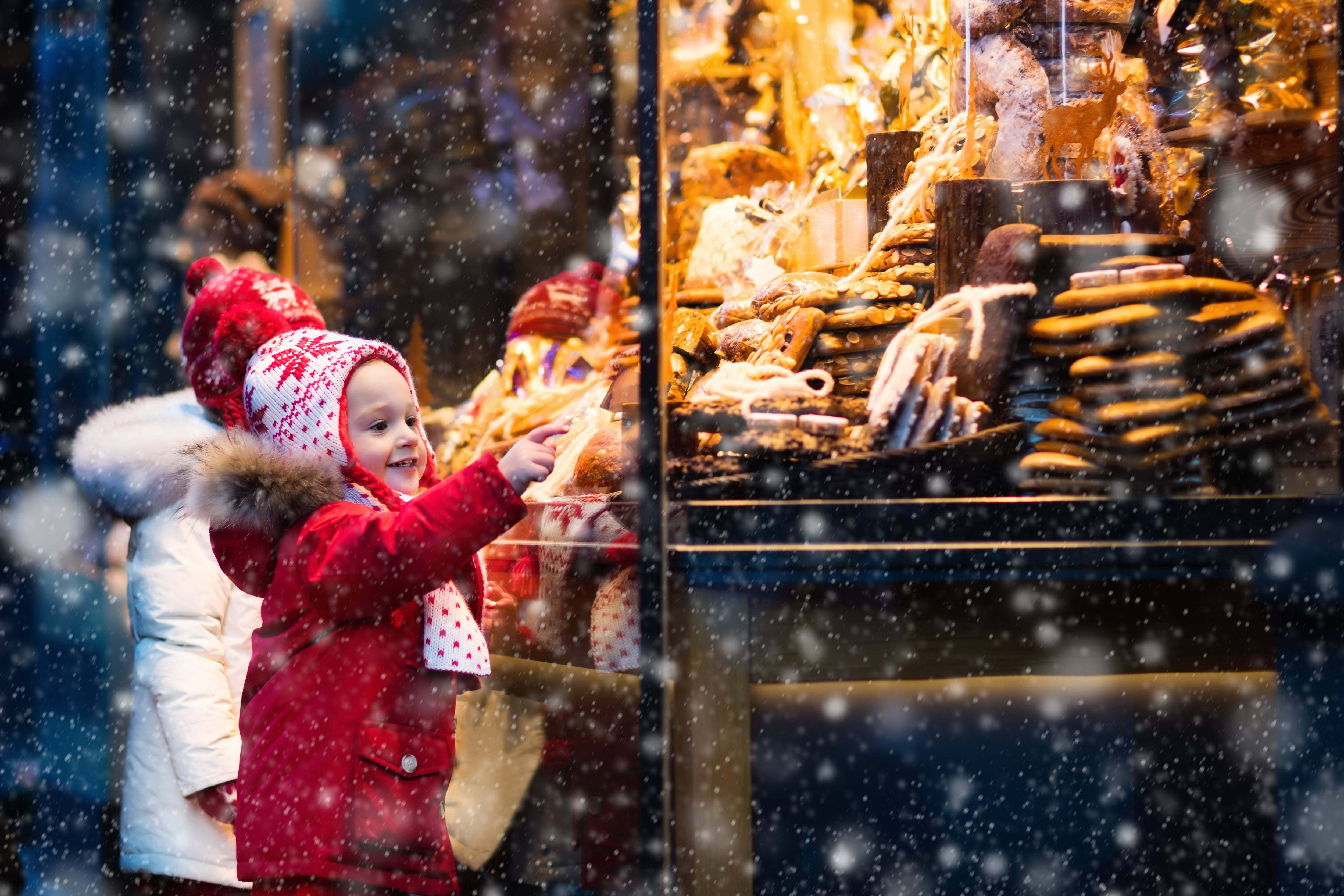 Child waits for a tasty treat at a vendor's stall.

What to buy: You'll see an array of carved wood products, beautiful pottery and one-of-a-kind ceramics, but if you want to give something completely unique, find a gorgeous piece of Hungarian folk art or come home with a classic folk-music instrument hand-made by a local artisan.
What to try: You'll want to try the street food: grilled Hungarian sausages, goulash, stuffed cabbage and cinnamon-scented apple punch infused with Hungary's fruit-based pálinka brandy. But the treat you need to eat is kurtoskalacs (Hungarian "chimney bread"), cylindrical "cakes" grilled over an open fire and then rolled in cinnamon sugar, chopped walnuts, ground almonds or coconut.
Insider Tip: This market is in front of the famous Gerbeaud Coffee House! Stop into the impressive and iconic white building and confectionary shop known for its delicious cakes and pastries since 1870.
Passau, Germany
Christkindlmarkt
Located along the Danube in a beautiful town in Lower Bavaria, also known as the Dreiflüssestadt (or "City of Three Rivers"), this famous Christmas Market annually attracts locals and visitors from all over the globe.
Set against the imposing backdrop of St. Stephen's Cathedral in the heart of Passau's enchanting Old Town, you'll discover a variety of gifts, time-honored craftsmanship, inspirational art and regional delicacies everywhere you look.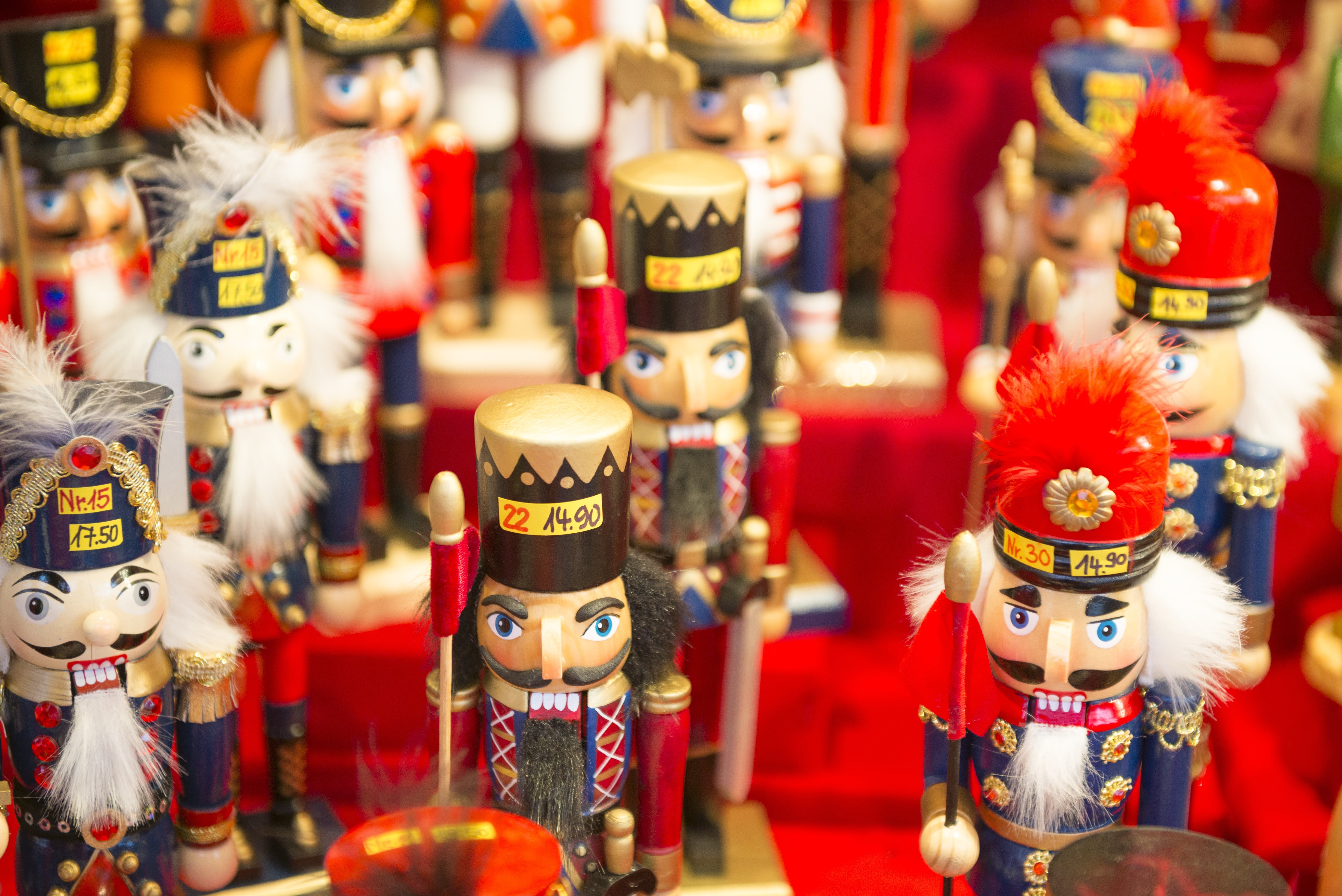 Bavarian nutcrackers are an iconic symbol of the Christmas season.
What to buy: You'll find locally produced honey and beeswax candles, beautiful blown-glass ornaments and ceramic salt cellars, but one of the favorite gifts are the hand-carved wooden Bavarian nutcrackers, an iconic symbol of the Christmas season.
What to try: You'll want to have a piece of delicious lebkuchen (German gingerbread) but the best bite of all might be the sengzelten, a fresh baked rye flatbread covered with locally sourced ham and cheese and topped with sour cream and chives.
Insider Tip: Don't miss this market's one-of-a-kind nativity trail which winds its way through the Old Town and City Center. Featuring numerous nativity scenes, ranging from traditional to contemporary, each is made out of materials like chocolate, glass, wool, tin, silver, ceramics and wood from all over the world.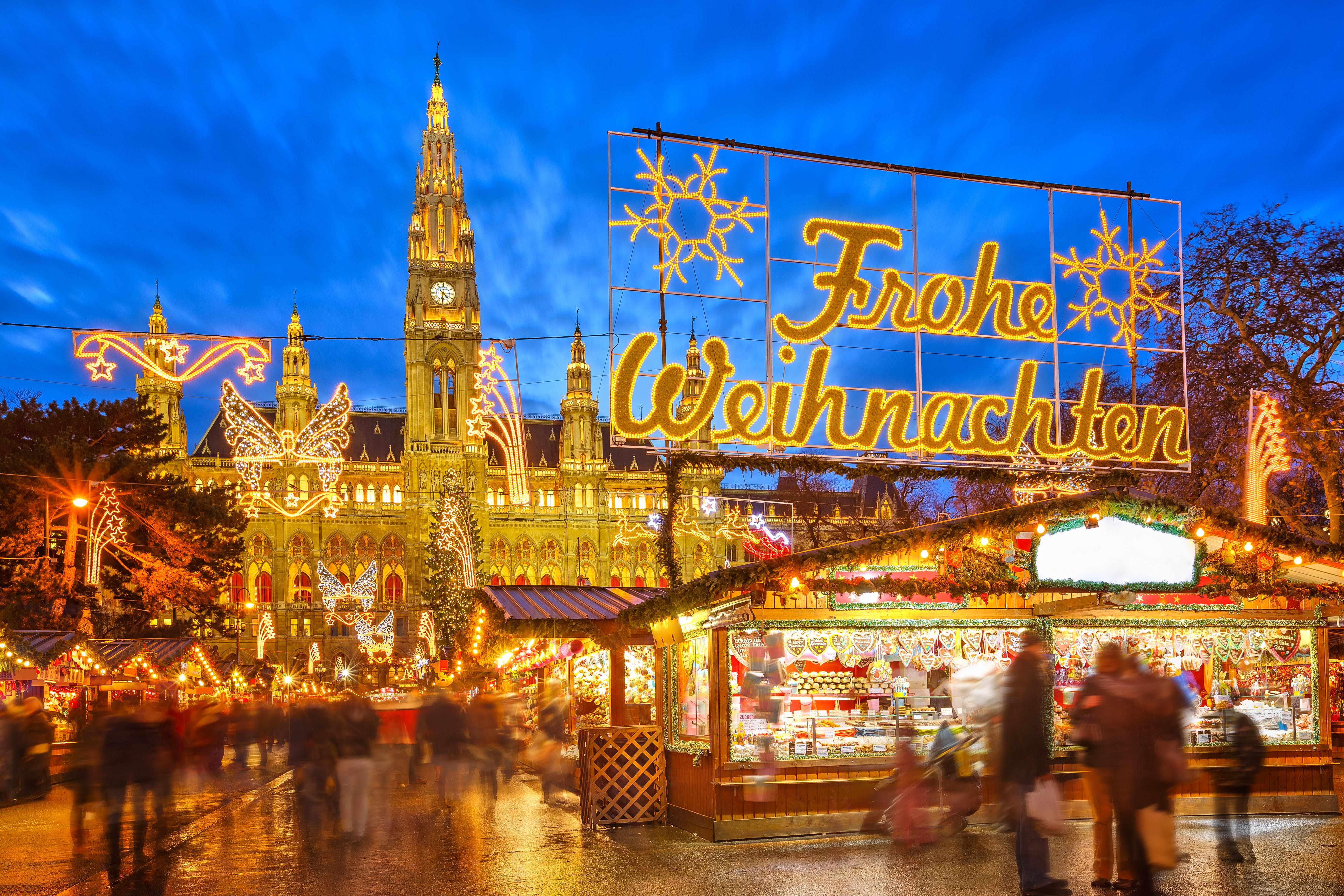 Frohe Weihnachten means "Merry Christmas" in German.
This Christmas, establish a new tradition by experiencing the historic magic of the holidays while shopping for one-of-a-kind treasures, tasting delicious treats and discovering the legends behind some of our most popular holiday customs.
Whether you're there for the tasty treats, the trinkets or the holiday tradition, a Christmas Market cruise through Europe is a timeless journey that will make you believe in the spirit of winter season all over again.
For information or inspiration on holiday river cruises and the very best Christmas Markets to visit and when, connect with a CruiseInsider expert at 1 (877) 734-6858.